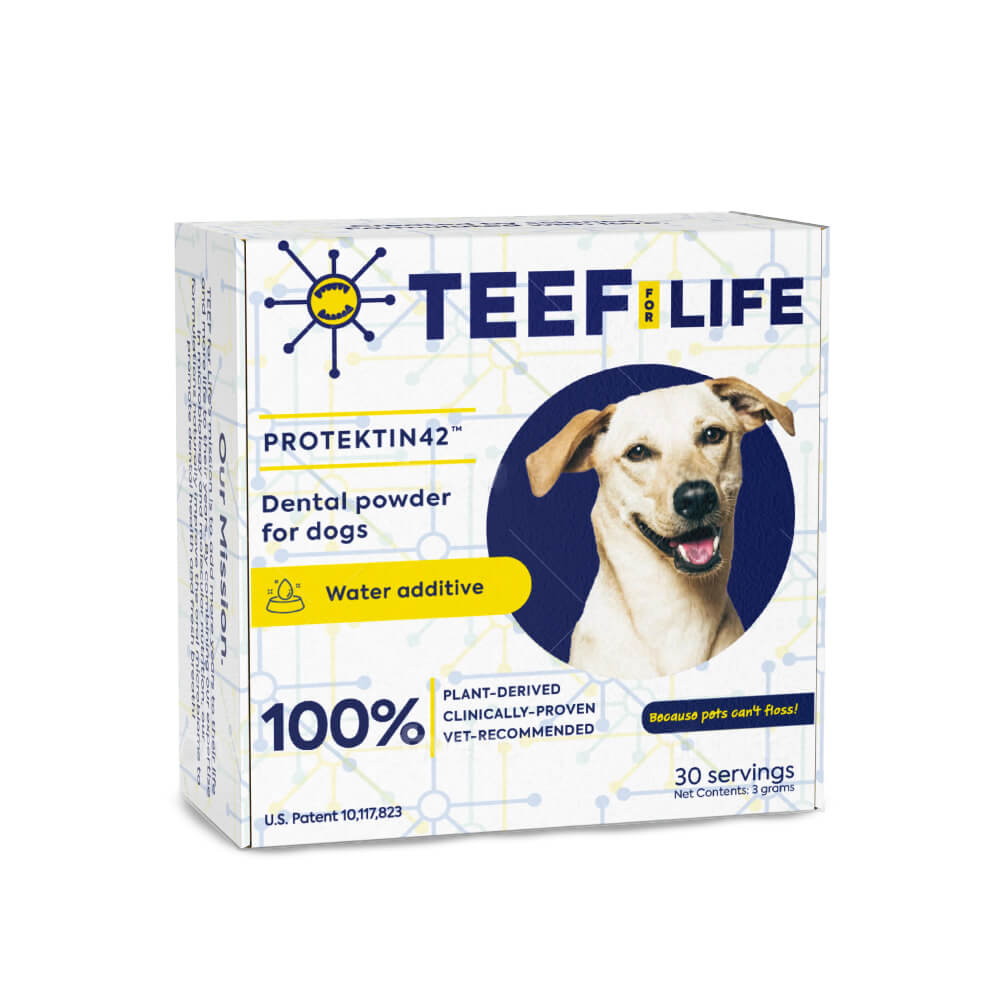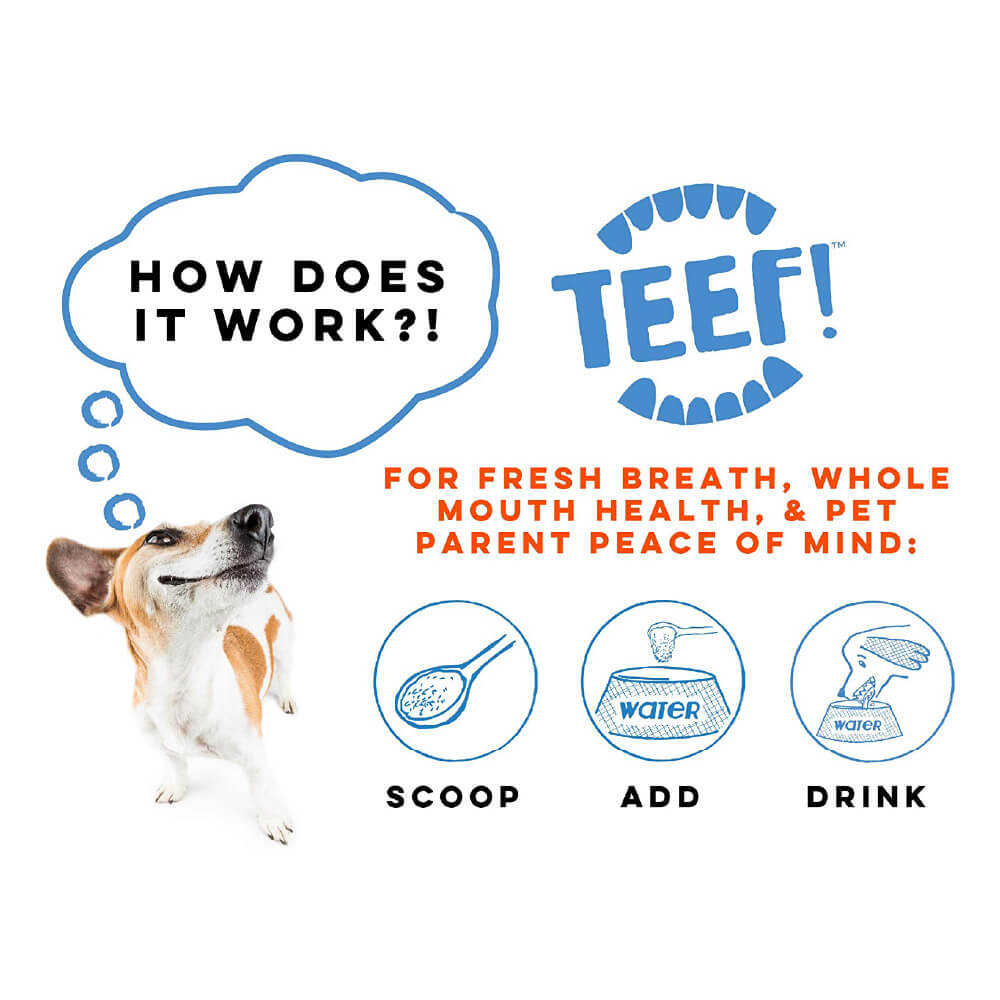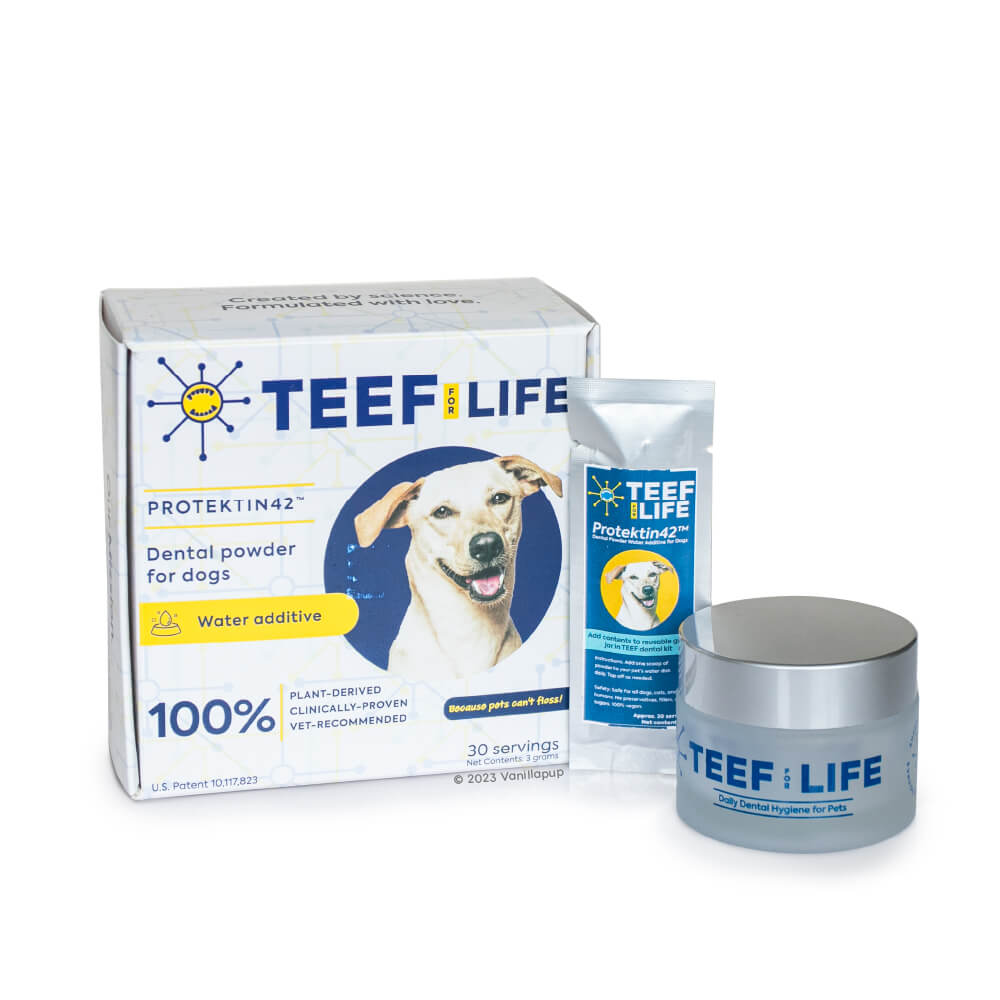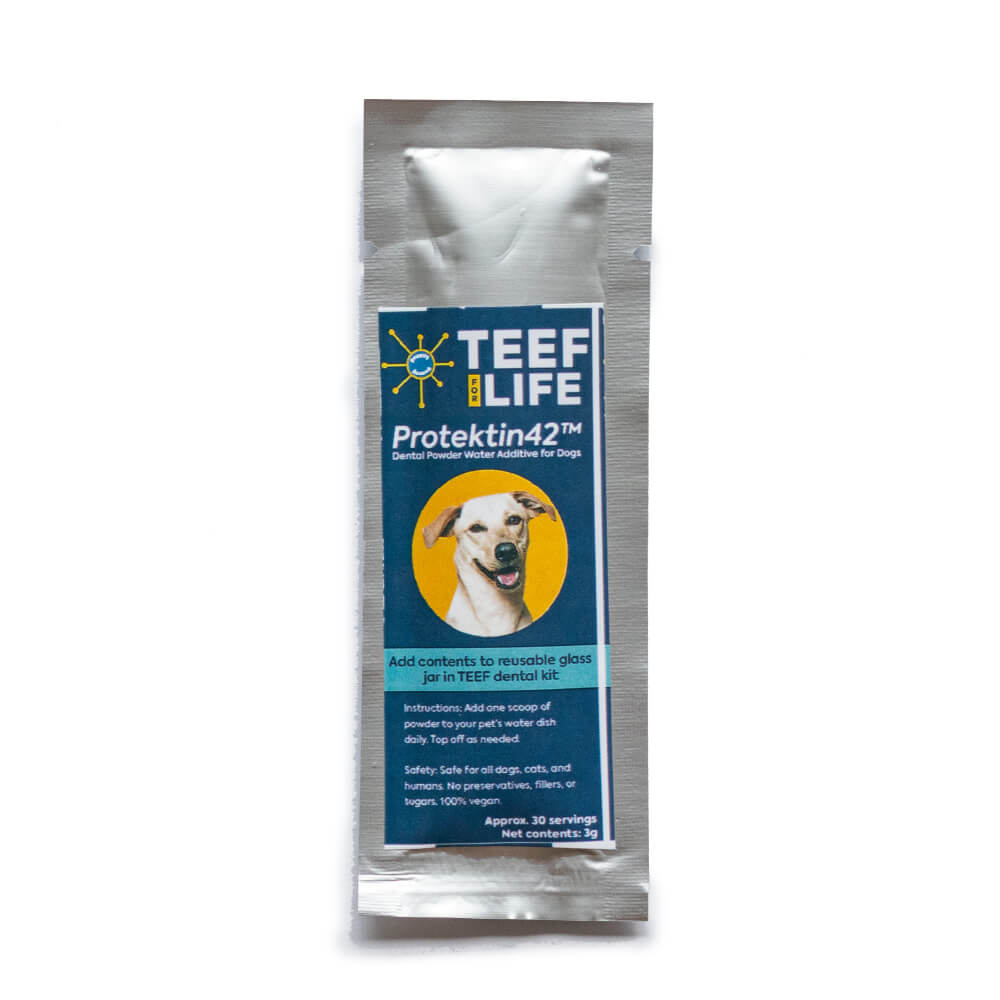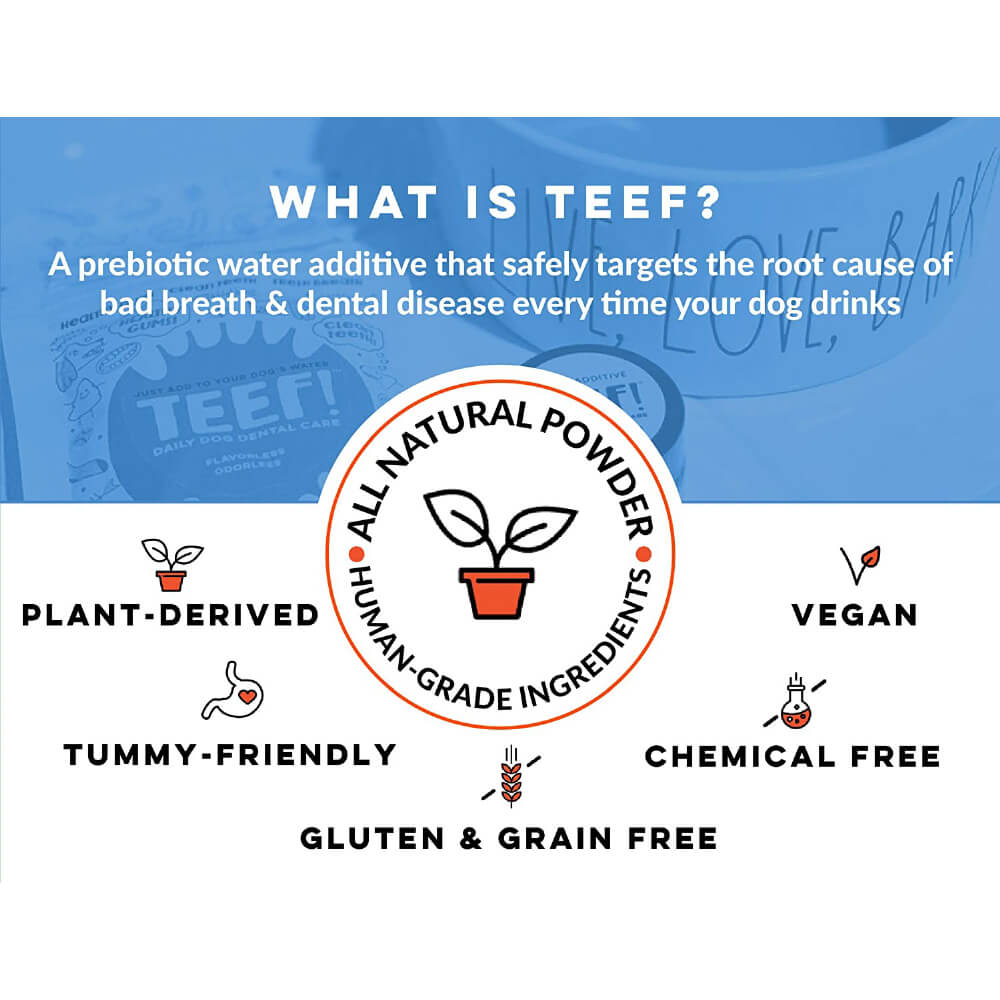 TEEF! Daily Dog Dental Care Regimen
Feared by bad breath and gum disease.
Size:
30 servings (1 pack)
Pickup available at Vanillapup
Usually ready in 24 hours
TEEF! Daily Dog Dental Care Regimen
Dental Kit / 30 servings (1 pack)
Vanillapup
Pickup available, usually ready in 24 hours
314B Punggol Way
Waterway Cascadia
Singapore 822314
Singapore
+6587847920
TEEF! Daily Dog Dental Care
TEEF! is an award-winning, vet-approved daily dental regimen. It empowers good bacteria to out-compete bad bacteria for a naturally balanced, healthier mouth. It also works below the gum line to target the root cause of gum disease. 
It is a water additive that comes in powder form - just add to your pet's water bowl! We feed it to Latte and the results have been amazing!
A formulation of human-grade ingredients called Protektin42, a patented combination of 4 naturally safe, bioactive ingredients
Promotes good bacteria in the mouth for good breath (it doesn't smell like roses. It smells like nothing!)

Prevents gum disease

Prevents and reduces tartar

Safe for dogs and cats of all ages

Manufactured in an FDA certified facility in the USA 
How does it work?
The patented prebiotic formula, Protektin42, packs a quadruple-action punch to the bacteria in the mouth to balance the oral microbiome. This balance promotes strong teeth, healthy gums, and fresh breath. It's unlike anything else available in the market!
The soluble fibre works to block the bacteria from consuming dietary sugar so they can't convert it into acid and plaque.

The vitamin enables health-promoting bacteria to eat protein instead of sugar, resulting in healthier (meaning less acidic and inflammatory) by-products.

The sodium bicarbonate neutralizes saliva acidity, which results in a less destructive environment in the mouth.

And finally, the amino acid functions as a plaque disruptor that helps remove the existing dental biofilm (plaque and tartar) from teeth for stronger, whiter teeth.
The best part? This shift or balance of the oral microbiome results in a MUCH BETTER BREATH!
Ingredients*:
Protektin42™ formula - soluble fibre, vegan protein, sodium bicarbonate (baking soda), and a vitamin.
The exact ingredients are a trade secret. If you want to know more, email info@teefhealth.com!
All ingredients are in fine powder form, are Generally Recognized as Safe (GRAS) by the FDA for use in food, and have been tested for safety for over 40 years in both humans and animals. Bonus, they dissolve rapidly in water, too.
Made in the USA.
Why does TEEF! turn water yellow?
The vitamin in our Protektin42™ formula turns yellow when it comes in contact with water. But don't worry, there's no harm in the colour change and the small amount won't affect the flavour of the water. Your pup shouldn't notice anything.
NOTE: Keep our powder clear of clothes and other absorbent materials to avoid staining.
My dog doesn't drink much water, can I add TEEF! to food?
You can certainly try that, however, we can't guarantee that it will be as effective.
Dogs normally eat 1-2 times per day (and chomp it down pretty fast) but the key to success with TEEF! is frequent dosing throughout the day. That way, our ingredients coat the mouth often to consistently balance the oral environment (microbiome) and make it less acidic and destructive to dental health.
Suggestion – Does your dog like ice cubes? You can try making some TEEF! ice cubes and see whether your pup enjoys it that way. Make sure they keep the ice cube on a hard surface though, the vitamin in our formula can potentially cause staining.
Dosage:
Raw fed, severe dental disease/bad breath, or small dog < 4.5kg - Add 1 full scoop to 1-3 cups (710ml) of fresh water
Large dog > 4.5kg for daily maintenance/ - Add 1 full scoop to 4-8 cups (2 litres) of fresh water
Multiple dog home? Add 2 full scoops to up to 3.8 litres of fresh water and use to refill water dishes. Refrigerate.
Each jar contains 30 scoops of TEEF!.
Use daily for best results:
Our dosing is unique because our product does not dose the dog, but rather the bacteria in your dog's mouth. That's why not a lot of powder is needed, regardless of your dog's size. Consistent drinking throughout the day to coat the mouth (and the bacteria in it) is the key to success with TEEF! and what helps it treat the problem below the gumline.
TEEF! does not replace daily toothbrushing.
*We try our best to keep product information and images up to date but take note that they only serve as a guide. While it doesn't happen often, changes by manufacturers may take some time to reflect on our site. If there are ingredients you are particular about, chat with us!