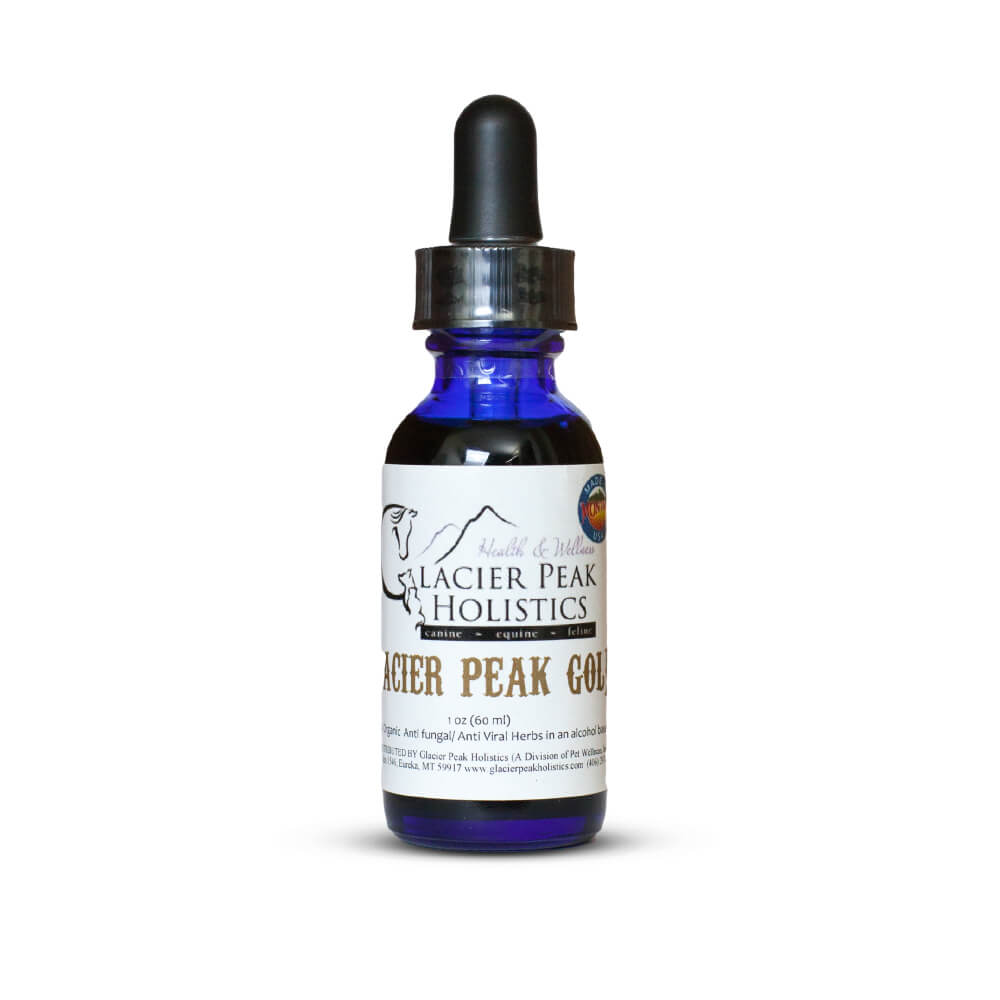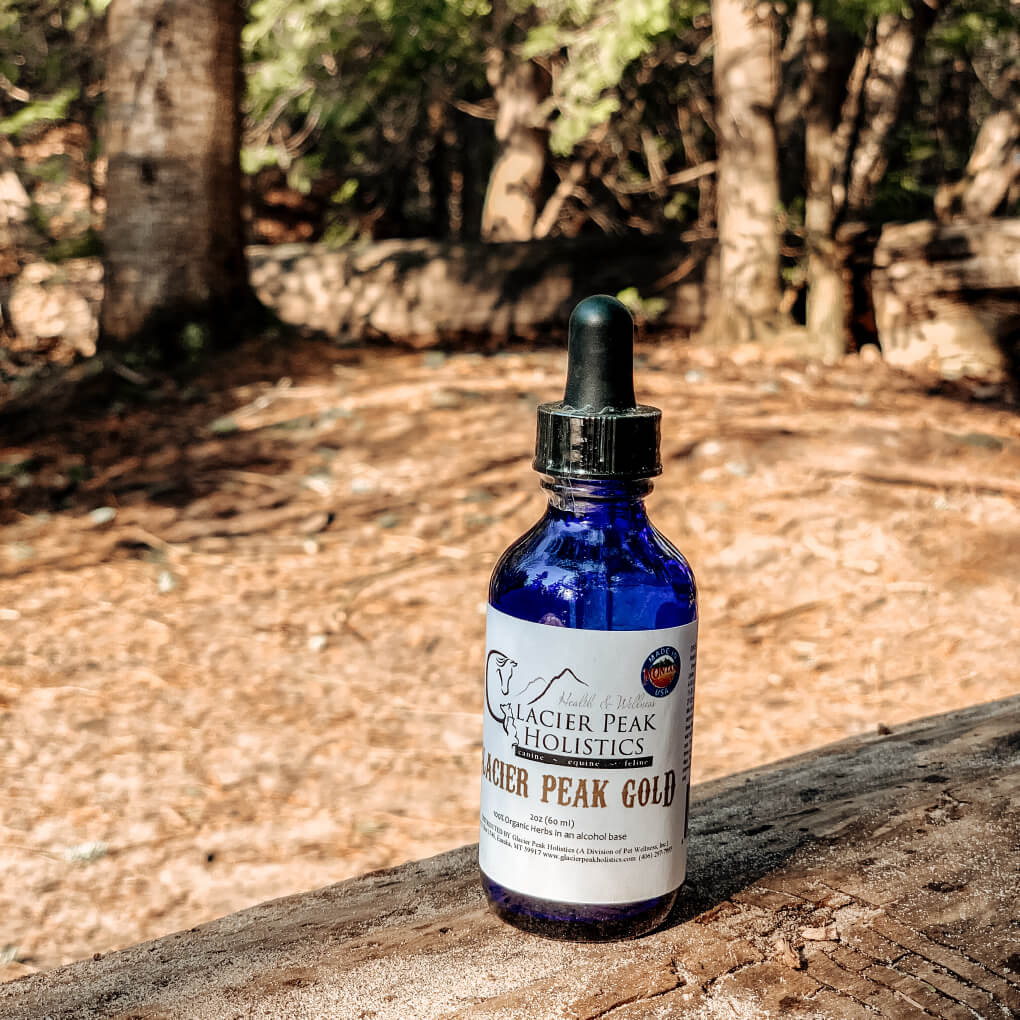 Glacier Peak Gold | Bye, Stubborn Yeast
- For pets suffering from mild to stubborn yeast/fungus
- Helps with itchy skin caused by intolerances, yeasty ears, paw licking, etc.
- Fast absorption and simple to use
Pickup available at Vanillapup
Usually ready in 24 hours
Glacier Peak Gold | Bye, Stubborn Yeast
1oz / 30ml
Vanillapup
Pickup available, usually ready in 24 hours
314B Punggol Way
Waterway Cascadia
Singapore 822314
Singapore
+6587847920
Herbal Support for Dog & Cat Yeast Infection
Glacier Peak Gold is Glacier Peak Holistics' primary tool against dog yeast infection and fungus. This is also a wonderful detoxifier, immune booster, and is helpful in eliminating the root causes of allergy symptoms, such as itchy ears.
A concentrated blend of 100% organic herbs

Tincture form, which enables the herbs to be quickly absorbed into the system

Helps eliminate yeast infection, fungus, virus, and toxic overload caused by food and environmental stressors

Rebuild a stressed immune system, which is the core of all illness
Recommended usage
30-day cycle
We recommend starting at HALF the listed max dosage and working your way up slowly to avoid detox symptoms.
Give up to 2 times per day for 10 days then discontinue use for 10 days.

Resume giving 2 times per day for 10 more days to prevent relapse.

Can be given mixed in pet's food or dropped directly in their mouth.

Do not add drops to the drinking water.
1oz bottle = approx 750 drops
Dogs and Cats:
Up to 3 pounds (1.36kg) - 2 drops- up to 2 times per day
4-10 pounds (1.8kg - 4.54kg) - 4 drops - up to 2 times per day
11-24 pounds (5kg - 10.9kg) - 8 drops - up to 2 times per day
Over 25 pounds (11.34kg) - 15 drops- up to 2 times per day (max dosage)
We recommend using this together with Adored Beast Love Bugs or Healthy Gut to improve gut health while eliminating yeast overgrowth.
Ingredients
Glacier Peak Gold is made with a proprietary blend of 100% organic herbs, including:
Olive leaf, Astragalus Root, Pau d'arco, Mustard seed, Clove bud, Slippery Elm bark, Black cumin seed, and Licorice herb, in a base of distilled water and pure grain alcohol.
If you are concerned about the pure grain alcohol base, it is easily dissipated by putting the individual dosage amount in a small, heat-resistant bowl and adding a tablespoon of boiling water. All the alcohol will dissipate in seconds and you can then pour the water/tincture mixture over the food and mix.
Storage
In order to preserve freshness, keep closed in a cool, dry place and avoid excessive heat.
We personally keep ours in the fridge after opening.
Keep this and ALL herbal medicines out of the reach of children and pets. This product is not intended to cure or treat major diseases, illnesses, or injuries and is not a substitute for regular veterinary care. Not intended for human consumption.
Common questions
I've used Glacier Peak for about a week and I still don't see any improvement. Is it working?
Every dog responds to supplements differently. Many of our customers feedback that they saw an improvement in their dog's yeasty smell or dirty ears during the later part of the 30-day course. 
If during the first 10-day break, we feel that the dog's condition is reverting or not improving, can we start the 2nd round right away?
Yes you can. In the harder cases some pet parents will not give the dog a break and follow through the cycle fully.
If we have finished the second round and have seen improvements but the yeast is not fully cleared, how soon later can we start another round? 
You can start another round of Glacier Peak Gold right after if you feel that your dog may benefit from using it a little longer. A pre and probiotic can sometimes really go a long way in trying to eliminate yeast as gut health plays a huge part, too. 
Will there be yeast die-off or a healing crisis?
We usually don't hear of that happening with dogs that take Glacier Peak Gold, but it can happen with some dogs. This could take the form of intense scratching or stronger yeast smell. To help your dog, make sure that you eliminate starch (root vegetables, grains, etc) from your dog's diet while on GPG. 
During rest periods / off days, give your dog immunity-boosting supplements to help balance its immune system. 
*We try our best to keep product information and images up to date but take note that they only serve as a guide. While it doesn't happen often, changes by manufacturers may take some time to reflect on our site. If there are ingredients you are particular about, chat with us!