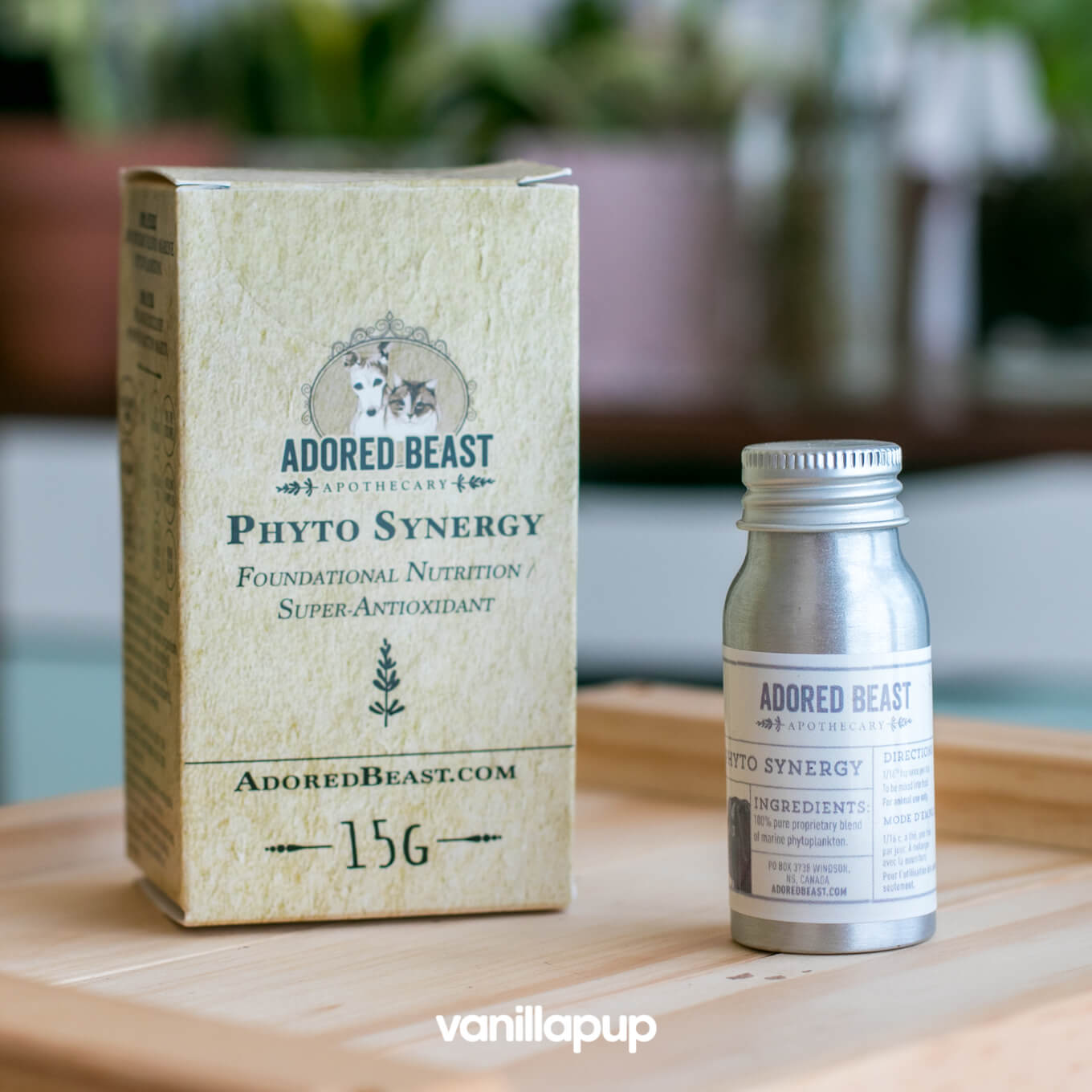 Adored Beast Phyto Synergy | Super Antioxidant
The Adored Beast Phyto Synergy is 100% phytoplankton that provides your pet's diet with trace minerals, chlorophyll, essential amino acids, EPA, protein, carotenoids, antioxidants, amino acids, and vitamins.
Pickup available at Vanillapup
Usually ready in 24 hours
Adored Beast Phyto Synergy | Super Antioxidant
15g
Vanillapup
Pickup available, usually ready in 24 hours
314B Punggol Way
Waterway Cascadia
Singapore 822314
Singapore
+6587847920
Adored Beast Phyto Synergy
The Adored Beast Phyto Synergy is 100% pure marine phytoplankton and complete nutrition that absorbs and resonates with the body's synergistic process. 
When you incorporate it as part of your animal's daily food, you are supporting their entire body, overall health, and longevity.
Phytoplankton is a whole food, not a supplement! This incredible single-celled organism is a super antioxidant that offers trace minerals, chlorophyll, essential amino acids, EPA, protein, carotenoids, antioxidants, amino acids, and vitamins.
Watch what Adored Beast founder says about the benefits and importance of Phyto Synergy for our dogs in this video: 
A few of the areas that phytoplankton can target are:
Skin health

Mobility & joint health

Improved cellular function (healthier organs)

Decreased inflammation

Digestion support

Increased energy

Decreased hyperactivity

Decreased anxiety

Detoxification
Ingredients: 
100% Pure Proprietary Blend of Marine Phytoplankton
This phytoplankton is grown sustainably on land with filtered Atlantic Ocean water. We start with a seed that multiplies into countless others. It's environmentally ethical and fully sustainable.
FAQs
How is this different from kelp or other sea greens?
One very big difference is that phytoplankton is the number one food source in the ocean. It's what the animals of the sea choose to eat to get the most nutrition and antioxidant value.
With that said, Adored Beast Phyto Synergy is dedicated to not taking any food source from the ocean. It is grown on land and completely sustainable.
We believe that ethical treatment of all beasts is important and no other animal should suffer for the production of our products.
Because of the heavy metals in all of our water source (not just ocean water), it is extremely hard to find clean kelp, algae, sea greens or phytoplankton now. 
The good news is Phyto Synergy is grown on land with ocean water that is filtered from all heavy metals. It is therefore considered one of the purest products in the world!
The specific strains included in Phyto Synergy were painstakingly chosen. That is the reason it is labelled a proprietary blend. Adored Beast worked with scientists for a long time to be sure that they were bringing to market the best strains possible for our animal companions.
If my pet is allergic to fish/shellfish, can they still take Phyto Synergy?
Yes. Phytoplankton is a cell, not a fish. In fact, if your animal can't have fish, Phyto Synergy is the perfect way to give your dog vital Omega 3s!
How long would it take before I see improvement in my pet?
Phyto Synergy is a whole food supplement that offers:
Trace minerals

Chlorophyll

Essential amino acids

EPA

Protein

Carotenoids

Antioxidants

Vitamins
These things support the entire body by promoting overall health and longevity.
You may notice some immediate benefits, such as increased energy and mobility, less shedding, and healthier stools. That said, most of the benefits, such as decreased inflammation (which is the root cause of many diseases) and increased skin health, would take time to show up. 
How long does this last?
A 15g container has approximately 45 servings in it. 
How do I store this?
Phytoplankton is light-sensitive. Store it in a cupboard away from direct sunlight.
What will phytoplankton do for my pet now and in the future?
One of founder Julie Anne's favourite things about Phyto Synergy is its bioavailability (the ease in which the body can absorb nutrients).
Because so many animals and people are walking around with unhealthy digestive systems, many products have a very poor absorption rate. Only a fraction of most products or foods is being fully absorbed.
Each cell of Phyto Synergy is smaller than a red blood cell so it is absorbed almost instantaneously. This not only means that the body is getting the full benefit of the product but that you are not wasting money on something that is only being partially absorbed.
Feeding Phyto Synergy supports every function of the body, so your pet is getting immediate benefits of the Super Oxide Dismutase (antioxidants that fight inflammation and disease), as well as the long-term benefits of this whole food nutrition to help prevent long-term chronic disease and to slow down ageing. 
*We try our best to keep product information and images up to date but take note that they only serve as a guide. While it doesn't happen often, changes by manufacturers may take some time to reflect on our site. If there are ingredients you are particular about, chat with us!