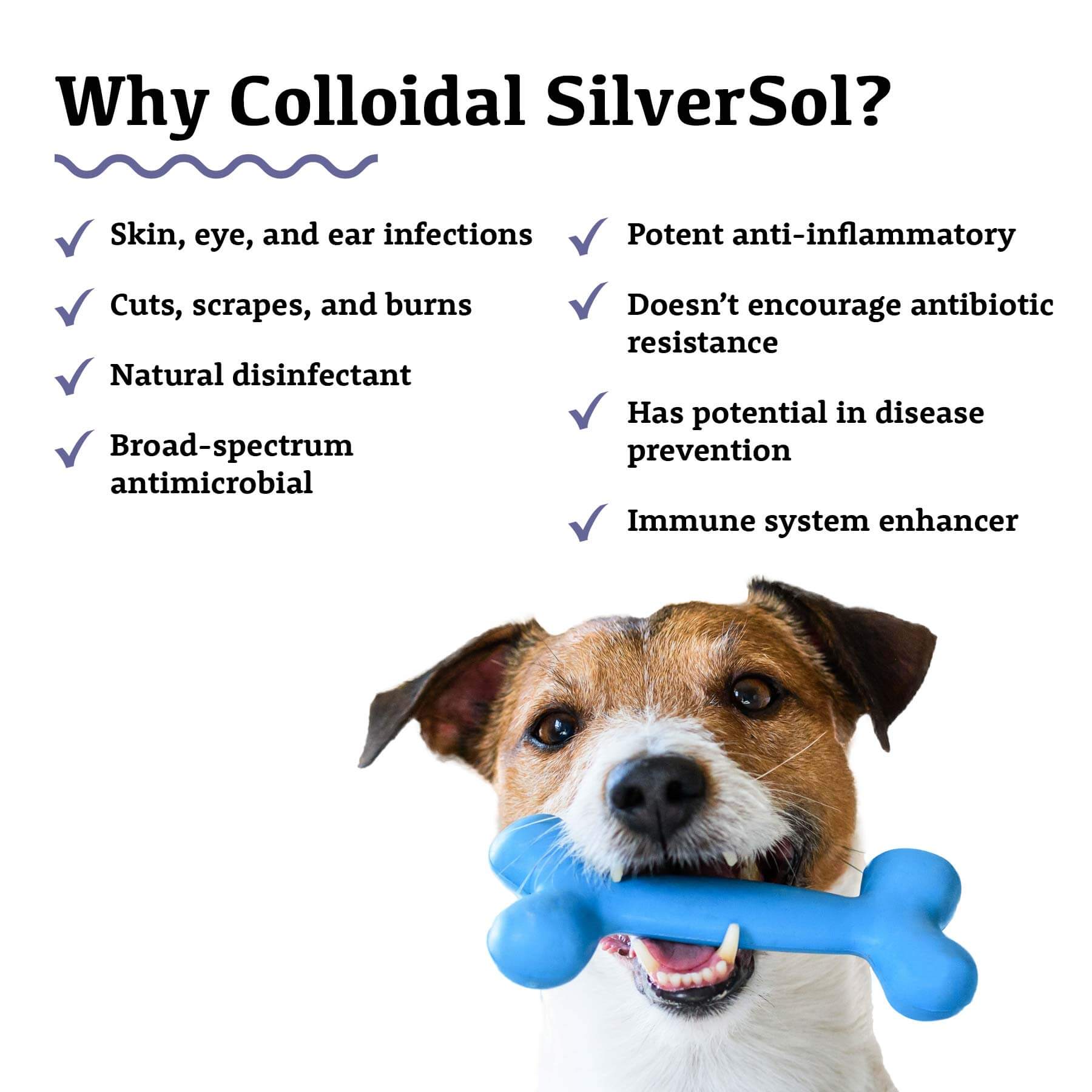 Adored Beast Colloidal Silversol | MRET Activated
Pickup available at Vanillapup
Usually ready in 24 hours
Adored Beast Colloidal Silversol | MRET Activated
Vanillapup
Pickup available, usually ready in 24 hours
314B Punggol Way
Waterway Cascadia
Singapore 822314
Singapore
+6587847920
Adored Beast's patented silver has a unique linear alignment due to MRET activation and has demonstrated the ability to kill pathogens at a concentration of 5 ppm.
Because of the patented technology used, the structure of the molecules is modified, allowing it to target the bad bacteria without harming the good bacteria. 
"By using these two technologies, this colloidal silver is more powerful at entering cells, and attracts pathogenic bacteria while leaving good bacteria unharmed."
- Founder Julie Anne Lee, DCH RCSHom
Comes with both spray and dropper heads. 
Helpful for skin, eye, and ear infections

Use for cuts, scrapes, and burns

Natural disinfectant

Broad-spectrum antimicrobial

Potent anti-inflammatory

Doesn't encourage antibiotic resistance

Has the potential in disease prevention

Immune system enhancer

Works synergistically with prescribed antibiotics
External Use
Spray on the affected area 2-3 times per day or as needed. Try to avoid having your animal lick the topical solution off before it gets a chance to soak in.
Test on a small area first to ensure tolerance.
Internal Use
Administer according to your pet's weight.
Dosage
2.5 - 12 kg: 1 tsp, 2x day

12 - 23 kg: 1 tsp, 3x day

23 - 45 kg: 1 ½ tsp, 3x day

45+ kg: 2 tsp, 3x day
Do not use it for an extended period of time. Store in a cool, dry place, away from heat and light.
Safe use in pregnant animals or animals intended for breeding has not been proven. If the animal's condition worsens or does not improve, discontinue use and consult your veterinarian.
Ingredients
Purified Silver
99.99% pure silver suspended in deionized water. MRET activated, SilverSol technology
Active Ingredients
SilverSol Technology Purified Silver 10 PPM (Parts Per Million)
Inactive Ingredients
MRET (Molecular Resonance Effect Technology) Activated Deionized Water
FAQs
Is it true colloidal silver?
Yes. Our silver is 99.99% pure silver suspended in deionized water. This is the highest quality silver. True silver colloids don't have any additives. They're also the most expensive. True colloidal silver is excreted through urine and less of it gets stored in the body than other silvers. It is NOT ionic or hydrosol silver, nor is it silver protein or silver salt.
How do I store colloidal silver properly?
In order to preserve freshness, keep closed in a cool, dry place, away from heat and light.
What is the shelf life of this formula?

Colloidal silver never really expires, but we recommend using it within 4 years of opening.
Why only 10ppm?
Because of the technology we use, the structure of our colloidal silver becomes linear, which means it can more easily enter a cell. As a result, our tests show that it is effective at only 5 ppm. We made ours 10 ppm to account for new and/or different variants of viruses or bacteria.
How is this colloidal silver different?
A combination of two separate technologies makes this silver different.

Molecular Resonance Effect Technology (MRET) takes the water molecule, which is normally triangular is shape, and makes it flat and linear. This matters because, when in its triangular shape, it's much harder for that molecule to pass into the teeny tiny opening in the cell membrane. When it becomes linear, it can pass right into the cell. This makes it so much more effective.

SilverSol technology also makes it a SOL. A SOL is missing an electron. But it wants that missing electron, and the easiest place to find it is a pathogen! So it searches them out. This silver is attracted to specific pathogenic frequencies, rather than the healthy bacteria.
How long will it last for external use?
Each bottle contains 60 ml of liquid and equals approximately 480 sprays per bottle.
*We try our best to keep product information and images up to date but take note that they only serve as a guide. While it doesn't happen often, changes by manufacturers may take some time to reflect on our site. If there are ingredients you are particular about, chat with us!