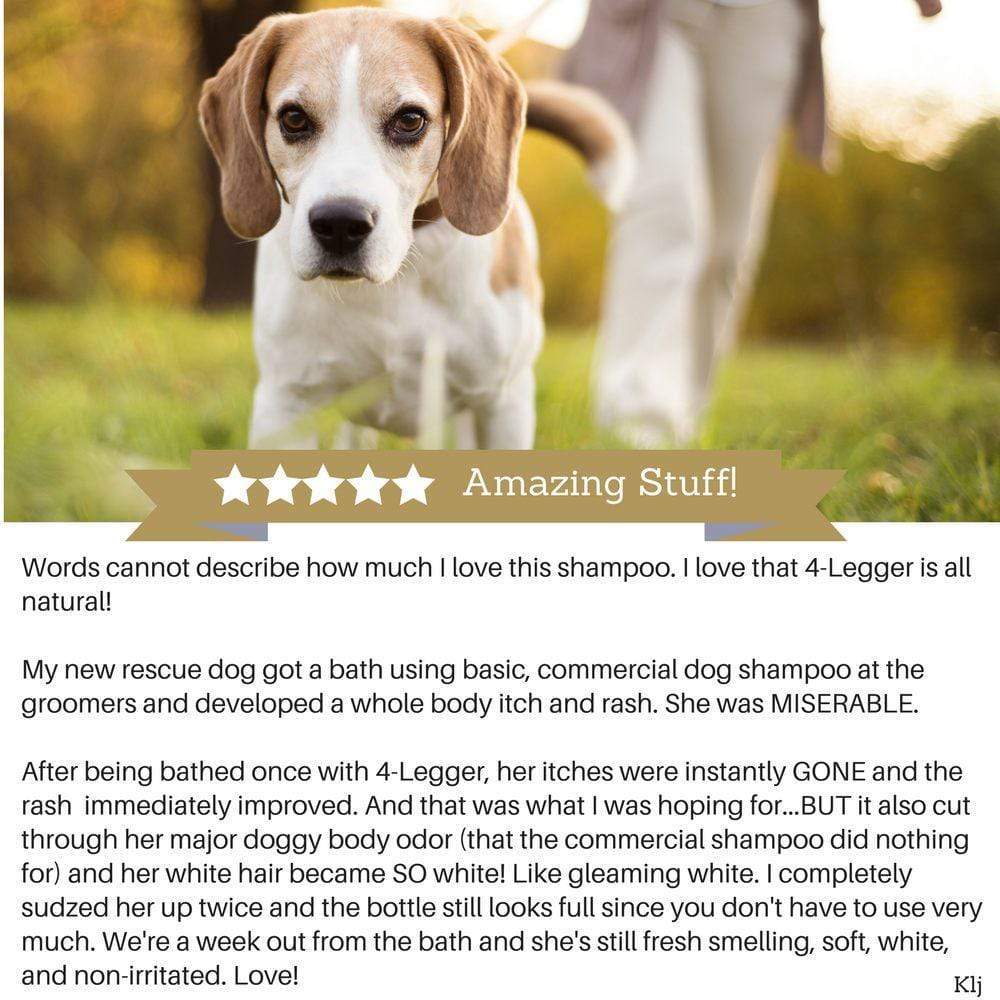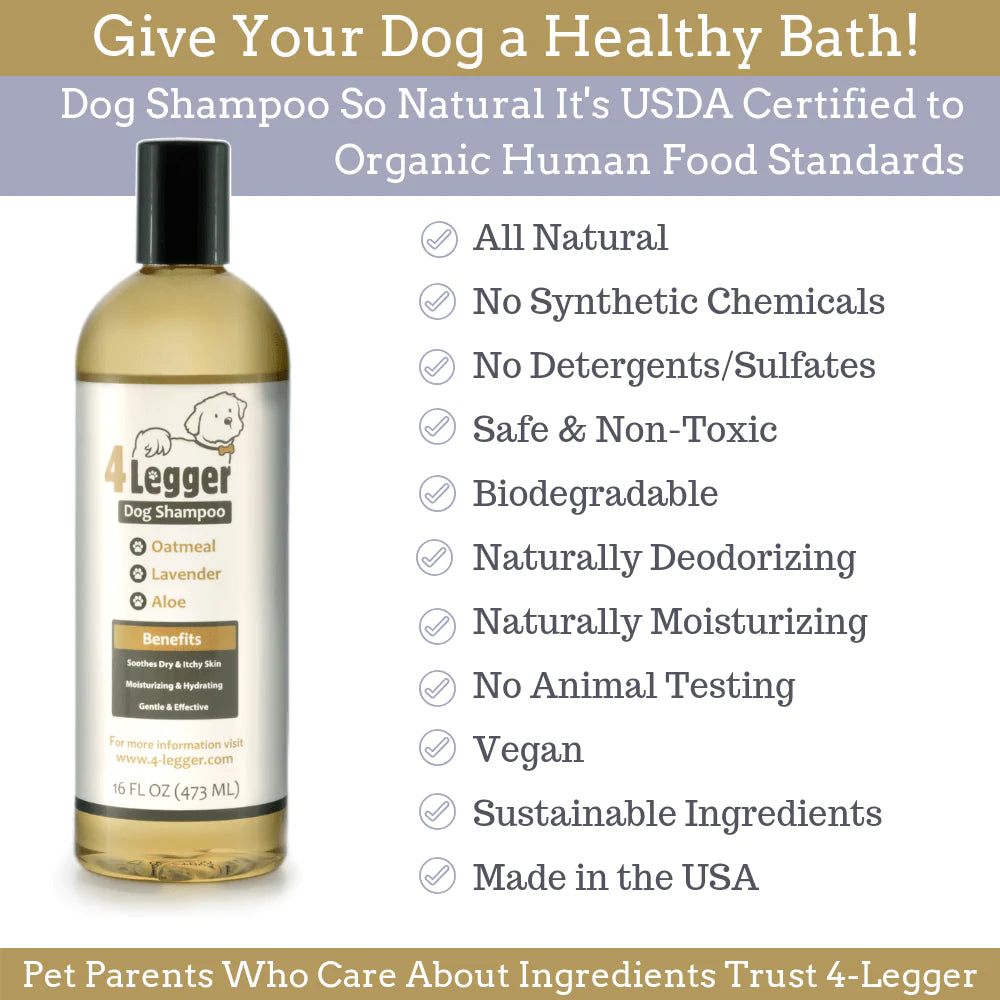 4-Legger Organic Oatmeal with Lavender Dog Shampoo
Certified to USDA Organic Food Standards
Pickup currently unavailable at Vanillapup
4-Legger Organic Oatmeal with Lavender Dog Shampoo
Vanillapup
Pickup currently unavailable
314B Punggol Way
Waterway Cascadia
Singapore 822314
Singapore
+6587847920
4-Legger oatmeal dog shampoo for allergies and itching is made with non-GMO, pesticide and herbicide-free organic oat milk (oatmeal).
Instead of colloidal oatmeal for dogs, we take a more natural approach by extracting the oat milk directly from the oat kernels and mixing it with corn derived vegetable glycerite so it retains all of its anti-inflammatory, anti-irritant, and moisturizing characteristics. It is a great oatmeal dog shampoo for itchy skin, helping to soothe dry skin while nourishing your dog's coat.
We mixed our superior oatmeal with aloe and sustainably sourced non-GMO organic coconut, olive and jojoba oils, lavender essential oils to gently clean, moisturize, condition and soften your dog's coat.
Lavender, known for its calming effect, provides anti-inflammatory properties to help soothe your dog's skin and reduce itching and irritated skin while promoting naturally healthy skin.
Recommended for all skin types, our all-natural oatmeal and aloe dog shampoo helps relieve and restore dry and itchy skin, by moisturising and improving the coat condition.
What's in the bottle
Saponified organic oils of coconut, olive, and jojoba, organic aloe vera, organic oatmeal glycerite, lavender essential oil, and rosemary extract
Size
16oz / 473ml
*We try our best to keep product information and images up to date but take note that they only serve as a guide. While it doesn't happen often, changes by manufacturers may take some time to reflect on our site. If there are ingredients you are particular about, chat with us!
Shake the bottle to blend ingredients. Introduce a little warm water before wetting your pup from head to tail. Squeeze a little shampoo onto the palm of your hand and apply it directly on your pup.
Do expect a thin consistency as only natural ingredients are used. Nonetheless, you would only need a small amount to cover your dog as it lathers quite well! To make more lather, use more water - not shampoo! You can also use a foam bottle (only dilute what you need for one bath).
Gently massage the shampoo deep into your pup's coat. Rinse thoroughly until the water runs clear. Avoid the eye area. Use a washcloth to clean the face.
Don't fret! This is absolutely normal if you're transiting from a traditional shampoo.
Dogs with longer hair or an oily coat are the most noticeable during transition.
If your dog over-produces sebum (coat oil) you may notice this for months with frequent washing and if you go longer periods between washing, you will notice it for even longer.
This is normal as the oils in the soap reacts with the sebum (oils in their coat) which may also react with the minerals in your water. Is the reaction dangerous? No. It is perfectly safe and normal! 
The waxy texture is simply more noticeable in dogs with longer hair.  Even so, it is temporary and will resolve as your dog transitions. It simply takes time to get rid of the build-up of synthetic ingredients and transition your dog's skin and coat back to its normal healthy self!
4-Legger shampoos are the world's first USDA-certified organic shampoo for dogs!
Getting properly certified organic is costly and difficult as the product has to meet the high standards and strict regulations of USDA, even after certification. 
4-Legger has committed time and money to get that seal on the front of the bottle to give us the peace of mind that we are indeed giving our pups a truly safe and non-toxic product.
The difference is primarily in the bases:
USDA Organic Base: Organic Aloe Juice, Organic Saponified Oils of Coconut, Shea Butter, Olive, Sunflower, and Jojoba, Organic Vegetable Glycerin, and Organic Rosemary Extract
Organic to Food Standards: Saponified Organic oils of Coconut, Olive, and Jojoba, and Rosemary Extract