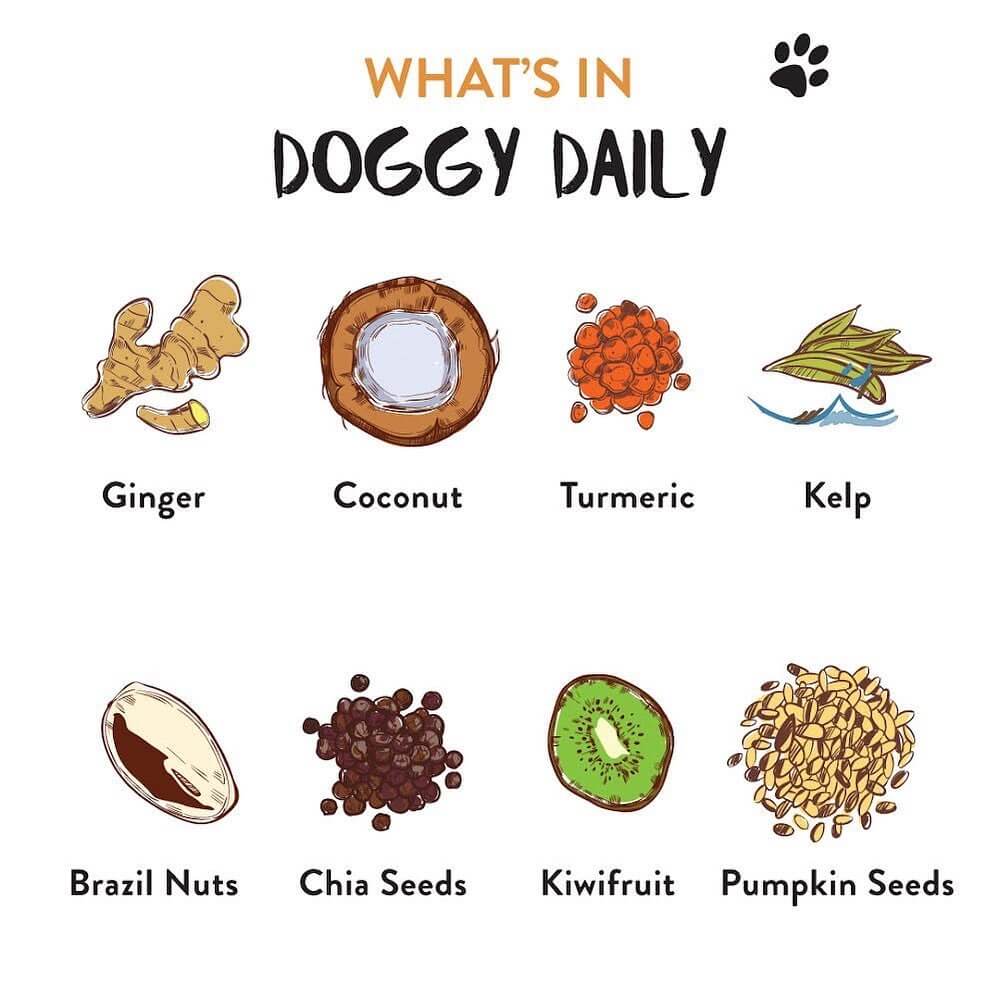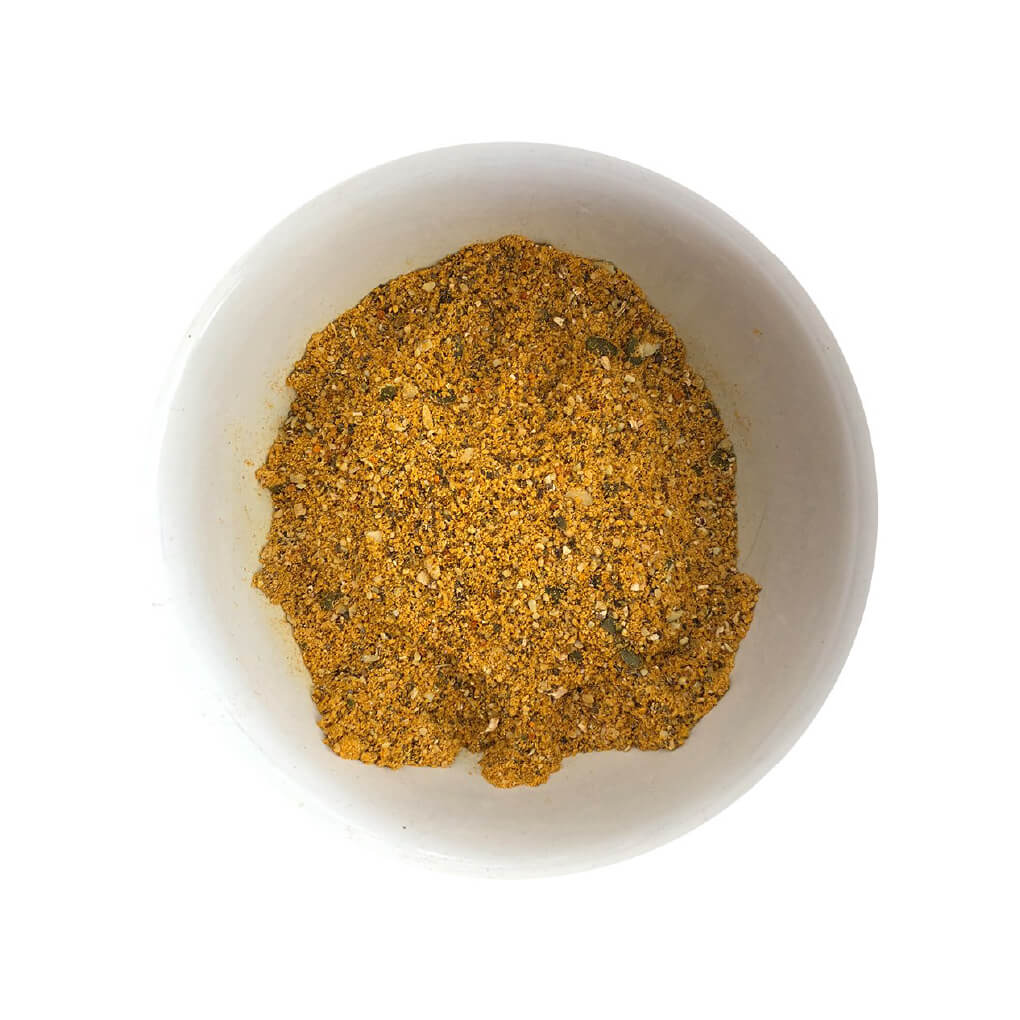 Olive's Kitchen Doggy Daily® Superfood Supplement
A daily boost to your dog's health.
Pickup available at Vanillapup
Usually ready in 24 hours
Olive's Kitchen Doggy Daily® Superfood Supplement
Vanillapup
Pickup available, usually ready in 24 hours
314B Punggol Way
Waterway Cascadia
Singapore 822314
Singapore
+6587847920
Olive's Kitchen Doggy Daily Superfood Supplement
Fur fact: 90% of a dog's immune system resides in their gut. That means the secret to great health is great gut health!
Packed full of all-natural superfood ingredients, Doggy Daily provides dogs with an essential dose of gut-boosting nutrients that are missing from most modern diets.
Doggy Daily is helpful for:
Advancing gut health

Boosting immunity

Reducing inflammation

Promoting healthy skin and coats

Keeping fleas, ticks, and worms at bay
Proven natural ingredients:
Pumpkin seeds, coconut, kelp, chia seeds, turmeric, fennel, ginger, Brazil nuts, probiotic powder, and kiwifruit
All of our ingredients have been carefully selected with the support of vets to ensure they firstly DO NO HARM and secondly, promote better gut health and wellbeing naturally. 
Product of New Zealand.
Pumpkin seeds
Pumpkin seeds are a rich source of cucurbitin, which has some effect against parasites. They also support a healthy immune system and are a source of lutein, carotene, and beta-carotene, which support health.
Coconut
Coconut is an excellent source of soluble and insoluble fibre and traces of coconut oil that support healthy gut function and is a source of antioxidants. 
Kelp
Regulates glandular activity in the adrenal, pituitary, and thyroid glands. Great for skin allergies, as it helps reduce itching and inflammation. Contains protein and amino acids that help tissue repair. Iodine content helps to stimulate thyroid activity, speeding metabolism and weight loss.
Chia seeds
Chia seeds have about 3 times the amount of Omega-3 fatty acids as salmon! Hence, it's great for dogs that are allergic to fish oils. Chia seeds support healthy skin and coat, joints, brain and eye health.
Turmeric
Turmeric root contains a compound called curcumin in small amounts. Curcumin supports healthy liver, gut, immune, brain, joint and skin function.
Ginger
Ginger is a traditional herb that supports healthy gastrointestinal function, joint, and circulatory function.
Brazil Nuts
A great source of Selenium. NZ soils are deficient in selenium, and so are most foods. A great addition to your dog's diet. An adequate amount of selenium is needed for the proper function of the thyroid gland, the immune system, and skin and coat. Research has also credited selenium with its anti-cancer and antioxidant properties.
Probiotic
Everyday use of probiotic helps maintain a balanced digestive system, optimise digestion of food and enhance your animal's health, naturally.
Kiwi
Very beneficial for dogs with skin or coat issues, such as atopic dermatitis.
Size:
Our 150 gm bag contains approximately 35 tsps of Doggy Daily mix or just over one month's supply for a smaller dog.
Daily dose:
Under 2.5kg: Mix 1/2 teaspoon

2.5kg - 10kg: Mix 1 teaspoon

10kg - 18kg: Mix 2 teaspoons

8kg +: Mix 3 teaspoons
While we recommend an unprocessed diet for all fur babies, Doggy Daily can be added to wet or dry food bowls. 
As it can take time for your dog's digestive system to adapt to the different nutrient levels, it is important to transition gradually to reduce the chance of them having an upset stomach.
Store in a cool place to help preserve the nutrients of the superfoods. 
Please note:
Not all dogs remain parasite-free with a natural approach. Especially when it comes to worms, this can be a risk as some worms are a zoonosis, which means that they can be transferred to humans. For our clients, we recommend a regular Faecal Egg Count (a test that we do on the poop) to make sure that they're worm free and there are no safety risks to the humans.
*We try our best to keep product information and images up to date but take note that they only serve as a guide. While it doesn't happen often, changes by manufacturers may take some time to reflect on our site. If there are ingredients you are particular about, chat with us!