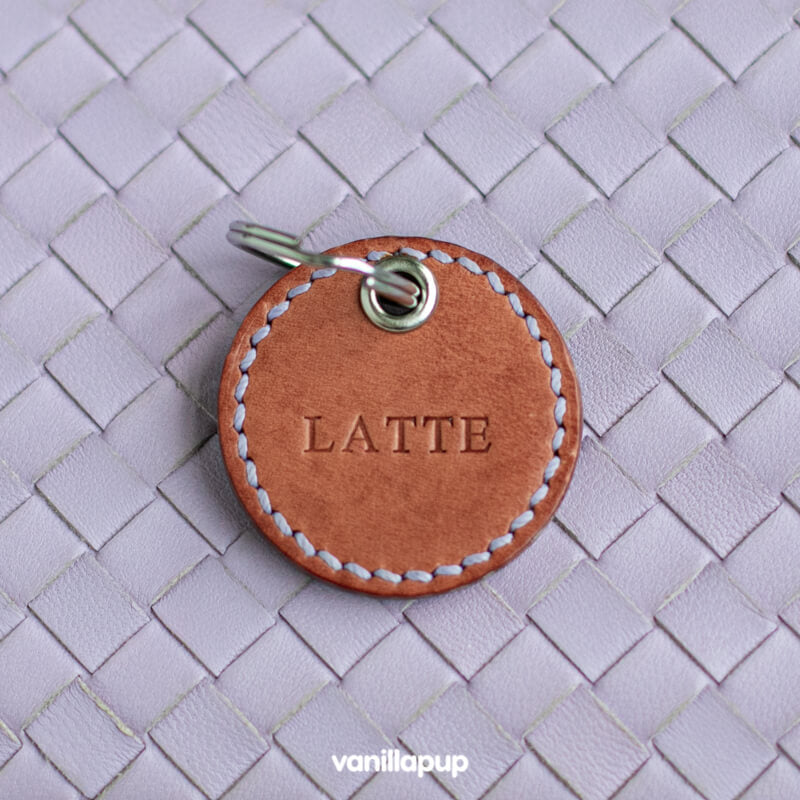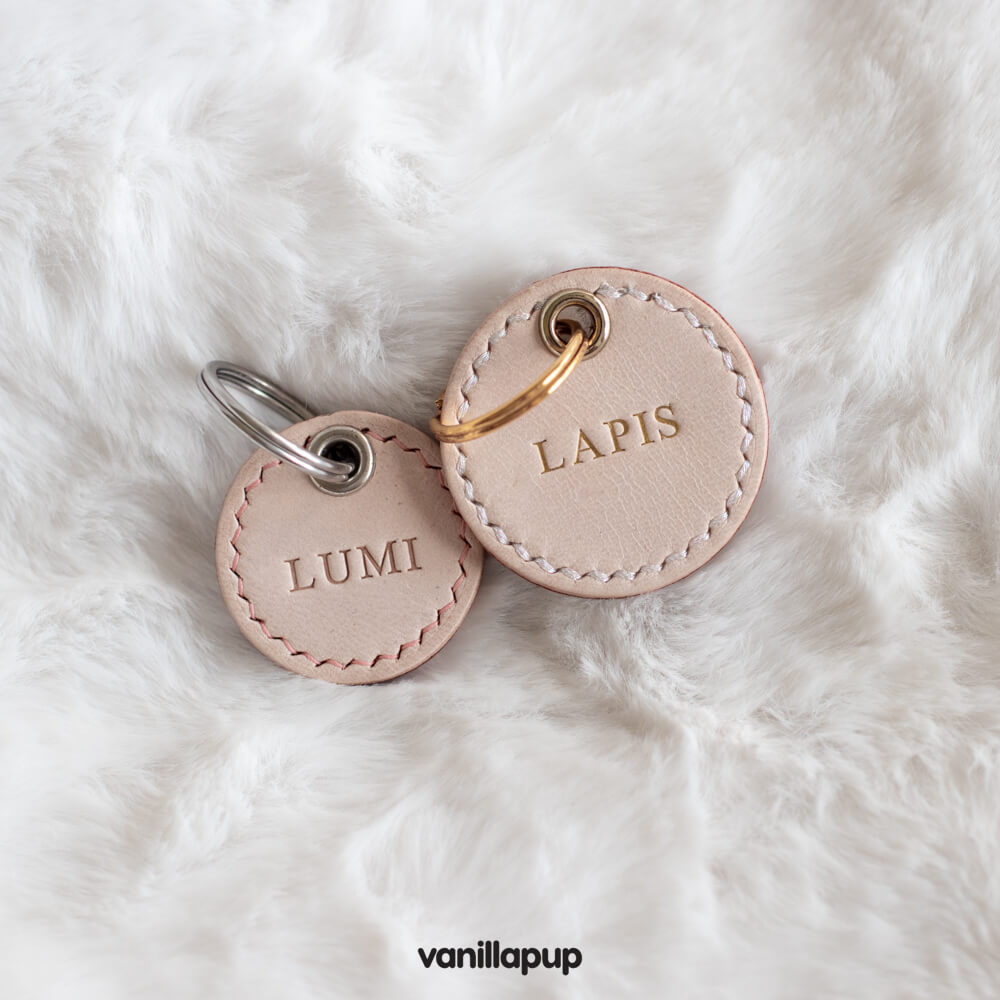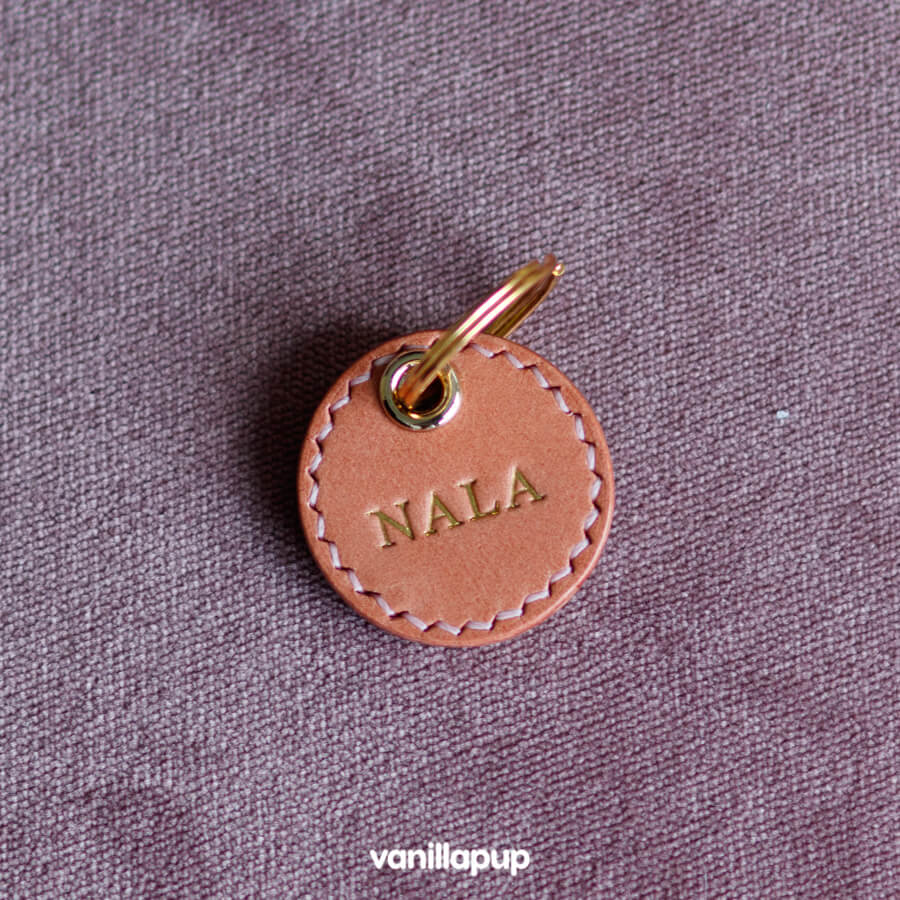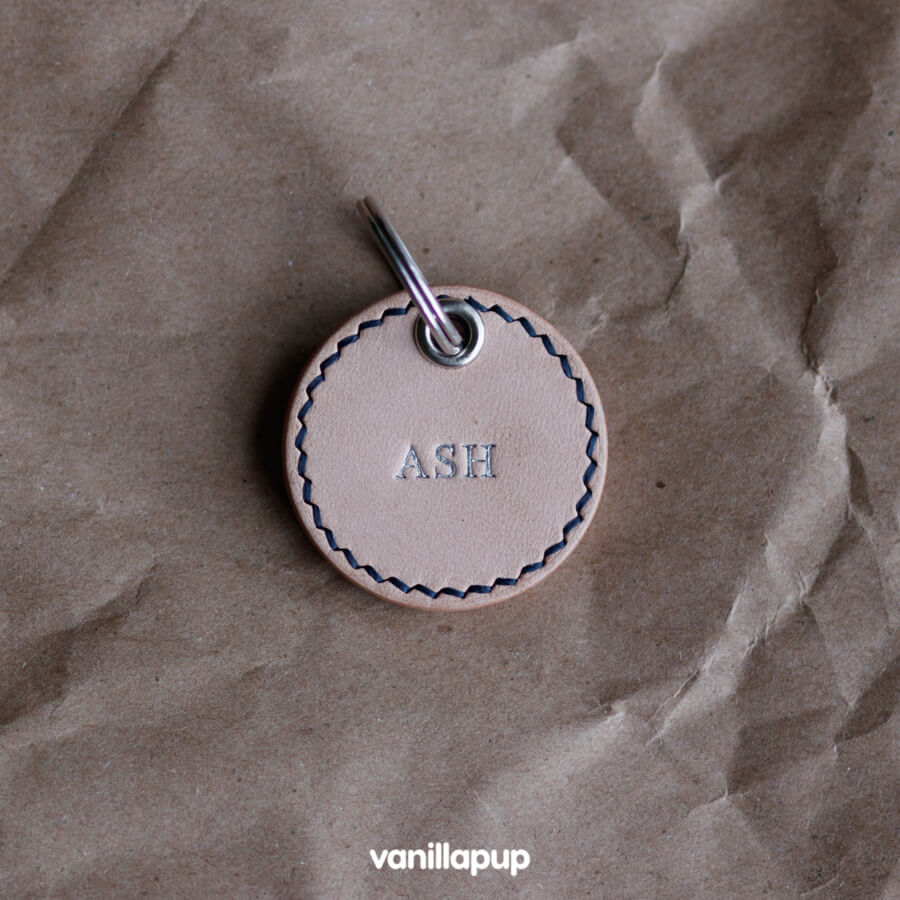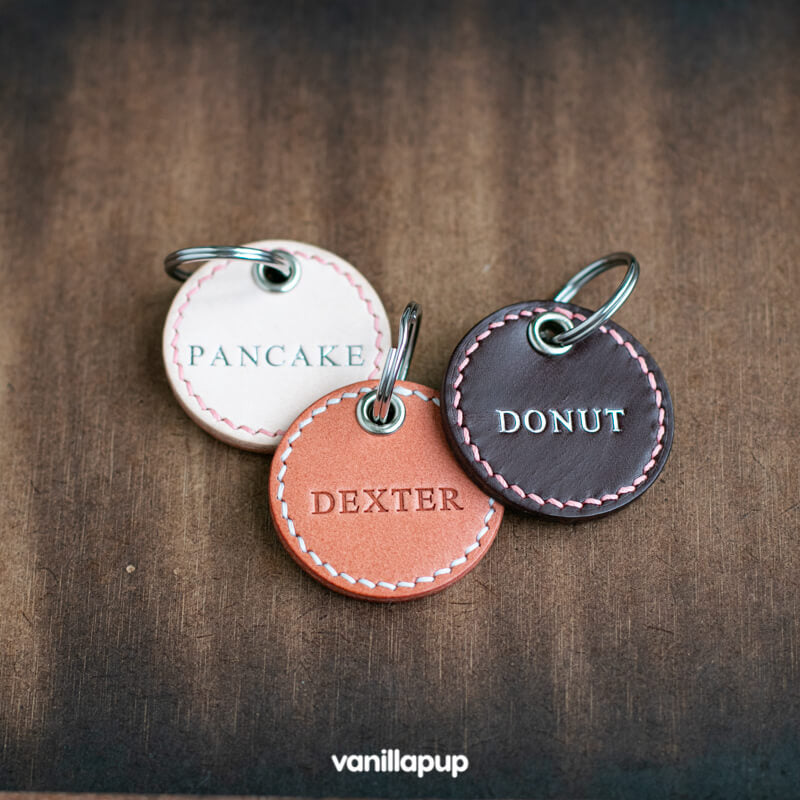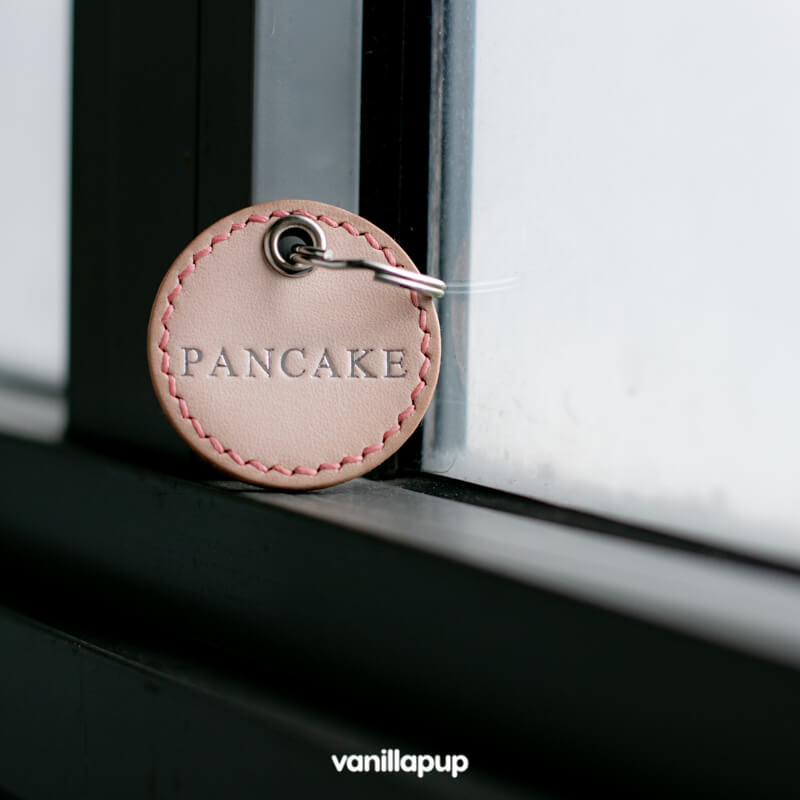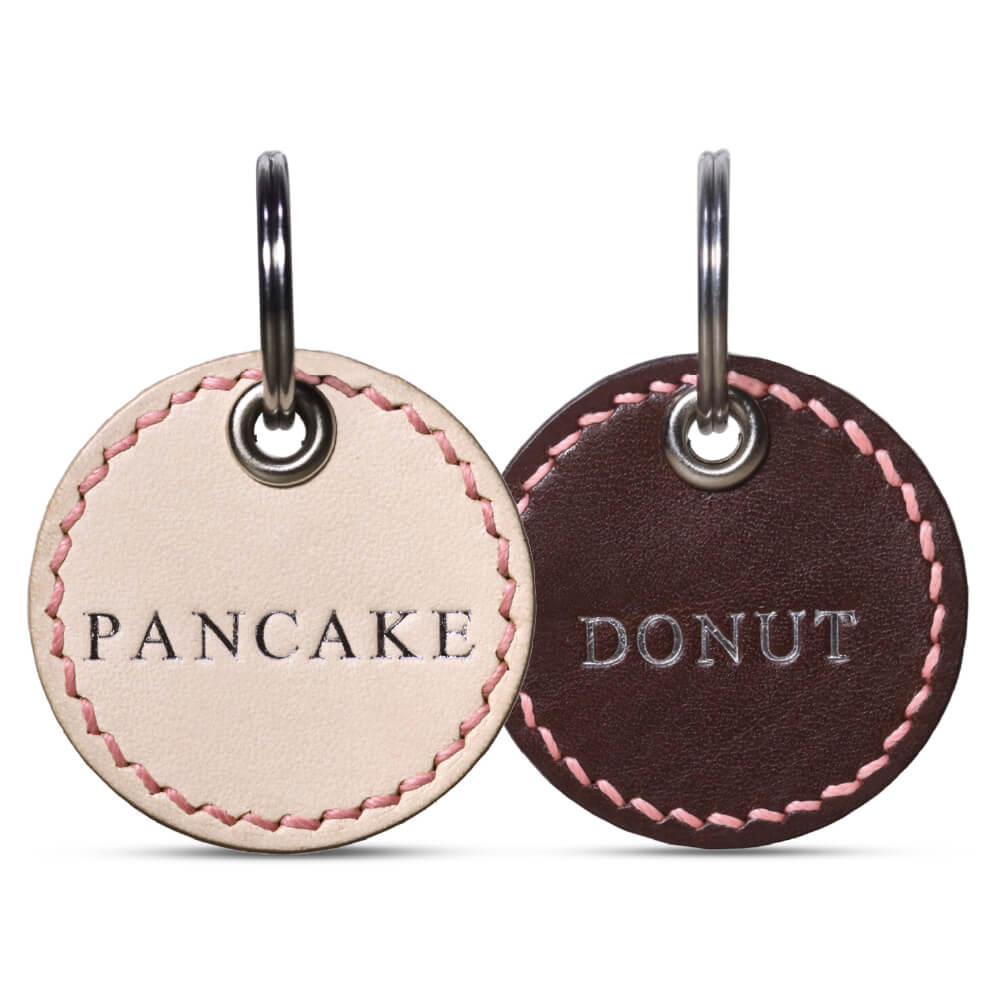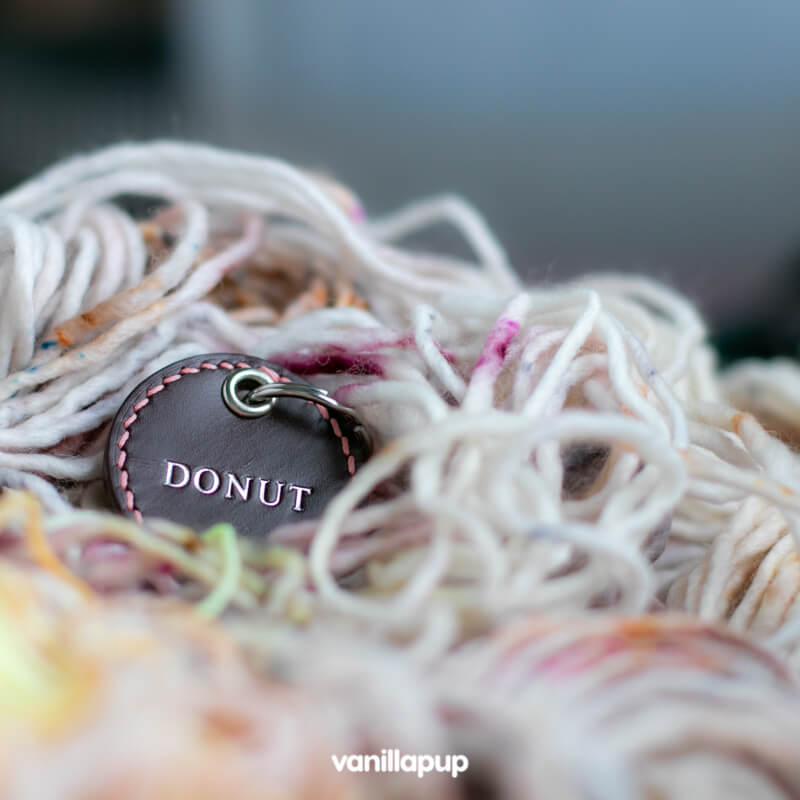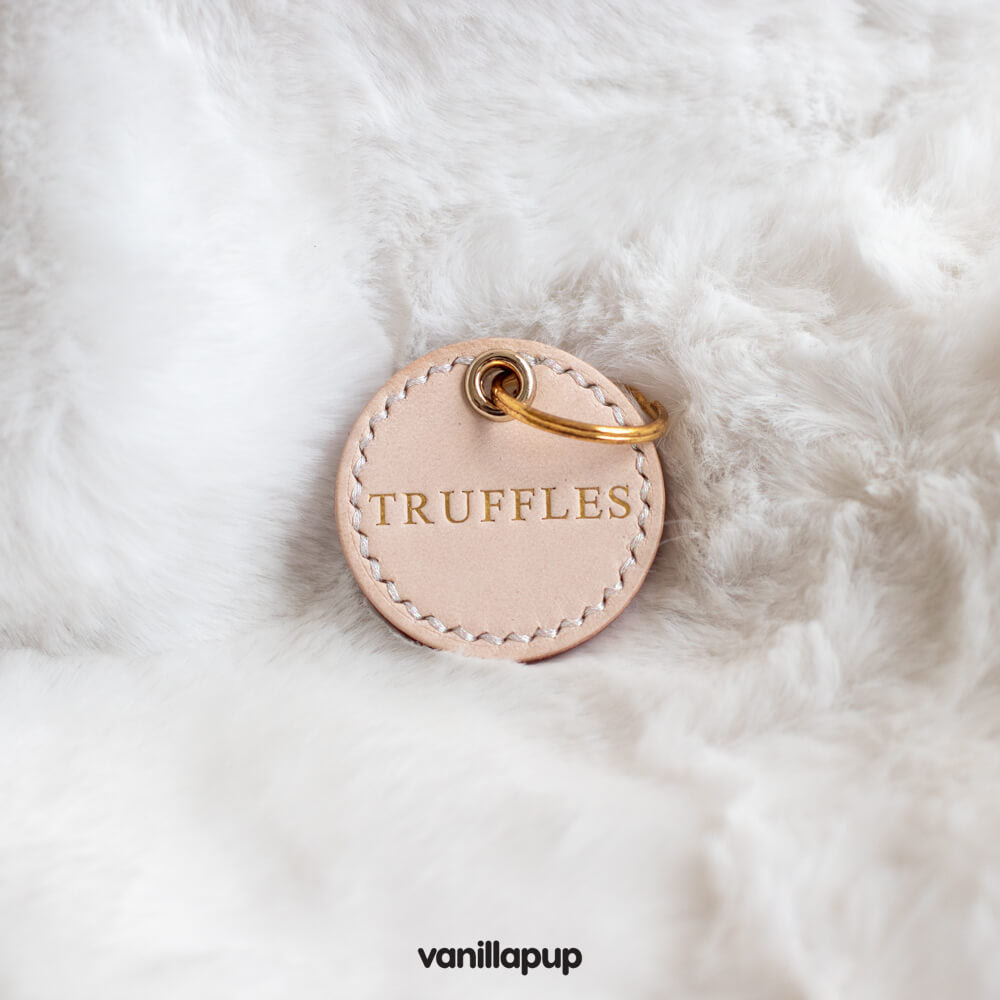 LéPaw x Vanillapup Duo Tone Leather Pet Tag
Note about shipping: Pet tags are shipped separately using SmartPac, directly from LePaw. As such, a small shipping fee of $3.20 will be added at checkout.
Tag Size:
36mm (1-9 letters)
Number of Contacts:
One Contact Number (max. 8 digits)
There's something about leather that exudes a sort of charm that cannot be replicated in other materials. For some, it's finding the unique grain that speaks to them. To others, it's owning something timeless that gets better with age. 
Regardless of the reason for loving leather, we want to use it as ethically and safely as possible. LéPaw's leather tags are made using Italian leather that's the byproduct of the meat industry and vegetable-tanned, using no harmful chemicals - making it safe for our pets and also the environment.
The leather gets more charming with use as the colour deepens and develops a natural shine.
Vanillapup exclusive
Our exclusive collaboration with Lepaw is led by a beautiful leather, old rose with two complementary leather shades - fair beige and coffee bean. You can choose 2 of the 3 shades to make your duotone tag or have 1 shade on both sides. It's your choice!
Every piece is handstitched by an artisan
Your pet's name (front) and your contact details (back) are debossed deeply into your chosen leather. Every piece is handstitched using saddle stitching. Each pet tag is made using 19 different tools!
Timeline and shipping 
The lead time for this custom product is 10 - 14 working days

Pet tags are shipped separately using SmartPac, directly from LePaw. As such, a small shipping fee of $3.20 will be added at checkout
Name positioning:
By default, all tags ordered through Vanillapup will have the pet name positioned in the middle of the tag, cause that's the way we like it! If you prefer the name to be slightly lower, please let us know! 
Tag size:
Available in both sizes 30mm & 36mm catering to pets of all sizes.
30mm - 1-6 alphabets

36mm - 1-9 alphabets
Hardware colour:
Nude and silver personalisation will come with silver hardware and gold personalisation will come with gold hardware
Thread colour:
Feel free to check in with us if you're unsure about the colour. Otherwise, doing a Google search on the name of the colour should give you a good reference too. 
Pictured Pancake and Donut tags are sewn with salmon thread and Dexter tag sports blanc (white) thread.
Are the tags weatherproof?
Leather is an organic material that is sensitive to the elements. It does not like water, intense heat, direct sunlight, or excess humidity or aridity. All of those factors may alter its appearance and colour.
In the event of contact with water (e.g. light rain), wipe the tag down with a soft cloth to avoid the formation of any stains or bubbles during air drying. We do not advise getting the tag soaked in water (e.g. using it in pools) as it may cause colour bleeding or fading of the coloured debossing.
Pup boss Latte's tag is still looking new with daily use (and a little rain here and there) after 6 months. A little care, where needed, goes a long way :)
*We try our best to keep product information and images up to date but take note that they only serve as a guide. Colours may vary depending on your screen. While it doesn't happen often, changes by manufacturers may take some time to reflect on our site. When in doubt, chat with us!