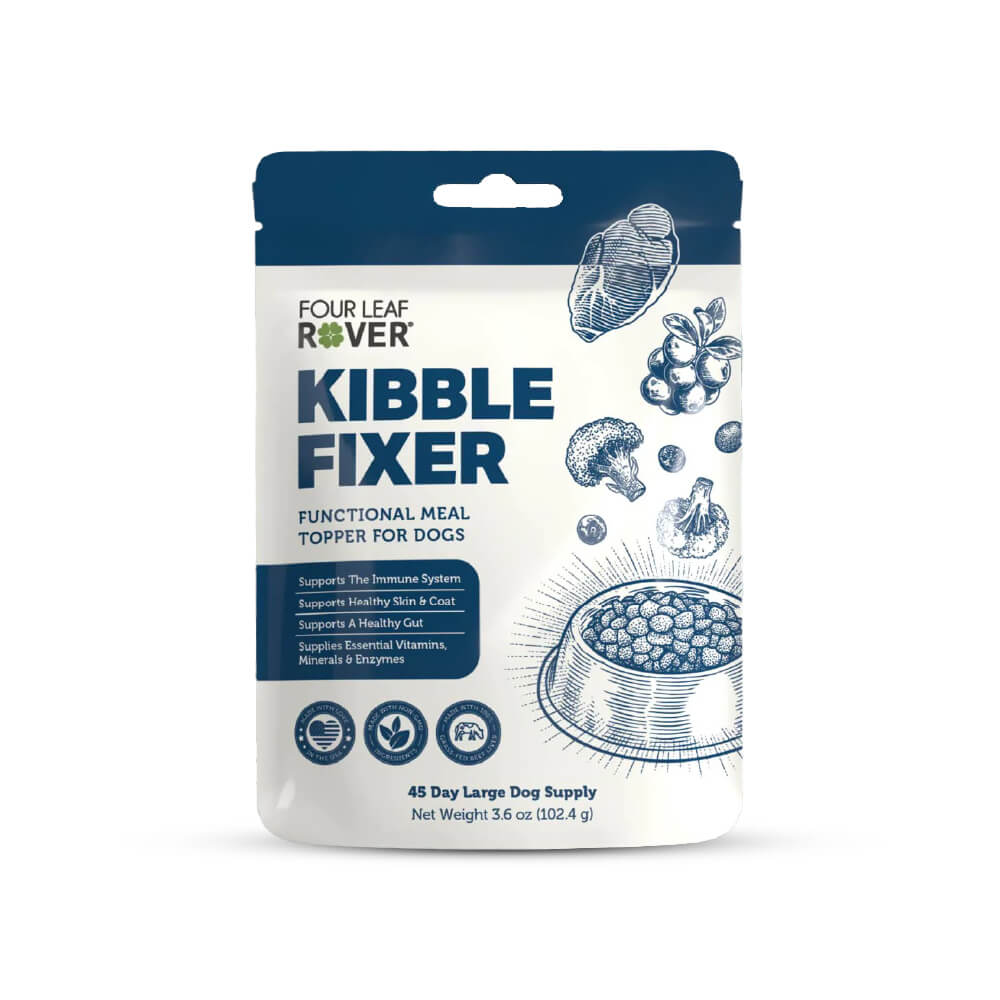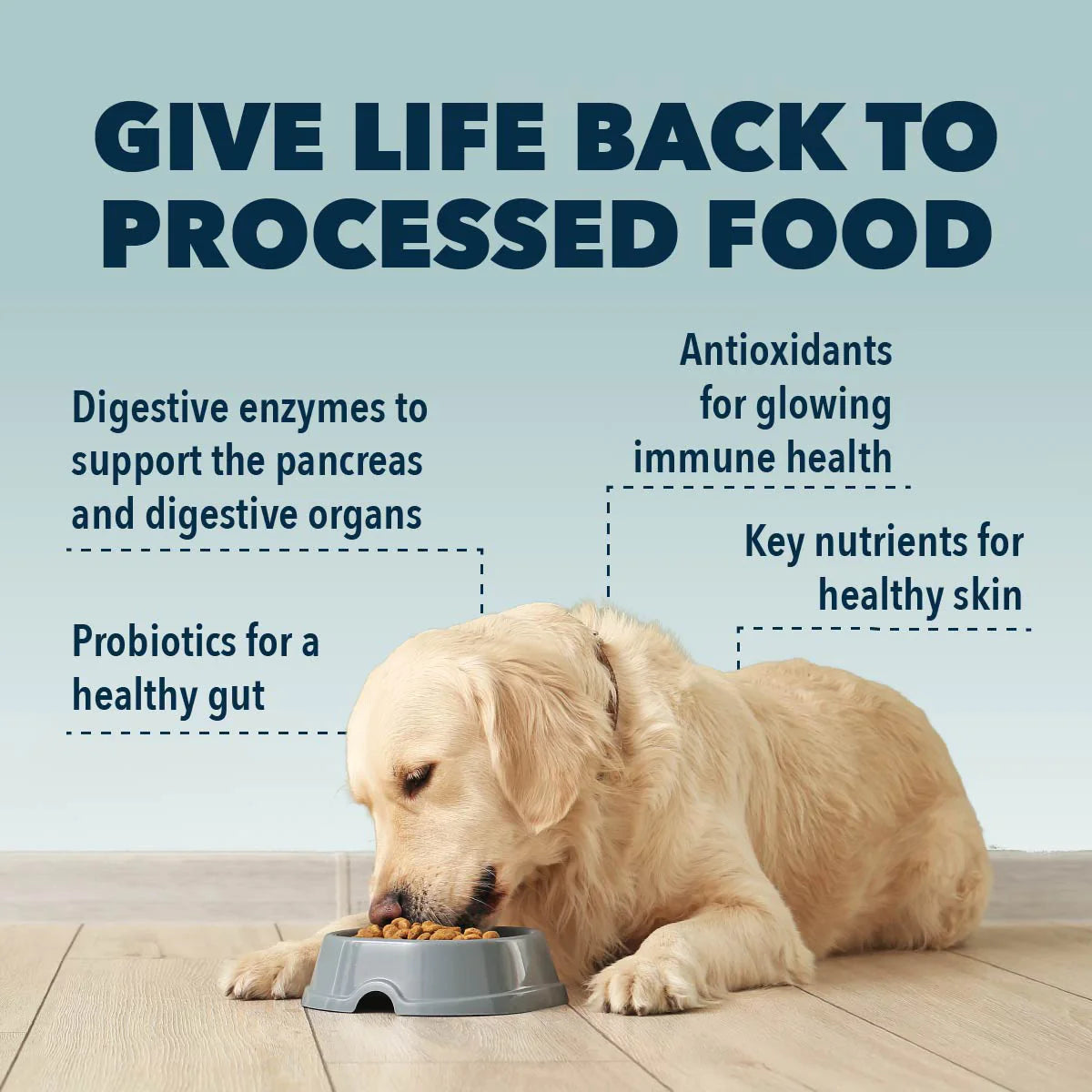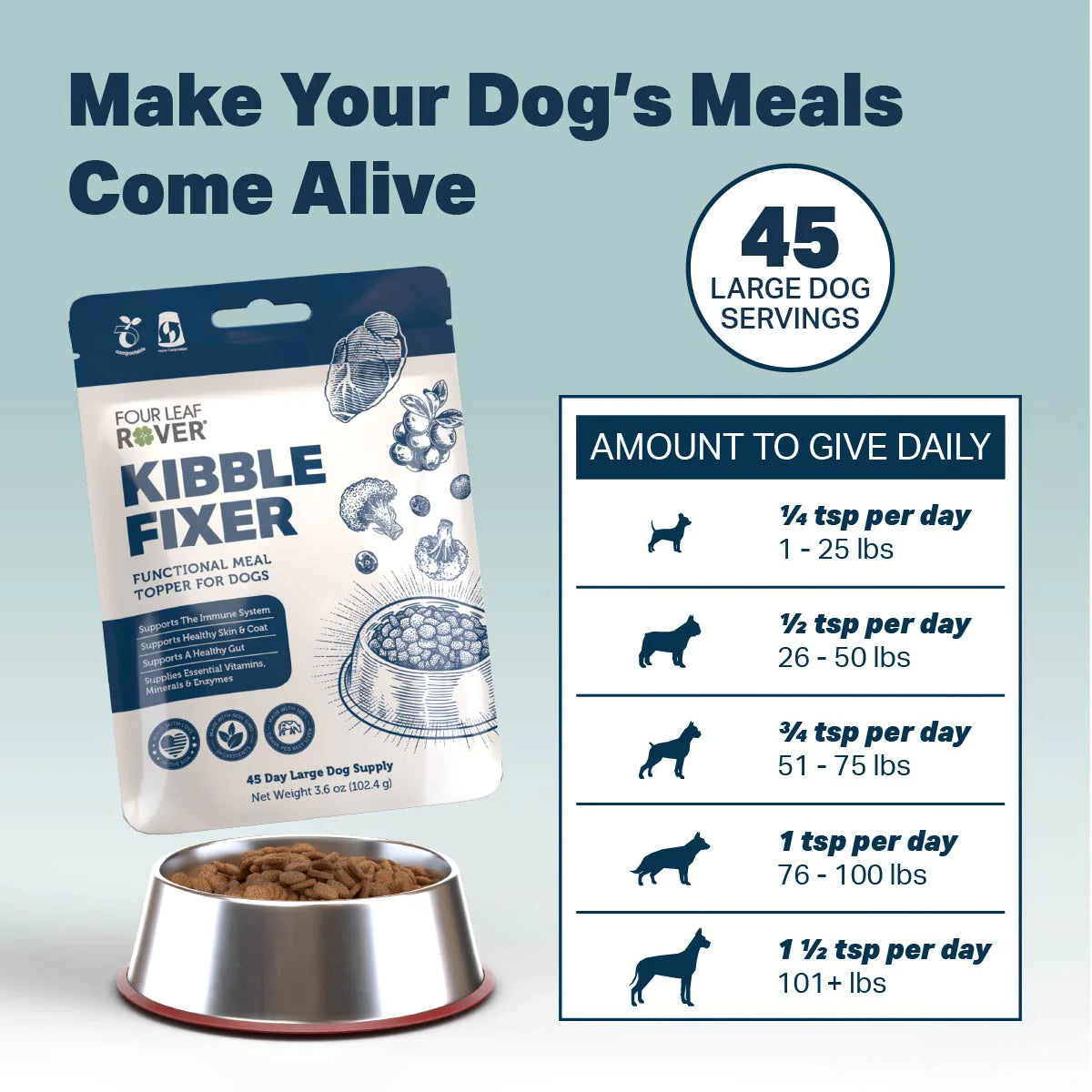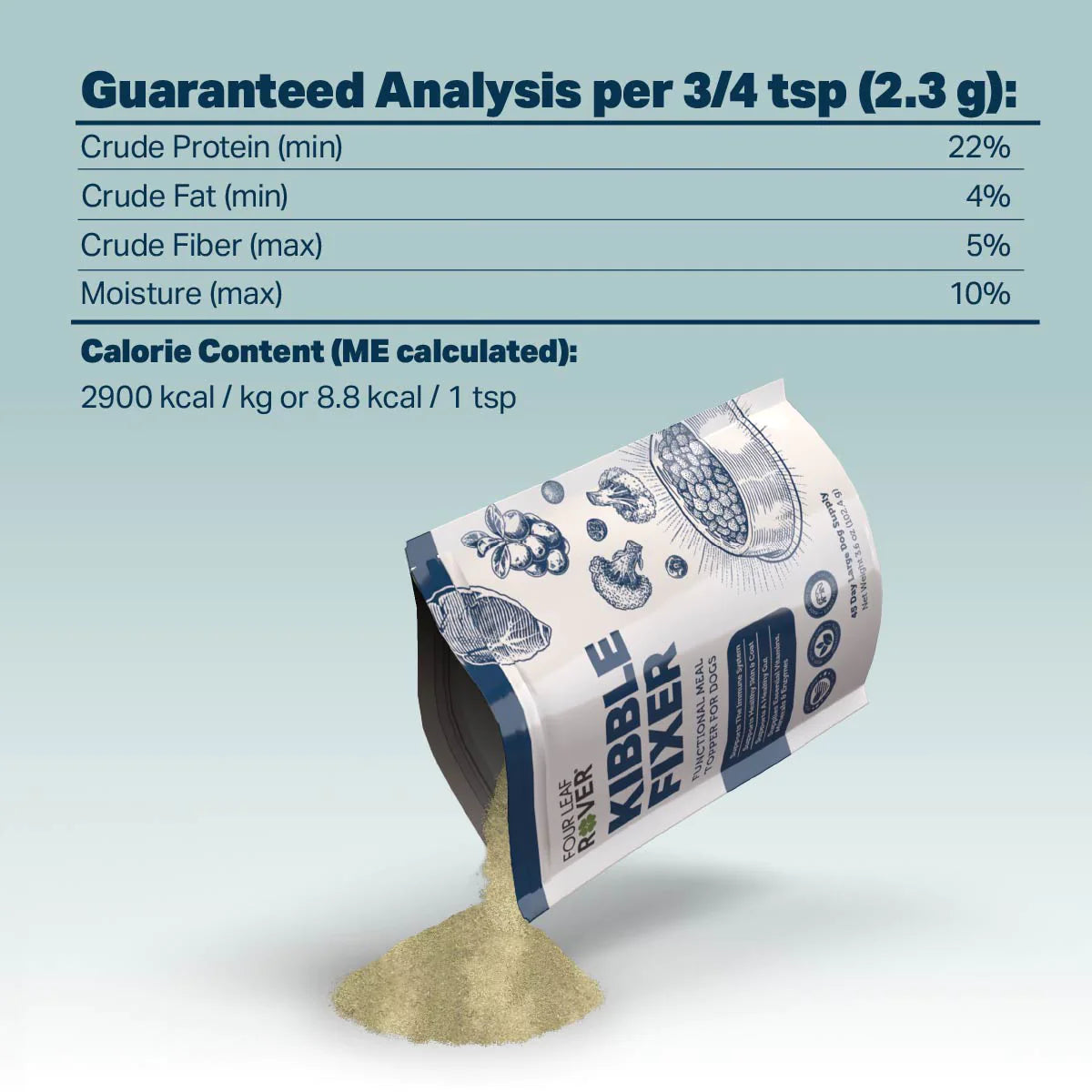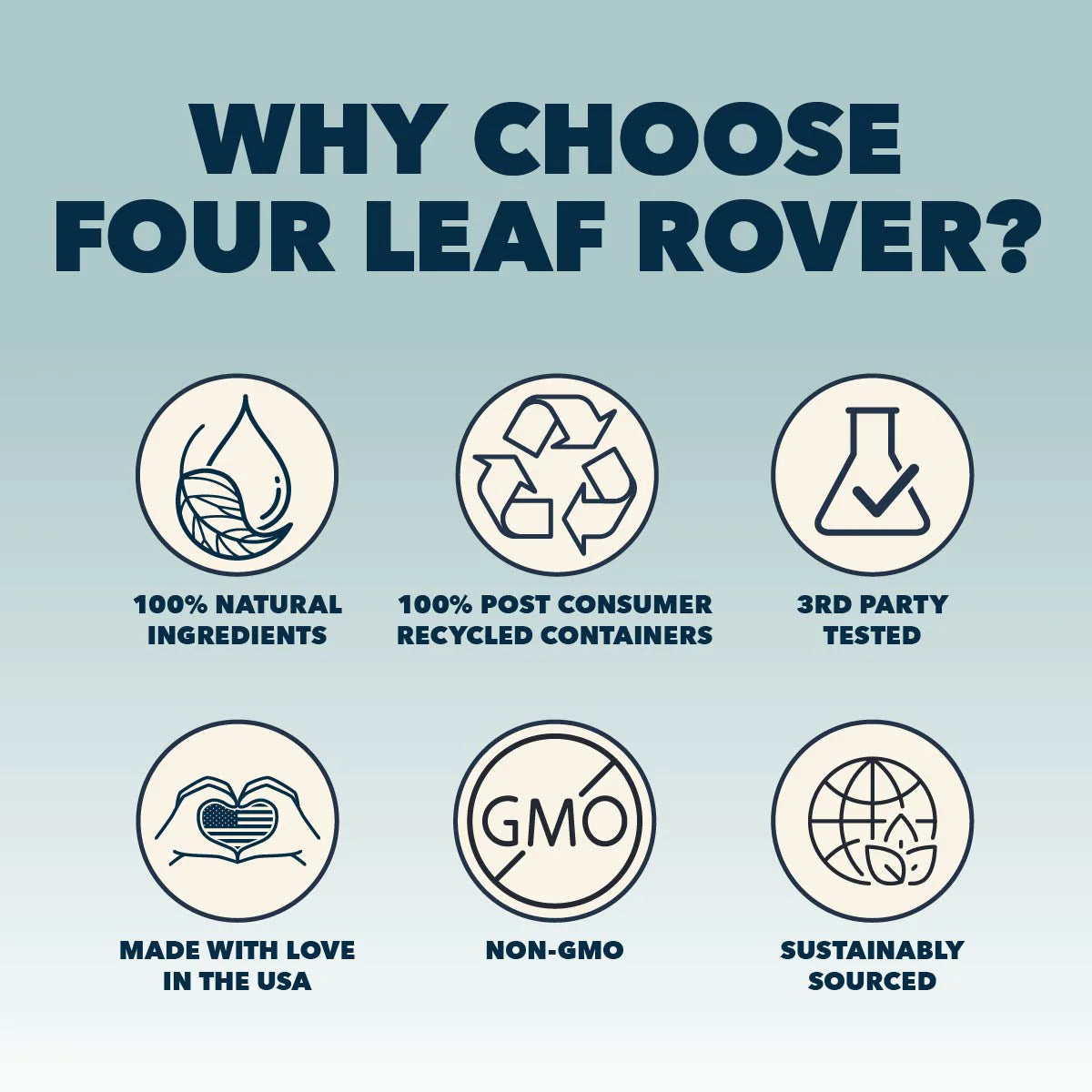 Four Leaf Rover Harmony | Kibble Fixer
Kibble Fixer isn't just dog food topper. It replaces critical nutrients that are lost in cooked and processed foods.
Probiotics for a healthy gut

Digestive enzymes to support the pancreas and digestive organs

Antioxidants for glowing immune health

Key nutrients for healthy skin
Benefits:
While kibble and other cooked/processed foods are cheap and convenient, key nutrients are destroyed by heat.
Kibble Fixer restores the important hidden nutrients missing in cooked and processed foods. With a large array of digestive enzymes, hardy soil-based probiotics and antioxidants from organic fruits and veggies, Kibble Fixer adds life to processed foods.
Rich in enzymes
Heating and processing destroys important enzymes that help your dog digest food. If these enzymes aren't in the food, your dog's pancreas has to work overtime to produce them. The result is an explosion in pancreas diseases.
Rich in antioxidants
Antioxidants are the cornerstone of health. These delicate nutrients fight the free radical damage that causes disease and premature ageing. Heating and processing destroy these key nutrients.
Rich in probiotics
Probiotics are critical for healthy guts and immune systems. Most cooked foods contain few if any probiotics - and they're full of carbs that can cause unwanted changes in the gut flora.
Kibble Fixer is expertly formulated to make processed foods more like fresh foods.
Grass-finished beef liver
Beef liver is rich in vitamin A and crucial minerals like manganese and zinc that support healthy joints and immune systems.
Organic greens
Kibble Fixer contains organic kelp, broccoli, and alfalfa to deliver important trace minerals and immune-supporting polyphenols.
Organic blueberries and cranberries
Blueberries support a healthy brain and immune system while berries are an important source of antioxidants to fight free radical damage.
Organic artichoke
Jerusalem artichoke is an important source of inulin, a potent prebiotic that supports healthy gut flora.
Soil-based probiotics
Soil-based probiotics are hardy probiotics that are better able to survive damaging stomach acids to support a healthy gut lining.
Digestive enzymes
Dogs eating processed foods can struggle to produce enough digestive enzymes. Kibble Fixer provides your dog with plenty of digestive enzymes for better nutrient absorption, and a healthy pancreas and digestive organs.
*We try our best to keep product information and images up-to-date but note that they only serve as a guide. While it doesn't happen often, changes by manufacturers may take some time to reflect on our site. If there are ingredients you are particular about, chat with us!