We had a visitor the other day and her name is Karen. I did my usual welcome greeting and tried to sniff out if she had any goodies for me. It turned out she didn't have any treats on her but had something special to offer instead!
Mama led her into the room, and Karen sat down on the floor and asked me to go over to her. I took that as a cue for me to give her face a few (or more) good licks! Of course, mama had to be rude – pulling me away and telling me "no no". She sure doesn't know how to treat our guests well.
As I began to settle down, mama put me into my bed and Karen started to pet me. I then realised that she was here to give me a massage! I love massages!
Mama says a massage can relax the mind, relieve stiff joints and tight or sore muscles, and improve blood circulation. All I know is, it makes me feel good.
There are parts of the massage I really enjoyed, but being a pup with a short attention span, I would either start kissing Karen or jump out of my bed to walk around. Don't expect your dog to lie down and relax completely throughout the session, especially if it's her first massage.
The only part I didn't quite like was when Karen stretched my hind legs. She said my muscles were pretty tight there due to excessive jumping. The muscles around my bum were also tight due to tail wagging. Mama thought that was a good problem 🙂
DIY Massage
For those of you who want to try massaging your dog at home, Karen says you can start with two simple techniques.
One is called the Effleurage technique, whereby long strokes, done with both hands (one hand is always on the body) in circular motion, are used to warm the tissues, increase blood circulation, and calm and relax the dog.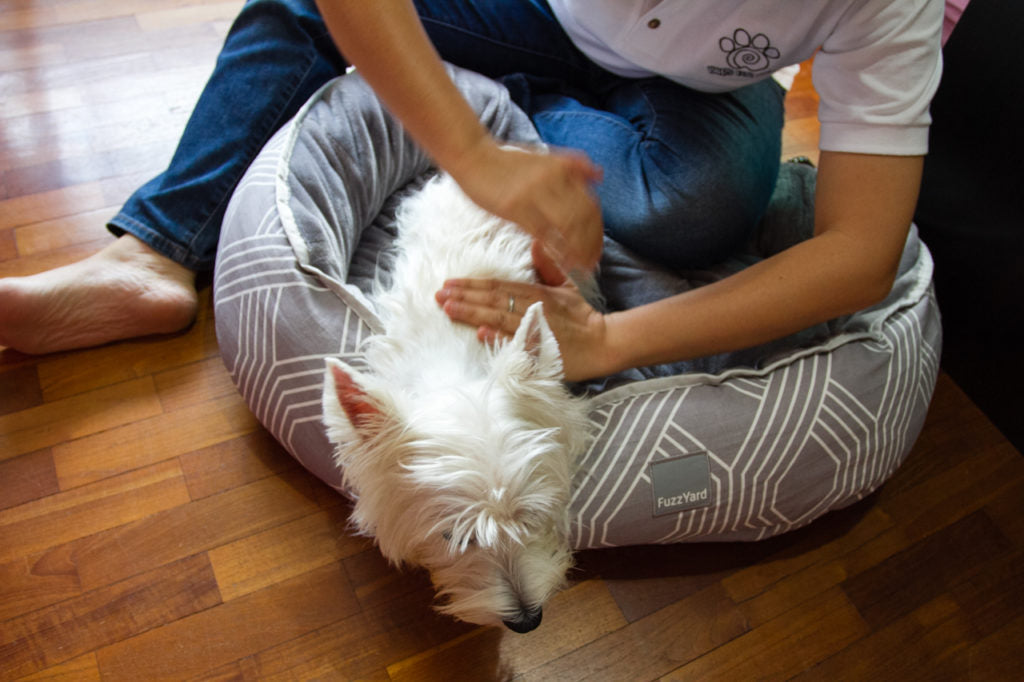 The other technique requires you to use one or two fingers to massage your dog in a circular motion. The Chinese believe that the anti-clockwise direction relaxes, while the clockwise direction stimulates.
I love this technique on both the areas of depression in front and behind my ear flaps.  You can use this technique on the muzzle to give the gums inside a good massage too.
It's good to use these two simple techniques on the whole body, except the spine (focus on the sides along of it instead).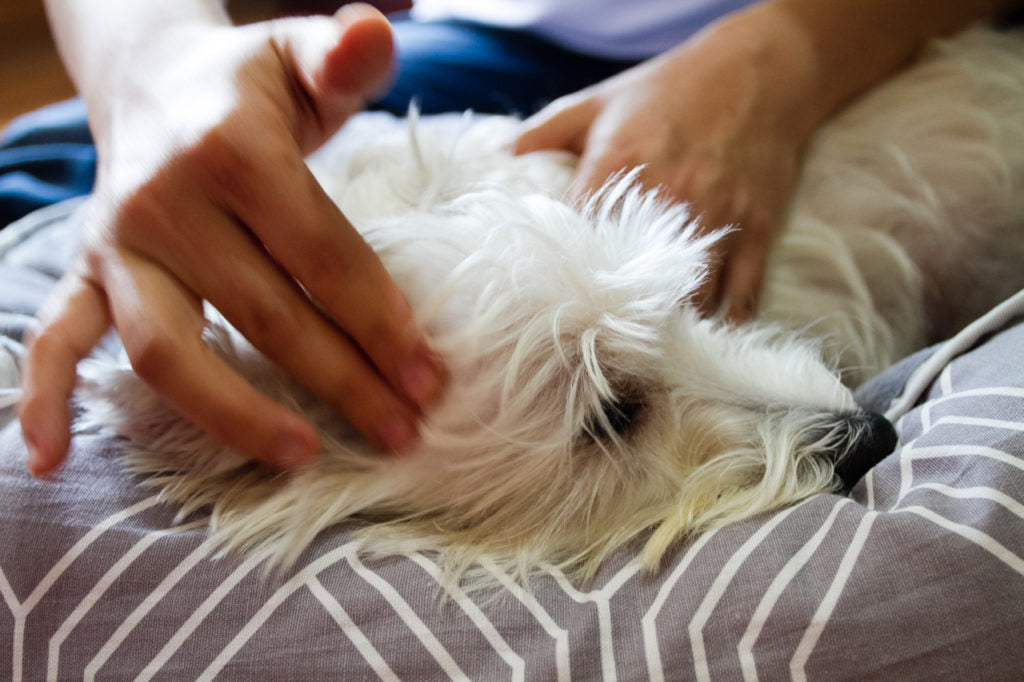 So there you go! Simple ways to help calm your dog when she's feeling nervous or stressed, and to relieve tightness and soreness in her body, regardless whether she's young or old.
I definitely had a good nap after the massage and seemed lighter when I walked!
Paws Fur Life Canine Massage Fees