Mama learned about the existence of BodyTalk and BodyTalk for Animals last year when she saw a flyer at the Animal Recovery Veterinary Referral Centre (ARVRC).
As the name suggests, it's a therapy that involves communicating with the body (its systems and energy) and mind (and spirit). It is not to be confused with animal communication. Intrigued, mama made a mental note to go do some research and make an appointment to give it a try.
Months later, and after hearing some friends talk about how the BodyTalk for Animals sessions were enlightening and useful, she decided to ask Lucia, a Certified BodyTalk Practitioner at ARVRC for a trial session.
As this is not a conventional therapy that we are familiar with, mama asked Lucia to help answer some FAQs that people may have regarding BodyTalk. Under some of her answers below, I have also added a description of my own experience for you to have a clearer picture of what this is all about.
1. What is BodyTalk and what are its purposes?
Lucia: BodyTalk is a safe, effective, and non-invasive form of holistic therapy that balances and heals the body and mind connection. Simply put, it enhances and repairs the communication between the body's energy systems, and stimulates the body's innate ability to balance and heal itself.
The BodyTalk System seeks to address the "whole being". This means that it doesn't overlook any aspect of the human (or animal) psyche, be it emotional, physical, or environmental. It is, therefore, a whole healthcare system that supports and promotes the well-being of any person, animal, or plant.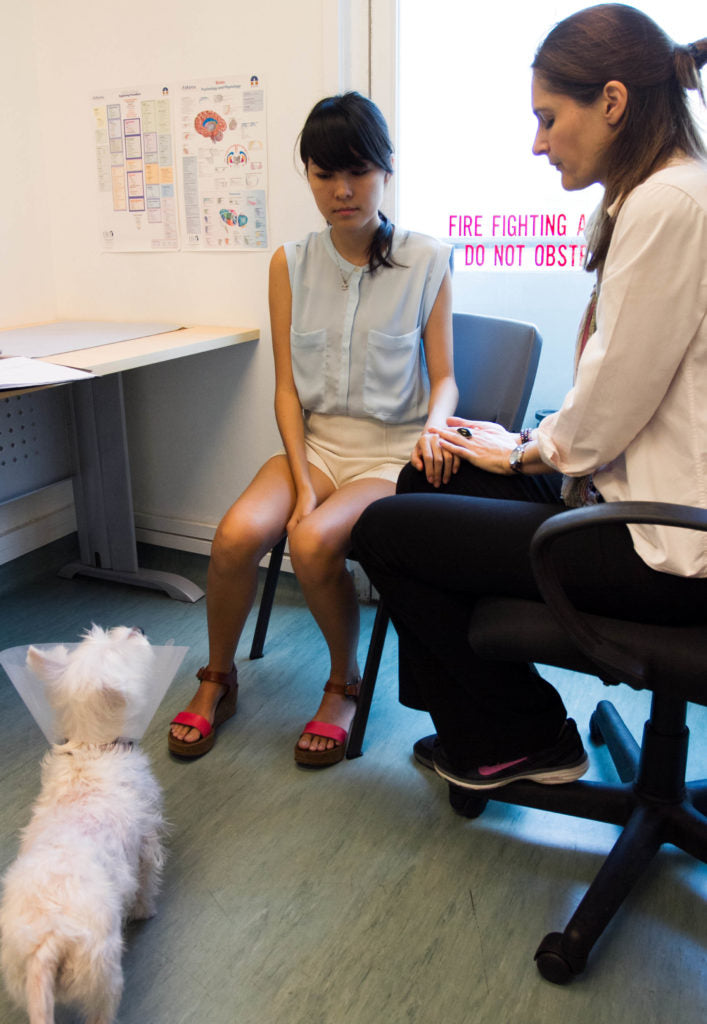 Latte: It was all strange and new to us. After I greeted Lucia with warm licks, pee, and poo (oops), she asked mama and papa to sit on the chairs beside her. She explained to mama she would be using her as my "surrogate" for the session. First, she did an energy balancing technique for mama and after that Lucia connected with me by gently using mama's arm to establish a Yes/No communication. Lucia explained to mama that this Yes/No communication with my body/mind is also called neuromuscular biofeedback, which is similar to applied kinesiology.
After Lucia connected with me, she first asked me whether I would give my permission to do the BodyTalk session, and as a friendly pup, I agreed! Then, she asked if I had a specific "agenda" for that session, so I told her that I really wanted to fix my skin issues. After communicating with my body, it seems the skin issue also had to do with my large intestines and lungs.
 2. Who should go for BodyTalk?
Lucia: BodyTalk works on many different levels – physical, emotional, mental, and even spiritual. Hence, it is suitable for anyone.
BodyTalk for Animals offers a unique approach to animal health and well-being by involving the owner or entire family in the sessions. This approach acknowledges the unique bond that exists between you and your pet.
Latte: According to Lucia, your pet's your energy, health, and emotional state all affect her health and behaviour. For example, if you are having problems in your family, your pet may display behavioural problems as a way of expression. It is, therefore, nice to bring the whole family down for the session, although it is not essential.
3. Can BodyTalk be used as a treatment method?
Lucia: BodyTalk can be used as a stand-alone system, and can also be seamlessly integrated to support any other healthcare system. BodyTalk for Animals sessions complement veterinary care by accelerating physical healing and alleviating issues, such as stress, fear, separation anxiety, and undesirable behaviours. BodyTalk does not diagnose.
Latte: Lucia taught mama how to balance my body/mind through a simple daily exercise called Cortices, which she teaches all her patients.
4. Is BodyTalk scientifically proven?
Lucia: BodyTalk is a state-of-the-art approach to integrative mind and body medicine. It combines Western medicine's scientifically supported research in fields, such as neuroscience, epigenetics, and psychoneuroimmunology, along with a large number of highly recognized ancient and modern healing methods and principles of knowledge, such as Traditional Chinese Medicine and Acupuncture, yoga and meditation philosophies, Chiropractic, consciousness studies, and Energy Psychology.
The BodyTalk website is a great resource for people who wish to know more about this healthcare modality.
5. How many sessions do I need to see results and/or get treated?
Lucia: This depends very much on your pet and the issue being addressed. Sometimes results can already be seen after one session, while other issues require more sessions.
6. How often should the sessions be?
Lucia: This also depends on the pet and the issue at hand. For example, if it is a life-threatening situation, it might be beneficial to do sessions every day to support the veterinary care given. If it's more for a general balancing, then perhaps once a month.
7. Is it really true that you can also communicate with my dog and ask her questions, such as whether she's happy?
Lucia: Yes. I incorporate Animal Communication into my BodyTalk for Animals sessions because it is something else I do.
Latte: When mama first sat down, Lucia asked if she was getting married soon. Lucia told mama that I was worried about grandpa and grandma and wondered if they were going to move into the new home with us. She was also accurate in telling mama things about me and our family that mama has never revealed to her or publicly.
You can also ask her to ask your pet anything! From whether they're happy, what's bothering them, to what's their favourite colour.
Lucia also said that when she first connected with me, she could see images of flowers and that I was just bursting with love. There was no question that I was happy and had a great relationship with mama and papa.
8. How popular is BodyTalk in Singapore?
It is definitely gaining popularity. There are currently already quite a large number of BodyTalk Practitioners in Singapore and the number of people who are qualified to do BodyTalk for Animals sessions is increasing too. In the past year, my clientele has grown by more than 50%.
9. Where did you get trained in BodyTalk? And what made you decide to acquire this skill?
I got trained both in Singapore and New Zealand. I was very lucky that the required basic modules were being conducted in Singapore when I found this therapy. You can study this modality anywhere in the world where the modules are being taught.
I always wanted to work with animals but I did not wish to become a veterinarian. So when I discovered this modality, I knew immediately that this is what I wanted to do because it is still focused on facilitating the well-being and health of animals, but just in a different way.
10. How much does a BodyTalk for Animals session cost?
The cost for a session depends on the individual practitioner. A session with me at the clinic currently costs SGD195 (first session) to SGD165 (follow-up), and a house visit costs SGD215.
---
With just one trial session, I am not able to tell you if BodyTalk is effective in solving my problems, but the session was definitely eye-opening for mama and papa. While some people may find it hard to accept this type of therapy, I think there's really no harm giving it a try with an open mind, and see what it can possibly do for you and your pet.
Let us know what you think about BodyTalk for Animals, and if you would give it a go. If you have tried it before, share with us your experience in the comment box below!
---
Lucia has always had a love and passion for animals, and the desire to help and care for them. She worked as a volunteer at the Dolphin Research and Rescue Centre in The Netherlands for three years before moving to Singapore in 2005, when she took on the role as a Conservation and Research Assistant at the Singapore Zoological Gardens. At the beginning of 2008, she attended a BodyTalk Access class and decided that BodyTalk was the modality she wanted to focus on. Lucia became a certified BodyTalk and BodyTalk for Animals practitioner that same year. She is now working together with the veterinarians at the Animal Recovery Veterinary Referral Centre.
–