Grooming your dog isn't only about vanity but physical health. Every time you groom your dog, the health of her skin, coat, mouth, ears, and paws are in the spotlight.
Grooming should start as early as possible as delaying it will only make it harder for your dog to accept. A dog that's used to weekly grooming would sit still, isn't afraid of baths, and is okay with anyone touching her paws.
All you have to do is to dedicate one day in a week to groom your dog. If you don't have the time, read till the end for a solution.
5 reasons why you should spare time for your dog's weekly grooming
1. It helps them get used to grooming and actually enjoy it
All groomers will tell you to start grooming your dog when they are still a puppy. It doesn't matter whether she needs it or not, by exposing her to regular grooming, it becomes no big deal for your dog in future.
It's hard to describe how valuable it is for your dog to learn to sit still during grooming from the beginning. What's more, bathtime and nail cutting shouldn't be a dreaded task.
That's why main caregivers should groom their dogs on a weekly basis to ease them into a routine. It is also a great opportunity for both parties to bond.
Even if your dog doesn't at first, she will slowly learn to enjoy all aspects of grooming and even rush to you when you pick up a brush!
2. It keeps them clean and healthy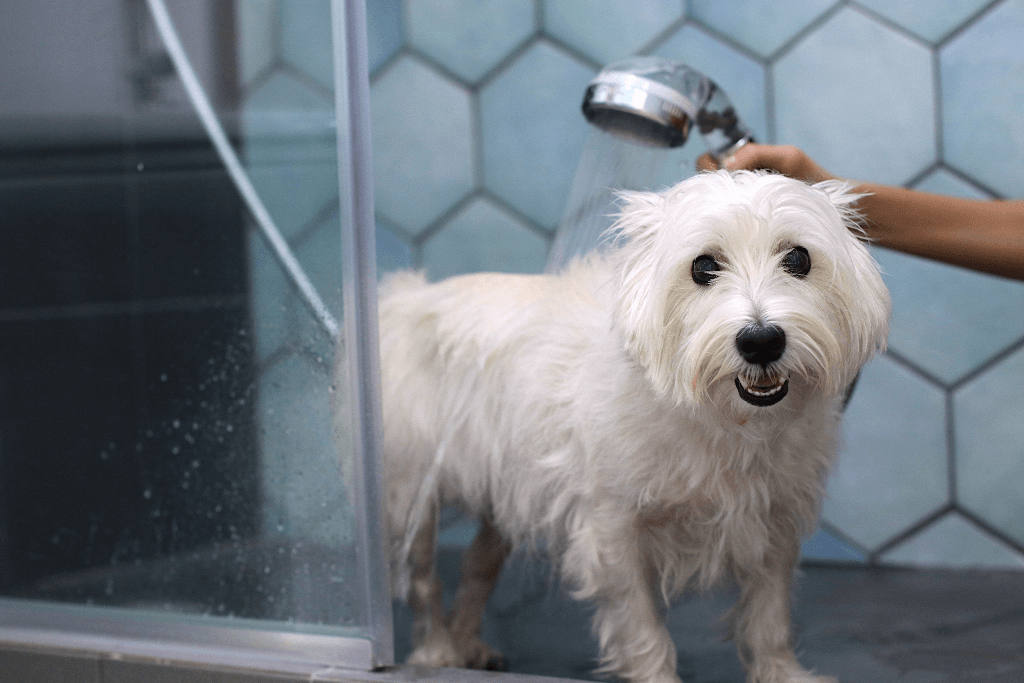 Skin and coat
Depending on your dog's skin and coat condition, you may need to bathe her every week. That is to prevent excess oil and dirt from building up and ward off bacterial or fungal infection.
Be sure to lather well and rinse the shampoo off thoroughly. Also, use a gentle shampoo as harsh chemicals will dry out your dog's skin and coat.
While drying the coat, take the opportunity to check for irregularities (E.g. cuts, rashes, pimples, and lumps). Do not use high heat to blow dry your dog. Keep the blower a few inches away and use the cool air setting.
Teeth
We know it is sometimes hard to bring yourself to brush your own teeth, let alone your dog's. But daily brushing can help keep plaque and tartar at bay and promise fresh breath. Sending your dog for dental scaling and polishing is not only costly but it involves putting your dog under general anaesthesia.
Nails
Besides their skin and coat, dogs' nails have to be clipped weekly to prevent overgrowth. As a guide, nails are overgrown if they are touching the ground when your dog is standing on all fours.
Overgrown nails can cause pain when the dog walks and runs, and eventually lead to deformed paws and tendon injury. Also, as your dog's nail grows, the quick, which is where the blood vessels and nerves are, will grow along with it.
If you do not cut your dog's nails regularly, the quick will get very long, making it hard to cut the nails without cutting it. To ensure that you do not cut the quick, which will cause bleeding, you will need to practice patience. Cut little bits of your dog's nails every few days and wait for the quick to recede. If you are unsure, send your dog to an experienced groomer.
In the event that you accidentally cut the quick, apply pressure on it until the bleeding stops.
To avoid such difficulty, you have to cut your dog's nails regularly.
Paws
The areas that most dog owners overlook are the nail folds and the parts between the dog's toes. Those are where dirt accumulates and gets stuck. The result is black and sticky, and very hard to remove. It can also cause your dog to lick her paws, which may cause an infection.
To prevent that, some dog owners would use a small toothbrush to gently scrub around the nails and between the toes to get rid of build-up.
3. It enhances blood circulation and prevents uncomfortable matting
Brushing and combing of your dog's coat help to release loose tangles, dirt, and dust, spread out your dog's natural oils, and promote blood circulation.
For long coats, daily brushing is necessary to prevent tangles from building up into mats. Always pull tangles out gently with your fingers. Do not tug and pull them out with a comb as it may hurt your dog.
For short coats, brushing with a rounded brush every two to three days will be beneficial to the skin.
4. It's a good opportunity for you to check for physical issues
As you bathe, dry, and brush your dog, you are able to check the skin, paws, and ears for symptoms.
For example, some dog breeds are more prone to ear infections, which can happen suddenly. If left undetected, the condition would get worse, making it unbearably uncomfortable for your dog. It would also take longer to treat.
Discovering problems early means faster and more effective treatments.
5. It doesn't take up much time if you do it regularly
If you groom your dog regularly, the whole process should only take about one to three hours of your day in a week, depending on the size and the coat of your dog. Again, it also qualifies as spending quality time together.
Too busy to groom your dog every week? Poodle Doodle is here to help!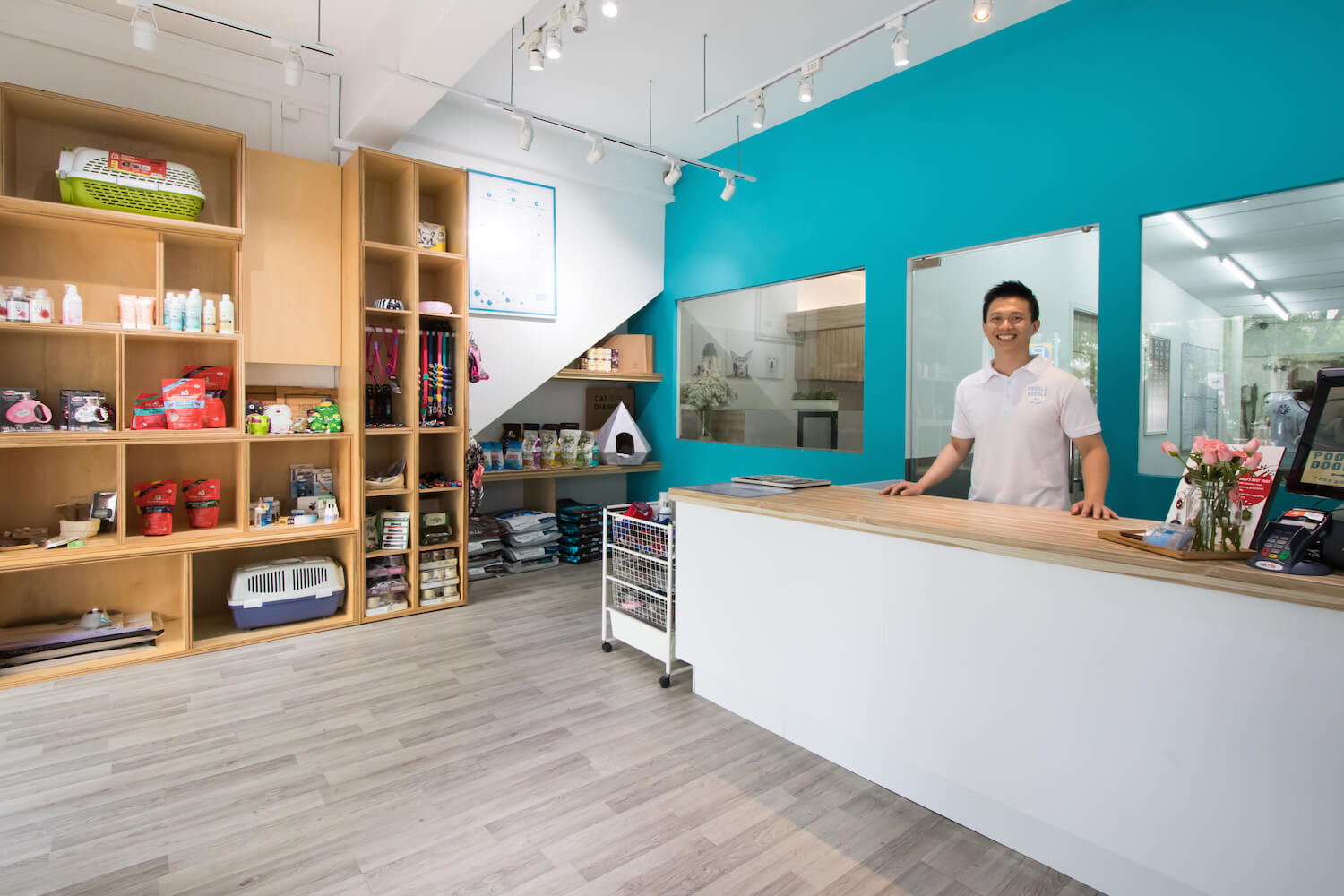 Professional grooming is advisable if you are unable to commit your time to do weekly grooming for your dog.
Here at Poodle Doodle, we offer excellent and stress-free grooming services. With eight years of grooming experience under our belt, you can rest assured that your dog would be in safe and capable hands.
To cater to busy pet parents, send your dog to us for a basic or full grooming every one, two, or three weeks.
Check out our packages for great discounts and convenience:
Weekly grooming – 30% off
Bi-weekly grooming – 20% off
Every 3 weeks grooming – 10% off
Price list
For the full price list, please visit our website.
Example 1: Weekly basic grooming package 
Breed: Toy Poodle
Service: Weekly basic grooming
Total cost for 4 basic grooming sessions: (S$45*4) – 30% = S$126 (save S$54)
Total cost for 1 basic grooming session: S$126/4 = S$31.50
Example 2: Weekly full grooming package 
Breed: Toy Poodle
Service: Weekly full grooming
Total cost for 4 full grooming sessions: (S$80*4) – 30% = S$224 (save S$96)
Total cost for 1 full grooming session: S$224/4 = S$56
Reviews from happy customers
For the first time, my dog feels comfortable going for grooming! Super nice, friendly, and professional!
– Caroline Kok
Awesome service! Hard to come by such a passionate shop owner. You are doing great, keep it up!
– Irene Chan
Highly recommended! A comfortable and stress-free environment for furkids. Thanks, Leon & team for taking great care of Bebe!
– Avelyn Ang
Want a good grooming experience for you and your dog? Why not give us a try? Call us at 6776 5338 to enquire or make a booking. We look forward to seeing you at our boutique!
Poodle Doodle | Website | Facebook
Address: 21 Jalan Mas Puteh, Singapore 128626 [Directions]
Opening hours: 10am – 8pm daily
---
Disclosure: This is an advertorial for Poodle Doodle.
Subscribe to join our pack and find us on Facebook and Instagram.