The humans often look out a special window in our house that's different from normal windows. Sometimes, the window is completely black even though it's morning, and sometimes I see strange places, people, and animals outside.
I always try to go to the other side of the window to find these people and animals, but I'd end up in grandpa's study room!
Anyway, there was once when mama pointed to the window and told me to look at what was outside. I saw a magical world, which mama called "Narnia". The humans outside went to a strange cold place by going through their wardrobe! Fascinating?
Well, that was what happened to us when mama brought me to explore a whole new world behind a blue brick wall!
Wagging Rights
When I first stepped into Wagging Rights, I was immediately distracted by the beautiful floor and classy surroundings. It was warm and welcoming, unlike Narnia!
Mama then brought me deeper into the place, and there was a huge colourful playground inside! There were already many furkids who all looked so happy. I greeted them by sniffing their butts, did my business on a grass patch, and proceeded to explore the rest of this bright and colourful room.
I was a little terrified by the playground because I am afraid of heights. But mama assured me that this is specially made for precious pups like me, so it's not as high and slippery as a children playground. It took me a while to learn how to get down but going up was a clear no-no for me. Good core exercise, though!
Not running up and down the playground like the others allowed me some time to mingle with my new friends! Some of them had been living there for some time and called the place their second home. They said they had to go through this thing called a "temperament test" to make sure they were good doggies. That meant sharing toys, being patient, and playing nice with others.
They also said that the kind people taking care of them there were coached by this famous trainer called Michelle Chan from Pup Pup 'N' Away. She trains them in not only the temperament test, but also in CPR and reward-based training.
Apparently, just by staying there, we can learn to overcome fears and be a model dog! However, that left me worrying not because I was not a good doggie, but I thought that mama was going to leave me there too. Even though the place looked, sounded, and smelt awesome, I preferred home with my family in it 🙁
I ran to mama to let her know that I wanted to go home, but she just laughed it off and put me on a machine that I had to keep walking on! I wasn't sure what was happening so I just kept walking and looking at her for reassurance. Somehow, some silly dogs thought that it was a good idea to join me, and it soon became a furry walkathon.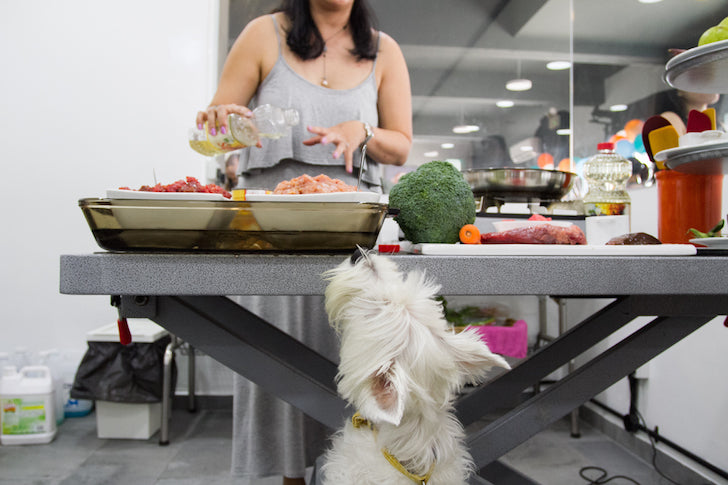 After evil mama decided to take me off the machine, she brought me into another room that looked like some of my grooming places! But it was far better. I could smell a table full of delicious meats, vegetables, and fruits.
I tried to reach it and I was pretty sure my nose was close to getting something, but I just wasn't tall enough. There was this lady who was showing all the papas and mamas there how to cook delicious and healthy meals for their furkids, and she even offered a bowl to another dog!
I tried to get to it but mama was pulling my leash back and the dog was growling at me. Life is so unfair.
Luckily, mama managed to get a raw version packed for my dinner! Good job, mama! These gourmet foods come in four delicious recipes – Sunday Roast Beef, Chicken Terrine, Shepherd's Lamb Stew and Posh Pulled Pork – all packed in a pretty box for you to take home.
Of course, after getting delicious food and playing for a good half a day, it was time to go home. I was so relieved that mama didn't just leave me there! Yay!
–
Prices:
Daycare – $35-$50 per day for full day and $20-$35 for half day (free two-hour trial for 1st-time customers!)
Gourmet Food – $60 for 5kg of gourmet food
–
Wagging Rights | Facebook | Email | 64470335
Address: 337 Joo Chiat Road, Singapore 427590 [directions]
Opening hours: Monday–Sunday, 9:00am–6:00pm (except for major public holidays)
–
Follow my photo diary on Instagram.