If you've seen my Instagram post, mama's friend recently adopted a Westie from Voice For Animals (VFA)!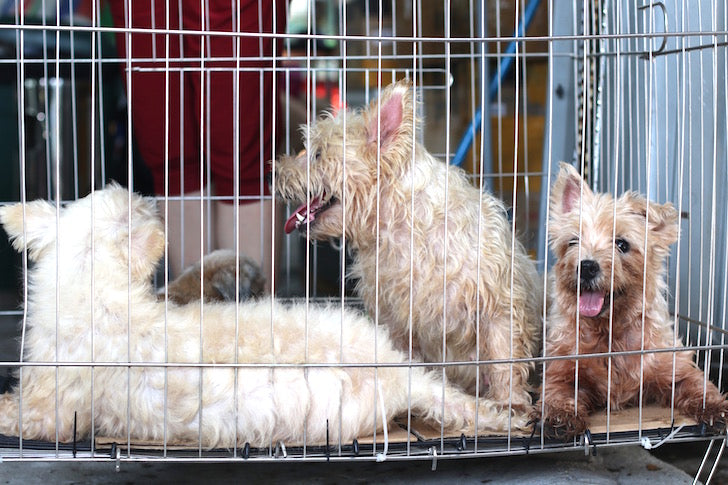 Mama told me that there are many sweet dogs waiting to be adopted there and most of them have a sad history. It was nice to see that there were many kind souls who turned up to visit them during the adoption drive.
However, some potential adopters got rejected due to various reasons, leaving them disappointed. Complaints posted on VFA's Facebook page and individual profiles are not uncommon. But mama feels that these disappointments could have been avoided if the potential adopters read the FAQs provided by VFA.
If you are keen on adopting a dog from VFA, then here are 8 things that you should be aware of before going down to their monthly adoption drive:
1. They are mostly ex-breeding dogs who are at least 5 years old
Most of VFA's dogs are rescued or taken in from puppy mills and breeders. A lot of them have been used to breed non-stop, scarring them physically and mentally.
Hence, more often than not, these dogs will need medical attention after being adopted. You should expect anything from a minor ear infection to more serious conditions like cancer, tick fever, and pulmonary edema. A volunteer told mama that someone adopted a dog who passed away from illness three months later.
This is on top of the fact that the dogs are generally not young as they are abandoned only after they are unable to breed anymore. This also means that you will have to potty train an adult dog, which we all know is a challenge that requires effort, consistency, and patience.
There may sometimes be puppies up for adoption, but they usually suffer from some form of defects, such as blindness and deformity. Special care and attention will be required for these dogs.
Read more about the common health problems of ex-breeding dogs.
2. Adoption is not free and medical checkup and blood test are mandatory
The adoption fee is $250, and will be used to support the running of VFA, saving more lives.
VFA also requires all adopters to bring the dogs to the vet for a medical checkup and a blood test. Going to their recommended vets may give you some discount but you should expect to spend at least $400-$500 in that one vet trip.
3. The whole household has to be present during adoption
VFA is very strict about this. This is for the good of everyone. Every single member of your household (including domestic helpers) needs to be present at the screening. They also need to agree to all the responsibilities of owning a pet.
As long as you live with someone, it doesn't matter that the dog will be yours and you will be 100% responsible, everyone living under the same roof has to be involved in this lifelong commitment.
This also means that you cannot adopt a dog on behalf of someone or give it away.
4. The adoption process involves 3 main steps
When you arrive at VFA, you will be distracted by the many dogs who are waiting to be adopted! If you know for sure that you want to adopt a dog, you can proceed to register at the booth.
The volunteers there will brief you on what to expect and give you a form to fill up. Upon registering, you will be given a queue number for screening. Again, everyone living with you has to be present and willing during the screening.
If the volunteer thinks that you and your family are ready to welcome a dog home, you will then be able to pick out a dog you want.
During this time, you can interact with your chosen dog for as long as you want at the drive. Most important is for you to be sure that the dog will fit in your family and lifestyle.
However, do note that the behaviour of the dog at the shelter may not be reflective of how she will behave at your home. For example, you will need to be prepared to deal with the fact that a quiet dog at the drive may suddenly start barking a lot at home.
The same goes with health. An active and alert dog at the shelter may not be 100% well.
5. You are responsible for all future medical bills including mandatory sterilisation and dental treatment
Owning a dog is a lifetime commitment. That includes taking good care of them and giving them timely medical attention whenever needed. Remember, you are their whole world and they depend on you for everything.
A dog who is healthy now may not be healthy in the future. That is despite you giving them the best food and environment. Sometimes it just happens. You have to be financially ready for it.
VFA makes it compulsory for you to sterilise the adopted dog within a specified timeframe. Dental treatment, which is costly, also needs to be arranged and can be done together with sterilisation unless the vet advises otherwise.
If the dog is already sterilised by VFA, you will need to pay an additional $200 on top of the $250 adoption fee.
Also, do note that ex-breeding dogs are not eligible for pet insurance in Singapore.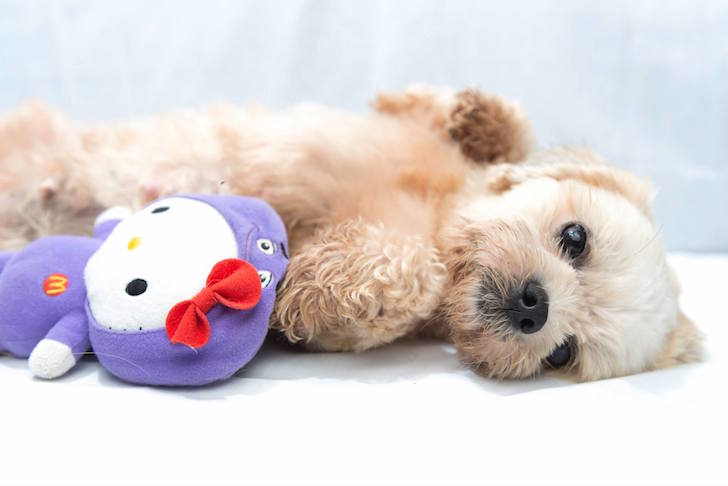 6. You will join the VFA family on Facebook and be assigned a buddy
After the adoption is successful, you will need to join the VFA adopters Facebook group. Over there, you can post your adopted dog's transformative photos and ask for help. Your assigned buddy will also be there to assist you.
7. Volunteers will do a house visit some time after the adoption
To ensure that the adopted dog is well-taken care of, VFA will arrange a house visit. If you are not comfortable with this, you should not proceed with the adoption.
8. You have to keep in contact with your buddy
You will need to update your buddy at least four times a year, which is quite reasonable. VFA volunteers are dedicated to all the dogs who pass through their care. Updating them on your dog's progress is only the right thing to do.
Also, you will have to respond to calls and messages from your buddy. If they don't hear from you for a prolonged period of time, don't be surprised that they will show up at your doorstep.
It may sound scary but understand that they are taking time out to make sure that their "alumni dogs" are okay. They are also here to help you deal with any difficulties!
All in all, adopting a dog is a huge lifelong responsibility, and an ex-breeding dog may sometimes prove to be more difficult and expensive. You will need to have the time, patience, and financial ability to care for one.
With that said, we have many friends from VFA who have been transformed ever since they joined their loving families. They are now happy, loved, and looking great. It's amazing watching their journey!
Be updated on VFA's adoption drives and other activities on their Facebook page.
Also read: 7 Ways to Give Back to Dogs in Your Community / Adopt a Dog: 11 Dog Adoption Organisations in Singapore.
---
Photo 2 & 3 credit: VFA Facebook page