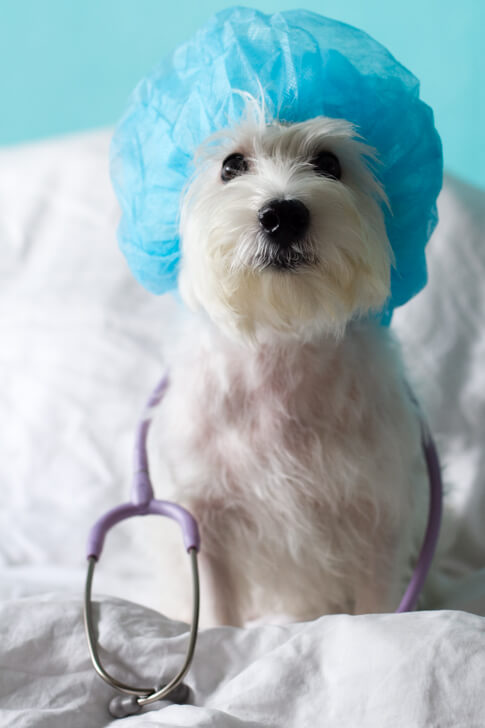 When you hear the term "surgery", what comes to your mind?
For me, I think of pain, scary and cold surgical tools, and large scars. I have gone through it once to correct my luxating patella, and it's definitely not a pleasant experience.
This is why I am happy to share about this relatively new surgical procedure that involves smaller incisions, lesser pain, and faster recovery.
If you haven't heard of keyhole surgery or know very little about it, here are 5 things that you, as a dog owner, should know:
1. Keyhole surgery involves tiny video cameras and incisions
Keyhole surgery is an easier name to laparoscopic surgery or Minimally Invasive Surgery (MIS), which is a modern surgical technique done via small incisions.
In other words, it can achieve the same clinical results as conventional open surgeries, without requiring large openings to the body.
Veterinarians who perform keyhole surgeries need to be trained to use specialised techniques and equipment, such as tiny cameras and instruments to access the operative region.
2. Keyhole surgery generally results in lesser pain and faster recovery
According to Dr. Brian Loon (BVMS, IVAS), Principal Veterinary Surgeon at Amber Vet, keyhole surgeries has the following potential benefits for patients:
Less painful than standard surgery by 65-75%
Lesser blood loss and trauma to the body
Greatly reduces the risk of wound dehiscence and infection
Smaller surgical scars
Quicker return to normal activity – within 2 to 3 days, as compared to at least 2 to 3 weeks of restricted activity after normal abdominal surgery
3. Most surgical conditions are suitable for keyhole surgery
Dr. Eugene Lin (BVSc), Founder of The Animal Ark Veterinary Group and the first veterinarian in Singapore to incorporate laparoscopic techniques into routine surgeries, has used laparoscopy in a wide range of surgeries, such as biopsies, resection (removal of abnormal tissue/organ), and foreign body removal.
Although keyhole surgery is suitable for most surgical conditions, there are exceptions.
Dr. Lin advised us that "in almost all instances of laparoscopy, the abdominal cavity must be insufflated (to put it simply, inflated) with a gas (usually carbon dioxide). Insufflation serves to increase the abdominal space to accommodate the laparoscopic instruments and camera."
Hence, if the patient's condition does not allow for insufflation, such as a broken diaphragm, head trauma or a large abdominal mass, keyhole surgery would not be recommended.
4. Like all surgeries, there are risks involved
Despite its numerous benefits, the risks of keyhole surgery are similar to traditional open surgery. This includes the risks of anaesthesia, which are a major consideration in all surgeries, especially when the patient is very ill.
Besides that, as keyhole surgery is a highly specialised technique, you should ensure that the veterinarian you go to has the appropriate training, competency, experience and equipment to reduce surgical risks.
There are also cases whereby surgeons switch from keyhole surgery to open surgery if complications arise, or if it's decided that the latter will result in a better clinical outcome. 
5. Keyhole surgeries can cost anywhere from $1,200 to more than $5,000
The costs of keyhole surgeries depend on various factors, such as the complexity and length of the procedure and the size of the patient.
As a gauge, costs of routine surgeries could go up to $1,500 while more complex surgeries could cost over $5,000.
SHARE THE COST WITH HAPPY TAILS PET INSURANCE
Keyhole surgery has many potential benefits but it can be equally or more costly than conventional surgery. Here's where pet insurance comes in useful.
Happy Tails Pet Insurance could make keyhole pet surgeries much more affordable by:
Offering lifetime coverage for your eligible dog or cat, with an annual limit of up to $12,500 under the Furball Plan
Paying up to 80%* of your pet's surgery-related bills (less deductible), which includes clinical and surgical procedures, hospitalisation, pre-surgical tests, and post-surgical treatment. Learn more about coverage, eligibility, and exclusions.
What's more, you could enjoy greater savings by enrolling early!
Premiums start from as low as $1 a day and stay unchanged for the lifetime of your furkid! The earlier you enroll your pet, the more you reap the benefits of the lower premium and lower co-insurance share.
Don't forget to enter "VP10" for an exclusive 10% discount – only for Vanillapup readers!
Every policy sold results in a $1 donation to local animal welfare organisation, Save Our Street Dogs Singapore (SOSD).
Happy Tails Pet Insurance | Website | Get an Online Quote | Read our review
---
Full disclosure: This post is sponsored by Happy Tails Pet Insurance.
*Pets enrolled before age 4.
Happy Tails is arranged by Aon Singapore Pte Ltd and underwritten by MSIG Insurance (Singapore) Pte. Ltd.