As mama gains more experience as a dog owner, I have changed from eating kibbles to home-cooked meals to a raw diet. It's been close to 6 months since I've been on a raw diet, and I must say, there's no looking back. I have achieved a shinier coat, cleaner teeth, and healthier poop.
I used to vomit very frequently too, but that reduced significantly after I switched to a homemade diet, and never happened again since I started on K9 Natural raw dog food – which is what this post is all about! 
(Full disclosure: I was first sponsored by Howlistic Life, the distributor of K9 Natural in Singapore)
For those of you who are unfamiliar, or interested in switching your dog to a raw diet, you can read my beginner's guide on raw diet for dogs first.
Mama started considering commercial raw food after consistently facing the following difficulties:
Sourcing a variety of meat and organ, and then portioning them (includes handling icky animal parts)

Two weeks of food takes up a quarter of freezer space

Beneficial grass-fed meat and game meat are very costly in Singapore
But why K9 Natural?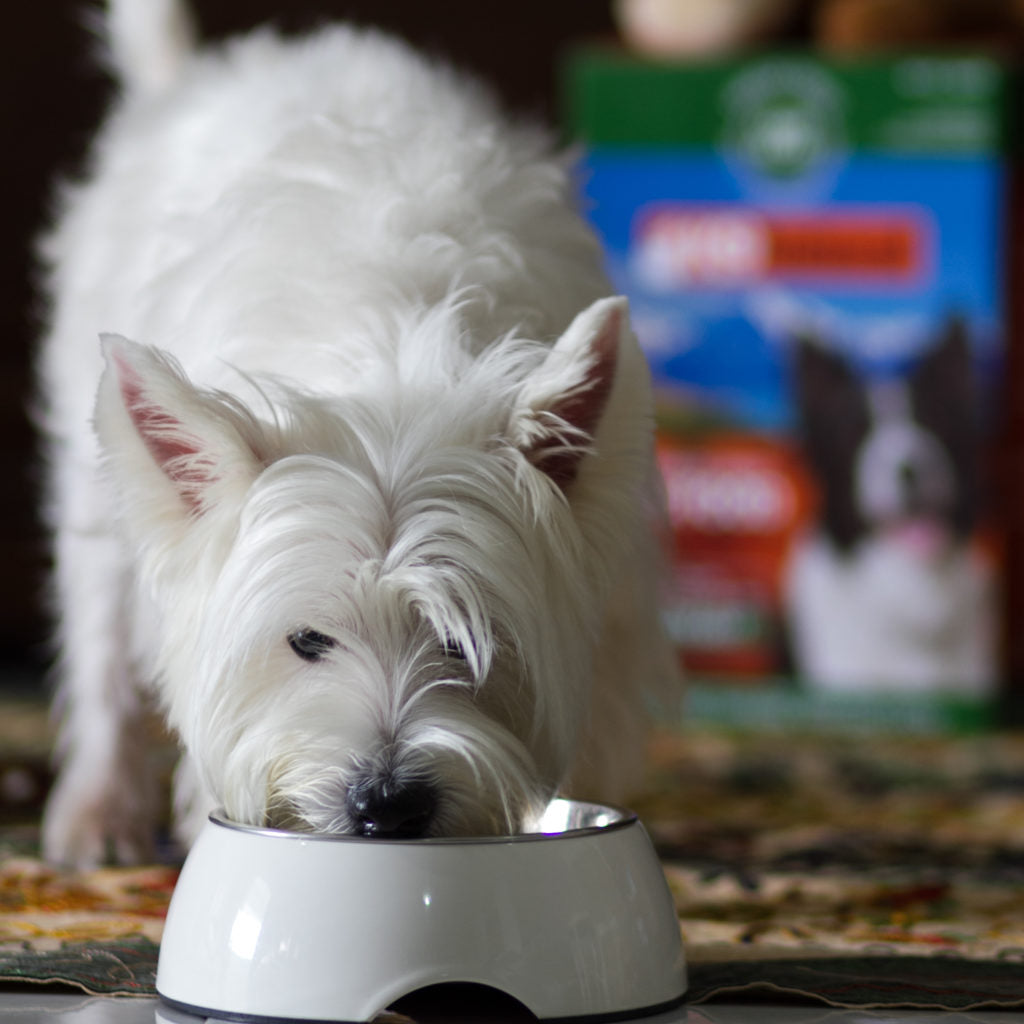 1. Peace of Mind
The K9 Natural diets are complete and balanced – made with 90% meat, bone, blood, tripe, liver, kidney, and heart; plus 5% egg and green lipped mussel. 
If you've been thinking of switching your dog to a raw diet, but potential deficiencies in homemade meals worry you, this is a great alternative to consider. There's no need for supplementation unless your dog is suffering from a medical condition. However, for sparkling clean teeth, reduce the portion and add raw meaty bones to the diet (trust me, the result is miraculous!).
I've tried the Venison (yay to game meat!) and Lamb Feast, and mama is happy to finally look at an ingredient list with only natural whole foods – no jargons or added supplements [Update: Supplements are now in their new recipes]. 
Lamb meat, lamb blood, lamb bone, lamb green tripe, lamb liver, broccoli, cauliflower, carrot, spinach (chard), cabbage, apple, pear, lamb hearts, lamb kidneys, eggs, green lipped mussel and garlic.
The first three items of an ingredient list will give you a good sense of the quality of the food you are buying. Avoid food made with meat meal, by-products, fillers, additives. preservatives, or artificial ingredients.
2. Safe and quality ingredients
If you've been to New Zealand, you would know just how good their produce is. All K9 Natural products are made of 100% pure and human-grade ingredients sourced and produced in New Zealand. 
What's more, the meats are from free-range and grass-fed poultry and cattle. When I was on a home-prepared raw diet, mama had to feed me grain-fed meat because grass-fed meat is far too expensive in Singapore. 
All products are compliant with New Zealand Food Safety Authority (NZFSA) regulations and far exceeds the Association of American Feed Control Officials (AAFCO) standards.
3. Blood
Ionised calcium in blood can be readily absorbed by your dog's body and put to use for strong bones and teeth, muscle function, nerve signalling, and more. On the other hand, our body needs to ionise the calcium from supplements, eggshells, and bone meal before it becomes bioavailable. Only a small percentage of what's ingested will be ionised.
One thing that sets K9 Natural apart from other commercial raw food is that they go to great lengths to put blood back into the diet.
"When an animal is killed for human consumption, they drain the blood from the animal. We put it back in [because] we recognise that there is a huge amount of nutrients in blood. We capture it in a hygienic way because bacteria can grow quickly in blood." – Calvin Smith, CEO of K9 Natural
4. Convenience
Mama admits that preparing fresh raw meals can be really troublesome. Besides having to source for different types of meat, organ, and bone; she has to chop, weigh, and pack them into the freezer every two weeks.
With K9 Natural, all she has to do is scoop the food into my bowl and add some warm water! Going for long days out and staycations have never been easier.
When transitioning from kibble/cooked food, you only need to give it 12 hours (a night's sleep) before starting on K9 Natural. 
5. Price
K9 Natural comes in two forms – frozen and freeze-dried (no need for freezer storage). I'm eating the freeze-dried version, which comes in three sizes:
500g (reconstitutes to 2kg with water)

1.8kg (reconstitutes to 7.2kg)

3.6kg (reconstitutes to 14.4kg)
Mama usually gets the 1.8kg box – it costs about S$150 and will last me 5 weeks (I am fed 3% of my 6.5kg body weight = 200g of food = 50g of K9 Natural daily). That's about S$4.20 a day for quality food!
---
Are you feeding your dog a commercial raw diet or thinking of making the switch? Let us know your thoughts, questions, and experience in the comment box! 
K9 Natural | Website | Retailers
DISCLAIMER: The information found in this post is based on our own research, experience, and opinion. Before making changes to your dog's diet, please consult a trusted canine healthcare professional.