Leaving our pets behind while we go on a holiday is never easy. That's why I always look for interesting pet stores overseas to get something special for Latte.
So far, we have written posts on where to shop in Hong Kong, Seoul, New York, New Zealand, Bangkok, and Sydney. Today, we are finally ready to share with you our finds in Tokyo!
Tokyo pet stores for horse treats, Japanese toys, imported luxury accessories, and more!
Pet products in Tokyo aren't cheap so look out for things you can't get in Singapore. From horse treats to adorable ramen and udon toys, you will surely be able to bring home something special for your dog from these Tokyo pet stores. We visited the first five stores. The last three were on our itinerary but we didn't make it there in the end.
1. Greendog
A store you shouldn't miss, Greendog is conveniently located in one of Tokyo trendiest neighbourhoods, Daikanyama and Tokyo Midtown (also check out dashi shop Kayanoya). You will find their adorable toys and house brand treats hard to resist. It is also a great place to spot doggies going for their grooming appointment.
Daikanyama outlet
The Daikanyama outlet has a dog garden (chargeable) too!
Tokyo Midtown outlet
2. The Tent
The Tent is a fashion boutique at its core and a dog-loving space at its heart. The store has a dedicated pet grooming and retail space at the back.
If you are already in the Daikanyama neighbourhood, why not pop by to get some made in Japan dog treats and premium pet accessories? You may end up getting something nice for yourself too.
3. Inu to Town
Inu to Town not only sells made in Japan luxury pet accessories but also imports cool products from all over the world. Think ceramic dog bowls nestled in premium leather from Spain, cooling kimonos from Japan, and soft leather collars from Hungary.
They have stores in Jiyugaoka (the one we visited), Ginza, Nihonbashi, and Arisugawa where they also offer pet grooming services.
Jiyugaoka outlet
4. Pets Paradise
Located along Takeshita Dori, Harajuku's most popular street, Pets Paradise sells pet clothes and accessories.
Only visit if you are in the vicinity. It's not a store worth travelling for. Prices here are slightly cheaper as it's not as upscale as the other shops in the list.
5. P2 DOG&CAT
We chanced upon P2 DOG&CAT, a little pet section on the fifth floor of Shibuya Hikarie and we were surprised to find pretty cool stuff in it!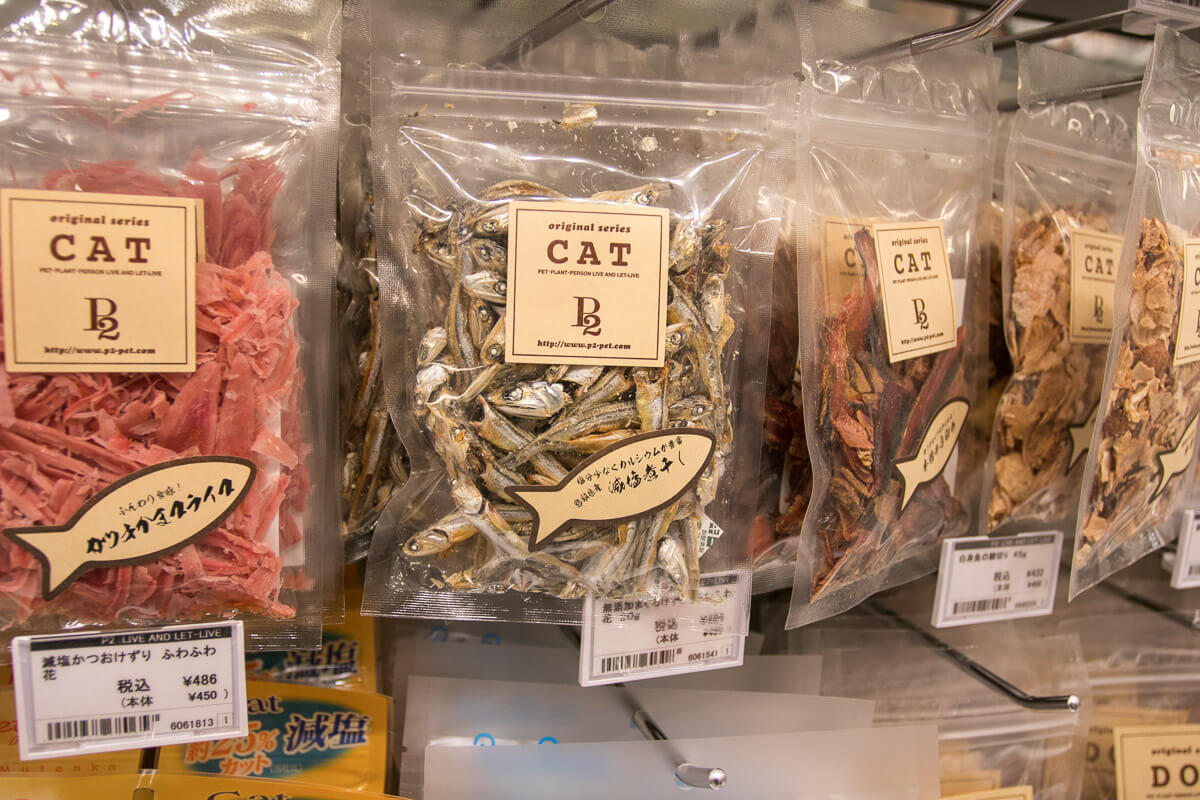 They have a range of really nice beds, bowls, Japanese treats, and even Hermes-style leather collars.
6. Harness Dog & Pet Paradise
Harness Dog & Pet Paradise in Jiyugaoka sure looks good on the outside! Too bad we didn't manage to visit. Pop by after brunch at Latte Graphic – highly recommended!