Whether you are feeding your dog kibbles, or dehydrated or freeze-dried commercial raw food, it is good to mix in a little fresh food daily or weekly to give the meals a nutritional boost.
Minimally processed food that retains its natural moisture is undeniably more natural and healthful for your dog. But it can be time-consuming to provide your dog with homemade meals. The alternative is to turn to commercial options. However, they usually cost significantly more and may exceed your budget.
If you are looking for a compromise, then you should check out The Grateful Dog's new line of Topper Chompers! As the name suggests, it is a meal mixer meant for supplementing your dog's existing diet. You can just mix it into your dog's usual meal, which is a great way to increase a picky dog's appetite or you can feed it on its own as one of the daily meals.
It is also a great option for dog owners who are thinking of trying a fresh diet but are not ready to dive fully into it.
But what makes these Topper Chompers so special? Well, we've fed them to Latte and here are some things we like about it.
5 reasons why you should give The Grateful Dog Topper Chompers a try!
1. Handmade locally
The Grateful Dog is an AVA-certified local whole foods kitchen for canines. All its products are handmade in Singapore so you can rest assured that they are clean and safe.
2. Lightly cooked fresh and human-grade ingredients
Our number one concern for dog food is how much heat it has been subjected to during preparation. That's because we lose valuable nutrients with heat. So we are happy to know that all the Topper Chompers are derived from fresh, natural and whole human-grade ingredients that are either lightly cooked or raw.
For dog owners who are unsure about serving raw meat, lightly cooked meat is the way to go. The Grateful Dog also only uses a quality lean minced meat protein as the star of each flavour, supercharging your dog's meal with essential amino acids.
3. Made with appetising meat chunks and "superfoods"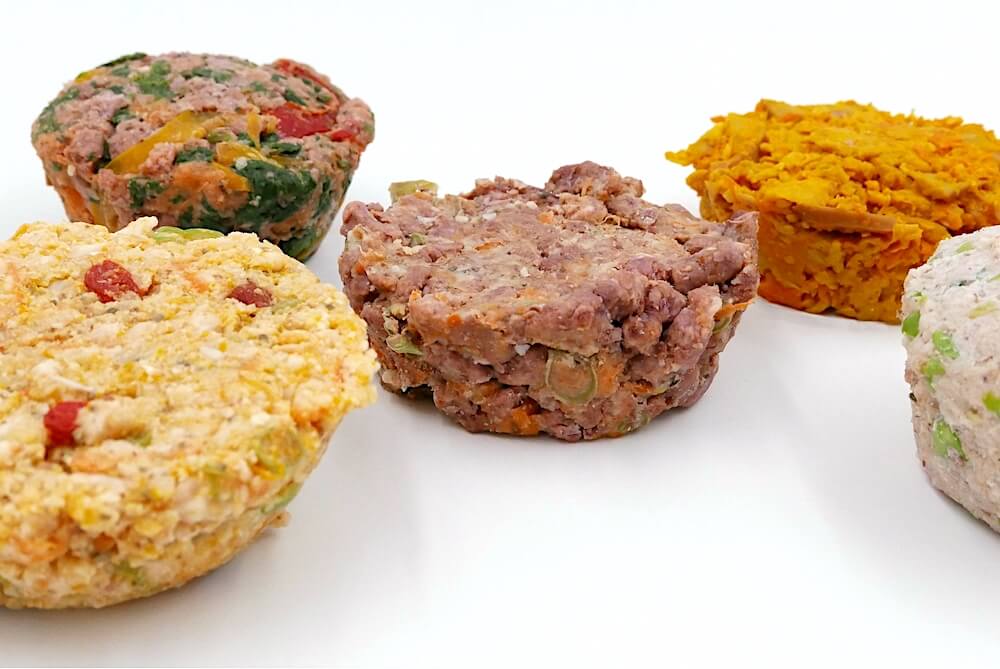 Nothing makes me happier than seeing Latte lick her food bowl clean with zest and she does that with the Topper Chompers. I think the chunks of meat are responsible for the excitement! So, if your dog is a fussy eater, jazz up her meals by topping them with some Toppers Chompers.
They are also packed with healthy ingredients like fresh fruits and vegetables, turmeric powder, chia seeds, and wolfberries that will benefit your dog's overall health.
4. Fortified with wild Alaskan salmon oil
The wild Alaskan salmon oil contains high EPA and DHA levels found in Omega 3 rich fatty acids. Omega 3 is an essential part of your dog's diet; it regulates the immune system and has anti-inflammatory properties.
5. Come in vacuumed-packed ready-to-serve portions
The Topper Chompers come in bags of five individually packed and ready-to-serve portions. I transfer one out from the freezer to the fridge the night before and let it come to room temperature before serving. It is super quick and easy to prepare.
The Topper Chompers come in five flavours:
Beef and sweet potato (S$22.90)
Ingredients: Grass-fed lean beef, unskinned sweet potato, bell pepper, spinach, olive oil, wild Alaskan salmon oil, rosemary
Chicken and black bean (S$22.90)
Ingredients: Cage-free chicken breast & thigh, black bean, pumpkin, green bean, carrot, canola oil, wild Alaskan salmon oil, wolfberry
Duck and chickpea (S$28.90)
Ingredients: Duck breast, chickpea, carrot, pumpkin, olive oil, wild Alaskan salmon oil, turmeric powder
Mutton and sweet potato (S$28.90)
Ingredients: Lean mutton, sweet potato, oats, carrot, green bean, coconut oil, olive oil, wild Alaskan salmon oil, chia seeds
Ingredients: Lean pork, oats, seedless apple, green pea, coconut oil, wild Alaskan salmon oil, parsley
Each bag contains five pieces of Topper Chompers that range from 112g to 155g per piece, depending on the flavour. Delivery is free for orders S$80 and above. It's great that 10% of the profits go to partner animal shelters and causes!
The Grateful Dog meal plan service
The Grateful Dog also offers an online subscription service for dog food that is wholesome, vet-reviewed, and tailored to your dog's weight and nutritional requirements. You will get a delivery to your doorstep every two weeks so you don't have to worry about the lack of freezer space. How awesome!
To order or to learn more about The Grateful Dog, visit their website. If you have a question, email or call +65 6917 8417.
---
Disclosure: This is an advertorial for The Grateful Dog.
Subscribe to join our pack and find us on Facebook and Instagram.