A comforting bowl of delicious bone broth is what we go for when we need a nourishing meal and it's no surprise that we, as pet parents, want to give the same goodness to our pets! Recently, we got to let Latte try The Art of Whole Food Bone Broth for Pets and we are loving it.
First impression – The packaging looks clean and simple, just like the actual product. The broth is made with just four ingredients – filtered water, free-range chicken or grass-fed beef, carrot, and parsley. As Latte is a sensitive pup, we are more than happy with a simple ingredients list. In any case, the secret to a good bone broth is the freshness of what goes into it and the long hours of cooking!
Bone broth is a nutritious treat for both dogs and cats
For those of you who are not familiar with bone broths, you may be wondering what the hype is all about. It has been loved by many who have experienced its benefits. After all, it is packed with collagen (gelatin), which contains beneficial amino acids and minerals – a delicious way to nourish the body, which includes the digestive and immune systems, joint, and coat.
It's also super handy
Latte used to not drink water unless during meals or after an intense play session. So, we had to encourage her to hydrate herself by mixing it with something healthy and delicious like fruits, goat's milk, or broth.
Similarly, bone broths are great for pets that
are fussy eaters or transiting to a new diet – Many pet parents have used it as a topper with great success
don't like to drink water – Add some broth to the water and watch your pet slurp it up!
need to eat medication or supplement away from meals – Add a tiny bit of broth to make them palatable
have a sensitive digestive system – The collagen in bone broth may improve digestive health
When choosing bone broth products, I always look for reputable brands that use only whole foods from good sources without preservative and flavouring. The Art of Whole Food is one of them.
Slow-cooked for hours, The Art of Whole Food Bone Broth contains fresh, all-natural Australian goodness
The Art of Whole Food is the brainchild of Samantha Beard, a nutritionist who lives in Sydney.
She first started making bone broths for people in her boutique butcher shop and deli where she perfectly marries her love of cooking and her ability to source the freshest quality local produce. This year, she started making them for pets!
Fresh
Sam only uses 100% Australian ingredients – all locally sourced from the Victorian Highlands. They are cooked in small batches in a facility that's located near to the farms that she sources from. That certainly helps to ensure the freshness of the ingredients!
Our world's pickiest dog, Bailey, tried the chicken bone broth and it passed her exacting standards. She loved it and even wanted more! Made with only 4 ingredients – free-range chicken bones, filtered water, carrots, and parsley, the bone broth is nutrient packed and smells amazing! – @baileycious
Human-grade
As Sam explains, "Our pet broth is made using all human-grade ingredients, made in a human-grade food facility with the same ingredients we use to make our broths for people. The only difference is we don't add any salt, onions, garlic, or extra vegetables and herbs we humans like for flavour! The rich meaty taste keeps our pets happy and healthy without the use of additives like salt, preservatives, artificial flavouring and colouring, thickeners, or fillers. Our pet broth is all-natural and slow-cooked to extract maximum goodness."
My three dogs are on a raw diet due to their reluctance to drink water and even so, I usually have to hand feed two of them. When I added the bone broth to their meals, I was surprised that they happily finished their food on their own. Besides adding it to their food, I also give the bone broth as their daily water intake and they will simply lap it all up. As it's made in a human-grade facility, I also use it as my soup base. All I did was add a pinch of salt. It is so much healthier than those from the supermarket. Definitely a thumbs-up (and FIVE stars) for this bone broth. – Jennifer Chew

Nutritious
The broth in every packet is cooked at 90°C or higher for more than nine hours. It is then filtered and cooked until the desired consistency. What we get after all those hours is a broth chock-full of collagen and essential minerals and amino acids. Good for the taste buds, good for the body, and good for the soul!
Needless to say, Latte absolutely loves it. And I must say, it smells really good!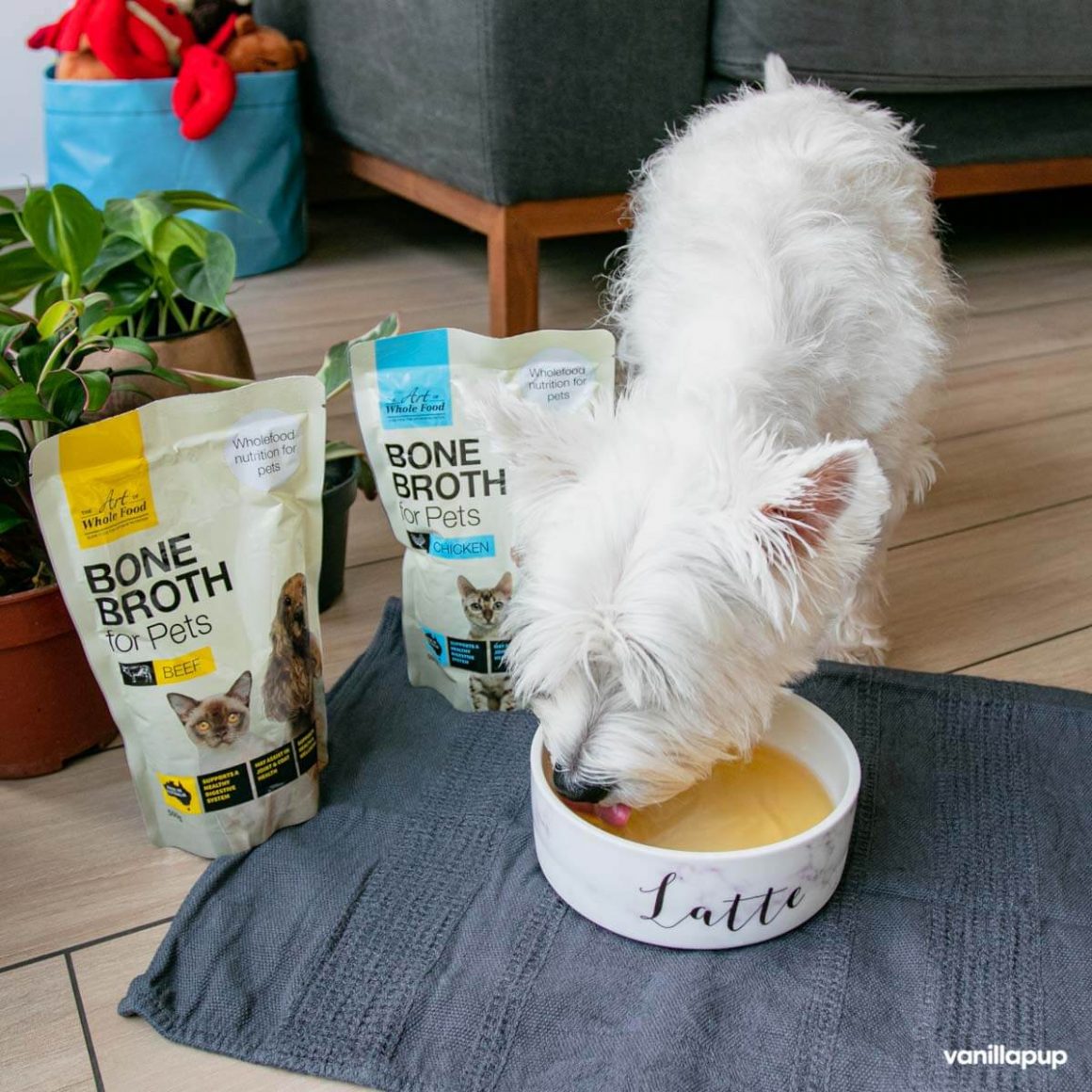 Cookie and Jingle really enjoy having a serving of the bone broth added to their food. I like that it is not oily and smells amazing, just like the hotpot broth I enjoy eating! It is also not overly concentrated, so I need not worry about overfeeding. It's great for dogs with sensitive stomachs, like Jingle. – @somewhitecookie
It's shelf-stable unopened – freeze it and it'll last six months!
The packets of broths are shelf-stable and do not require refrigeration until you open them. That means you can stock up and not have to worry about fridge or freezer space. Once opened, the broth lasts three days in the fridge.
Can't finish it so fast? A nifty trick is to freeze it in an ice tray! That way, the broth is good for six months. You can feed it as an icy treat or thaw it to feed as broth.
Yummy broth in the house! It's of a good size and most importantly, my picky dog enjoys his broth, so it must be super tasty. We had fun getting creative with the broth – freezing it using an ice cube tray. It's the perfect treat on a hot day! – @friday_fortunatus
You can purchase The Art of Whole Food from Vanillapup's store. This is an advertorial for Howlistic Life.