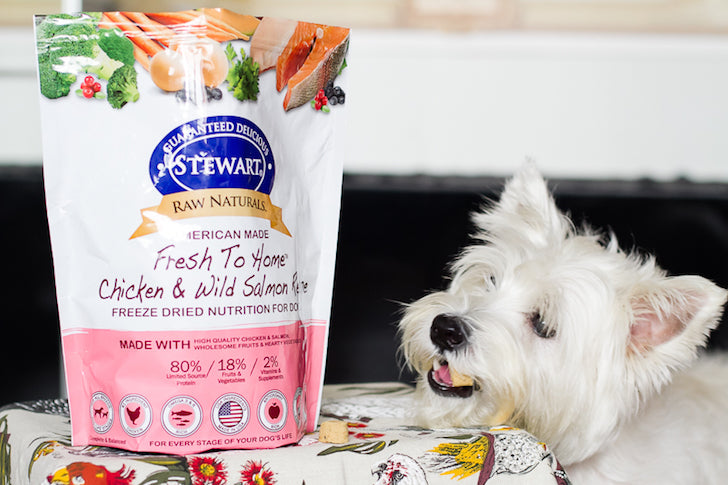 Today we are talking about my favourite topic – food! As most of you know, I have been on a raw diet for over a year, and there's no looking back.
With more dog owners choosing commercial raw over kibbles and wet food in recent years, there's an increasing number of options available in the market. This means that dog owners can now rotate quality recipes and brands, and not have to worry about a product going out of stock just when you need it.
One of the commercial raw diets recently introduced in Singapore is the USA produced Stewart® Raw Naturals Freeze-dried product range.

Assured by positive online reviews, mama let me try the Chicken and Salmon Recipe – hooray!
I have been gobbling my meals down with no complaints, but seeing that I am not a fussy eater, my stool probably makes a better testament to quality.
Well? It has been looking healthy!
To sum things up, here are the reasons why mama decided to let me try Stewart® Raw Naturals freeze-dried food:
Complete and balanced diet made with human-grade ingredients for all life stages 
You can rest assured that Stewart® Raw Naturals is complete, balanced and safer for your dog. It's formulated to meet the nutritional levels established by the Association of American Feed Control Officials (AAFCO) dog food nutrient profiles for all life stages and produced in a facility inspected by the United States Department of Agriculture (USDA) .
The recipes were created based on 40 years of experience and prepared with human-grade ingredients from the USA. They are made up of 80% single or dual source protein, 18% wholesome fruits and fresh vegetables, and 2% added vitamins and minerals.
Cold pasteurized for food safety, longer shelf life, and uncompromised nutrition
Stewart® Raw Naturals freeze-dried recipes use high-pressure processing to inactivate the growth and function of most bacteria and pathogenic microorganisms, such as Salmonella, without impacting the food's nutritional value.
Small nuggets for convenient feeding
Freeze-dried food doesn't need to be refrigerated, making it easy to bring around. For my size, mama just needs to give me 20 nuggets per day. It's really easy to feed!
You can give the nuggets as they are or add lukewarm water to soften and moisten the meal (highly recommended especially for dogs who don't drink much water)
Single ingredient dog liver treats

Stewart® Pro-Treat Freeze-dried Liver Treats are made with a single ingredient, without additives and preservatives. They are delicious and perfect for dogs with allergies or those who are on limited ingredient diets.
Not only that, their size makes them a handy reward during brief training (please feed moderately) or on the go. I like!
Stewart® Raw Naturals Freeze-dried Food
Stewart® Raw Naturals Freeze-dried Dog Food and Treats are available at selected stores – Nekojam, Polypet, Doggyfriend, Earnest Mutts, Ah Beng Pet Store, Pets Markets SG, The Grooming Table, Loving Pets, and Kohe Pets. Prices start from $3.50 for treats and $15 for food.
---
Full disclaimer: This post is sponsored by Imventure.