Have you ever wondered what ingredients are in your dog's flea, tick, and heartworm preventative products?
Grab the box now and take a look at the ingredients list. Does it contain Fipronil? Ivermectin?
Now, google them. You will find that they are insecticides that cause neurological damage to specific parasites. Their job is to paralyze and kill.
You may think, "Great! That's what they are meant to do!" But have you questioned whether these insecticides are only poisoning parasites and not your pets or your children?
In 2009, the United States Environmental Protection Agency (U.S. EPA) noticed an increase in reports of pet incidents involving spot-on pesticide products.
Through an evaluation, their team of veterinarians learnt that while most incidents were minor, some pet deaths and "major incidents" have occurred.
The most commonly affected organ systems were skin, gastrointestinal (digestive), and nervous, and small breed dogs were affected more than larger breeds for some products.
Let's take a look specifically at fipronil.
According to the National Pesticide Information Centre, scientists found in a study that rats fed with fipronil for a year experienced an increase in seizures and death.
In the same fact sheet, it says: "Scientists have not found any evidence of fipronil causing cancer in humans. However, researchers found thyroid tumours in both male and female rats fed the highest dose of fipronil in their diet for nearly two years. While the findings applied only to rats, the U.S. EPA classifies fipronil as a "possible human carcinogen."
Scientists at Murray State University also found that fipronil can be transferred from a treated pet to humans through petting. The amount of fipronil transferred was greatest one day after treatment. They concluded that "repeated exposure to such contamination can pose human health risks."
If you dig around for information for fipronil and the other insecticides found in your dog's parasite preventatives, you may be wise to think twice about giving them to her or at least be very careful with the dosage.
Mama no longer gives me any flea, tick, or heartworm preventative medication. Especially with sensitive dogs like me, these insecticides may cause irreparable damage.
So, how does mama protect me from fleas, ticks, and mosquitoes? She uses a safe and natural repellent, avoids high-risk areas, and sends me for routine blood tests to ensure that I am healthy!
Protect your dog with Skin Guard
Skin Guard is a safe and natural repellent against fleas, ticks, and mosquitoes.
Using natural ingredients, I can lick it and mama doesn't have to worry it would poison me. The humans can use it too so it makes a safe daily repellent for the whole family!
Ingredients
Skin Guard is made with natural Hiba water, OH negative ion water, eucalyptus oil, peppermint oil, lavender oil, geranium oil, grapefruit seed extract, and soapberry extract.
Together, they give off a pleasant and gentle fragrance that fades away.
Also, instead of emulsifiers that may irritate sensitive skin, Skin Guard uses OH negative ion water that has emulsifying properties.
OH negative ion water is electrolytic ionised alkaline water. It maintains its alkalinity for a long period and does not deteriorate easily. It is also able to prevent oxidation, which is responsible for turning a cut apple brown or making a paper clip rust.
Efficacy
While you can make your own flea and tick repellent using quality essential oils, what makes Skin Guard so effective is its main ingredient – hiba water.
Discovered by the Japanese, it is a natural disinfectant with insect-repelling qualities. Apparently, a house constructed with hiba wood will not have any mosquitoes entering it in the first three years! It also has antibacterial properties that can repel mould and bacteria.
Here is a video to demonstrate Skin Guard's efficacy against normal mosquitoes and Aedes mosquitoes:
How to use
1) As there is no emulsifier, always shake before use
2) Spray over your dog's entire body a few times before any outdoor activity. Take note of vulnerable areas, and be careful not to spray directly into the eyes or mouth
3) Reapply if necessary
Do note that there is no insecticide in Skin Guard. Hence, it does not kill any existing parasite on the dog and cannot treat the problem. To ensure that your dog is well protected, you have to be diligent in applying it on her before every outing.
Pochitama product range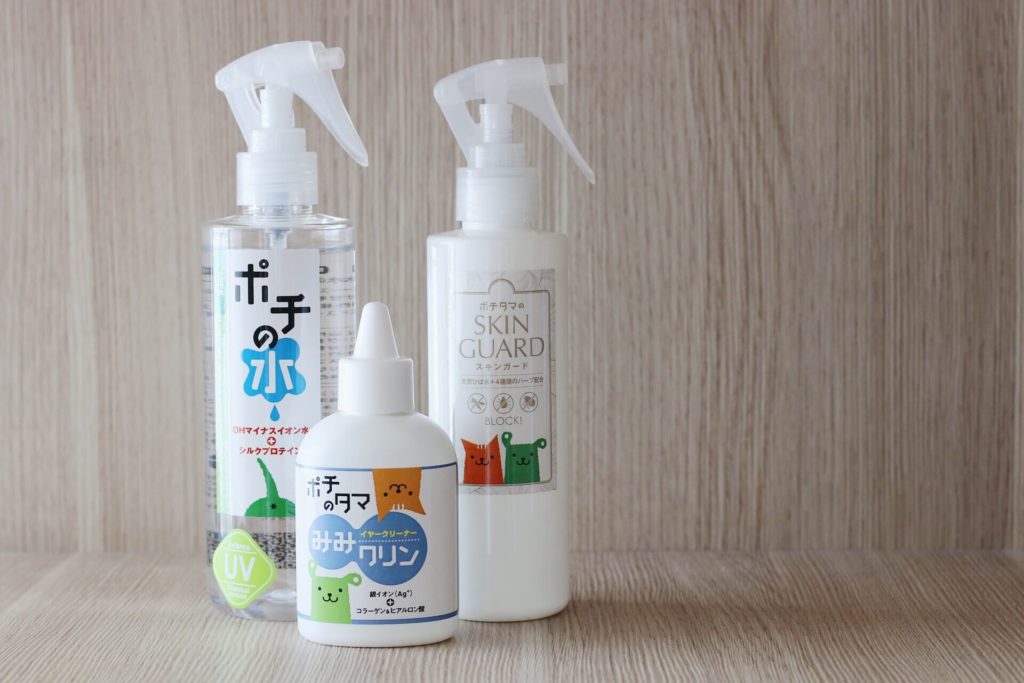 Skin Guard is part of the Pochitama product range and retails for $39. Other products in the range include the Pochitama Ear Cleanser ($28) and Pochitama Skin Lotion ($33), which is great for UV protection, smoother coat (mama uses it for her hair too!), and cleansing.
Shop // Win
If you would like to give Skin Guard or the other products a try, you can shop here. Also, stand a chance to win a bottle of Skin Guard over at Moeru's Instagram or Facebook page. Simply follow the instructions there!
---
Full disclosure: This post is sponsored by Moeru Pte. Ltd.