I was scrolling through Leo's Instagram feed when I noticed other dog owners sharing videos and pictures taken at the same location.
A big green field with happy sprinting dogs jumping over obstacles. That's right, it's the Singapore Indoor Dog Agility Arena.
Opened in February 2017, Singapore Indoor Dog Agility Arena provides a place to enhance the bond between you and your dog through a fun activity that is dog agility.
As both Leo and I are new to it, I signed up for their Dog Agility Seminar & Workshop, which acts as a basic introductory guide to dog agility for first-timers.
Read on to find out how Leo did for his first agility! P.S., do not set your expectations too high…
Here's how it went for us at Singapore Indoor Dog Agility Arena!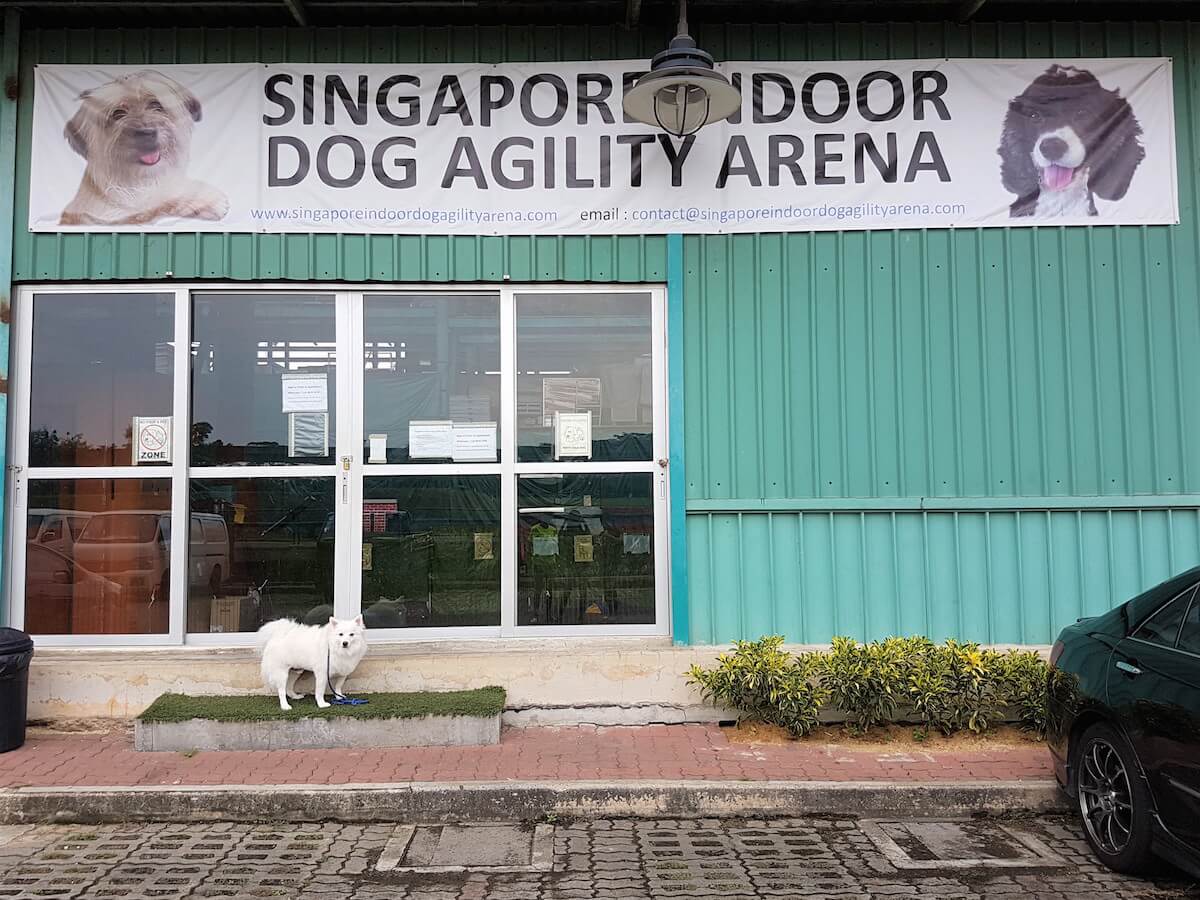 Located at the Marina Country Club, the Singapore Indoor Dog Agility Arena is one of its kind in Singapore.
When we first arrived, a spacious obstacle course, spanning 10,000 square feet greeted us. Andrew, the husband of the owner, gave us a short introduction to dog agility before the tryout.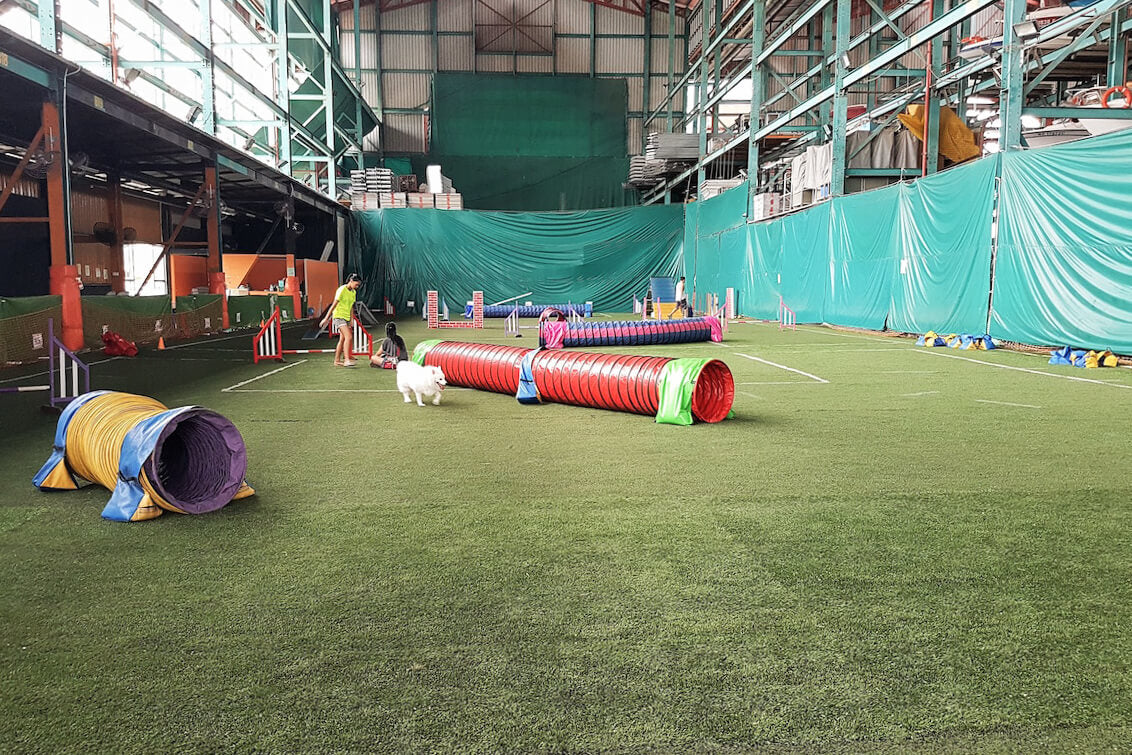 All their equipment are of international standards and cost at least S$100 dollars each. Andrew told us that professional dog agility trainers would even rent the equipment from them.
The tunnel
Thinking that it is the easiest obstacle out of the whole lot, we went to the tunnel first. It turned out to be a bad choice. Some dogs have a natural fear towards dark and enclosed areas because they make them feel confined. Leo was one of them.
We tried encouraging him with treats, balls and coaxing but he was not convinced at all. He would put a paw in, get the treat, and retreat out of the tunnel immediately.
Andrew shared with us that dogs have an incredible memory and forcing them to go into the tunnel would cause them to have a negative association towards it. So, we decided to skip it for now.
The bar jump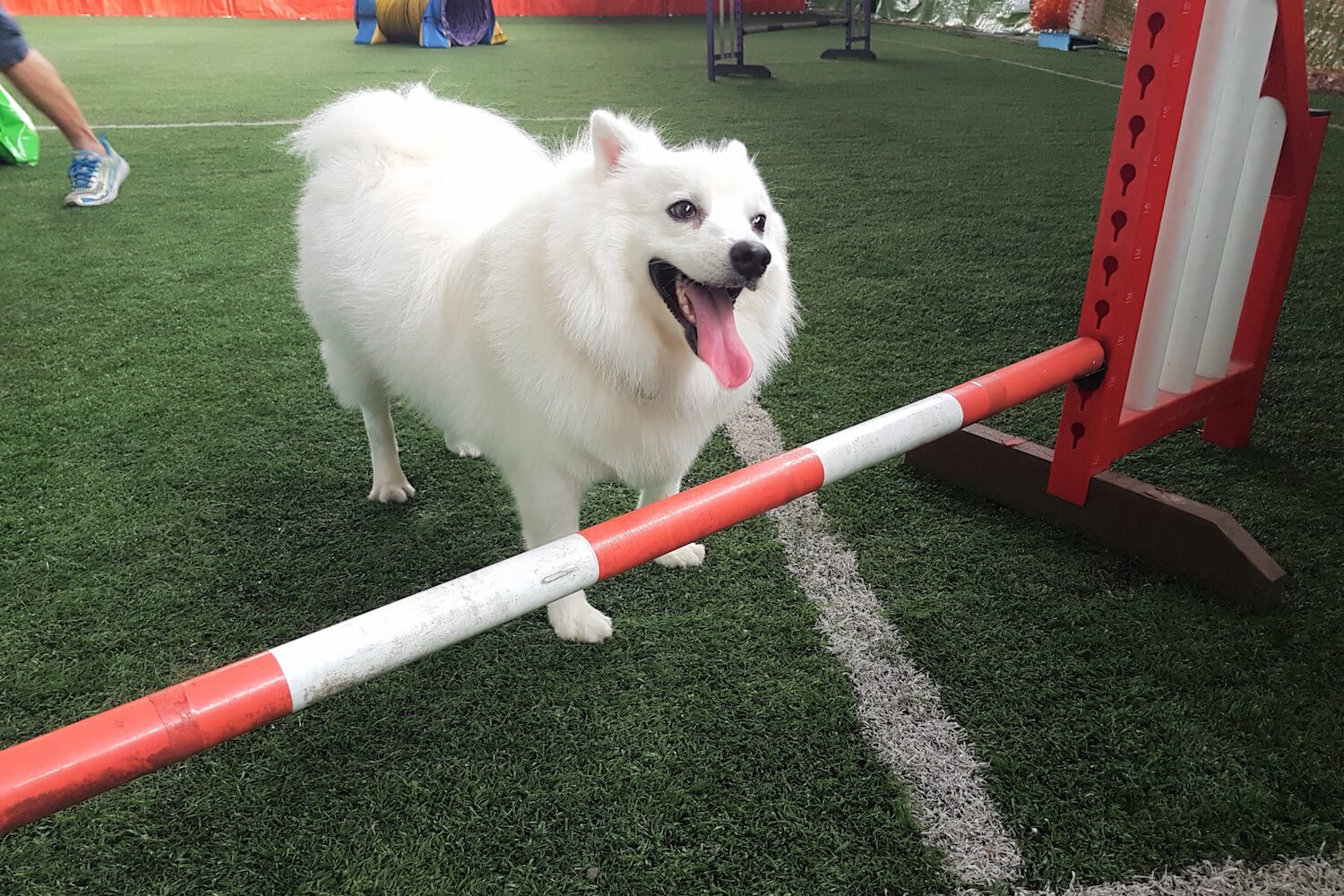 Next, we went on to try the bar jump. We decided to take it slow and steady after our not-so-successful attempt at the tunnel. Andrew suggested that we de-attach the bar from the stand and place it on the floor for Leo to step over first. Luckily, Leo did it with ease.
After seeing how comfortable he was, we attached the bar back to the stand at the lowest height. He jumped over the bar easily and that's how he first conquered an obstacle!
My family got ambitious and we increased the height of the bar. Just when we thought that everything was going well, this happened:
Lazy Leo decided to crawl under the bar instead to reach his treats! That was a sign to move on to the next obstacle as we could see that he was getting bored.
The dog walk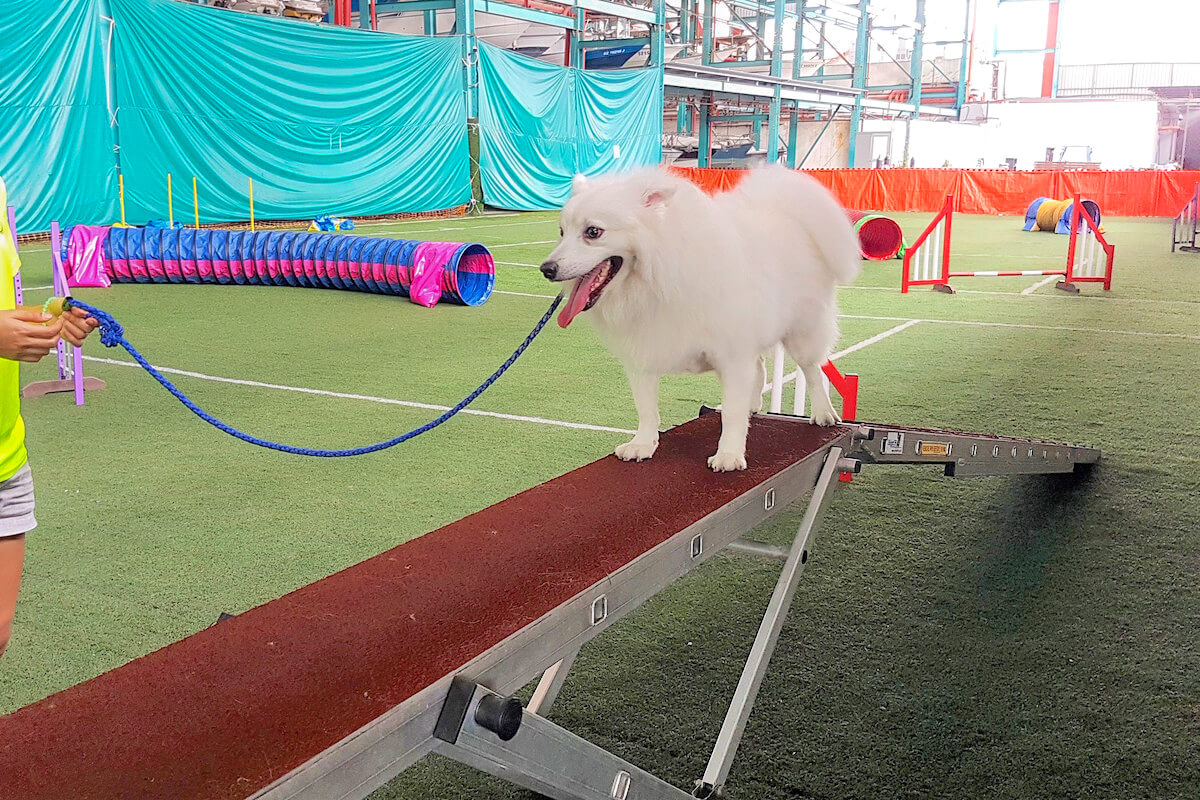 At last, Leo had a go at the dog walk. Surprisingly, he did super well on it and just needed a little motivation when walking up. Good job, Leo!
Before we know it, our session with Singapore Indoor Dog Agility Arena ended. Leo was exhausted and couldn't wait to rest for the day.
Overall, the arena provided both mental and physical stimulation for Leo. He only tried three out of the thirty equipment displayed and there are 50% more in the storage!
Things to note
Dog owners are usually discouraged from leashing their dogs during agility as it may act as a hindrance and cause accidents. Leo was leashed because he needed some guidance.
Dogs are also not allowed to pee and poo on the field. So, remember to let your dog relief herself before entering. As it's understandable that accidents happen, if you clean up after your dog properly using the pee pads and cleaning agent provided, you will not be fined.
Dog agility may not be for all dogs but I feel that it is a good experience for dog owners to try it with their dogs at least once. You never know, the results may surprise you.
Bring your dog's favourite treats or toys, remember to stay hydrated, and enjoy overcoming the obstacles as a pair!
How much does it cost?
At the time of writing, Singapore Indoor Dog Agility Arena's Seminar & Workshop costs S$38 per dog per one-hour session. It is available on weekends and public holidays. It costs S$28 for the second dog if you register at the same time.
Singapore Indoor Dog Agility Arena | Website | Facebook
Address: 11 Northshore Drive, Marina Country Club (MCC) @ Punggol, Singapore 828670
Contact: 9839 3394 | Email
Opening hours: Mon – Sun: 6am to 12am (By appointment only)
---
Subscribe to join our pack and find us on Facebook and Instagram.