[Updated as of April 2017]

I remember that within the first week of bringing me home, mama told papa that she wanted someone to pay for my trips to the vet. I found that really strange. Why would anyone do that? And why doesn't she just stop sending me to the vet? I don't find it fun anyway. Humans, in general, seem to like to make simple things complicated.

Well, clearly I am missing something because someone actually started what mama calls, "Singapore's first pet insurance policy" two weeks ago. According to her, someone would help pay for up to 70% of my vet bills and other events. That sounds like a pretty good deal to me.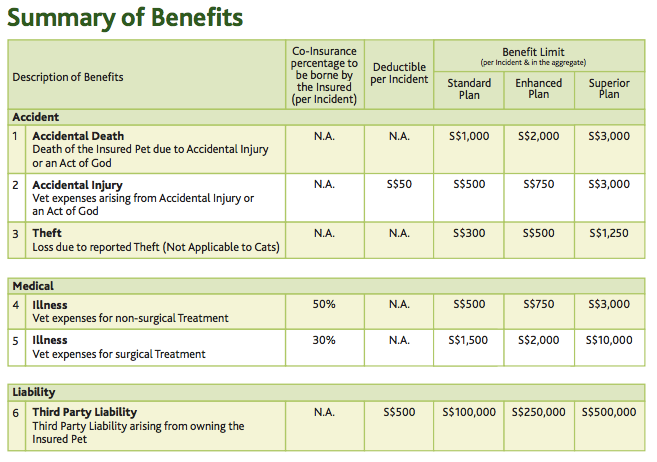 Eligibility
The insured pet must:
Be microchipped
Reside regularly in the same premise as you
Be at least eight weeks old and not more than nine years old at the enrolment date
Not be a working dog, such as a guide or guard dog
Not be a dog or cat used for breeding purposes
Major Exclusions
Illness arising from any intentional, neglectful, or preventable act
Liability arising from any intentional or preventable act
Pre-existing, hereditary, congenital, and skin conditions
Day-to-day care, including vitamins, supplements, vaccinations, training and grooming
Damage to teeth and gums unless as a result of an accident
Illness related to endoparasites or ectoparasites, hip dysplasia, and rabies
Elective procedures and treatments, such as nail clipping, tail docking and debarking
What's good about it:
Pet owners can use any vet in Singapore
No medical examination is required
Covers eligible non-surgical vet expenses
There's a no claim discount of up to 15%
Premium remains the same regardless of your pet's age (eligible for dogs below eight years old, and the policy covers till 10 years old)
What's not so good:
The policy excludes quite a few things to keep the premium low, such as skin, hereditary, and congenital conditions
Coverage isn't lifetime (up to age 10 only)
Liberty PetCare | Website
Check out Happy Tails Pet Insurance, Singapore's second pet healthcare insurance here.