Let me be clear now, no dog in the right mind would want to wear a dog protective collar. But I know it is necessary to prevent us from licking and chewing surgical wounds and itchy spots.
Thanks to my skin problems, I need to wear a protective collar very frequently. So mama has always been on a quest to look for the perfect one for me. I have tried four collars so far, and the truth is, there's not one perfect collar for all dogs.
To help you choose the best protective collar for your dog, I am sharing my thoughts on each of them here!
1. The Traditional Elizabethan Collar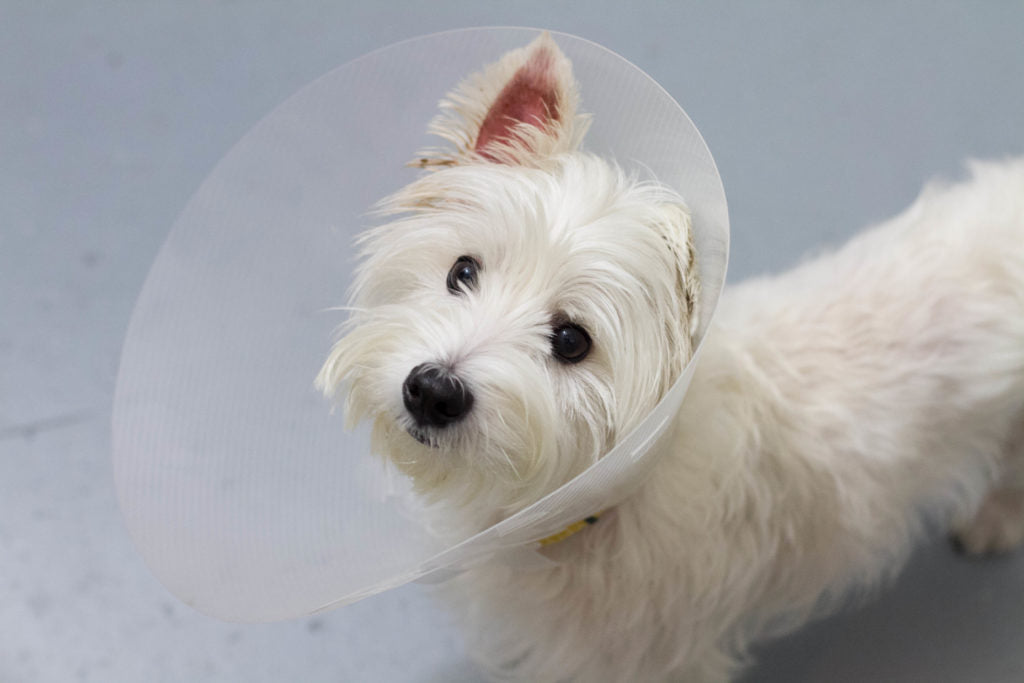 Infamous for being the cone of shame, this collar is my arch enemy! It's heavy and clumsy, and it sure makes me a very sad pup. I still remember the very first day I wore this cone. I sat in the same position for close to an hour and didn't even move one bit; I was completely confused about my situation. If you are planning to use this for your dog's surgical recovery, I advise you to buy one in advance and get your dog used to it first. Mama learnt the hard way that it's not nice to put your dog through so much trauma in one single day!
Comfort: 2/5. The e-collar will take some getting used to, and for it to be deep enough to prevent your dog from reaching her body, you will need to get a pretty big one (relative to her size). Also, my perky ears are constantly squashed by the cone!
Effectiveness: 5/5. If you get the right size, it will be completely foolproof. No way your dog can get to her tail, or anywhere else!
Price: $7 – $20, depending on size.
2. KONG EZ Clear Collar
This collar looks similar to the traditional e-collar, but it works differently. It is secured using velcro straps instead of your dog's collar, making it easier to put on.
Comfort: 3/5. The padded neckline fits better and prevents abrasion. Overall, it is more well-made than the traditional e-collar.
Effectiveness: 4/5. This collar comes in fewer size variations than the e-collar, so it's effectiveness will depend on whether there's a size that fits your dog well. That said, it worked well for me!
Price: $23 – $46 at Kohe Pets.
3. KONG Cloud Collar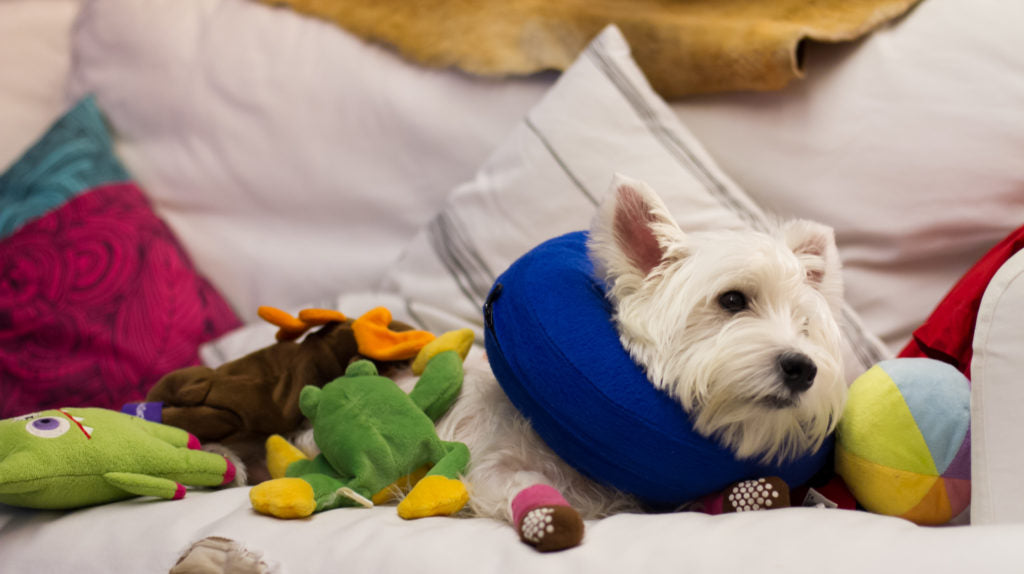 When mama saw the KONG Cloud, she thought that it would be the answer to her, or more like, my woes! It resembles a travel neck pillow, which sure makes it look far more comfortable that those plastic collars. The outer fabric is removable and machine-washable.
Comfort: 3/5. While your dog won't be knocking onto furniture and walls, this inflatable collar has its own set of flaws. First off, it can get rather warm for your dog to have a huge cloud around her neck. Secondly, because the cloud is rather fat, I found it very hard to sleep properly with my head hanging off it!
Effectiveness: 3/5. I can still get to my tail and paws. Someone else's mama advised mama to buy a bigger size, but mama thinks it might strangle me! I am already wearing an M size.
Price: $22 – $44 at Kohe Pets.
4. KONG EZ Soft Collar
Everyone, including me, loves this collar best! It's soft, it's light, and it's limber. The only problem? This collar is only meant for small dogs and cats, and they don't have one that's deep enough for me.
Comfort: 4/5. We really think this product is great, and we wish KONG could manufacture bigger sizes! It obviously blocks my side vision but that really doesn't bother me. Another plus point is, the collar flares out a little so it doesn't weigh down my ears.
Effectiveness: 3/5. If they had sizes with greater depth, this wouldn't be a problem at all. All I can say is, I wish I was much smaller.
Price: $15 – $19 at Kohe Pets.
---
Mama also wanted to let me try the flower e-collar, but she finds that it's not value for money. Phew. I think I will be a laughing stock wearing that!
Have you found the perfect dog protective collar? Let us know by commenting below!
---