We are now at part 2 of our pet travel series. If you haven't read part 1, you are encouraged to do so for a better understanding of pet import and export requirements and shipping logistics.
Yes, boring stuff but very important to ensure a smooth journey.
If you are done with part 1, great job! Now it's time to learn how to prepare your dog for travel. This should be done as early and as much as possible. Basically, you want your dog to be a travel pro.
Preparing your dog for pet travel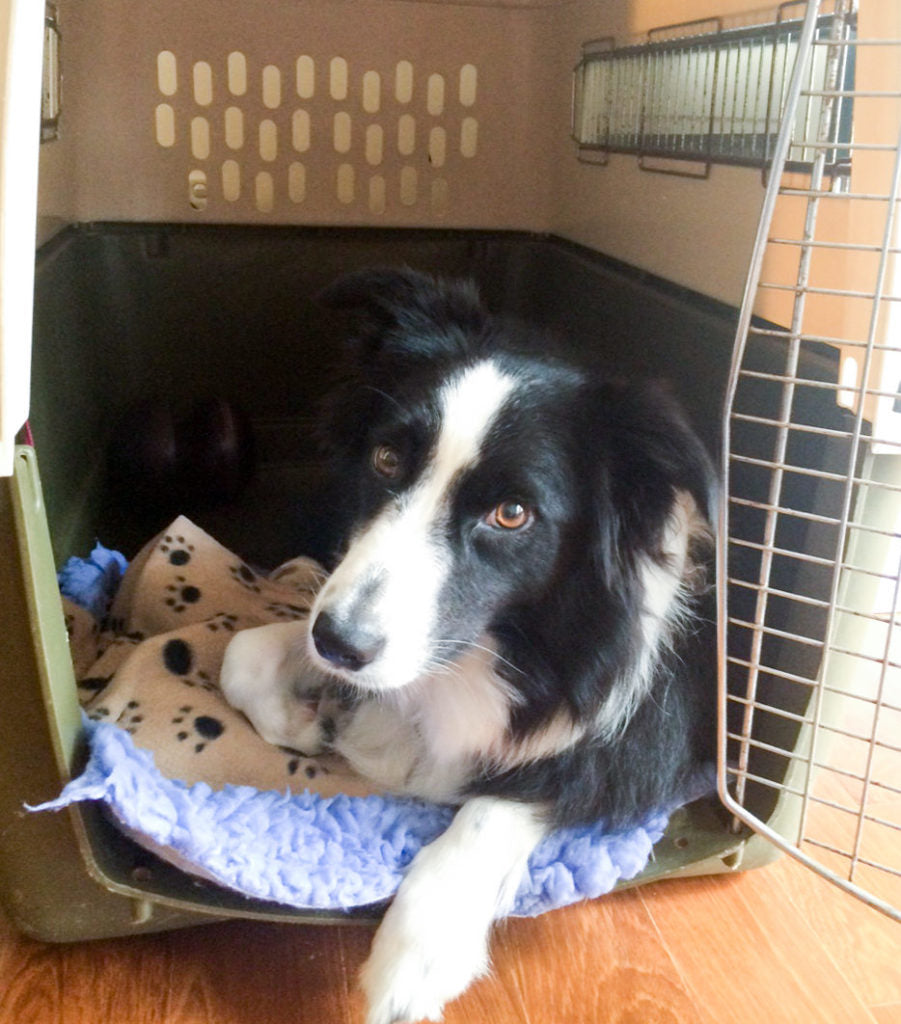 There are numerous aspects that you will need to address when prepping your dog. I have come up with five essential ones that you should pay attention to:
1. Being comfortable in a crate
Firstly, if your dog isn't already comfortable in a crate or very confined space for a long time, I urge you to train him at home.
You can find details of how to crate train your dog in our crate training series. The aim of the training is to ensure that 1) your dog thinks that all the best things happen in his crate and 2) he is comfortable being in it for prolonged periods of time.
2. Staying calm in a moving crate
Besides that, you will also have to teach him to accept that the crate can move and does not always feel steady. This is to prepare him for times when the crate is driven and lifted to the plane.
After the final vet check, your dog may be sealed in the crate. Even if he isn't, he is still going to be left inside at all times. This is to protect your dog and the airport staff. Hence, you need to teach your dog to be happy being approached by strangers while in the crate.
3. Getting used to new and loud sounds
Another part of preparation is to get your dog used to loud noises. On the day of travel, your dog will be experiencing so many novel and loud sounds.
Start by exposing him to a variety of new sounds, followed with giving him a high-value treat to create a positive association. Teach your dog that he can travel in the crate in different cars, maybe even on a trolley or the back of a bike. The more variety the better.
Always remember that it is crucial to ensure that your dog is always safe in the crate. If your crate falls off the trolley, and he gets scared, there goes his positive association to the crate.
4. Travelling without you and meeting strangers
Ensure that your dog is happy travelling without you next to him or in sight.
Also, teach him to enjoy meeting strangers. Remember that he may have interactions with complete strangers, such as the vet during final inspection and carers at arrivals and quarantine.
5. Adapting to a new life
Finally, prepare your dog for life in the new country. Many things are going to be different, so you should ideally expose him to changes in routine, such as moving his sleeping spot and taking him to new places before the trip.
Organising the crate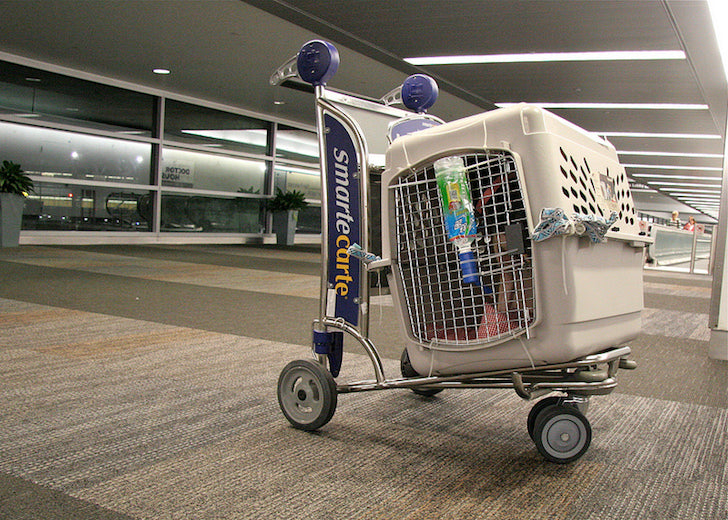 I remember that I loved it when people at the airport said to me, "Hi Ace, aren't you a good boy." Some of them even passed a treat to me through the crate mesh!
Little did I know that my clever mum wrote in big letters on the crate, "My name is Ace, please talk to me!" She also attached a treat bag with a string on the crate so that people could take a treat out for me.
Not only that, mum put an ADAPTIL collar on me too. Smelling the lovely scent reminded me of the happiness and calmness I felt when I was little.
Make sure it's airline-approved
The crate your dog travels in has to be approved for airline travel. There are some common guidelines on the size and construction of the crate. However, it is still best to check with your pet transport company or the airline that you are travelling with on whether the crate meets their standards.
Usually, travel crates are made of moulded plastic with one metal mesh door and holes on the side and the back for extra ventilation.
Get your own if possible
Most professional pet relocation companies can provide the crate for travelling. However, if you have your own, it's better to use it as you will need it for training before the trip anyway. Also, your dog will be comfortable in a crate he is familiar with.
The ideal floor cover is a material that soaks up pee easily and allows him to scratch it out of the way if he wishes.
Options can range from newspapers to highly absorbent artificial plush. Some crates have a false floor in them so that pee flows under it, keeping the dog on a dry surface.
Access to water inside
The crate must have a setup that allows your dog to be given water without someone having to open the door. This can be a bottle outside the crate with a bowl mounted on the inside. Some crates already come with that or you can buy it from most pet shops or your pet relocation company.
Keep toys, chews and food out
Generally, it is not advisable to leave toys or chews with your dog inside the crate during travel. This is because these items can become a choking hazard. Giving your dog food may also urge him to relieve himself in the crate.
Also, tranquilizers can potentially affect your dog's health, especially his heart. It is thus not advisable to use them. If you are worried that your dog will be overly stressed while traveling, speak to your vet for advice.
Stay tuned for:
Part 3 – for quarantine and settling in advice
Subscribe to be updated when the next part is published.
---
Photo credit: ilovemytank via Foter.com / CC BY