Now that we've got the paperwork and flight prep in part 1 and part 2 out of the way, let's focus on what happens after your dog arrives at the destination in this final part of the pet travel series.
What to do while your dog is in quarantine
When my brothers were under good care in quarantine, my family made the most of their free time.
They used the time to organise things like cars and the new house, visit parts of the new country where dogs weren't allowed, and settle the kids into school, without having to worry much about us. Once, they even took the opportunity to go on a luxury holiday to a non-dog-friendly place!
Lucky for me, I didn't need to be quarantined in Singapore when I arrived from Australia.
To visit or not to visit?
It is advisable that you do not visit your dog while he is in quarantine. Yes, you didn't read that wrong.
Owners can be desperate to see whether their pets are alright in quarantine. But, think about the emotional turmoil that they have to go through seeing you there for limited periods of time and then watching you leave them again at the quarantine centre.
If your dog is in good hands, which should be the case in most quarantine centres, it makes more sense for you not to visit. Visiting will raise his hopes and overexcite him unnecessarily.
Keep your dog occupied
What you can do is to provide the quarantine centre with interactive toys and chews to keep your dog occupied and entertained.
It's also a good idea to give the carers a box of chocolates as a form of appreciation. Any positive association to you and your dog will make it more likely that your dog gets more attention.
Also, call regularly to get updates about how your dog is doing. Give the carers any advice that they may need to make quarantine time more enjoyable for him.
If the centre offers play time or grooming services, it may be worth the additional cost to refresh your dog's daily routine.
Help me! Everything is new…
With so much to do before moving, most people don't spend much time thinking about what happens after they reach their new home. Below are some things you should consider before moving.
Finding accommodation
Firstly, if you don't have a permanent home yet, you will need to find temporary accommodation that can house your dog.
This is again a time when crate training comes in handy. Not only is the crate the safest place to leave your dog in his new surroundings, many hotels and serviced apartments are more likely to take your dog in if he will be left in a crate when unsupervised.
As for finding your permanent home, you need to know that your experience renting with pets will be different in different countries.
It was relatively easy for us to find a home that allowed pets in Singapore. However, public housing estates only allow certain breeds.
In Australia, your choices will be dramatically reduced if you have a pet. Having a well-trained and crate proficient dog will make the home search easier.
Rules and environment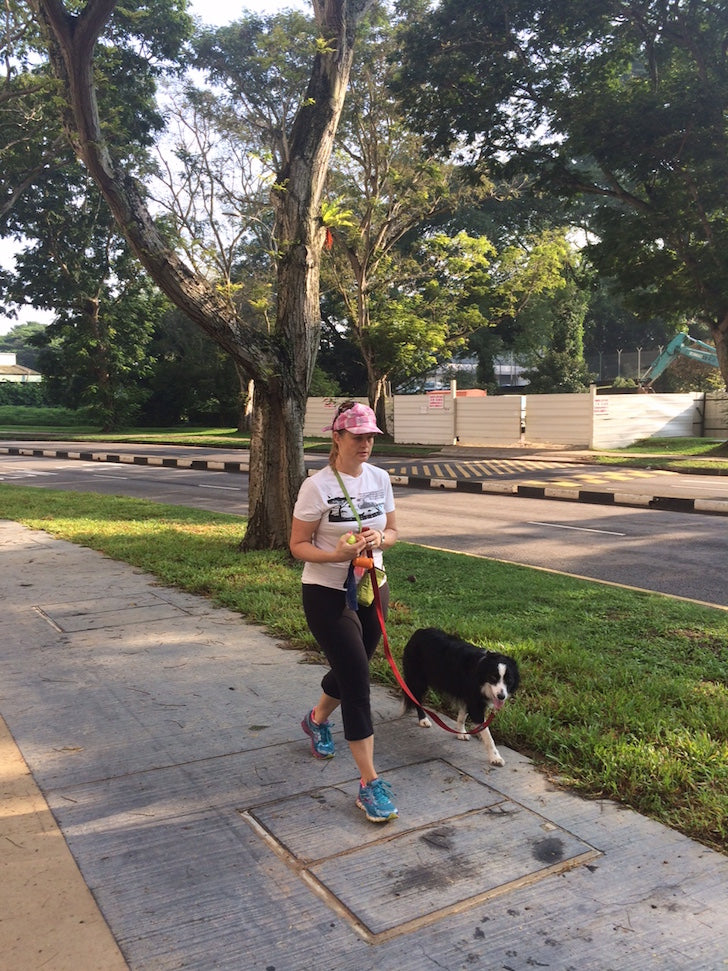 Walking your dog is one of the best ways to get to know your new surroundings and it also is a great way to meet people.
However, to keep things safe, familiarise yourself with the rules relating to pets in the country you are moving to. This can include:
Where are dogs allowed?
Where are dogs allowed off leash?
Are there certain requirements for some breeds (e.g. muzzles)?
What wildlife concerns must I consider when out and about? For example, we met a black cobra very early on in Singapore, so it was good that mum knew how to keep me away. Free-roaming cats are a big problem in Australia as they kill the local wildlife.
Do I need to license my dog?
Where are the closest vets?
Where do I dispose poo?
How can I transport my dog?
Are there any environmental issues that I may have to protect my dog from (e.g. ticks, fleas, heartworm, and haze)?
Is my dog vaccinated against all common local diseases?
Choosing professionals
Over the first few weeks, it may be wise to familiarise yourself with local vets and groomers.
Meet a few of them and see whose approach and ideologies you are most comfortable with. You want to make sure you have a trusted place to go to in case of an emergency.
My experience
In my case, there were so many things that were different. Even though mum wasn't working and I had so much time with her, I still got confused sometimes because our normal routine was all messed up.
I had to learn to travel on the floor in the taxi as my family doesn't own a car now. I also had to get used to the really loud tropical thunderstorms.
Unlike in Australia, I no longer have a grass patch in my home and I was taught to use a portaloo. I have to spend much more time on a leash here, as there are a lot less open spaces for me to run freely. And there are definitely no sheep here – I really miss them!
Also, because some people here avoid dogs or are really afraid of them, it is crucial that I have the best leash manners.
The favourite thing I had to learn was to ride in the basket on mum's bike. I love riding, smelling the air and having the wind blow in my ears.
Mum is learning too!
It wasn't just me who had to learn so many things. Due to Singapore's heat and humidity, mum had to learn to keep my dog food in the fridge, or it would quickly go bad with worms.
She had to find out where to get healthy and good quality dog food and search for fun places to take me. She also worked out new ways to keep me busy as there are no sheep here! We go swimming, do trick training and even attended an agility course.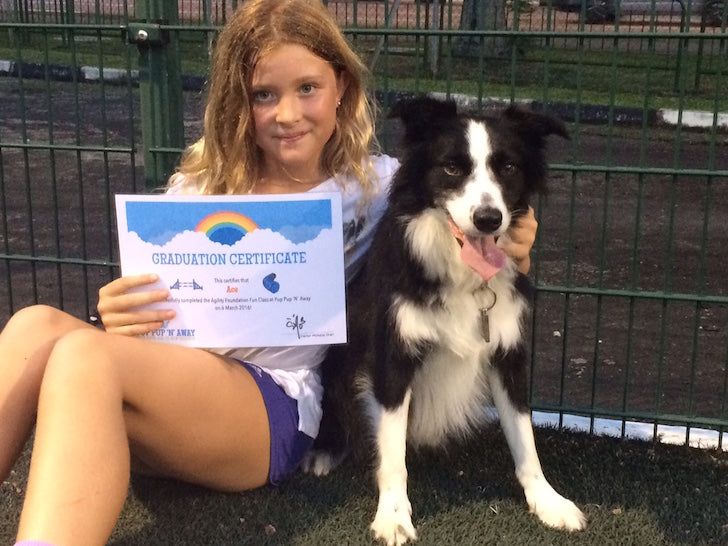 As you can see, with proper preparation, I am enjoying my new life in a new country. The move was well worth it for my family. After all, it is all about me!
---
Photo credit: PEQ Australia