It was clear before I was born that if I got adopted by my mum, Barbara and her family, I would most likely travel the world.
My name is Ace and I am a 3-year-old Border Collie Cross who moved to Singapore from Sydney, Australia a year ago.
Unlike most households, any dog who has ever been part of this family had travelled to at least two to three continents.
In fact, Gio, mum's first yellow Labrador relocated to Australia from Europe twice. And he was born in New York! He probably travelled more than most humans.
Many people have asked my mum, "Can you really take your dog when you move? Isn't it traumatising? Is it even safe?"
Her response will usually be that it all depends on how well you plan ahead and prepare your dog. If you have trained your dog well (especially to be comfortable in a crate), socialised her properly and regularly exposed her to new things, flying is definitely less traumatising for her than being given up and rehomed.
This article will provide you with information about pet travel preparation and the travel itself. Not only that, we will also throw in details about how to make settling in at the new place as easy as possible.
The 5 stages of pet travel
A smooth move with your pet comes down to preparing well for the different stages involved. There are generally 5 stages no matter where you come from and are going to:
1) Import and export requirements
2) Shipping logistics
3) Prepping your dog
4) Quarantine
5) Settling in
In part 1 of this series, we will be talking about the first two stages.
Stage 1: Import and export requirements
Every country has different requirements of the vaccinations and preventative treatments that the travelling dog must receive. How long before the trip that has to be done also varies.
Check with both sides
Some countries require nothing more than a basic health check-up by a veterinarian, while others mandate blood tests to prove that your dog is disease-free and has a good immunity level. Hence, depending on how strict the requirements, it can take over half a year for this process to be completed.
It all hinges on your country of origin and your destination. Is there active rabies where you live? And does your destination have an extensive process to follow like in the UK and Australia?
Currently, arriving in the UK, New Zealand or Australia (with tighter rules) from Singapore, the maximum quarantine is 10 days if and only if all the paperwork is complete (takes up to 7 months before you travel) and satisfactory.
On the other hand, if you arrive from some parts of US, Europe, Asia or Africa, your dog may have to be in quarantine for up to 6 months or more.
Due to this, it is easier to bring a dog to Singapore from Australia than from Indonesia.
Make no mistake, it is an exhausting and expensive process
The veterinary requirements involved can be tedious, complicated and expensive. It is extremely important to carefully read the fine print and ensure you don't overlook the smallest detail.
Get in touch with the AVA in Singapore when moving abroad, as well as with the authority in the country you are moving to (AQIS for Australia and DEFRA for the UK) to ensure that you have the most current information.
It is also advisable to work with a vet who already has experience in this field. Sometimes, companies that ship your pet have a full support network that will organise all these details for you. That's definitely a service well worth getting if your budget allows.
Stage 2: Shipping logistics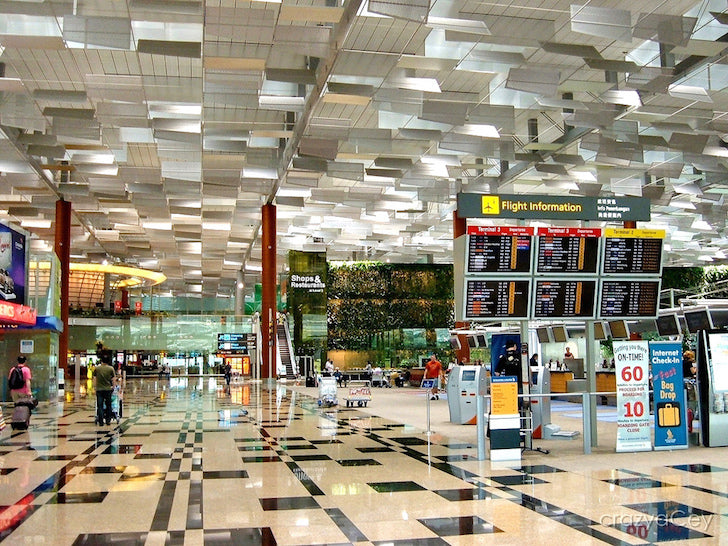 Again, it depends on the country you are moving to and how you will be transporting your dog.
Excess baggage vs. cargo
While you can bring pets into the cabin on some flights in US and Europe, most airlines insist that you fly your pet in a crate in a designated air-conditioned room on the plane. The pilot and crew usually have access to this room, but you will not be able to visit your dog.
Between some countries, your pet has to fly via cargo. This still means she will be travelling in the air-conditioned room, except you can't check her in as excess baggage.
Mum says that it can be very costly to fly your pet. So don't be surprised to pay as much as a business class ticket on the same plane you are flying on. Try to opt for excess baggage as it is usually much cheaper than cargo.
If you are travelling to a country that doesn't dictate the style of shipment, it is definitely worth your while to check all options. Call your flight carrier for prices and also shop around with other carriers.
Pet relocation companies
Many people these days use pet relocation companies. The upside is that they will handle all the details for you and pretty much tell you where to take your pet and when they will deliver her back to you.
As mentioned previously, they will also organise all the paperwork and the pre-travel vet checks. From our experience, this takes the stress of dealing with the nitty gritty off you but it also takes away the control.
For instance, most of these companies will insist on using their vet for medical checks, which means you will not be accompanying your dog.
If you need to fly your dog via cargo, it is nearly impossible to do so without hiring a shipping agency or pet relocation specialist. In this case, you will not be checking your dog in at the airport as she will travel via a shipping agent.
Other considerations
There can be some other logistical considerations, such as which airport is able to process your dog when arriving abroad.
In some countries, only particular airports have the facilities to process arriving pets. Hence, it is an important thing to consider during your planning. For instance, there is no longer a quarantine centre in Sydney, so when moving to Australia, all pets have to arrive in Melbourne for the 10-day quarantine.
In my case, my mum said that she would go pick me up from Melbourne if we do move back to Australia.
She told me that my Labrador brothers used to be much more relaxed and did not get anxious about too many things. I, however, am too intelligent and sometimes overthink, causing me to worry too much.
So, knowing my threshold for new and loud situations, she promised that I would only have to manage one flight to Melbourne and a few days alone at the quarantine centre. She thinks that an extra flight to Sydney would possibly be more than I could handle without getting traumatised.
On a lighter note, she also said she would make the Melbourne to Sydney journey a special road trip where I might even see some sheep again!
Also read:
Part 2 – how to prep your dog for pet travel, and
Part 3 – for quarantine and settling in advice
Subscribe to be updated when the next part is published.
---
Photo credit: dapito via Foter.com / CC BY-NC