This is an advertorial for Pet Expo 2018.
The Pet Expo Singapore is an event we look forward to every year. It's a great opportunity to stock up on bargains and discover new brands and products. Pet Expo 2018 will be held from 6 to 8 April this year.
In this post we will share with you the booths we will certainly be visiting and that you shouldn't miss. There will also be many fun activities and contests to keep you occupied all three days! At the end of the post, there will be a guide on how to conquer Pet Expo 2018 like a pro.
Basically, everything you need to know about Pet Expo 2018 is right here!
10 Pet Expo 2018 booths you wouldn't want to miss
Now, I will admit that I go to Pet Expo purely to shop. You will find distributors, local treat bakeries, designers, and also overseas pet exhibitors. Booths we go to every year includes Howlistic Life, Ginger and Bear, and Happy Tails Pet Insurance (bringing our friends to sign up!). This year, there are new exhibitors that we are excited to visit! Here's our to-visit list:
1. B2K
B2K is the distributor of popular brands like Primal pet food, Absolute Bites, Absolute Holistic, godog, Outward Hound, and Zippy Paws. Every year, B2K's queues are long with people stocking on pee pads and dog food.
Find them at E1.
2. Barking Good
The duo behind Barking Good is so kind, humble, and friendly that it shows in their bakes. You can expect new mouthwatering flavours launching at Pet Expo 2018 – Nasi Lemak, Bak Kut Teh, and Durian Durian.
Find them at the Made-in-SGPAW Square, F15.
3. Ginger and Bear
Ginger and Bear is always able to delight us with their well-curated premium products from all over the world. They would be launching their new Mutt Hatters toys at Pet Expo 2018. If you are looking for something special for your dog or for gifting, you have to pop by their booth!
Find them at the Made-in-SGPAW Square, F15.
4. Happy Tails Pet Insurance
We always advocate for dog and cat owners to purchase a lifetime healthcare insurance for their pets. Pet medical expenses are very high and can come unexpectedly. Register for Happy Tails Pet Insurance before your dog turns four to enjoy the lowest co-insurance and better coverage. Also, you will get 15% off premiums and a goodie bag when you sign up at Pet Expo 2018.
Find them at A02.
5. Howlistic Life
Howlistic Life's booth is another one that would be packed to the brim as their promotions every year prove irresistible. You will find our favourite brands – K9 Natural, FuzzYard, Zee.dog, Dom & Cleo, and more. They will also be launching their new brand, Kin + Kind at Pet Expo 2018. We personally love Kin + Kind's Healing Clay shampoo so do check it out!
Find them at D15.
6. The Rosehip Specialists
Latte is currently eating a scoop of Rose-Hip Vital® a day for joint health. We like that it's 100% natural and smells really nice too. They currently have a one for one promotion for their 500g tub – S$139.90 for two.
Find them at B20.
7. Ohpopdog
Our favourite designers, ohpopdog, will be at Pet Expo this year. Selected off-season pieces will be going for S$15 to S$25.
Expect new capes, bowties, and bandanas, and if they can make it in time, their new human and dog wear collection!
They will also be showcasing their Pawranakan collection, featuring Peranakan inspired bandanas with a playful twist of doggie elements at the Good Dog People Singapaw Showcase happening on 7 April 2018, 4.30pm.
Find them at the Made-in-SGPAW Square, F15. Read our interview with ohpopdog here.
8. Paws Avenue
Paws Avenue is focused on bringing in natural and good products to Singapore. Check out brands like Augustine Approved and Essential Dog if you are looking for ingredients lists that we approve.
Loyalty Pet Treats will also be available at the booth. Each pack of treats is made of a single human-grade ingredient in Australia with a patented dehydration process that preserves nutrients and flavour. It's so good you can eat it yourself!
Find them at C15.
9. The Barkery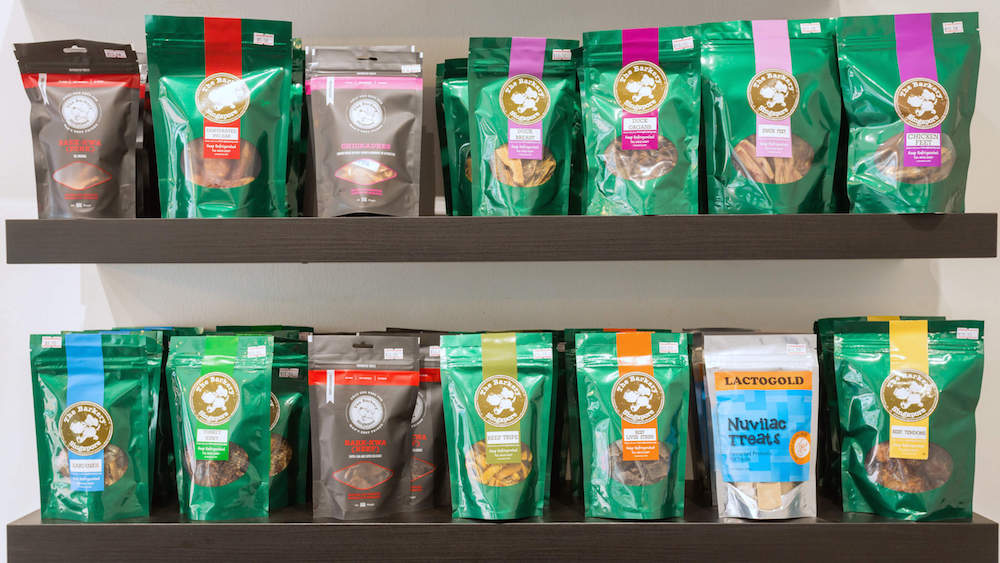 Latte's favourite anchovies and tripe are from The Barkery. Here's your chance to stock up on treats and Lactogold!
Find them at the Made-in-SGPAW Square, F15.
10. Wholesome Paws
Wholesome Paws offers healthy and delicious treats and raw meals. Go have a chat with them at Pet Expo to learn more about their approach to dog food.
Find them at the Made-in-SGPAW Square, F15.
View the full list of Pet Expo 2018 exhibitors here.
5 Fun activities at Pet Expo 2018
This year's Pet Expo activities are quite impressive. I usually don't care for event activities but there are quite a few fun ones this time. From dog yoga and legit fashion runway to breed races, here are our top picks!
1. Dog Yoga by Pawfully Fit
Dog yoga is not only fun, it can strengthen the bond between human and dog. Register online before 2 April, 11.59pm to secure a slot!
After pre-registration closes, you can still try to register personally on the day at the Stage Area. Do note that onsite registration is subject to space availability.
6 April 2018, Friday, 12.30pm – 1.20pm
7 April 2018, Saturday, 11.15am – 12pm
2. Good Dogs & People
The Good Dogs & People fashion runway by Good Dog People stars good dogs and their adopted owners, dog lovers, celebrities, and models from
NOW Model Management wearing collections by Singapore creatives.
The aim of the show is to raise awareness for responsible dog ownership and to encourage people to #AdoptDontShop. 10% of the Singapaw Showcase goes towards supporting the big move of animal shelters from Pasir Ris to Sungei Tengah.
Catch the runway at the Stage Area on 7 April 2018, Saturday, 4.30pm.
3. Temptation breed races
Watch different breeds go through different obstacles in a test of self-control at the Stage Area. It's bound to be either hilarious or impressive!
6 April 2018
6pm: Singapore Special
6.30pm: Border Collie
7pm: Samoyed
7 April 2018
7pm: Shiba Inu
7.30pm: Pug
4. DoubleTrouble showcase
After the search for the best DoubleTrouble on Instagram, the pairs will be showing off their similarities, whether in looks, tricks, or habits. If you are in for a dose of cuteness, be sure to head to the Stage Area on 7 April 2018, Saturday at 6.15pm.
5. Breed gatherings
The Dachshund Club Singapore will be holding a Dachshund Gathering at Pet Expo 2018. Head over to the Stage Area on 7 April 2018, Saturday between 3pm and 4pm to see dozens of adorable doxies.
View the full list of Pet Expo 2018 activities here.
Guide to conquering Pet Expo like a pro
Apply flea and tick prevention on your dog before heading down
Bring lots of cash as it's generally the only payment mode
Bring a stroller for your dog if she tends to pull a lot or get tired
Go on Friday for faster queues as it's after all a working day
Follow brands ahead of the event for updates on special Pet Expo promotions
Join group buys with friends and members of Facebook groups
Purchase tickets and register for activities at the Pet Expo Singapore website. Enjoy S$1 discount on your 1-day admission ticket by entering the code "madeinsgpaw".
Dates: 6 – 8 April 2018 (Friday – Sunday)
Time: 11am – 8pm
Venue: Singapore Expo Hall 7
Admission: S$5 for a 1-day pass / S$12 for a 3-day Pass, free entry for children below 12 years old, pets are welcome!
---
Subscribe to join our pack and find us on Facebook and Instagram.