Featured image credits: @babathechow and Cindy Tan
Imagine giggling babies and licking puppies in a room. Isn't it such a beautiful scene? But when the babies start crying non-stop and the dogs begin barking, things could turn ugly. Well, at least that's what some people may imagine when they think about having to raise both human babies and furbabies under the same roof.
Sadly, there have been many cases of people taking the easy way out – Giving their dogs away when they are expecting a baby. Some excuses we have heard include lack of time, fear that the dog would cause the baby to get sick or develop allergies, and fear that the dog would hurt the baby.
But what these people are missing out on is the opportunity to witness a wonderful relationship between their child and their dog and the benefits that come with it.
To make this post truly useful, we rallied the help of experienced parents to share with us their personal advice and stories.
After listening from them, one thing is for sure, couples can have the best of both worlds; the unwavering loyalty and unconditional love of their dog and the fulfillment and joy of parenthood!
Thanks to a dozen parents and their generous sharing, here are some great tips for both dog owners who are expecting a baby and parents who are welcoming a new dog.
5 tips on introducing your baby and dog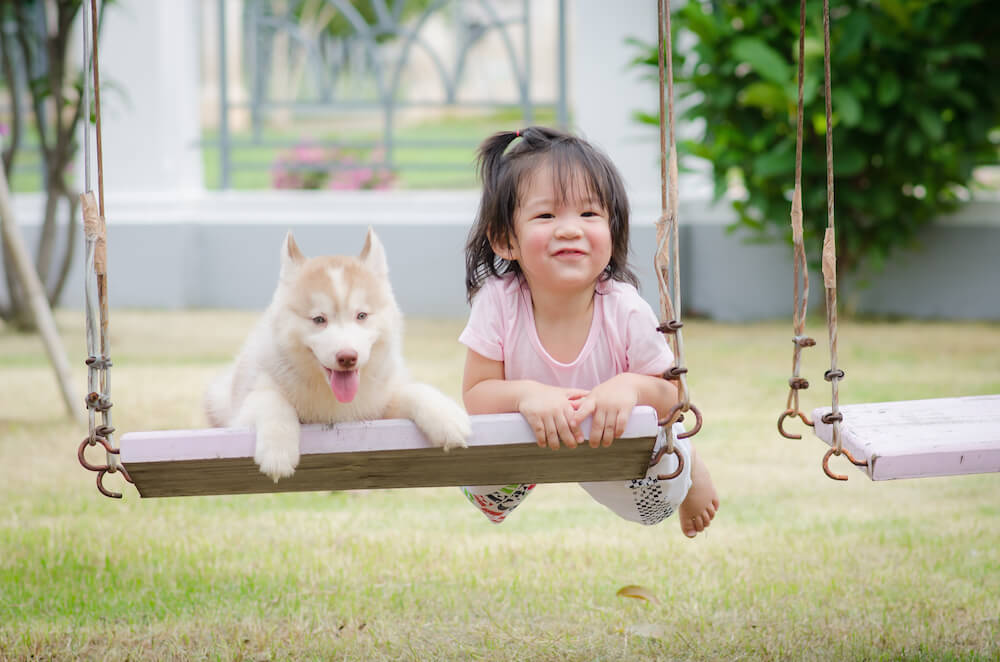 1. Pre-introduction with scent
While your baby is still at the hospital, bring back something, such as a towel with her scent and let your dog sniff it before the actual introduction. This will help your dog ease into having a new member in the house.
RELATED: Infographic: How to Introduce Your Dog to Your Baby
2. Never leave your baby and dog together without supervision
Don't set your child and dog up for failure by leaving them together without adult supervision. During the early stages, always monitor your child's interactions with your dog.
Dogs accidentally knocking toddlers over and babies pulling or rolling their walkers over the dog's tail are not uncommon. Prevent accidents by letting them interact on your watch.
3. Training includes both your child and your dog
While you need to train your dog to be careful with your child, you also need to teach your child to be careful with your dog. It's important to teach children to be gentle with animals and to treat them with respect.
4. As much as possible, do not change your dog's daily routine
Having a new member in the house can be stressful for some dogs. This is especially so if your dog's routine changes suddenly with the new addition.
Continue to give your dog her walks every day, keep to the same mealtimes, and try to play with her as per normal.
5. Take it easy!
 Lastly, don't stress! With patience and love, everything will work out. Don't trust us, trust fellow parents who have been through the same thing!
Take it from 6 parents who thoroughly enjoy raising their kids and dogs
Photos credit: @babathechow
Keith Chee, 31, Treasurer & Melinda Chee, 29, Brand Representative
Child: Micah Chee, 1-year-old
Dogs: Simba, 4-year old Chowoodle and Brie, 9-year-old mini Maltese
1. How did you first introduce Micah to Simba and Brie?
We brought Micah's baby blanket back from the hospital to let the dogs smell it before he was ready to come home.
On the day we brought Micah home, we brought Simba out for a long walk to tire him out and lower any possible aggression. During the introduction, we made sure to let the dogs smell him while keeping him physically higher than them.
2. Are there any visible changes to your dog during and after pregnancy?
No difference during the pregnancy. But after pregnancy, Simba was a little depressed – not finishing his food and generally moping about the house. To ensure he didn't feel completely abandoned, we continued to walk him on a daily basis to have some bonding time with him.
3. Do you have stories of sweet moments between them to share?
Not yet for Simba as he tends to shun any contact with the baby, but he is not aggressive. For Brie, Micah loves playing "catching" with her and enjoys watching her run. Both dogs generally love his mealtime as they get "manna from heaven" everytime he eats. 
4. Any tips for fellow dog owners who are expecting?
We think introducing the dogs to the baby's scent beforehand helped a lot. Try and make time even after birth to bring the dogs for walks regularly, as this ensures that the dogs are tired out and have less likelihood of aggression.
Photos credit: Christine Chee
Christine Chee, 35, Executive Assistant
Children: Ernice Yeo, 9-year-old and Evette Yeo, 1-year-old
Dogs: Marvis, 17-year-old Maltese who passed away recently, and Casey, 3-year-old Mongrel
1. Are there any visible changes to your dogs during and after pregnancy?
Casey used to jump on me whenever I returned home. But when I was pregnant, she seemed to know and stopped doing it without me telling her.
She also became very protective of me – she followed me around the house and always waited for me outside the toilet. That was not her usual self because she is the kind who would be sleeping somewhere and only appears during mealtime or when it's time to go out and play.
Since the day our baby came home, she is always around her, taking on the role of a good guardian.
2. Are there any benefits to having kids grow up with dogs?
Both of my girls are not afraid of animals as they were introduced to dogs from young. They learned to love and share their things. My elder daughter wrote a story when she was six, sharing with people the life of a street dog.
3. What are some of the challenges of having both children and dogs?
Both my elder daughter and I have sensitive noses and it was a challenge. My elder daughter's immune system isn't strong enough and she tends to fall sick easily. We have to ensure that the house is clean, especially her room, so no dogs are allowed there. We make it a point to comb the dog's fur every day to minimise shedding.
Photos credit: Anusha Balasingham
Anusha Balasingham, 34, self-employed
Children: Israel Sanjana, 2-year-old and another child due in October 2017
Dogs: Blessy, 3-year-old Shih Tzu
1. How did you first introduce Israel to Blessy?
Blessy knew that I was pregnant due to my scent. She kept me company throughout my morning sickness and all. When we came home from the hospital upon delivery, she jumped on my bed and smelt Israel.
Now during the day, we put Israel on a mattress in the living room and Blessy will sleep beside her. 
2. Are there any benefits to having kids grow up with dogs?
I have seen the maturity in both my girls and the companionship and love they have for one another. Even when feeding fruits, Israel would give Blessy first and does not offer them to her parents.
3. Any tips for fellow dog owners who are expecting?
Don't panic and don't listen to those horror stories.
A dog is like a child. Train a child the right way and they will go a long way. Likewise, you as a parent will know your kids well, so trust your kids and work it out.
The joy you would get is out of this world. For first-timers, make sure that your dog knows that a new member is coming. Do not neglect the love for the dog – share your love for both the child and the dog equally.
Even though I don't have as much time for both of them due to my current pregnancy, both of my girls don't seem to mind because they know another one is on the way and they are waiting for that child.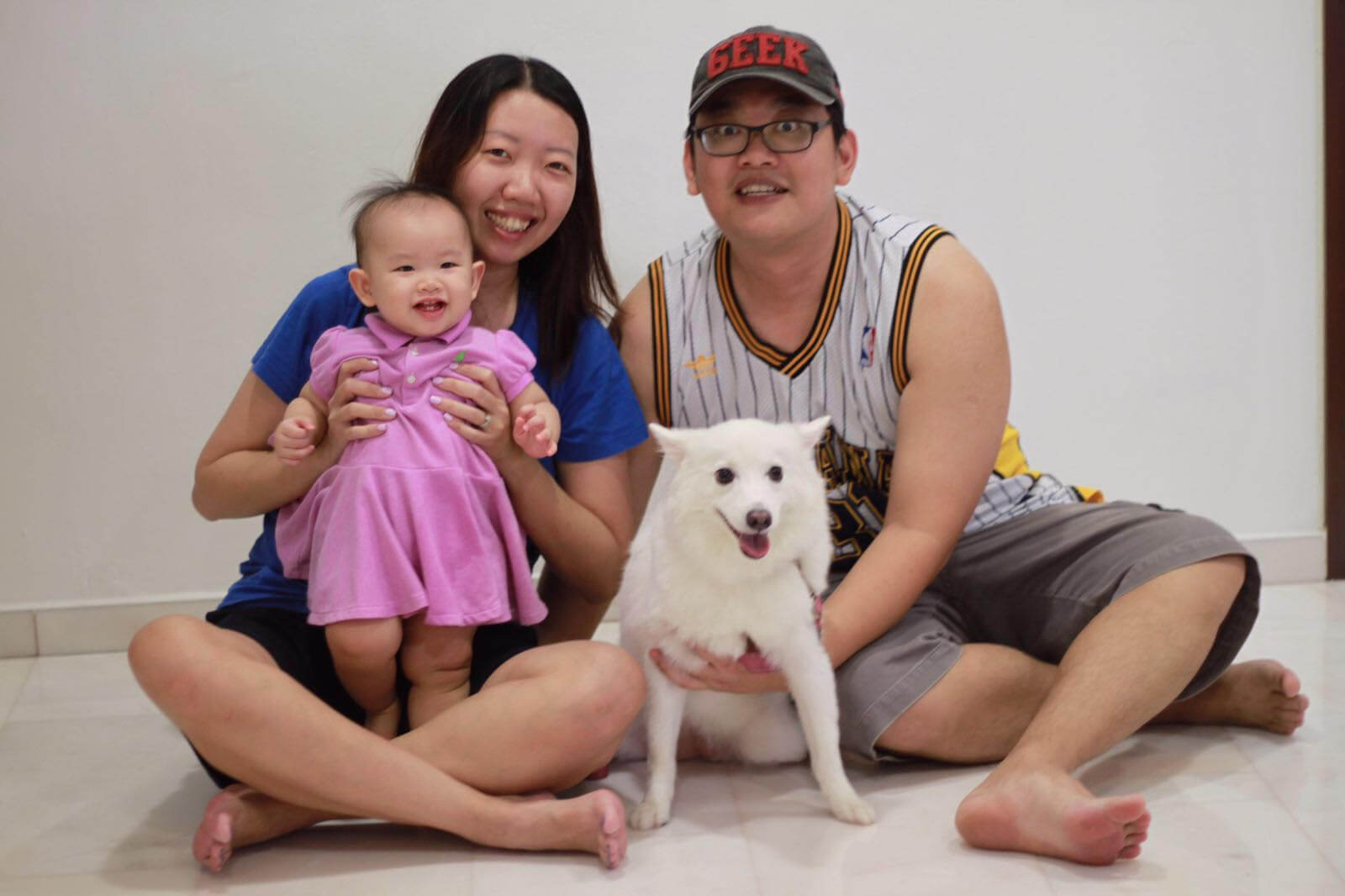 Photo credit: Juvena Wu
Juvena Wu, 34, localization manager
Child: Aeryn, 2-year-old
Dog: Miko, 3-year-old Japanese Spitz
1. How did you first introduce Aeryn to Miko? 
Months after we got Miko, we realised that we were also going to have a baby!
The first thing that came to my mind was to make sure that they must, and would be able to live together cohesively.
During the pregnancy, I liked to put Miko on my lap and she would lean on my bump (I think Aeryn was kicking her too!). That was probably when they started bonding.
We consulted our friend who trained Miko on how to introduce Aeryn to our family properly, and was told to bring home the first soiled diaper back from the hospital to let Miko smell near the cot and understand that there's a new addition to the family.
2. What are some of the challenges of having both a child and a dog?
The attention span we have for the child and dog is lesser than before Aeryn came into the family. I will try to ensure Miko goes for a walk every night because we work during the day and there's no one at home.
Other challenges, which are akin to having another child sibling at home, includes destroying each other's toys, snatching, and crying!
When Aeryn grew older and started on solids, another worry presented itself. She would throw her food down her high chair and Miko would eat them. I have to be wary when I feed food, such as grapes, that dogs are not supposed to consume.
Aeryn goes to a "naughty" corner when she misbehaves, and when Miko misbehaves, she would demand Miko to go to the corner too! I have to bring the dog to the corner and tell her off, then her human sister would be appeased.
Other than these, it's all good!
3. Do you have stories of sweet moments between them to share?
Every day when Aeryn wakes up, she will run out of her room to greet Miko, even before she changes out of her pyjamas!
And before we leave for childcare, I will ask Aeryn to say goodbye to Miko, and she will give a complimentary hug or pat on Miko's head too.
4. Any tips for fellow dog owners who are expecting?
We may think that dogs don't know better, but in actual fact they do. Always maintain what you have been doing or saying, no less, so the dog does not feel threatened by the new addition. The first few weeks may be demanding on the dog, especially when the newborn cries, but always assure the dog that it's okay. And in no time, our furry friend would also be immune to cries. Haha!
Denise Lum, 45, Freelancer
Child: Kayli Lum, 8-year-old
Dog: Sasha, 15-year-old Westie
1. How do you ensure that Kayli and Sasha interact well together? What precautions did you take?
I continue to give both Kayli and Sasha the same attention and time. I still play and walk Sasha while pushing the pram or carrying Kayli with a harness.
Sasha is not allowed in the baby room and we have a child gate installed as a precaution.
If Kayli is napping outside, I will allow Sasha to be near her. While I am vigilant, most of the time, they both just nap beside each other.
A word of caution, you really need to know the character of your dog well. Sasha is gentle and docile and there is trust between us. She understands commands, such as "Stay" well. I would also ensure both Kayli and Sasha's vaccinations are up to date.
2. Are there any benefits to having kids grow up with dogs?
Yes! Lots of benefits, such as having another playmate for my only child. There are more outdoor activities and Kayli grew up active with compassion for animals and resistance to dirt.
I can't possibly keep the house clean and odourless at all times. I got a robot vacuum cleaner during her toddler years as she always left a food trail. Haha.
My child had sensitive airways when she was two to three years old but I let her rough it out instead of blaming it on dog fur. I started using a purifier and groomed Sasha regularly. Kayli grew out of it eventually and her health has been remarkable ever since.
3. Do you have stories of sweet moments between them to share?
While Kayli was learning to crawl, I put her on the play mat. Sasha came near her and did the leopard crawl around her as though she was teaching Kayli how to crawl.
It was hilarious. Sasha would lick Kayli's hands, snuggle up to her, and signal for her to play.
Sasha would always be close by when Kayli took naps. Later on, Sasha became Kayli's passenger as she pushed her toy car around and even become her pillow while drinking milk.
I could sense that Sasha had some maternal instinct although she never had a pup. Their bond is amazing. Kayli has always treated Sasha as a part of our family and not just a pet.
Thank you, parents!
Special thanks to all the parents who took time out to answer our questions! We may not have featured everyone's answers but they all went into helping us come up with tips for expectant dog owners and parents welcoming a new dog.
Are you a parent with dogs with your own stories to share? Comment below!
---
Subscribe to join our pack and find us on Facebook and Instagram.