This is an Organic Paws advertorial for Paws Avenue.
I am super happy to share about Organic Paws Original Blends with you today. Having more frozen raw diet choices in Singapore is always welcomed by me. And one that is certified organic and still affordable is certainly one to beat.
Organic Paws Original Blends is your answer to affordable certified organic diet for your pet
1. Australian Certified Organic
Organic Paws Original Blends' ingredients have been certified through the Australian Certified Organic (ACO).
What that means is that at every stage, when ingredients were raised, grown, slaughtered, harvested, packaged and transported, they were thoroughly monitored and assessed by the ACO to ensure they were done so without the use of chemicals, synthetic hormones, antibiotics, toxic fertilizers, pesticides, bioengineering (GMO's), or irradiated.
Only approval from a certifying body like the ACO can ensure such purity of ingredients. So, the only way you know you are really getting organic food is through organic certification.
2. Made using real whole foods
Organic Paws Original Blends are made of full carcass grass-fed meat (not leftover parts or meat meals) and even though it's minced, I still see bits of organs and ground bone when I put it into Latte's bowl.
Latte is always excited to eat her Original Blend meals – waiting anxiously next to me as I prepare it and licking the bowl clean after she finishes her meal.
3. Contains no nasties
No matter what kind of food you feed your pet, avoid ingredients that are fillers (no real nutritional value) or low-quality. While that's relatively easy to ensure, it may be costly or inconvenient to get your hands on meats that are free of antibiotics and growth hormones and vegetables that are free from pesticides.
Which is why Organic Paws Original Blends are attractive options for me. They DO NOT contain:
Pesticides
Antibiotics
growth hormones
Bioengineering (GMO's)
Chemicals
Preservatives
Wheat, rice, grains, or soy
Cereals
Gluten
By-products or fillers
Here's what the ingredients list looks like for the beef blend, which is similar to the others:
Organic full carcass grass-fed beef meat, organic liver, organic kidney, organic heart, organic green tripe, organic ground chicken bone, cod liver oil, organic kelp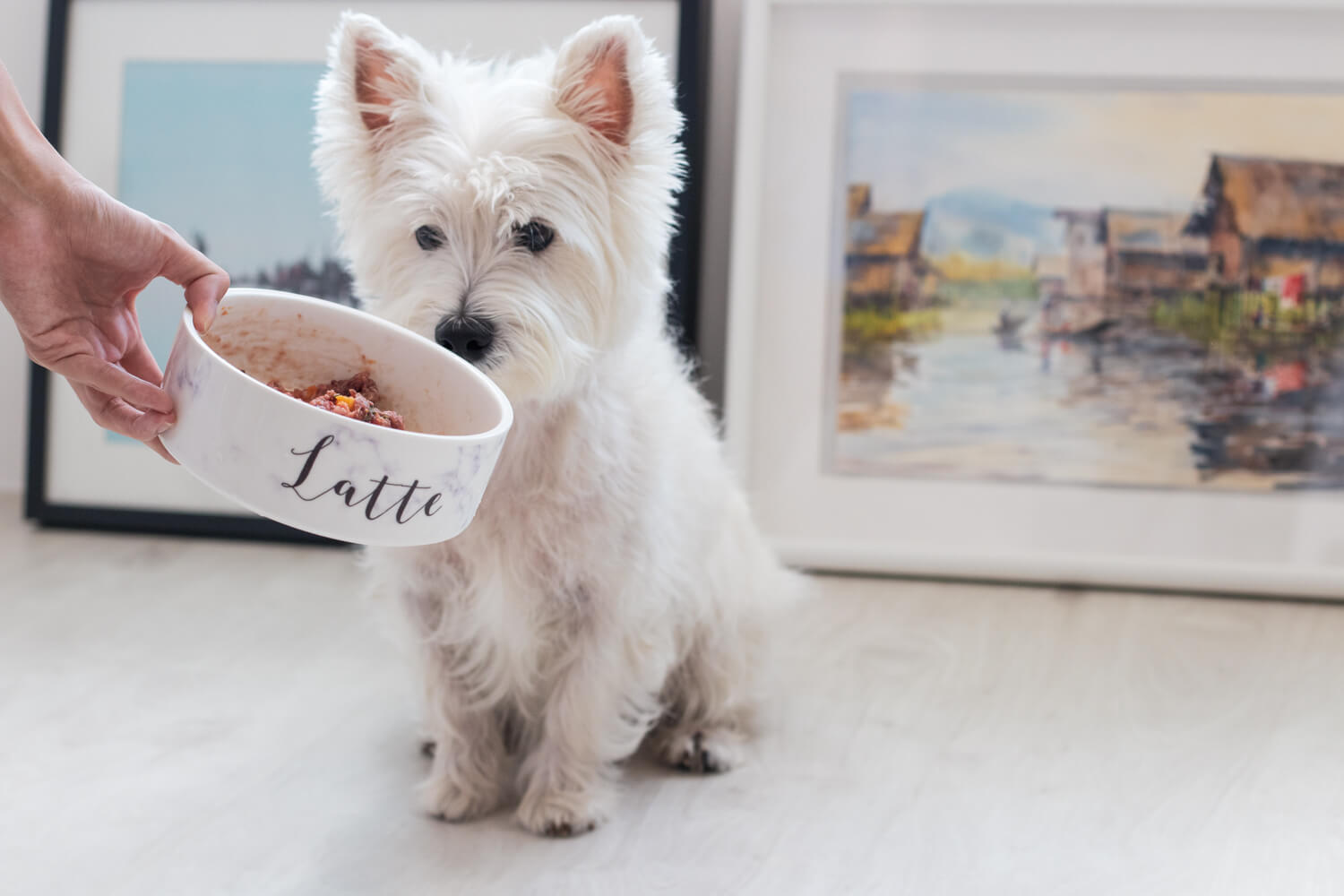 4. Includes yucky but nutritious tripe
Unbleached green tripe is packed with digestive enzymes, amino acids, and beneficial bacteria. It is perfect for pets with digestive problems, skin conditions, and poor gut and chronic ill health and also enhances overall health and longevity.
The downside? It's super smelly and disgusting. My kitchen smelt like sewage when I opened up a can of it once. After all, it's the stomach lining of an animal. The good news is even the pickiest pet would go crazy over that smell.
So, when I saw that tripe is in the Original Blends, I was pleased as Latte can enjoy it without me having to deal with it. I was still worried about the smell but when I opened up the box for the first time, I could smell it but it was faint enough and doesn't linger. Awesome!
5. Affordable
There's no doubt that certified organic products are expensive. It's not easy on the wallet to eat healthy for both human and dog!
But Organic Paws Original Blends pleasantly surprised me with their prices.
A 2.25kg box containing 8 x 275g containers costs S$55.90. For 6kg Latte, I would need around two boxes, which would cost S$111.80 a month! The price is the same across all five blends – Kangaroo, Lamb, Beef, Fish & Chicken, and Chicken so you can rotate the proteins without budget limitation.
What Latte's bowl looks like
Every dog is different and Latte enjoys certain vegetables and does well on them. So, even with balanced commercial meals, I would add some mashed steamed pumpkin (the perfect solution for loose stools), finely chopped steamed green leafy vegetables, and berries. This is what a day's meals look like for Latte:
What's also usually in there are supplements like Omega 3 fish oil, joint supplements, and an all-natural multi-nutrient blend.
Did someone say roo tail and green tripe?
Organic Paws frozen Roo Tail (1kg, S$24.90) and Green Tripe Mini Balls (500g, S$36.90) make great treats. Chewing on chopped roo tails can help break down tartar and at the same time, work your dog's mind and jaw. Latte likes it served thawed and as a gentle chewer, it can keep her occupied for a long time.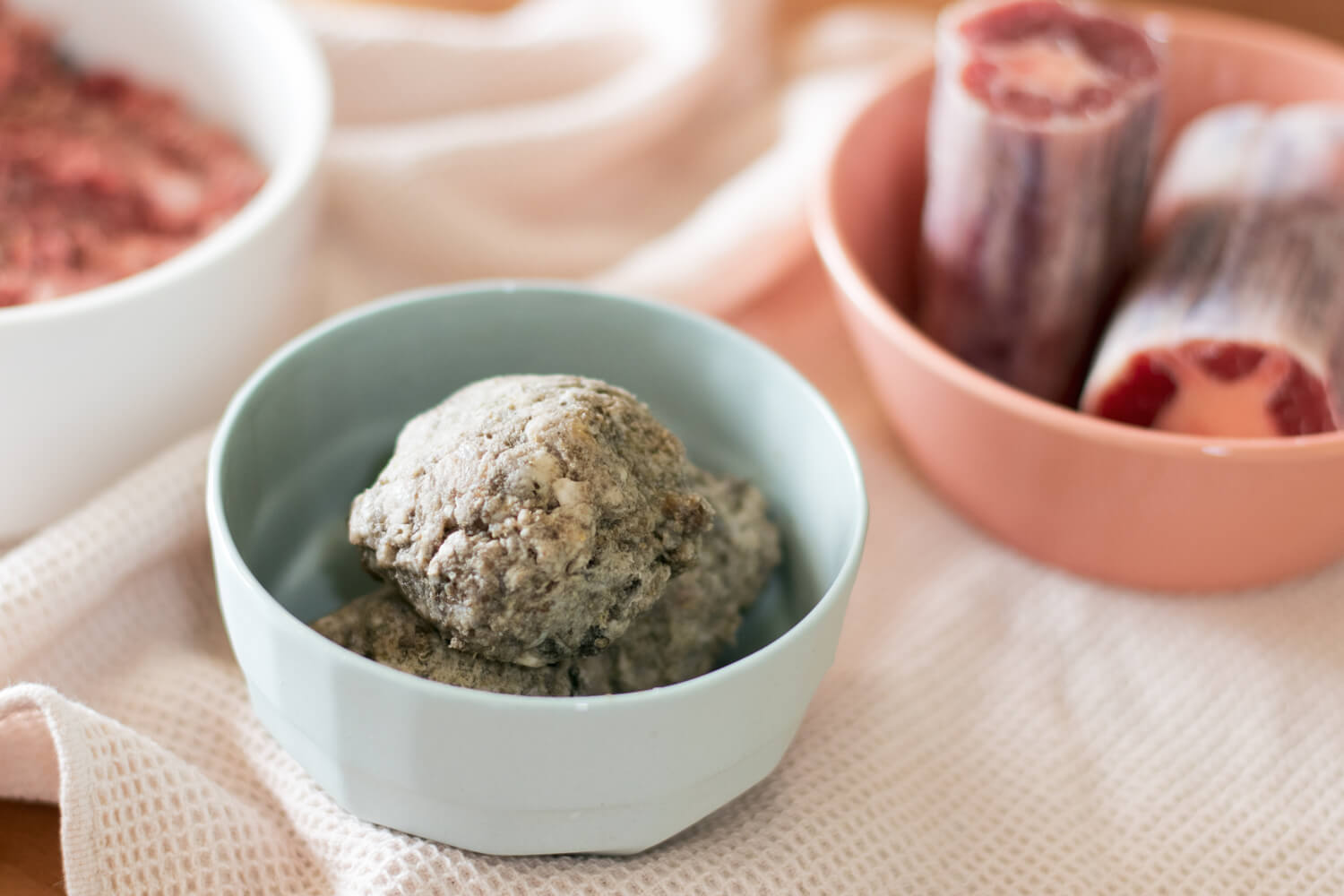 The green tripe balls are good as a topper (especially for picky eaters) or as a treat on its own. You can serve it frozen or thawed.
Where to buy Organic Paws
You can buy Organic Paws Original Blends from Paws Avenue and Vanillapup.
---
Subscribe to join our pack and find us on Facebook and Instagram.