You should know by now that we are a huge fan of Ohpopdog. Latte's wardrobe is currently 90% Ohpopdog, and it's still expanding with their clothing and accessories!
Their loyal customers will probably tell you that Geraldine and Zee, the makers behind Ohpopdog are two of the nicest people you will ever meet.
It's certainly true. We must have done something right in our lives to have known G and Z. They have been nothing but nice and generous to us.
Ohpopdog needs little introduction to the savvy dog owners in Singapore. They entered the local pet scene four years ago with handcrafted clothing that is both stylish and summer-friendly.
For those of you who are interested to know more about them and the story behind Ohpopdog, read on as they answer all 15 of our questions!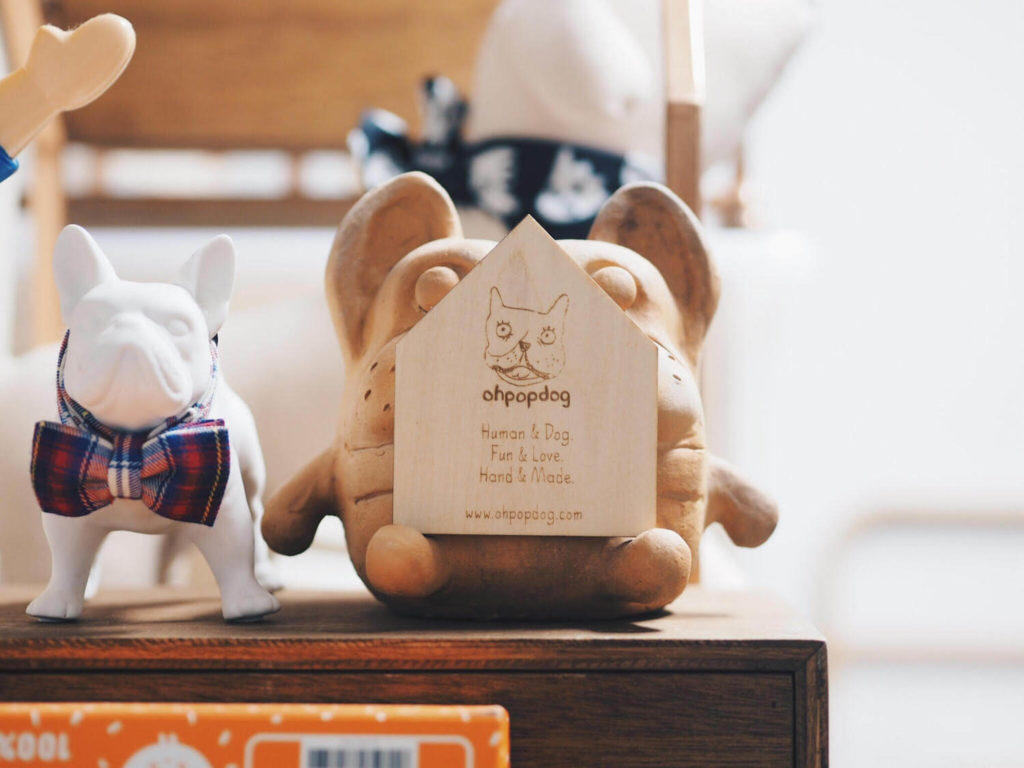 1. When and how did Ohpopdog come about? Tell us the story behind its creation!
G: Ohpopdog started in 12/12/12, a date that's easy to remember. It was an innocent visit to a dog café that led us down the path of starting the brand. We realised that if we had dogs, we would not have liked what were offered in the market. As the saying goes "If you can't find it, design it". So we thought, wouldn't it be great if doggy clothes could be stylish too?
Z: It was also partly because we wanted to escape from the mundanity and repetition of our nine-to-five job.
2. Ohpopdog wouldn't exist without its makers. Tell us a bit about you two.
G: I have been in the design and advertising industry from day one since I started working. I have recently made the change to switch to the digital industry. A lot of our friends tend to assume that if I am a designer by day, I would most likely be a designer for Ohpopdog by night. But that can't be further from the truth! Haha, I'm in charge of the admin, logistics, and branding side of Ohpopdog. Oh, I'm also the photographer!
Z: I have been in several trades before Ohpopdog. I have dabbled in events, neighbour facilities, shipping procurement, dog handling, bartending, and media marketing. Hah, I guess you can say I'm a jack of all trades. Right now, my main role is being the sole designer for all Ohpopdog apparel and accessories. From time to time, I also cover some media marketing aspects of the brand.
3. Why dog clothing and not something else?
Z: We both believe that clothing is not just a passing fad. Its main purpose is one thing that's often overlooked – hygiene. Some dogs have allergies and having clothes on keeps them from scratching and protects them from the harsh elements outdoors.
G: As we all know, Singapore's weather is extremely humid. Hence, when we design our clothes or accessories, our main objective is always about staying comfortable and cool in style. Clothing also helps to contain shedding, which makes visiting friends' and family's homes a pleasant experience for both the host and the owner.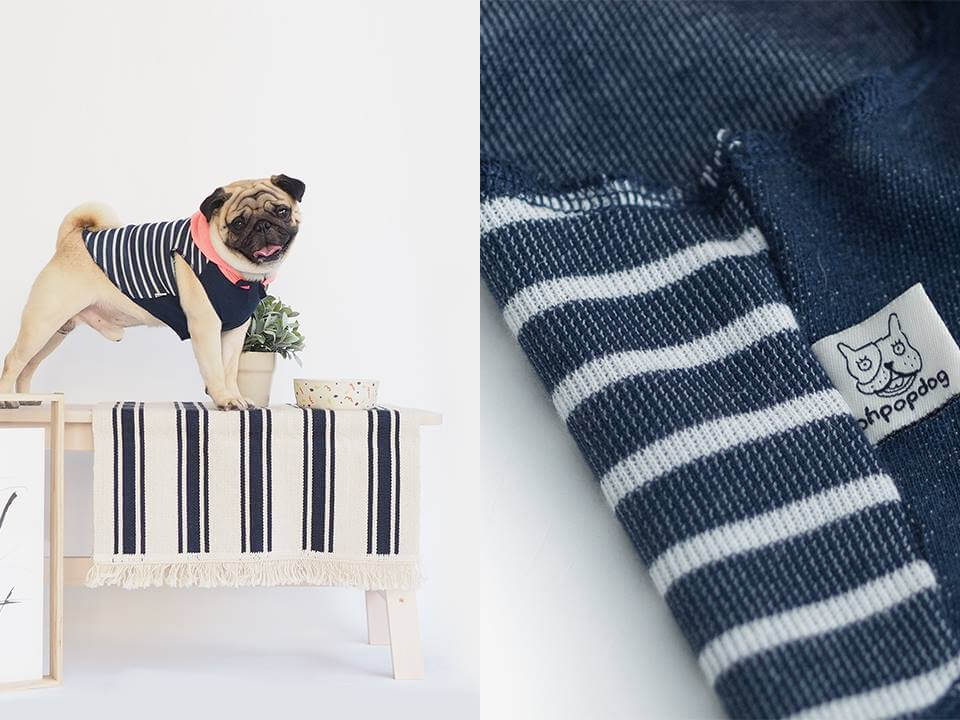 4. Who is Ohpopdog made for?
G: Ohpopdog is made for dapper dogs and happy humans. People who appreciate a clean minimalist look and a soothing feel, evoking simplicity and comfort through an unconventional angle.
Z: Less is always more for us. Fueled by this vision, we cater to pet lovers who like to explore the magnitude and beauty of the little things. At the same time, we hope to also bring humans and pets closer so they can see pet fashion in not only a different but positive light.
5. Have you seen a change in the Ohpopdog's clientele since you started?
G: We are greatly blessed to have regular customers right from the start. They have always been nothing but supportive; giving us honest feedback to help us improve our craft.
Z: We are getting more and more overseas shoppers and supporters as well. It has been a humbling experience for us.
6. What were your initial struggles?
G: One of our initial struggles was looking for pups to model for our clothing in the first year. Bacon, our French Bulldog (a.k.a buhi in Japan) was not in the picture yet.
Z: The sewing process and the configurations of the sizing of our apparels. Both of us had full-time jobs and I was completing my part-time degree as well. We definitely had lots of life lessons on time management during those sleepless nights.
7. When and how did you overcome those struggles?
G: When Bacon, our little buhi came into the picture. Although she sleeps on her job most of the day, she's truly a natural when it comes to being our model for our apparel and accessories. She also does most of the inspection for our creations when it comes to comfort and wearability.
Z: When I finally quit my full-time job to focus on the brand. For the longest time, I was juggling between having a full-time job and focusing on Ohpopdog. It hit me one day that perhaps I could focus on giving our passion a deserving shot and be a full-time designer for Ohpopdog. It wasn't an easy decision but it felt right. I feel even more motivated to work on my craft now and push myself to become the best designer I can be.
8. What do you enjoy most running Ohpopdog?
Z: Bringing a smile to our customers and their four-legged companions. That is always the biggest gift for us! We are beyond amazed how kind and encouraging our customers can be.
G: We are all about reinventing that beautiful bond between modern pet owners and their four-legged companions. To be able to have this avenue to express ourselves, we feel extremely fortunate!
9. Tell us about a milestone/achievement that you are proud of.
G: We experienced many firsts in the past year. From facilitating and being involved in Singapore's first canine fashion show for All 'Bout Canines, participating in Pinkoi Market that was held in Hong Kong, to our most adventurous and brave decision yet, heading down to Japan for Interpets. All these opportunities have given and will continue to give us a new perspective on our customer base.
Z: When tourists drop by specifically to shop our products while visiting Singapore.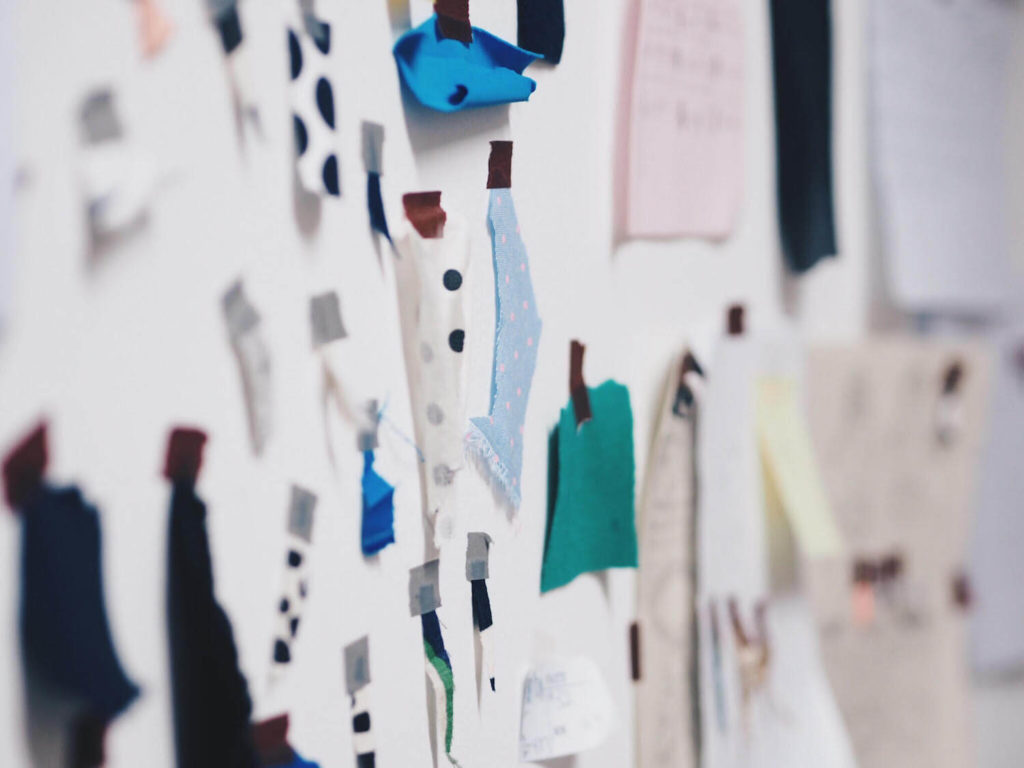 10. How does a piece of clothing get produced?
G: In every collection, we look locally and internationally for a new approach, partly because of our desire to do something different. We are inspired by the elements of our nature and urban surroundings. When we have decided on a theme, we begin our research and dig deep. The creation progress will lead to many sleepless but fulfilling nights.
Z: One of the most interesting things about the process is starting with a concept or idea and ending up with a different result. It still amazes me how a tiny tweak can change or create an entirely different style or collection.
11. Where do you get your inspiration?
Z: Taking a break is crucial to the creative progress. Most of our creative juices and inspirations don't often come during intensive brainstorm sessions but when we are sipping a hot cup of latte at a cafe, taking a stroll with Bacon on a rainy day, or discovering interesting places by losing ourselves in our surroundings.
12. How do you advertise Ohpopdog?
G: Social media and nice photos definitely play an important part of getting the word out. But with that being said, we also have our loyal customers to thank. Through their kind words, we often get recommended to their friends!
13. Bacon is very much the face of Ohpopdog. Tell us more about her!
G: Bacon's iconic tongue has always been the icebreaker and amusement as people never fail to ask us why her tongue is always sticking out!
Z: She's turning four this year and her birthday is 3 days apart from mine. We adore her heaps and we cannot imagine a life without our sweet little buhi! As Joe Saylor said, "There are only two kinds of people in this world, those who love bacon and those who love bacon but won't admit it."
14. How is it being part of the pet industry/community in Singapore?
Z: We absolutely love meeting other like-minded individuals who share our passion for designing and crafting wonderful and thoughtful items for pets and their owners.
G: In recent years, we have definitely seen a positive change in the pet industry. And we hope this continues to grow!
15. What advice would you give to someone who wants to start a business in the pet industry?
G: I think I speak for both of us when I say rolling out any new brand can be tremendously exciting yet challenging at the same time. But we believe that as long as you "do what you love, love what you do", nothing can stop you from success. Remember why you started and keep holding on to that.
Follow Ohpopdog on Facebook and Instagram, and shop their latest collection here and on Shop Vanillapup.
---
All photos courtesy of Ohpopdog.