Last weekend, we had a guest at our house. His name was Alex and he came with a big bag and a flat piece of oddly shaped object. As always, I welcomed my guest with generous licks and tail wags. I waited for him to pat my head but instead, he went to the bathroom and turned the flat object into a table with his bare hands! That was when I realised that he wasn't a guest, but a groomer! I was totally ambushed by then so I resigned to fate and let him pick me up and put me on the magical table.
He started with my ears; cleaning and plucking the hairs in them. My paws and nails were next, and mama was glad to know that he uses an electric nail file. According to her, it will make my nails much smoother so she won't get scratched (she exaggerates) when I jump at her legs every time she comes home. After trimming my nails and the hair around my paws, Alex expressed my anal glands (I really dislike this!) before bathing me. This whole time, he used his own tools and only asked mama for my towel and medicated shampoo. I think his bag was also magical by the sheer number of different things he had inside!
Then came the hair styling! This was mama's favourite part because she always feels important getting consulted on how she would like my hair to look like. Shouldn't they ask me instead? It's my hair! Luckily, Alex really knew his stuff and I got a haircut that finally made me look like a westie! It seems like a challenge for most groomers because my hair almost always looks so nerdy after grooming. But this time, it's different!
Alex offers no quick grooming fix. He was really meticulous and took his time to perfect my haircut. The whole full grooming session took about three hours, but the result was well-worth the time! Besides, all mama and papa had to do was sit in their room. ;P Other than dogs, Alex also grooms cats and rabbits. I heard that cats can be a pain to bring to a grooming salon. Well, I can imagine why; they are so unfriendly!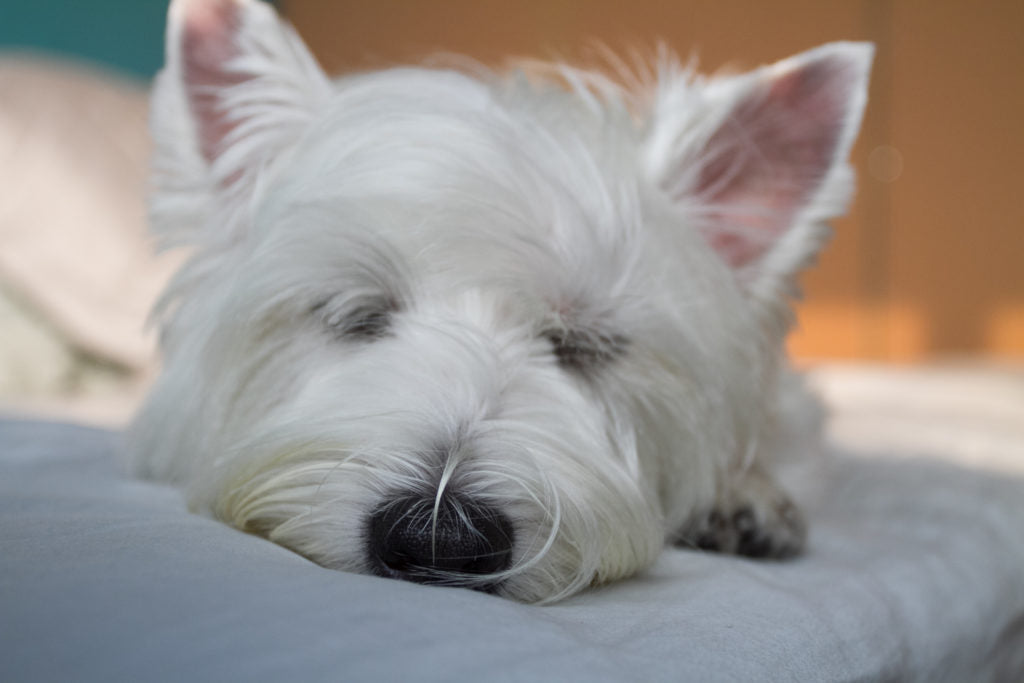 Price: $80 to full groom small-sized dogs, excluding transportation. View Likeable Pets Mobile Grooming price list.
Quality: 9/10. Alex may be new in this industry but his work shines through! Mama was very pleased with my haircut and Alex's attention to details, such as nail filing and shaving of my private areas. Papa is also very happy that he no longer has to drive me around for grooming! The humans can now spend quality time at home, instead of wasting the day at the salon waiting for me.
Service: 9/10. Booking an appointment was easy, and the whole process was totally fuss-free. Mama only had to prepare my towel and medicated shampoo and accessibility to a power plug. Alex also made it a point to consult mama along the way on how she would like him to cut my hair in different areas. To top things off, he took the initiative to show mama what a standard westie cut entails, so she was able to learn something as well.