Robot vacuum cleaners are a godsend for busy bees, lazy people, and dog owners with shedding dogs. We fall into all three categories so we wanted to try out the LG Hom-Bot Turbo+ Robotic Vacuum Cleaner. It has a front camera on it too, which is great for pet owners!
After trying it for about a month, here's what we think.
Floor feels really clean
You know the feeling when you have done a good vacuum around the house and the floor feels super nice and clean? That was the feeling we got every time the LG Hom-Bot Turbo+ finished its job. I was really impressed by how well it did its core job.
I guess its longer brushes, square shape, upper and lower detection cameras, and three cleaning patterns help ensure not an inch is missed and hard-to-reach corners are not neglected.
Plus, LG is so confident with the robot's performance and durability that it offers a 10-year warranty on the motor.
Using its Mapping Resume Function, the robot is also able to find its location even after you pick it up and move it to somewhere else. It also remembers where it has cleaned so it can continue the cleaning without avoiding unnecessary repetition.
Great control with SmartThinQ
To set up the LG Hom-Bot, you have to download the LG SmartThinQ app. If you have other smart LG appliances, you probably already have the app.
You can control the robot's movement, get it to start cleaning, view the live camera feed, and send it back to its home station all from the app. You can also schedule the robot to clean the house at a certain time daily. That way, you can come home to a clean floor every day.
Do note that you need a Wifi connection at home for the app to connect to the robot.
Monitor your home and pets
A feature that pet owners would find useful is LG Hom-Bot's camera and Home Guard mode. You can use the app to set the position that you want the robot to automatically go to when it's in the Home Guard mode.
It also has a motion detection function and takes five photos every time it senses motion. This is very helpful because we are not always watching the camera feed.
When the robot detected that Latte was moving, it took photos and I could look at the log and see what she had been up to throughout the day. For how long was she sleeping at the door? Was she disturbed by sounds outside at any point of the day?
If you have a pet sitter coming during the day, the log will also help you see when they come in and so on.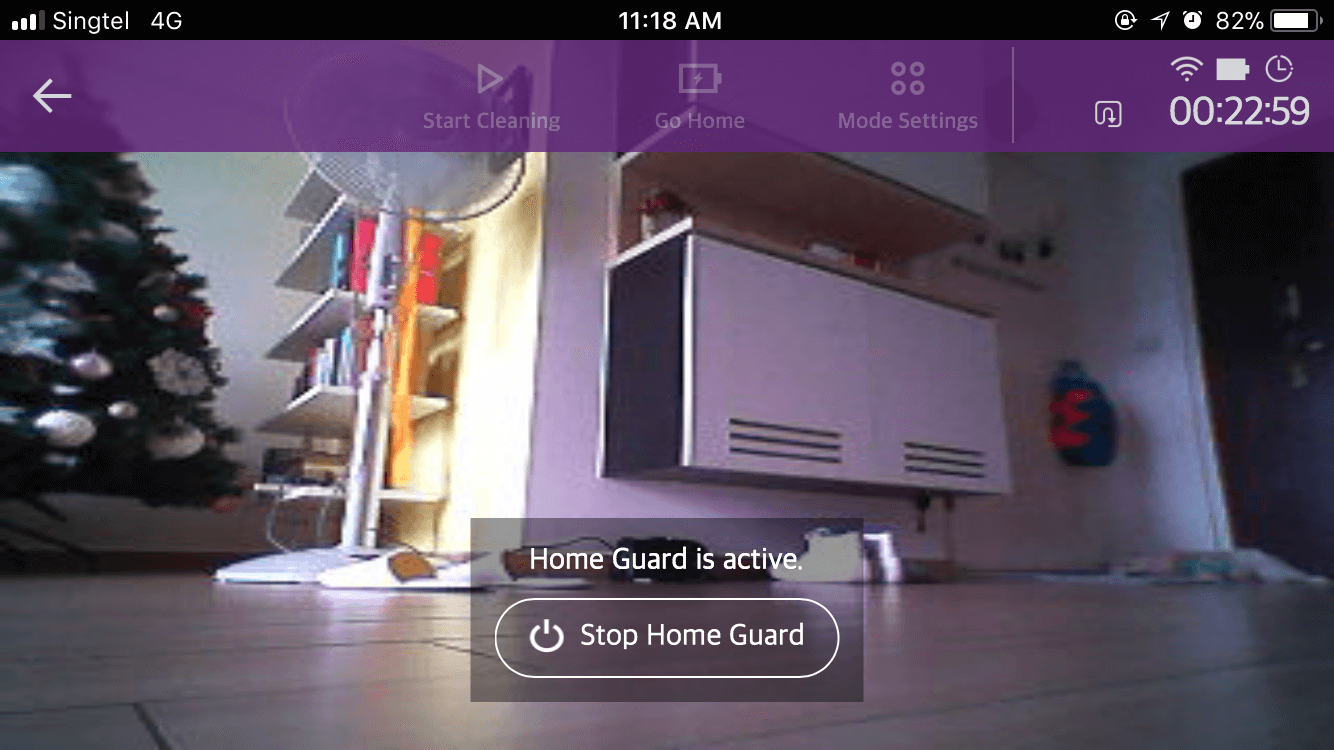 However, the camera quality has huge room for improvement. It's quite low-res even in the morning so the pictures were usually quite a blur. If you just want to know where your dog is, then it's good enough.
Easy disposal
It's very easy to empty the bin. Just lift it up from the top and empty it. It's advisable to clear the bin every time the robot has finished cleaning for better performance.
The robot also uses a HEPA filter so that the air that comes out of the robot would be clean.
Shortcomings
Besides the poor camera quality, the LG Hom-Bot is also not entirely smart. It would still roll over things that are of a lower height, such as the base of standing fans, cables, and pee pans.
Hence, you will need to make sure there's nothing on the floor that will cause the robot to get permanently stuck. I had to "rescue" the robot several times during the period we had it. Fortunately, it's supposed to learn over time that there's an obstacle in that specific area to minimise future bumping. Just don't keep moving your things around!
One more thing is that whenever you are connected to the robot from the app, it will "speak" and say that it's connected. If you have sensitive pets at home, they may get a little startled by the sound. But for Latte, she would just look at it and go back to sleep.
For more information about the LG Hom-Bot Turbo+ Robotic Vacuum Cleaner and where to buy it, you can visit LG's website.
---
Subscribe to join our pack and find us on Facebook and Instagram.