Hong Kong is a city perfect for shopaholics! And it sure didn't disappoint mama with their range of pet stores. Best of all, most of these shops are located in the vicinity of shopping places you would normally visit in Hong Kong!
While shopping, Mama found several brands like Touchdog, Kurgo, and RC Pet Products that are not available in Singapore. So it will be a good opportunity for you to get products that you won't be able to find locally 🙂
If you are heading to Hong Kong soon, check some of these shops and streets out and shop away. Your pets will love you!
Where to find the best Hong Kong pet shops
1. Victory Avenue
When this street is called "Victory Avenue – Pet SHOPS" on Google Maps, you know it's legit.
There are two rows of pet shops, including chains like Pet Line and Top One.
As expected, there are several shops selling pets, and some may not be humane. Thus, we encourage you to only support places that don't sell pets or shops like Ligo Pet that treat pets on sale well.
2. Fa Yuen Street (Goldfish Market)
Papa loves walking at the Goldfish Market. There are indeed many things to see! However, Mama doesn't like seeing fish trapped in bags of water so the only thing she did was visit the many pet shops there. The good news was that the shops there were not all the same as the ones at Victory Avenue.
While you are in the area, have a polo bun stuffed with a generous slab of butter at the famous Kam Wah Cafe. Their curry cheese noodles are pretty delicious too!
3. Whiskers N Paws
This is probably mama's favourite pet store in Hong Kong! Whiskers N Paws is mainly an online pet store but it has a huge physical shop on the 10th floor in Horizon Plaza.
Horizon Plaza is a building with 28 floors of home & living and fashion outlet stores. It may be harder to get to but we still recommend checking it out! There's also a Prada outlet nearby to make the trip more worth it.
You can take bus 90 from Central or Admiralty and change to bus 95 at Ap Lei Chau Estate.
4. Three Dog Bakery
We chanced upon a quaint little Three Dog Bakery franchise from America when we finished walking down Victory Avenue, and turned into Liberty Avenue.
The staff was so friendly and nice. Unlike most other shops, she allowed us to take photos of the shop and products. There were many interesting treats and accessories that you should definitely check out. They have brands like Ruffwear, Kurgo, Puppia, and of course Three Dog Barkery!
If you don't find anything special along Victory Avenue, you will not be disappointed at Three Dog Bakery.
5. Dogaroo
Dogaroo has a few stores around Hong Kong, but the one at Stanley Plaza is probably your best option. The humans didn't manage to go there but they did visit their smaller outlet at Liberty Avenue. They have a bakery as well where you can buy a dog-friendly egg tart (a must-try pastry in Hong Kong) for fido!
Photo credit: www.linkhk.com
6. HUNTER
HUNTER is a well-established brand that specializes in high-quality leather accessories for dogs, cats, and horses since 1980.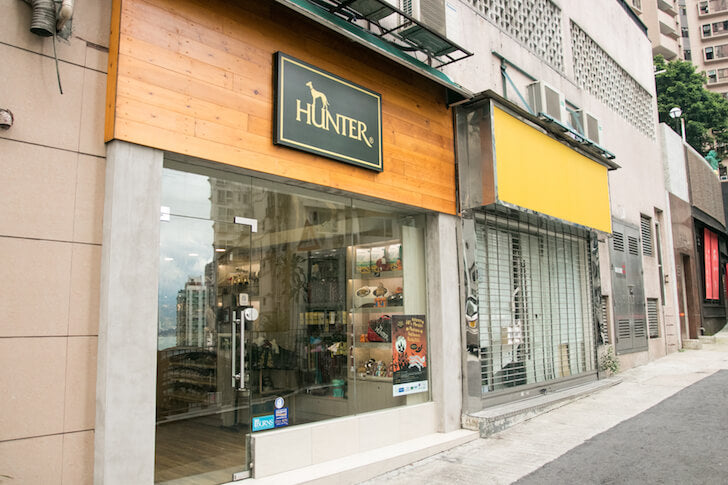 If you are in the mood to splurge, check out their elk leather collars and leashes. They are so soft and luxurious!
Besides walking gears, they also have non-toxic eco-friendly toys and quality beds with removable water-resistant covers.
Feel free to chat with the staff there. They are knowledgeable and friendly!
Did we miss out any awesome Hong Kong pet shops? Share them with us!
---