Hi there, I am Latte and I was born on 19 October 2012. My diligent counting from day one of my existence tells me that I am already 250 days old! I have a distinctive white coat (it drives mama crazy every time I dig into mud), almond-shaped eyes and pointy ears. I love children, balls, and of course, all kinds of food! I won't say I am a greedy pup but I'm definitely not a fussy eater. I don't understand why the humans are always jumping at my licking on the floor for scraps. I overheard grandpa say that the ants disappeared after I came into the family! I am always happy to be at the service of humans 🙂
Sometimes, I also help pick up plastic, metal and paper pieces that don't belong to the floor. Instead of letting me play with what I HAVE FOUND, mama would mercilessly dig them out of my mouth. I have learned to go low profile and bring scraps to one corner for chewing so the humans won't catch me.
Anyway, being a puppy is really not easy in the human world. There are just so many rules! Sometimes all I hear is "no", "no", "no". My mouth itches but I can't just chew on anything. My bladder is developing but I can't just pee anywhere in the house. Mama lives in an apartment in Singapore with her parents. Somehow because of that, I can only pee on these two rectangular trays they left at a corner for me and also outside when we go on walks. As an independent albeit stubborn pup, I took four months to get potty trained!
I don't remember much of my real doggy mother. One thing I do remember is her telling me to always count my blessings. In the human world, a dog's life can be unpredictable. Some of us are born as strays and have to go hungry and cold. Some of us get abandoned by humans who can't understand or handle us. A lucky few get welcomed home to loving and patient families; which means loads of belly rubs!
My instincts tell me that I have a loving and patient family who would never abandon me. I knew it the first day I saw mama. I took my chance and jumped excitedly when my puppy eyes met hers. Until this day, it's debatable who chose who but it doesn't matter, does it?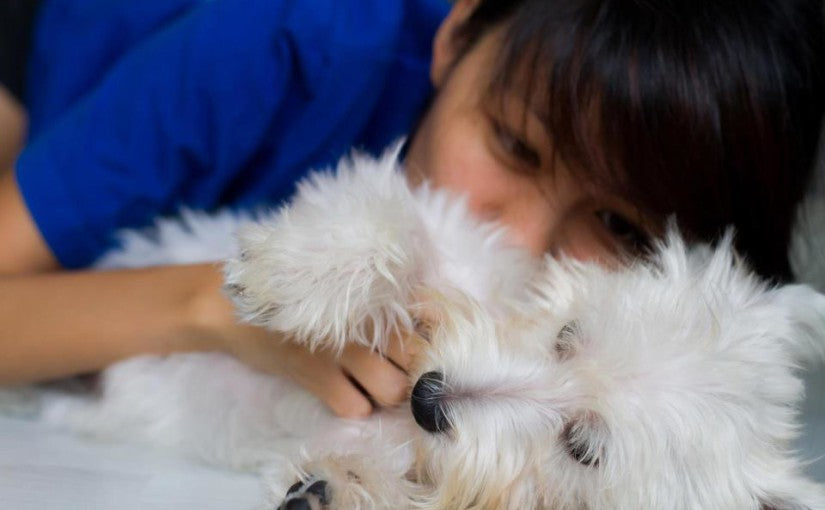 ---
Follow my photo diary on Instagram.