[Updated as of April 2017]

Mama first heard about the launch of Happy Tails, the second pet insurance in Singapore, back in October. Its coverage sounds more promising, but it also has stricter terms compared to Singapore's very first pet insurance – PetCare by Liberty Insurance.

I guess I took so long to write about it because mama is not keen on purchasing it yet. That is due to my young age and also the fact that my luxating patella is already considered a pre-existing condition. Nonetheless, mama still thinks it is a policy worth considering. [Update: I am now insured by Happy Tails]
Happy Tails Pet Insurance plans and coverage
Happy Tails is underwritten by MSIG Insurance (Singapore) Pte. Ltd. and distributed by Aon Singapore Pte. Ltd. There are three plans to choose from. Based on my particulars (female, Westie, two years old, spayed, no surgical history), these are the policies and premiums:
Just by comparing the FUR plan with Liberty Insurance PetCare's cheapest plan (both have similar premiums based on the above-mentioned particulars), the FUR plan has better benefits in terms of surgical treatment and follow-up.
Unlike its competitor, it doesn't cover non-surgical treatment, choosing to focus on a pet's surgical needs. It also covers the following specified hereditary and congenital conditions for pets enrolled before the age of six, subject to a 12-month waiting period from the policy's first commencement date for these conditions:
Hip and elbow dysplasia
Luxating Patella
Glaucoma
Cherry eye
Invertebral Disk Disease (IVDD)
Femoral Head and Neck Excision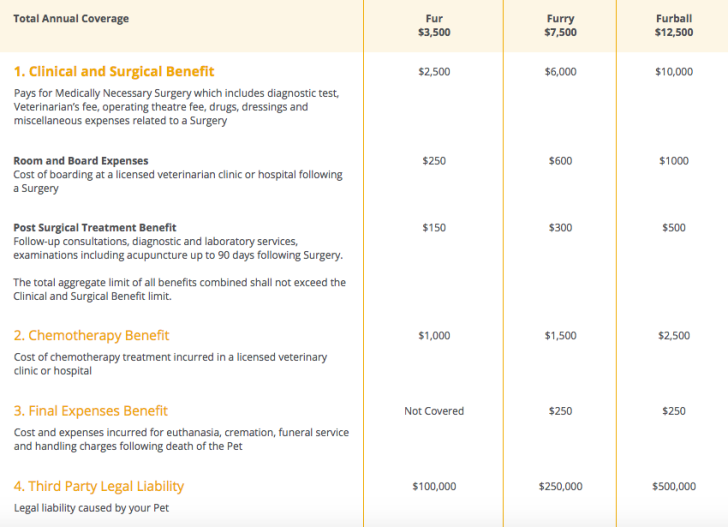 Happy Tails vs. PetCare coverage
Click to enlarge image.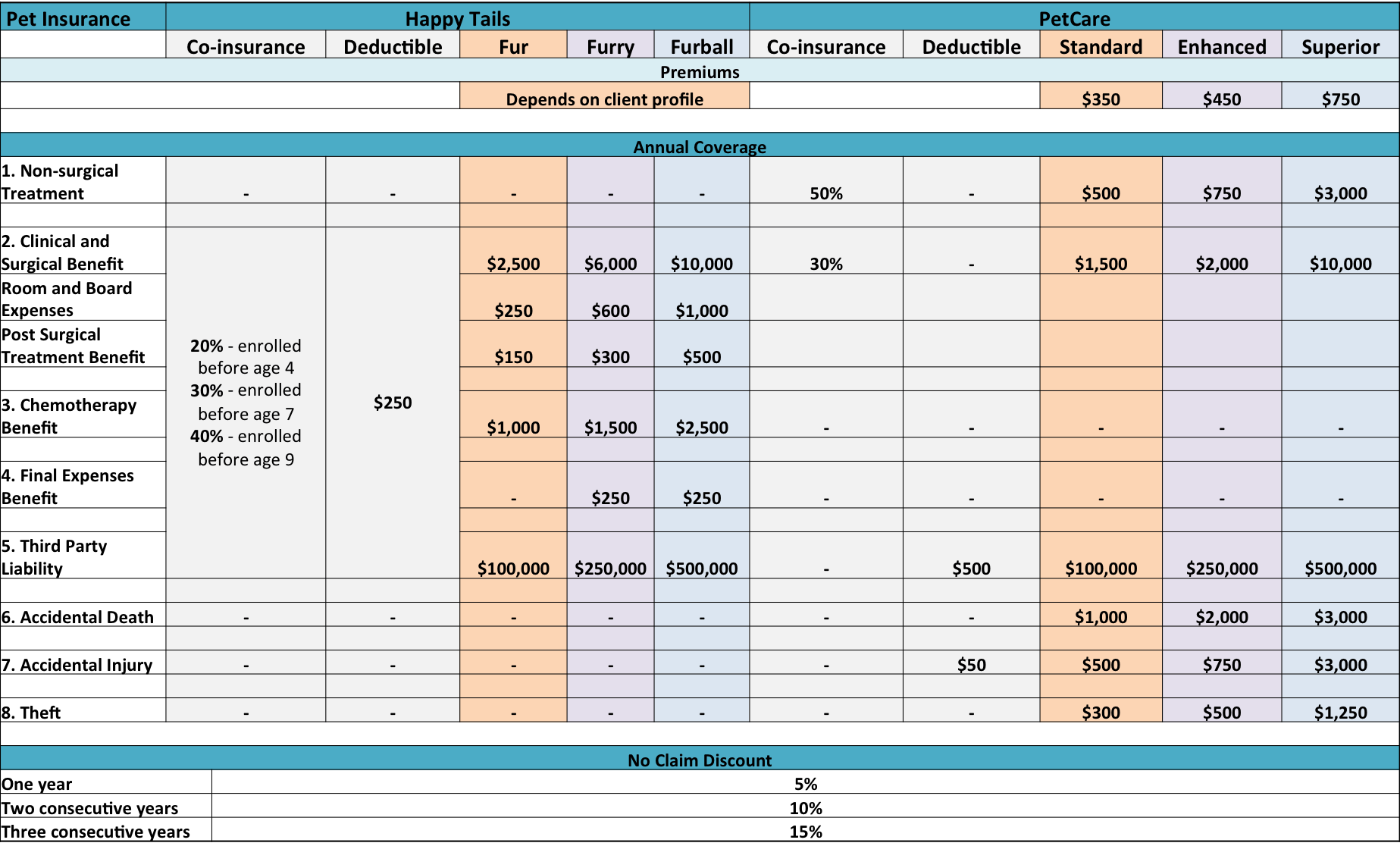 Co-insurance & deductible
For co-insurance, Happy Tails has different percentages for different age groups:
20% for dogs enrolled before age 4
30% for dogs enrolled before age 7
40% for dogs enrolled before age 9
PetCare has the same percentages for all ages:
50% for non-surgical
30% for surgical treatment
You will also have to bear a fixed amount of $250 in any claim for Happy Tails. PetCare only requires you to pay deductible for accidental injury ($50) and third party liability ($500).
No claim discount
Double good news for those who do not need to claim for insurance! You will get to enjoy significant discounts regardless of your choice between Happy Tails or PetCare.
| | |
| --- | --- |
| Period of Insurance | Discount |
| Preceding year | 5% |
| Preceding 2 consecutive years | 10% |
| Preceding 3 consecutive years or more | 15% |
What we prefer
Mama prefers Happy Tails Pet Insurance because it has:
better overall coverage for surgical and chemotherapy treatments, which is what she feels a healthcare insurance is primarily for – the big unexpected expenses
lower co-insurance for younger pups (below four years old)
coverage of certain specified hereditary and congenital conditions (excluding pre-existing conditions)
a dedicated website with good information and online generated quotes
What's the catch?
In instances of certain conditions or adverse claims, the premium may be increased to reflect the risk incidence to the overall premium pool.
It is mandatory that the pet undergoes a clinical examination for enrollment within 30 days of the commencement date of the insurance. You must produce the report when making a claim for the first time. You can download the clinical examination form here.
PetCare by Liberty Insurance does not require a medical examination.
For pets that are not spayed or neutered, there is no coverage for illness related to prostate problems, hormonal skin conditions, perianal hernias, testicular tumours, perianal tumours, mammary tumours, uterine and ovarian conditions.
Your pet has to be above 16 weeks and below nine years old at the commencement of this insurance.
Vaccinations and microchipping required
You must microchip your pet and license her with Agri-food and Veterinary Authority in Singapore. She only needs to receive all required puppy vaccinations.
Your pet cannot be a working pet. E.g. not for the purpose of racing, breeding, law enforcement, guarding, or for other commercial use.
Happy Tails insurance | Website | FAQ | Email | Get online quote