We first heard of GOOOD Pet Collars when we were at a pet flea market a few years ago. And when we got an invitation to go to their seventh anniversary tea party, we said yes!
Chin started GOOOD when she couldn't find an appealing collar for her cat Chaco. She then decided to make her own! The result? Friends who visited her home and strangers she met at the vet clinic started asking her where she got the collar from. With such positive feedback, it only made sense to sell it. But for Chin, she wouldn't want to do it without a social cause.
Since the beginning, Chin donates pet food to animal shelters with every GOOOD collar sold. From a few cans of pet food to having so many donations now that she has trouble bringing them to the shelter herself, GOOOD has certainly come very far.
"When we first started out, I used to be able to carry the food donation on my bike but as the donations started pouring in, the volume has increased so now we typically arrange for the food to be delivered," shares Chin.
But even then, she still tries to go down personally to deliver the food so as to catch up with the shelter founders and see whether they have other needs.
In this interview, Chin shares about GOOOD's story and drive, and also a little about responsible pet ownership.
1. Thanks for having us at GOOOD's anniversary party! We were inspired by your story so let's start by telling us more about you and how everything started seven years ago.
I started out as a graphic designer and then a multimedia designer. For the last 15 years, I've been practicing User Experience Design. I currently run two small businesses, a UX consultancy firm and GOOOD Pet Collars.
GOOOD Pet Collars was founded in December 2010, and it was all inspired by my first rescued cat, Chaco. As he is all black, we were constantly tripping over him or we would get anxious thinking we lost him except to find him hiding in a dark corner.
The quickest solution was to get him a collar with a bell. However, there was nothing aesthetically inspiring, and most looked and felt quite hard and uncomfortable to wear.
My mother, who is a seamstress, then made him one. We started getting comments and queries on the collars that we made, and that was when we thought that perhaps, we could start selling them.
But we didn't want it to be just a business that sells pet accessories. We thought about how we might harness the power of many animal lovers to give back. So, we decided that with every GOOOD product we sell, we will donate pet food to the less fortunate animals.
The concept just fit right in with my skills and our vision – to create new designs, and attract and form communities that can initiate conversations and effect changes.
Seven years on, our social mission is exactly what keeps me going – knowing that at the end of a tiring day, the animals get help, and I get to do what I love to do (and what I do best) – designing!
2. In a sentence, what makes GOOOD pet collars truly different from the other collars in the market?
I hope that when someone looks at GOOOD Pet Collars as a brand, they not only appreciate the thoughtfully-designed and high-quality handmade product, but they also see the social cause and message we strongly represent.
3. What other products do you have besides pet collars?
We recently launched collars for dogs with the same philosophy. We also have 2-way Cat Tents, designed specially to cater to both cats who want a hideout and cats who prefer open resting space.
Our Catnip Stuffed Fish enables owners to throw away the stale catnip and refill fresh ones. They can also toss it into the washing machine, extending the product longevity.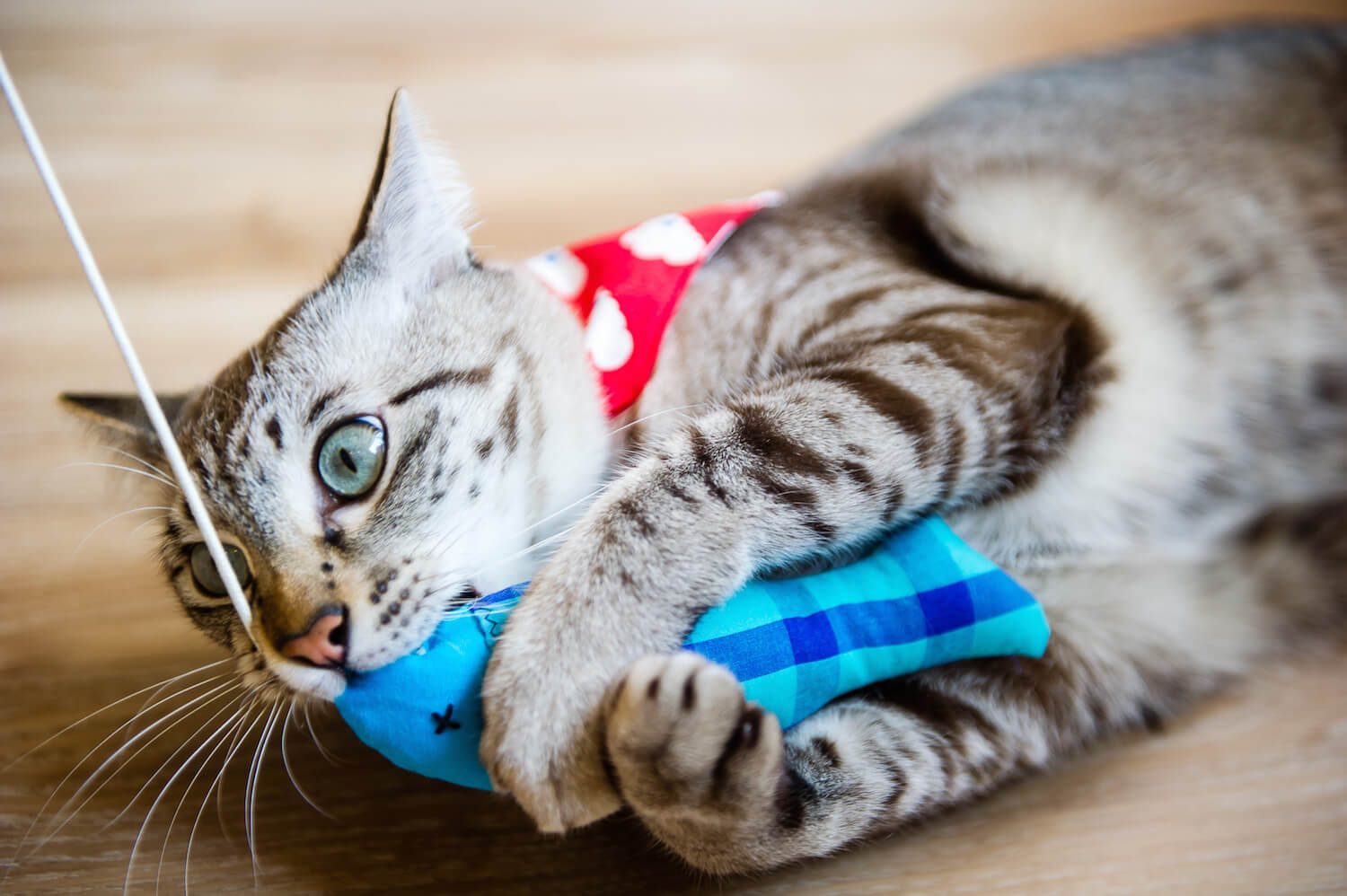 4. It's always exciting to witness the growth of a product. How have your products evolved from 2010 to 2017?
Pet collars remain our core product range and we continue to focus on making them more aesthetically functional. Over the years, we have grown from one pet collar design to 10!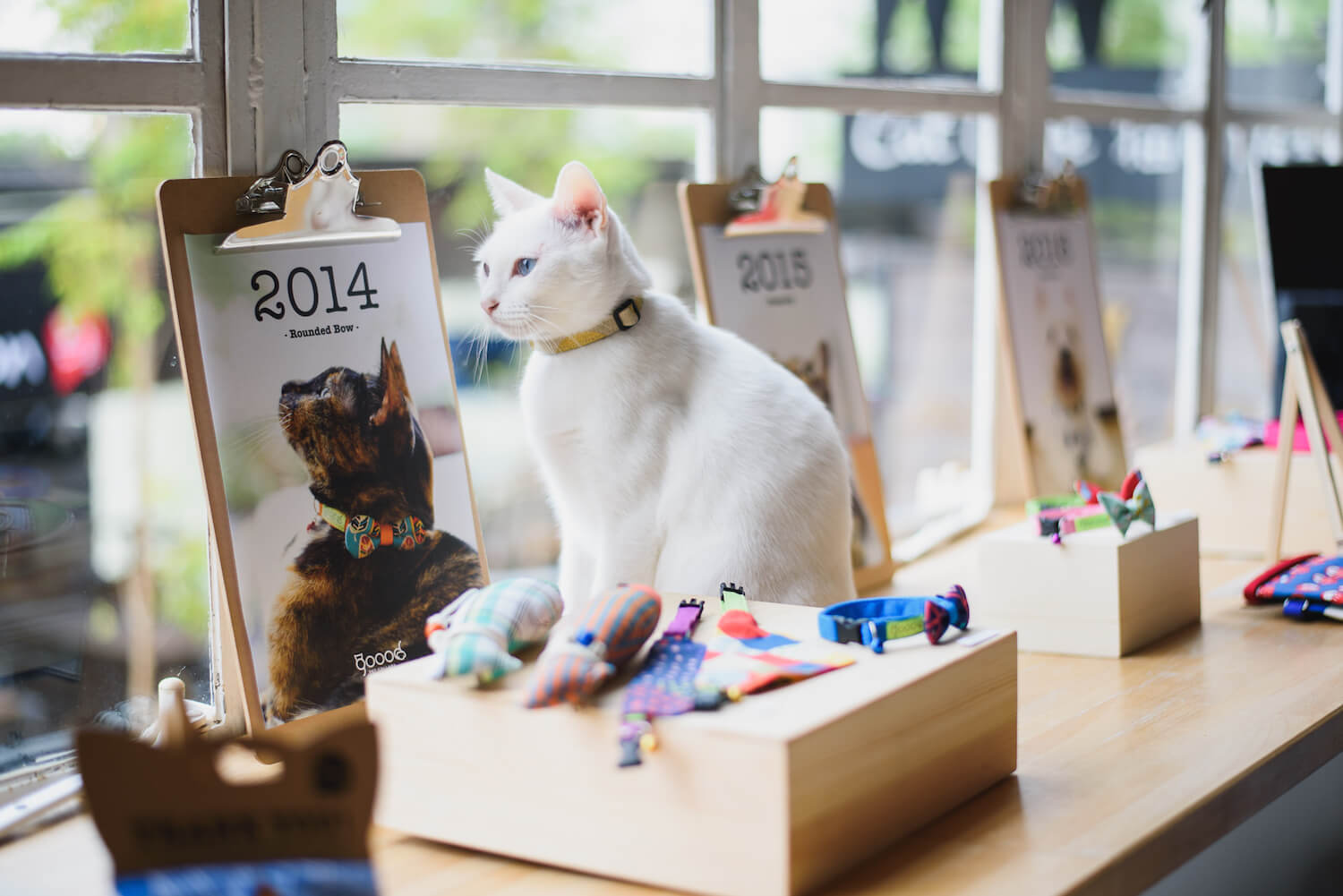 We also have limited edition collections that run for short periods of time. We are constantly on the lookout for product solutions that would help owners and pets.
Our first ever premium range of collars under our new premium brand, GOOODER will have the same social cause and will be available towards the end of 2017.
5. Which shelter(s) have you worked with and are you currently working with?
With every collar sold, we donate pet food to our adopted animal shelter, Animal Lovers League. They have been our adopted shelter since day one, but we also work with other animal welfare organisations or shelters on an ad-hoc basis.
We are always happy to work with like-minded individuals or organizations who want to do something to help the animals. Since we started, we have worked with Love Kuching Project, Pets Guru, Cat Welfare Society, and Four Paws, to name a few.
This year, we have also started extending our list of beneficiaries to overseas animal welfare organizations in the United States and Australia to make it more relevant to our customers there.
"The greatness of a nation can be judged by the way its animals are treated. – Mahatma Gandhi"
6. How much pet food has GOOOD donated so far?
To date, GOOOD has donated over 46,000 cans of food.
7. Beyond altruism, does a philanthropic aspect help your business?
Coincidentally, just last week, someone said it is harder to run a business because of the social element. I have not experienced any challenges on this front so far because the intention of being charitable was never meant to boost sales.
As an animal owner and lover myself, the business reflects my personal views on giving back. I wanted to help animals when I first got Chaco but found it difficult as an individual who was very caught up with work and life. Then I started thinking, "How nice would it be if there's an easier way to help!"
I guess this business model somehow resonated with many animal lovers who are in the same predicament as I was. And yes, GOOOD's customers have commented more than once that they love that GOOOD is helping the less fortunate animals on their behalf.
8. How do you make sure that your business is profitable while doing good?
As much as possible, we try to keep our costs low without compromising on our brand quality and values. We always keep our operating costs in check to make sure that our profits and purpose balance out. That has made it possible for us to have a good balance between sustainability and our social commitments.
9. What do you think is GOOOD's biggest milestone so far?
In March this year, GOOOD organised 9 Lives Design Show where we used design to educate the public about how we can integrate functional and practical designs into feline-centric furniture.
We really wanted to drive the message home that we can co-exist with our feline mates. It was a big achievement for us because we were able to reach a wider audience about the importance of treating animals respectfully. We hope to organise more of such events in the future!
10. What is the most difficult part of running this business?
One of our core brand values is that everything is handmade with love. When a product is this small, every little flaw becomes very glaring. It's a constant challenge to find enough sewing aunties here in Singapore to support us in our production. It took us years and we are still constantly on the look out for the right resources.
"There would be days when things would seem impossible. Find your purpose and work towards it."
11. We know that every successful business has "angels" who in ways big and small helped it to grow. Do you have someone, in particular, you would like to mention?
Without mom, GOOOD would not have existed. She has been my pillar of strength, helping relentlessly from day one and continues to help to this day.
12. Driving a business for seven years is no easy feat. What advice would you give to fellow and aspiring entrepreneurs?
There would be days when things would seem impossible. Find your purpose and work towards it. When your purpose is authentic, your customers would feel it too. Another advice is to manage your cash flow better because it's what will make or break your business, especially in the first year.
13. Besides business, you are an advocate for responsible pet ownership. Why is this cause important to you?
When I rescued Chaco off the streets, it opened up my eyes to another world where animals are mistreated and abused – it is wrong and intolerable. Sometimes, irresponsibility could be due to ignorance, so I hope to use GOOOD as a medium to reach out and educate more people about animal welfare.
This quote by Mahatma Gandhi has motivated me – "The greatness of a nation can be judged by the way its animals are treated."
14. How does someone who wants to go out and actively help promote responsible pet ownership get started?
Start volunteering at an animal welfare group. This is a great way to find out more about the work that local organisations are doing.
There are many areas one can help! From outreach to caring to fundraising, I'm very sure any help would be greatly appreciated! I would also like to encourage you to be creative and explore new areas to promote the cause.
For example, we will be screening Pet Fooled, a documentary on pet food, in July, following with a panel discussion where we open the floor for questions and answers.
We are not seeking to tell the audience to feed a certain brand or type of food. Instead, this discussion aims for the audience to go away having the awareness to read food labels and make conscious decisions on what to feed their pets.
15. Thank you for getting this far with us! Last question – What's next for you and GOOOD?
We are very happy with the traction and support that we have received in Singapore. Aside from our upcoming premium range, GOOODER, we are also working towards bringing our cause beyond our shores and spreading this GOOODness to other countries where we can extend our help to the animals out there too.
One of the efforts we have made recently is to design an Airbnb experience. The experience allows our guests to customise a pet collar at a local cat cafe. That gives us an opportunity to educate them about caring for cats before heading to a local cat shelter where we share its vision of caring for community cats, adoption, and education. A part of the money will be donated to the cat shelter. We see this as a good chance to educate and spread the message of animal welfare to our guests.
I would like to take this opportunity to invite anyone who has any ideas or a passion for animals to collaborate with us! If any investor is keen to find out more about GOOOD, please feel free to get in touch, too.
---
Photos courtesy of GOOOD Pet Collars.
Are you an inspiring individual or business or do you know of someone we should interview? Send us an email or comment below!
Subscribe to join our pack and find us on Facebook and Instagram.