[Update: We are heartbroken to say that Eiji has left us in Jan 2018. He was an amazingly brave warrior with a strong will to live. Yoan and Eiji inspired so many around the world and showed us the true meaning of love and perseverance. RIP Eiji. You deserve to be free from pain.]

We stumbled across seven-year-old Westie, Eiji's Instagram feed about a year ago and was heartbroken to see that he was suffering not only from skin problems but urinary problems as well. His story is especially close to our hearts as Latte has gone through her own ups and downs when it comes to her skin.

Unfortunately, Eiji's condition deteriorated earlier this year as his kidneys started to fail on top of existing conditions. But with unconditional love and a strong will, his mommy Yoan raised funds, did intensive research, and travelled to Singapore to seek medical help.

Her efforts paid off as Eiji is looking much better than before! Of course, we had to interview her to get the full story so that her experience can hopefully help other dog parents who are experiencing a similar ordeal.
From the beginning to now: Yoan shares with us Eiji the Westie's health story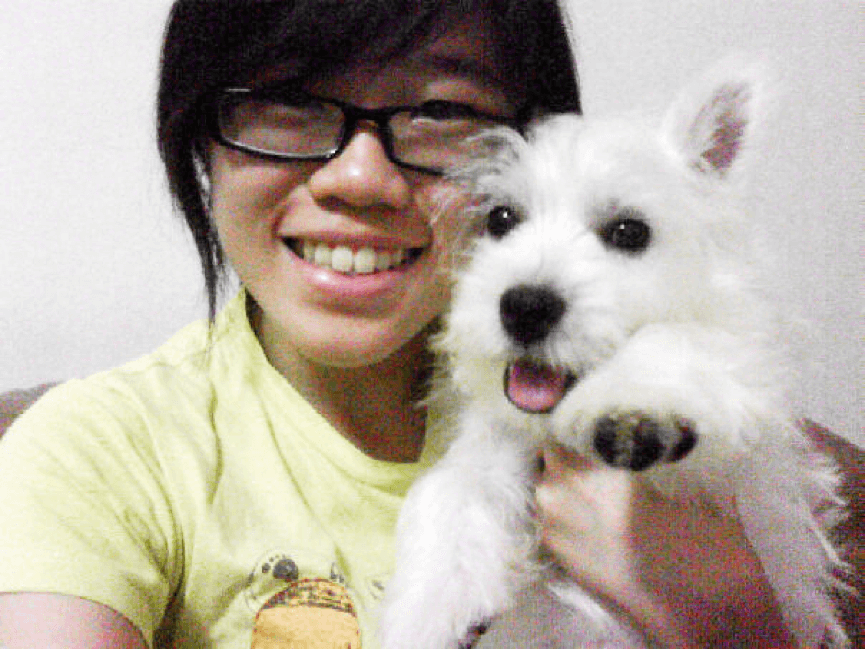 1. Tell us more about yourself!
I'm Yoan, 29 years old. I was a graphic design graduate but I continued my studies in culinary arts. I'm now a pastry chef and recently started my own pastry shop with my fiancé.
2. How did Eiji come into your life and what is he like in real life?
I wanted a dog since I was a kid. But my parents didn't allow me to have one. They don't dislike dogs; they just didn't like pee, poo, and fur in the house.
After many years of trying to convince my parents, they finally gave me the permission to have a dog.
At first, I wanted to adopt from a local shelter but my mom didn't allow it because, in her mind, stray dogs = dirty dogs with diseases. So, I contacted my friend whose dog had three puppies (at that time, they were already about 3 months old).
I visited his house and met Eiji (his previous name was Buddy) for the first time. I fell in love with this little cheeky and silly guy that tripped and fell into the pond while trying to play with me.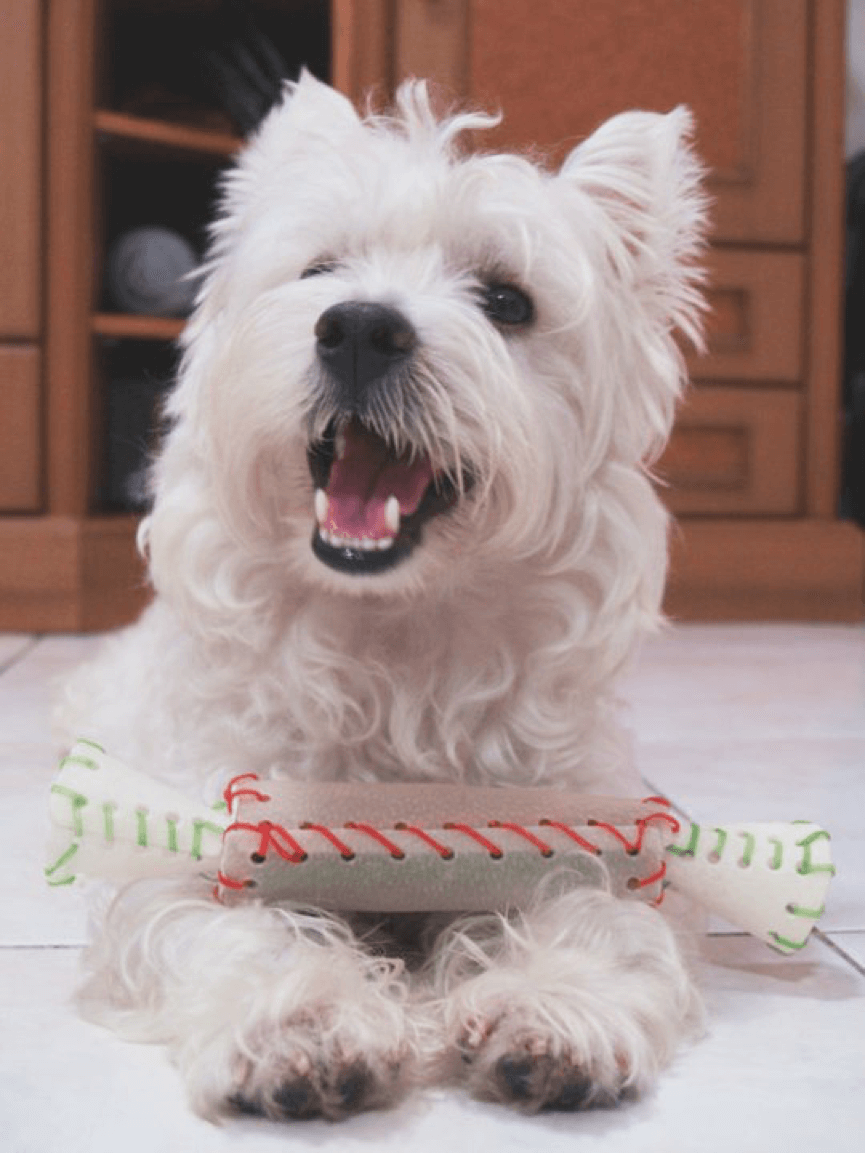 Eiji is very attached to me, but at the same time, he's not. He loves going out for a walk but can only walk for around five to 10 minutes before he feels exhausted. He LOVES fruits, especially papaya and will do ANYTHING you command if you are holding one.
I can always expect him to greet me when I'm back home – wagging his tail with his tongue out, and ears back and running to me with a smiley face.
On the other hand, every time I have to leave for work, he walks me to the front door, thinking that he can go out with me until I said "Bye Ji". That's when his smiley face disappears and he stops wagging his tail and stares at me with his sad puppy eyes.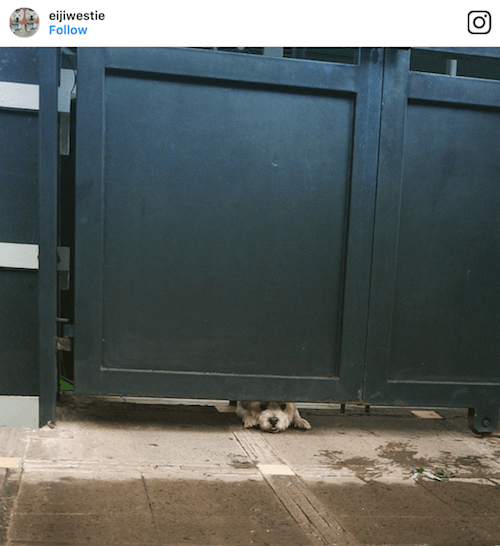 He's a very calm dog, rarely barks except when there are cats fighting in front of the house. He will turn to an energetic dog if there's a mouse, regardless whether it's a real or fake one.
He's scared of water gallons since he was young. Whenever my helper changes the gallon, he will run away and bark from a far distance. He's also scared of the word "Mandi" (which means shower in Bahasa Indonesia). Every time I say, "Eiji, yuk mandi!" (Eiji, let's go shower!), he'll run!
3. Share with us what are his health conditions and when and how they started.
He has urinary incontinence since birth, which probably led to his bladder stones. He had a surgery in November 2011 and the vet removed nine stones – five small ones and four big ones. They were 50% oxalate, 25% struvite, and 25% hydrogen phosphate.
Since then, his health has not been doing so well. I had to go study in Melbourne for about two and a half years and my sisters and my family helper helped me to take care of him. In 2015, I returned home for good and went back to taking care of him with full supervision. Sadly, his skin condition worsened gradually.
At first, all the vets, including a veterinary dermatologist whom we visited diagnosed him with Malassezia.
He also had blood in his urine and was diagnosed with Urinary Tract Infection (UTI). When we checked his urine, the pH is 8+, which is too alkali and it contained sand-like struvite particles.
After going back and forth to the vet, his skin got better, but his UTI did not. And when his UTI finally improved, his skin deteriorated. It's like a ping-pong game. Some of the vets also said that he has an autoimmune disorder.
Around the end of April 2017, he suddenly felt so weak and had no appetite at all. We went to the vet and had his blood tested. The results showed that he has kidney issues (BUN was 180, the normal range is 7-25. CRE increased slightly to 2.3, the normal range is 0.3 – 1.4).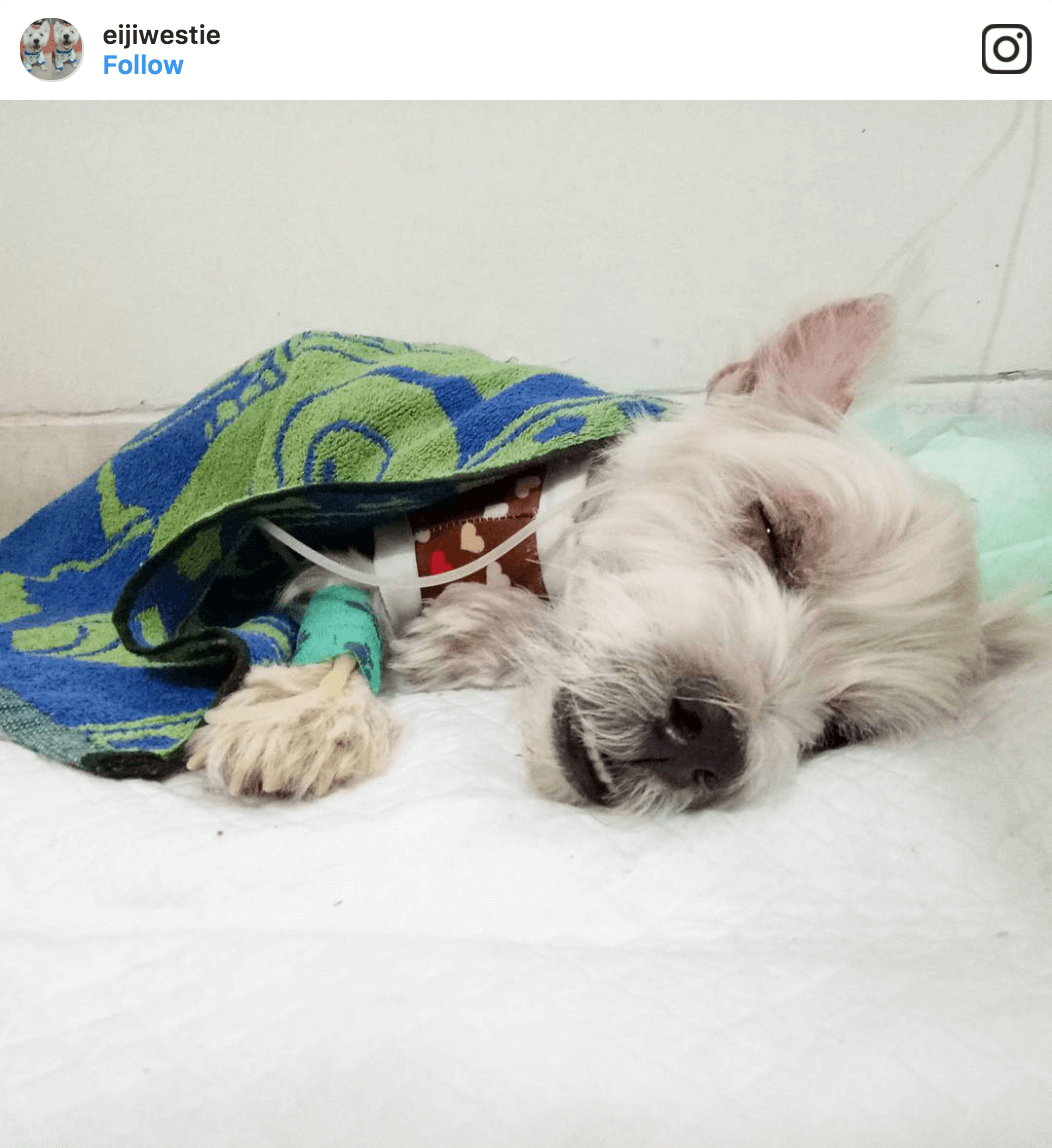 When I got home from Singapore (I only went for about a week), he got scabies all over his body (it spread to me too).
4. We empathise with your experience as Latte also has environmental allergies that got really bad last year. It's such good news to see Eiji get better and better. How are you feeling now?
Thank you so much! I am very thrilled by his progression. Even though he is still kind of itchy, it is not as bad as before. The only things I'm very concerned about are his kidneys and UTI. He's still urinating with blood.
5. How have Eiji's conditions affected you and your family?
When he was at his lowest point (the time when his kidneys almost failed), the whole family was stressed out because I was stressing so much.
I kept crying and was so restless. My parents helped me financially because I spent so much on Eiji's medical expenses. My partner also helped to take care of Eiji while I was away (I went to Singapore to ask for help).
They're very supportive of me. But at the same time, I felt bad because I couldn't support Eiji's expenses by myself – I just started my business, so we are really struggling.
6. What do you think caused and helped Eiji's condition?
I think all of these started because of the diet he had when he was a puppy, I didn't know about raw feeding so I gave him kibbles.
When he had bladder stones, the vet told us to feed him a prescription diet (Hill's U/D). He ate that from November 2011 to 2015. I felt that it was the cause of his deteriorating health.
I also read an article saying that long ago, a lot of pets suffered from struvite stones because their food was too alkali. That was why I decided to change his diet to raw.
Unfortunately, he didn't really get better after many months of eating raw food. After a lot of research and consultation with many vets, we thought he might have food allergies.
We raised some funds and did an allergy test last June and found out that he's allergic to a lot of things. He's allergic to certain foods and has environmental allergies against things like grass, many types of trees, and HOUSE FLY (which sometimes he likes to catch with his mouth)!
We used to give him either lamb or pork, and sometimes beef and chicken. Turns out he's allergic to all of those except pork.
We then changed his diet to duck and turkey, rotating to pork every now and then because poultry is a white meat and Eiji needs red meat to increase his red blood cells (his RBC was too low at that time).
We also add supplements, such as EON, customised amino acid blend, colloidal silver, colostrum (a gift sent from a friend in Singapore), wild fish oil, cod liver oil (since Eiji's kidneys are not that good, I only give him cod liver oil once every few days) that we bought in Singapore.
When he got scabies, we bathed him following these steps every three days:
Soak him in warm water mixed with baking soda (until it feels soapy)
Shampoo with a natural product and pure neem oil
Rinse with warm water
I didn't use a hairdryer and just towel-dried him (he was so bald that he dried really fast). We made him wear clothes so that when he scratched his body, he wouldn't hurt himself. Sometimes, we made him wear socks too because he could scratch his legs against the floor.
7. We saw that you went all the way to Singapore to get help for Eiji. Tell us more about it.
We tried a lot of things in Indonesia. Animal communicator, Bach flower, BodyTalk, etc.. But none of them worked.
Last May, I tried to bring as many samples of Eiji's skin, urine, ear wax, etc. as I could and had them tested at a Singapore vet's lab, which I believe has better technology than the ones in Indonesia.
I used ice packs and styrofoam to keep the samples "fresh". When I arrived in Singapore, I put them in the hotel's fridge.
I also asked Eiji's vet in Indonesia to write a report on Eiji's health history for the Singapore vet to analyse. I couldn't test his blood since it's illegal to bring along a blood sample. The urine test result is actually negative so it means that an infectious cause of his kidney problems is less likely.
8. It's such a difficult journey, have you ever thought about giving up? How do you find the strength to keep trying to get Eiji better?
No! I would never ever give up on Eiji.
I've received a lot of messages saying that I'm selfish for not letting him go as he was suffering so much. But I know that he's going to be healthy again.
Just by looking at him makes me want to keep trying and find a way to help him get better. And I can see that he too wants to get better and not give up! So, as long as he's not giving up, I am not giving up. I will try my hardest to make him healthy again.
9. Did you receive any advice that didn't help Eiji's condition?
A vet recommended Eiji to take antibiotics to treat the blood in his urine. However, it would damage his kidneys so I didn't really take the advice. I'm still trying to find out what I should give him to prevent the struvite particles from forming.
There was also once when a vet advised me to give Eiji Methylprednisolone for his skin. It worked wonders for a short while but then it stopped working and caused him to go straight to the worst skin condition he ever had, along with first stage kidney failure!
10. Eiji is still on his way to recovery and you are raising funds for his medical expenses. How much are his medical costs?
Now that we mostly know how to deal with his problems, the expenses are mostly for his supplements from overseas (Singapore). They could cost over S$500.
Checkups here cost about S$100 – 200 per month. We don't really need huge funding, which is why we don't broadcast it like crazy. So far, we have raised about S$2,000 and have used most of the funds for vet consultations, medicine (usually his topical medication), and supplements.
We still have about  S$700 left for his monthly checkups and supplements and are going to close the fundraising soon. We have to thank a lot of people for their kind donations. Besides money, people from the US and Singapore also sent Eiji supplements and natural topical medication.
11. Are there anything else you want to share with fellow dog owners that are fighting their pets' health conditions?
Don't give up! You have to believe that your pet can get healthy again. Give positive vibes to them so that they can absorb it (dogs are very sensitive to our aura and vibes, so be positive!).
Treat the core problem and go as natural as possible no matter whether it's food, products, or supplements. Avoid using antibiotics and immunosuppressant drugs (this may cause other organs to fail). Be very patient and consistent because natural methods usually do not show immediate results.
Always do research and consult many vets for 2nd, 3rd, and 4th opinions. You're not alone, so don't be afraid to ask for help! There are a lot of people who will help you.
For those of you who would like to help with Eiji's medical expenses, you can donate via PayPal to fundforeiji@gmail.com.
---
Photos courtesy of Yoan
Subscribe to join our pack and find us on Facebook and Instagram.