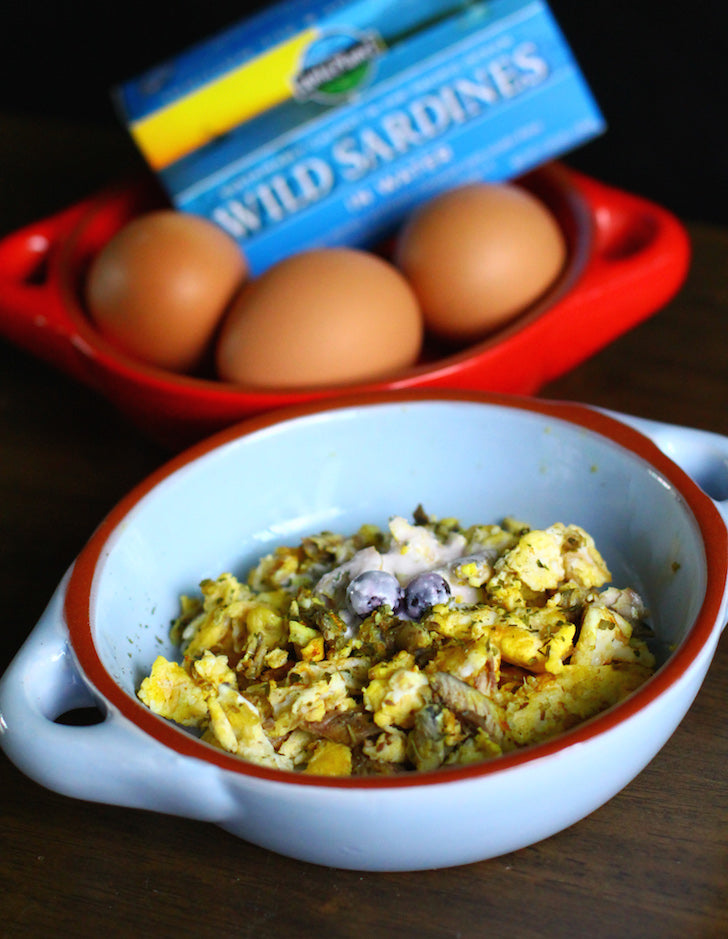 This recipe is kindly provided by Paws Fur Life. Their homemade dog meals and treats are made by a certified canine nutritionist, using only fresh human grade and wholesome ingredients. They also offer canine massage therapy by a certified practitioner.
Egg and Sardine Dog Brekkie Recipe
Serves 2 large dog / 3-4 small dogs
Takes 10 minutes
What you'll need:
2 large eggs (free range if possible)
1 small can of sardines in water (120-150g)
1 tablespoon plain yogurt
Handful of organic blueberries
1/2 teaspoon of finely chopped organic parsley
Steps:
1.       Heat a non-stick frying pan. Break eggs into the pan.
2.       Fry the eggs till the yolk is just lightly cooked (about 30 seconds). Turn heat off.
3.       Drain the sardines and mash with a fork.
4.       Add sardines to the eggs and mix well.
5.       Top with yogurt, blueberries and a sprinkle of chopped parsley
Note:  Eggs provide all of a dog's essential amino acids and sardines are an excellent source of omega-3.
Tried our recipes? Take a photo, and tag us on social media and #vanillapuprecipes! You may just be in for a surprise 🙂
Cooking isn't your calling? Shop here instead for Paws Fur Life's nutritious meals.

DISCLAIMER: Treats are not intended to replace a well-balanced diet, and should only be fed in moderation. Before making changes to your dog's diet, please consult a trusted canine healthcare professional.