Doggies Galore, a daycare and boarding centre opened its doors about a month ago. We sniffed it out and we like a couple of things about them.
One, the place is clean, spacious, and has a doggy indoor playground. Two, the staff are young, qualified, energetic, and friendly. And three, it is cage-free with 24/7 human supervision and play is in order all day.
They are also conveniently located next to The Animal Ark vet clinic at Binjai Park.
But to truly understand how Doggie Galore came about and what is their philosophy, you should hear it from Jade Clarke, founder of Doggies Galore.
1. Congrats on the launch of Doggies Galore! What inspired you to start a daycare and boarding business?
Thanks! ☺ I have three Singapore Specials and wanted to find an environment on the west coast that provided the service and care that I would give to my dogs.
It then dawned on me that the only way to get what I want would be to do it myself. I don't agree with keeping dogs in cages or small boarding kennels while I go on a holiday or travel for work.
I believe that dogs should be able to walk around freely and have fun just like when they are at home.
2. Tell us a bit about yourself and your team.
Growing up as a child, I had lots of pets from dogs and rabbits to horses. I have always been passionate about animals, especially dogs.
After moving to Singapore with my husband, we decided it was time to get a dog. We reached out to Causes for Animals (CAS) and adopted Suki, a Singapore Special in 2016. One was never enough for me so we now have three adopted furbabies! I am now a volunteer with CAS and a qualified Canine First Responder.
My team and I are all experienced dog owners and handlers. We are 100% dog lovers!
3. We truly enjoyed our visit to your centre. A lot of work and thought must have gone into it. Tell us more about how it came to fruition.
The first thing was to select a good location, as that was key.
When I selected 17 Binjai park I thought it was perfect. A vet clinic is two doors down and the area was large enough to allow dogs to run free. The unit had two toilets so we turned the larger room into our bath/wet room.
Security was the next crucial thing so we added a fence at the front to keep dogs from getting out. The interior colour scheme was inspired by our logo.
4. You also held an adoption event soon after your launch. Do you have plans to work with any animal welfare groups?
Yes, we intend to keep working with CAS and Exclusively Mongrels (EM). We are currently looking at adding an adoption and sponsorship page on our site for dogs at these charities.
5. What's your philosophy on dog care?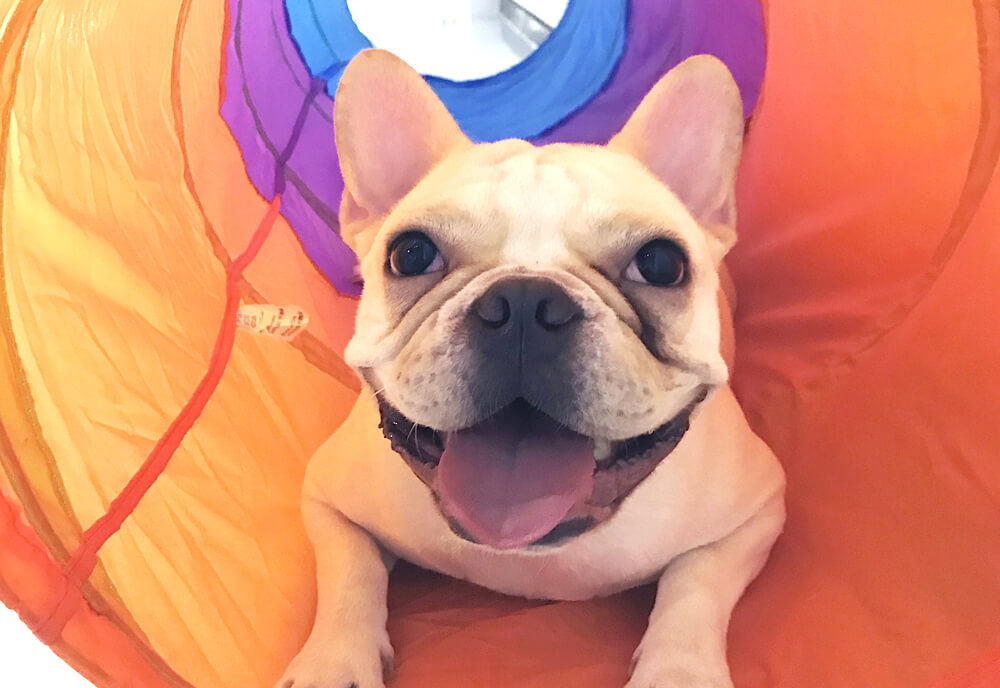 The health and well-being of all the dogs in our care are paramount. We believe that we should care for dogs just like how we care for human beings. They are man's best friend!
At Doggies Galore, we believe in:
Safe
Provide safe quality care for your dog while you can't be at home to look after them
Ensure your dog gets adequate rest and nutritional and medical needs
Support only positive reinforcement of behaviours. Dogs are not punished but only rewarded for good behaviour
Fun
Make your dog happy and contented by providing company, play, entertainment, including both mental and physical activities and stimulation
Allow dogs to socialise and play in open play areas
Equality
Welcome all breeds, ages, genders, and sizes and treat them the same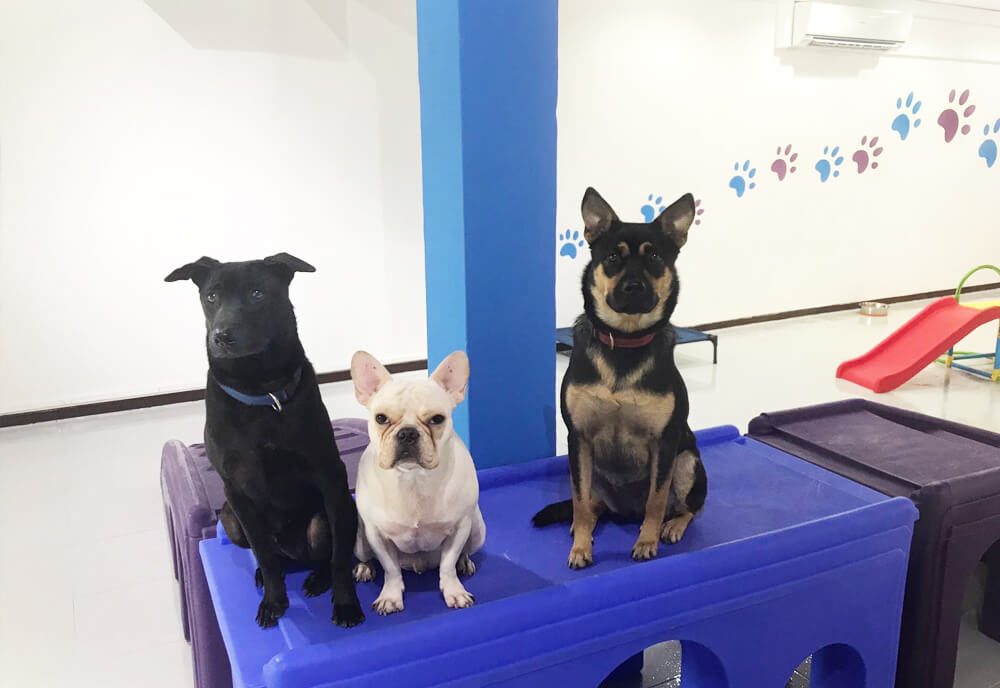 6. What are the benefits of dog daycare?
Dog daycare allows dogs to socialise and play.
Many dog owners are worried about their dogs when they leave for work. Are they lonely or bored? Are they destroying furniture? What if something happens to them?
When you put your dog at daycare, she is able to exercise and interact with other humans (belly rubs!) and dogs under constant supervision. Dogs that need extra care, such as those that need medication during the day, will also be taken care of.
As a result, dogs that go to daycare are usually more fit and happy. With a proper channel to expend their energy, they get home well-worn out and ready to rest.
At the end of the day, your dog becomes a more well-balanced animal and learns to function well in the human society.
7. Why should dog owners send their dogs to Doggies Galore?
Great environment
We are a cage-free and safe environment, which allows your dogs to have fun and socialise. We clean our facility every day and only use dog-safe cleaning agents.
24/7 supervision
We also offer 24/7 human supervision and a live camera feed so you can watch your pooches play.
Qualified staff
Our team is made up of experienced dog carers and Canine First Responders.
Many dog owners are not comfortable monitoring their dogs play as they are unsure when play may turn into a fight. Our staff is able to read dog body language and intercept when necessary. Because they are Canine First Responders, they are also well-equipped to handle accidents and emergencies.
All breeds and sizes welcomed
We don't discriminate. We've had both gigantic and small dogs. Pedigree and non-pedigree. Old and young. As long as they pass our assessment, they are welcome to come play!
8. How do you assess whether the dogs are suitable for daycare and boarding?
All newcomers will come for a free daycare trial where my team evaluates them and their behaviour before we accept long-term daycare or boarding bookings.
9. What can dog owners expect when they send their dogs to Doggies Galore?
Hours
Daycare hours on weekdays are between 7.30am to 7.30pm to accommodate working dog owners. On Saturdays and Sundays, the hours are between 9am to 6pm and 9am to 5pm respectively.
Program
Our boarding guests get two walks a day while daycare guests get lots of playtime. During the day, all guests can engage in interactive and safe play in our cage-free environment. We have lots of toys and games for pups to play all day. Our qualified staff may also teach them commands and tricks.
Value-added services
All guests will get to enjoy a free Pet Cubes human grade meal. If they board for a week or longer, they will receive a free bath and dry.
10. We heard that doggy guests get trained at your daycare. What are some things that they may learn?
Our team tends to train our daycare guests and have taught some of them to sit, place, and stay amongst other things.
11. How can dog owners prepare their dogs for their first daycare or boarding?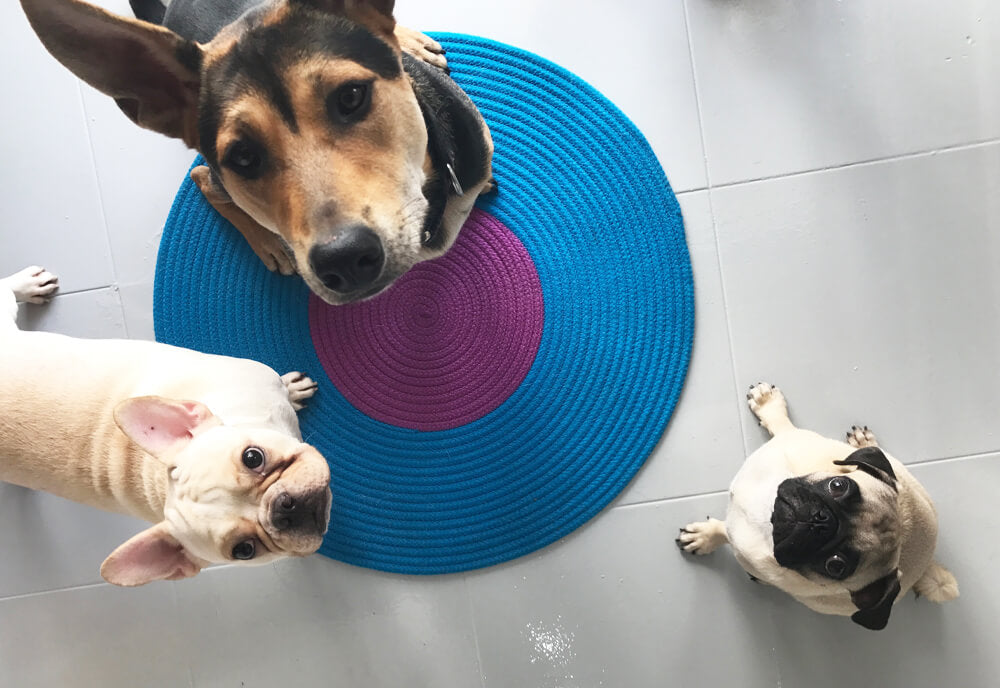 Before sending your dog for boarding for the first time, you can prepare her for your long absence by sending her for two to three days of daycare first. This will help her ease into a new routine without you.
Have your dog's medical history (e.g. surgical history, conditions, allergies) and emergency contacts ready so that the staff knows who to call and which vet you prefer your dog to go to in case of emergency.
Some daycare and boarding services like ours require guests to go through a prior assessment to ensure she's a good match for the current pack.  It would be very helpful if you could also share with the staff your dog's bad personality, behaviours, or habits before or during the assessment.
12. Do you offer transport services?
We have partnered with PetMate, a Singapore pet taxi service.
Owners and their pooches can book a ride to and from Doggies Galore via the PetMate app. They just have to click on "Featured Destinations" and you will find us there for a discounted journey to and from Doggies Galore.
13. It's very interesting that you are working with partners like PetMate to offer more benefits to your customers. Tell us more about it!
We believe in supporting local businesses and charities in and around Singapore. We have partnered with a few of them to make the Doggies Galore service an even smoother experience for owner and their furry friends.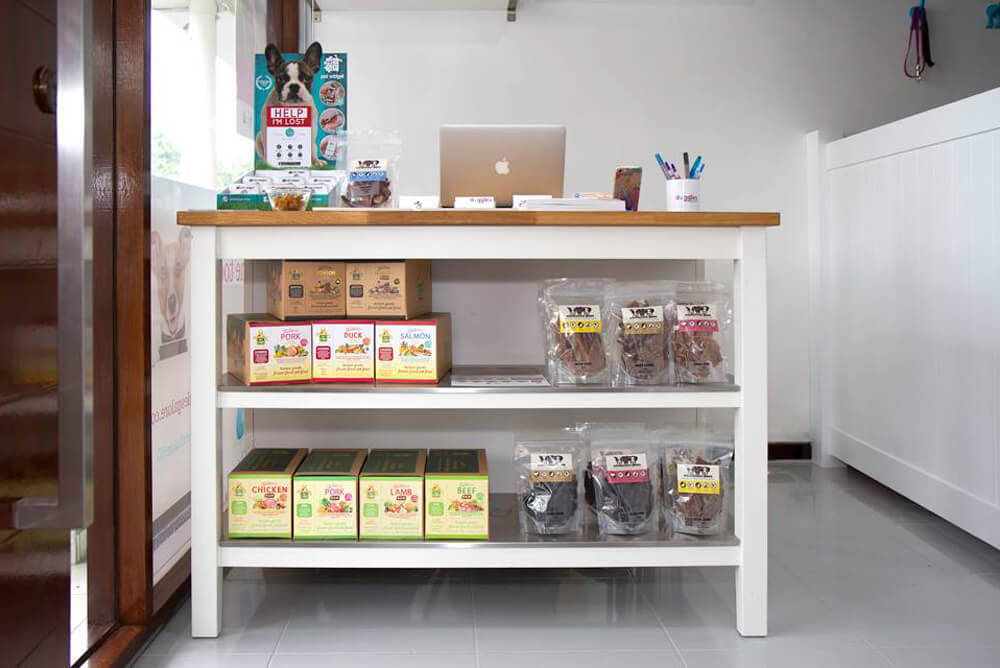 As mentioned, we work with Pet Cubes to provide all our daycare guests with a free human grade meal. Owners who are running out of dog food can buy Pet Cubes from us. We also stock Wholesome Paws and The Barkery treats.
Other partners include Moby's Petshop, PerroMart, and PerroBox. Our customers can enjoy special discounts at their stores.
Check out our partner's page for more details.
14. What is your pricing for your daycare and boarding service?
Pricing is as follows: 
Doggies Galore x Vanillapup promo
Quote "VANILLAPUP" for 10% off all services at Doggies Galore. Book a free trial here or call 9625 3184.
Doggies Galore | Website | Facebook | Instagram
Location: 17 Binjai Park, Singapore 589825
---
Disclosure: This post is a paid post for Doggies Galore.
Images courtesy of Doggies Galore.