Dog runs are one of the safest places to let your dog off-leash and explore freely. With fenced up fields, your dog can run around, be in touch with nature, and socialise with other dogs!
As Singapore is warm and humid, beware of mosquitoes, fleas, and ticks. Remember to protect your dog with natural flea and tick prevention and check her coat thoroughly after play.
With that said, here is the complete list of dog runs in Singapore.
14 Dog Runs To Bring Your Dogs in Singapore
1. Bishan – Ang Mo Kio Park Dog Run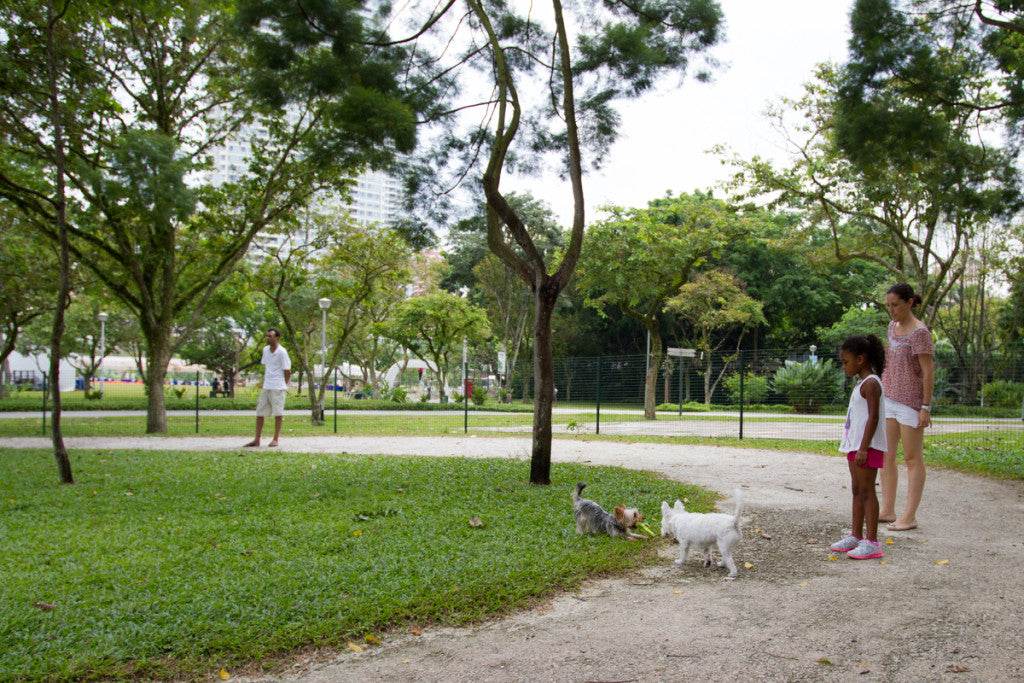 Located in central Singapore, the Bishan – Ang Mo Kio Dog Run comprises of two fenced up areas, one for small and medium-sized dogs and one for large-sized dogs.
The area has approximately 2,100 sqm of space for dogs to run freely and safely. There is also a water source for thirsty dogs that need a drink or dirty dogs that need a wash. As one of the most popular dog runs in Singapore, you would surely see many dogs on weekends!
Address: Bishan Park 2, Ang Mo Kio Avenue 1, Singapore 569981
Opening hours: Open 24/7
Park lighting hours: 7pm – 10pm
2. West Coast Park Dog Run
Credit: @spngsy
Known for their amenities, it is pretty easy to see why West Coast Dog Run is one of the most popular dog runs in Singapore.
It is wide and spacious with lots of room for a good fetch session. It has tables with benches under shade, water taps, and even a dog wash kiosk. The self-service dog wash station is located a few minutes away from the dog run and provides shampoo, flea and tick prevention, and a blow dryer.
Address: West Coast Park, Parallel to West Coast Highway
Opening hours: 24/7
Park lighting hours: 7pm – 7am
3. Sembawang Park Dog Run
This fenced-up area has an interesting twist – unlike the usual flat land, the Sembawang Dog Run is located on a slope. The gradient serves as a great workout for dogs. There are tables with benches inside for you to rest at. But be sure to bring water for your dog as there is no water supply within the dog run!
Address: Sembawang Park, End of Sembawang Rd
Opening Hours: 24/7
Park lighting hours: No Lighting
4. Katong Park Dog Run
Katong Dog Run is the place to go if you want to off-leash your dog after a walk at East Coast Park. This dog run may be underrated compared to the others, but it makes a perfect quiet spot for your very own doggie private gathering!
Address: Katong Park, 59 Fort Rd, Singapore 439105, Junction of Meyer Road & Fort Road
Opening hours: 24/7
Park lighting hours: Until 10pm
5. Tampines Central Park Dog Run
Credit: Discover SG
Located right in front of Block 856 Tampines Street 82, Tampines Central Park Dog Run is one of the two dog runs just beside a Housing and Development Board (HDB) flat.
Although it is only the size of half a parade square, it is filled with regulars and mostly busy in the weekday evenings and during weekends. If you are staying nearby, this could become your go-to dog run.
Address: Blk 856 Tampines Street 82, Singapore 520856
Opening hours: Between 10am – 10pm
Lighting operating hours: Until 10pm
6. Simpang Bedok Dog Run
Credit: Philosophy Dog
Simpang Bedok Dog Run would easily be missed unless you are keen-eyed. Walk along the Bedok Reservoir Canal and there is your dog's little heaven right next to a blue soccer court. There aren't any washroom, seats, or water points, so it is ideal for a short playtime.
Address: Jalan Pari Burong playground, 91 Jln Pari Burong, Singapore 488730, Junction of Jalan Pari Burong and Upper Changi Road
Opening hours: 24/7
7. Clementi Woods Park Dog Run
Credit: The Compawny
This quaint and clean dog run could be the perfect day out with your dog when the weather is good. It has two tables with beaches albeit no shelter nearby. You can proceed to leash your dog up for a stroll around Clementi Woods Park for more sniffing action.
Address: 152 West Coast Road, Singapore 127370, next to West Coast Plaza
Opening hours: 24/7
Park lighting hours: 7pm – 7am
8. Sunny Heights Dog Park
Credit: Sunny Heights
Is your dog not a fan of water? Besides their well-known swimming pool, Sunny Heights has a dog park with a mini man-made obstacle course for dogs that love agility. They have a dog run too but it is exclusive to their daycare dogs. After all the huff and puff, chill at the nearby pet-friendly Ah B Cafe and continue the mingling session.
Address: 110 Turf Club Road, Singapore 288000
Opening hours: 1 – 6.30pm
9. Lengkong Enam Interim Park Dog Run
Photo credit: Govind Sukumaran
This new dog run situated at the interim park between Jalan Selamat and Lengkong Enam is big and spacious. Thanks to our reader Govind Sukumaran for the tip!
Photo credit: Govind Sukumaran
The dog run is currently functional with benches but without a water supply. Who cares though, as long as there's more than enough space for our pups to run free.
Address: Lengkong Enam Interim Park, along Jalan Selamat and Lengkong Tujuh
Opening hours: 24/7
10. Yishun Park Dog Run
Photo credit: Adam Teo
A reader Erlia Erlia told us that Yishun Park's dog run is undergoing some final touch-ups before they open [Update: It's open!]. It consists of two small enclosures at the junction between Yishun Central and Yishun Avenue 11.
Address: Yishun Park, Yishun Central, Yishun Avenue 11, Singapore 769027
Opening hours: 24/7
Park lighting hours: 7pm – 7am
11. Potong Pasir Ave 1 Dog Run
Photo credit: Dianne Cappelli
A reader Dianne Cappelli told us about Potong Pasir will have their own dog run very soon (It's now open)! The picture above is when the dog run was still in construction. It is very spacious with neat patches of grass surrounded by sandy pathways. There are some benches for dog owners to rest at.
Address: Block 102 Potong Pasir Avenue 1, Singapore 350102
Opening hours: 24/7
12. Mariam Way Dog Run
Readers Debbie Pac and Darren Ang notified us that there's a small dog run at the Loyang estate area near Mariam Way Playground.
Address: Mariam Way Playground, junction of Old Tampines Road and Mariam Way
Opening hours: 24/7
13. Our Space @ Tai Gin Road
This dog run is located near the Burmese Buddhist temple. It is pretty small and simple with benches but no water points.
Address: 16 Tai Gin Rd
Opening hours: 24/7
14. Ready in 2019 – Jurong Lake Park Dog Run
Originally located near Yuan Ching Road, this dog run will only be ready when Jurong Lake Park reopens after re-development in 2018. We can expect the new park to be a nice place to walk and explore too!
Our reader Tan Zhi Zi told us that NParks is still open to suggestions for the amenities in the upcoming dog run. You can submit your ideas and feedback here.
Opening hours of the dog runs may change. Please check with NParks or the respective owners.
---
Subscribe to join our pack and find us on Facebook and Instagram.