If mama could choose, she would love to bring me everywhere she goes. Unlucky for me, Singapore is not exactly very pet-friendly despite it being such a developed country. Nonetheless, she is grateful for dog-friendly cafes, which have been sprouting up in recent years. While I prefer playing at the
Nonetheless, she is grateful for dog-friendly cafes, which have been sprouting up in recent years. While I prefer playing at the beach to hanging out at a cafe, mama still brings me to one now and then to socialise with other pups.
5 Dog-friendly Cafes in Singapore
Below are 5 dog-friendly cafes in Singapore that we've been to and how we feel about them! Whether you want to spend your weekend letting your furkid sniff butts and make friends with other pups, or bringing him/her along to chill with your friends, there's a cafe for you. The first three are cafes that are specially catered to furry customers, and the last two are cafes that primarily serve humans, but are friendly to dogs as well.
1. Happenstance Cafe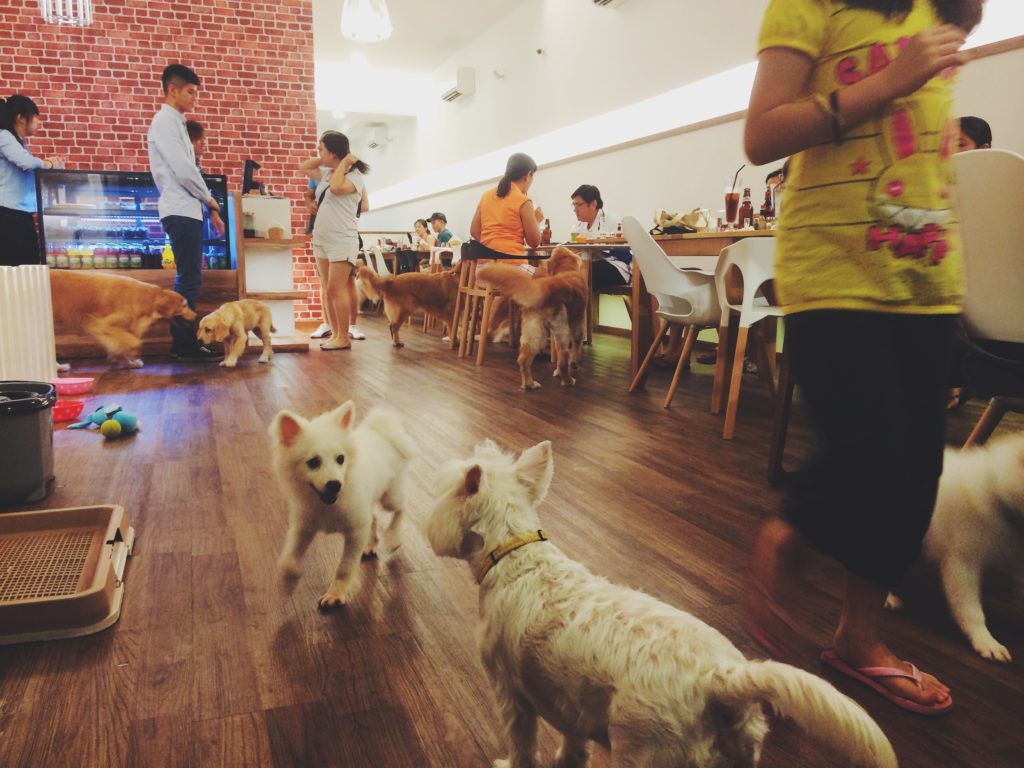 Happenstance Cafe is our favourite out of this list of 5 dog-friendly cafes in Singapore so far! This popular eatery sports a polished, modern and inviting decor, with a row of seats on one side; leaving a big space on the other side for furkids to mingle with each other. Expect the place to be crowded on weekends, with loyal customers visiting on consecutive weeks. The ambience and the crowd together lend vigour to the joint, making you feel like this is the place to be.
Price: 8.5/10. You can get pasta from $8.90, and their most expensive item – the Happenstance Signature Burger is priced at $14.90.
Taste: 8.5/10. Even though the Create-Your-Own-Happenstance pasta is much raved about, mama and papa chose the Happenstance Signature Burger, Golden Beer-battered Fish & Chips and Cottage Pie for mains and the Beef & Mushroom Cheese Fries for the side. Every dish was pretty good, especially for truffle oil lovers – mama and papa could taste a hint of it in each of the dish. The fries were a tad too salty, and soggy towards the end.
Dog/human-friendliness: 10/10. By now you should be able to tell that mama loves this place. I really like this place too, unless there's a snappy pup in the cafe. It is pretty likely though, due to the crowd the cafe receives. There's also a pasta menu for furkids. You can choose the type of pasta, vegetable, meat and topping (cheese and salmon oil)!
Happenstance Cafe | Facebook | 6341 7871
Address: 35 Opal Crescent, Singapore 328425 [Directions]
Opening Hours:
Mon – Fri: 12:00 pm – 10:00 pm | Sat – Sun: 11:00 am – 10:00 pm
2. Sun Ray Cafe
Sun Ray Cafe is one of the pioneers in the space of dog-friendly cafes, and it is still standing strong despite increasing competition from new comers. This cozy cafe boasts affordable prices for quality food. It is definitely a great place to check out if you haven't!
Price: 8/10. Mama says prices are reasonable. You can get a cuppa at $4!
Taste: 7.5/10. Food was pretty good. I would have given it an 8 based on looks and smells. I suppose mama is more picky.
Dog/human-friendliness: 9/10. Nice and cosy place with good service. They cordoned off part of the place just for the humans and their furkids. However, the entrance is just a sliding glass door. Some furkids attempted to sneak out when the humans opened it!
Sun Ray Cafe | Facebook | Hungrygowhere | 6283 8700
Address: 79 Brighton Crescent, Singapore 559218 [Directions]
Opening Hours:
Mon – Tue: 6pm – 10pm | Wed – Fri: 11am – 11pm | Sat – Sun: 10am – 11pm
3. Paw Pet-radise Cafe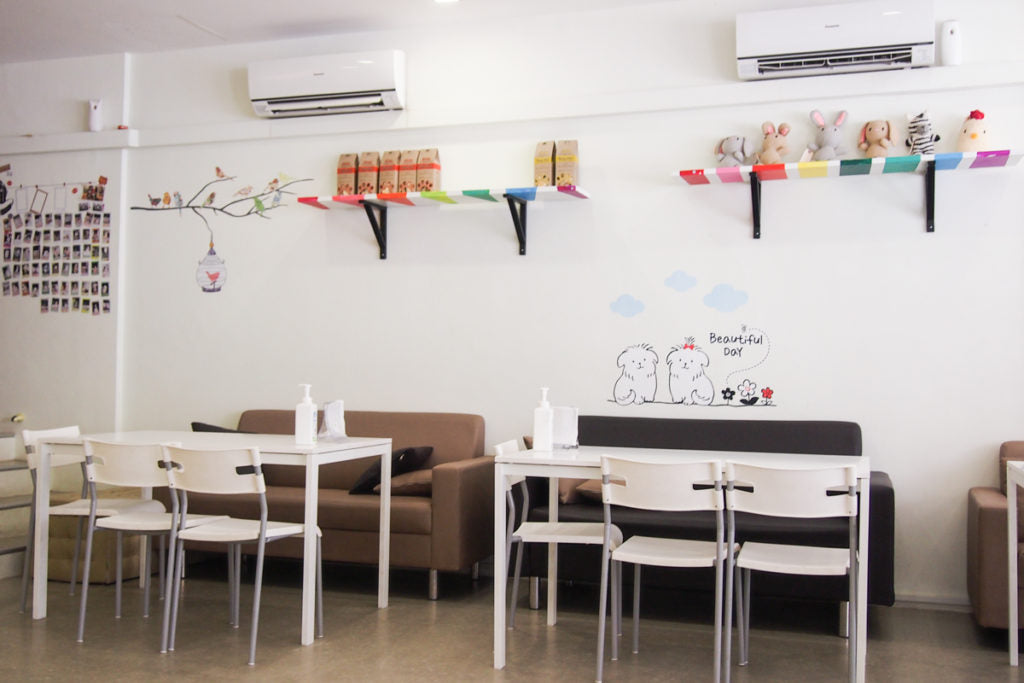 The humans brought me here after hearing fantastic reviews from other mamas and papas. Sadly, it didn't live up to its hype for us, making it our least favourite cafe so far! Its run-of-the-mill decor certainly didn't make a good first impression. The menu, though affordable, reminds mama of what a school canteen serves. The service was also desperately lacking, but possibly because they were preparing for a private event.
Price: 6/10. Prices are not expensive but mama just didn't see the value of the food she was paying for.
Taste: 7/10. Mama ordered the Baked Salmon, which was decent but not value for money at $16.90 for a small portion. The place may be suitable for children, offering easy-to-eat nuggets and onion rings amongst other finger foods.
Dog/human-friendliness: 8/10. There was sufficient space in the middle of the cafe to run about and they had a menu for the furkids as well. The doggie desserts were from Superdog Kitchen, which mama adores. I wolfed down the pretty Strawberry Vanilla Ice Cream tart with delight!
Paw Pet-radise  Cafe | Facebook | Hungrygowhere | 9747 3295
Address: 530 Balestier Road, Monville Mansion #01-07 [Directions]
Opening Hours:
Mon: 5pm – 11pm, closed on Tue
Wed – Thu: 5pm – 11:00 pm
Fri: 5pm – 1am
Sat: 12pm – 1am
Sun: 12pm – 11pm
4. Artistry Gallery Cafe [CLOSED]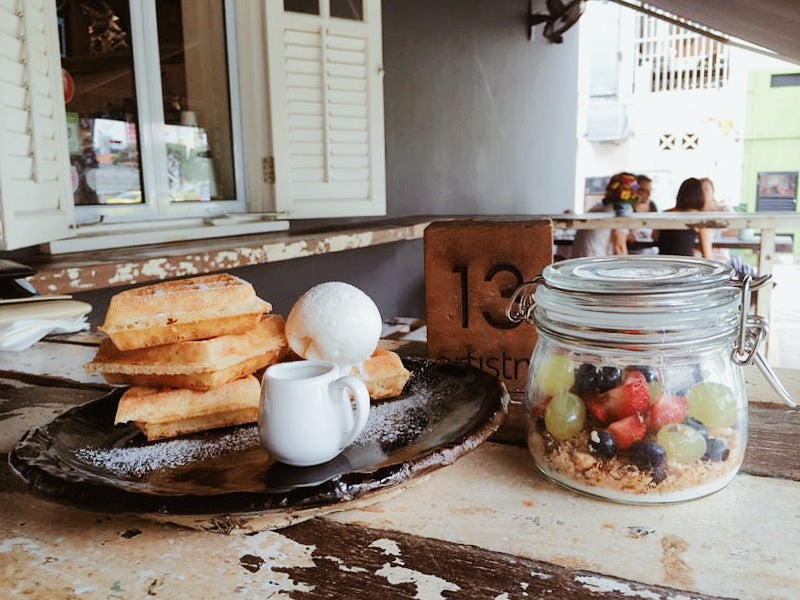 This is papa's favourite cafe out of all the dog-friendly cafes we've been to! The place has a cool, hipster vibe, making it a perfect place to relax and catch up with friends. If you are looking for a human cafe that's dog-friendly, be sure to check out Artistry Cafe.
Price: 7/10. You can expect the usual cafe prices ($3.50 for an Espresso to $20 for their Big Breakfast) at Artistry.
Taste: 8.5/10. Mama and papa opted for a light meal, skipping the main courses. Their Nasi Lemak Burger sounded absolutely yummy but the humans decided to go with the seemingly boring waffles and granola. But boy was I wrong, papa really enjoyed their home-made granola while mama was pleasantly surprised by the refreshing coconut ice cream and kaya-infused maple syrup, which were served with her waffles!
Dog/human-friendliness: 9/10. Before heading to the cafe, mama emailed them to confirm that the cafe is dog-friendly. And the good people from Artistry replied, "Not just the place – WE are very dog-friendly too!" I like them already 🙂 When we arrived, the staff immediately offered me a bowl of water, making mama and me feel so welcomed!
Artistry Cafe | Facebook | 6298 2420
Address: 17 Jalan Pinang, Singapore 199149 [Directions]
Tue – Sat: 9am – 11pm | Sun: 9am – 4pm
5. Coastes
Coastes is a lovely place for beach lovers – you can sink your feet into the sand as you sip on your go-to cocktail. Mama finds it particularly relaxing to hang out here on a cool evening, with live music playing.
Price: 5/10. Coastes' menu is the priciest on the list. Well, we can't expect otherwise from an outlet in Sentosa!
Taste: 7/10. The food was acceptable but unmemorable; mama can't seem to recall what she had the last time she visited.
Dog/human-friendliness: 9/10. The place's rustic charm and casual laid-back beach vibe are good enough reasons to visit Coastes. After a day of fun at the beach, unwind with your dog at their outdoor benches. No one is going to mind a sandy fur-guest.
Coastes | Website | Facebook | 6274 9668
Address: 50 Siloso Beach Walk, Sentosa, #01-05 [Directions]
Opening hours:
Mon – Thu, Sun & PH: 9am – 11pm | Fri – Sat & eve of PH: 9am – 1am
---
Join me on Facebook and Instagram.