Earlier this month, we shared our recommended dog bakeries to buy a birthday cake for your dog.
If you think a delicious and good-looking cake would be a waste without a party with friends and family, then we say let's look at some wonderful dog-friendly birthday party venues!
Dog-friendly birthday party venues
Paws N Pans (Temporarily closed)
Formerly known as 3 Barks Cafe, Paws N Pans has reopened in 2016, offering private party packages.
With two levels, you can choose from a range of venue packages that can cater to the number of people you are inviting.
We like that they are transparent with their costs. Here's their price list:
If you are also thinking of getting desserts and cakes for your dogs, The Barkery is just opposite the café. How convenient!
Maximum capacity: 55 pax
Enquire here.
Ah B Café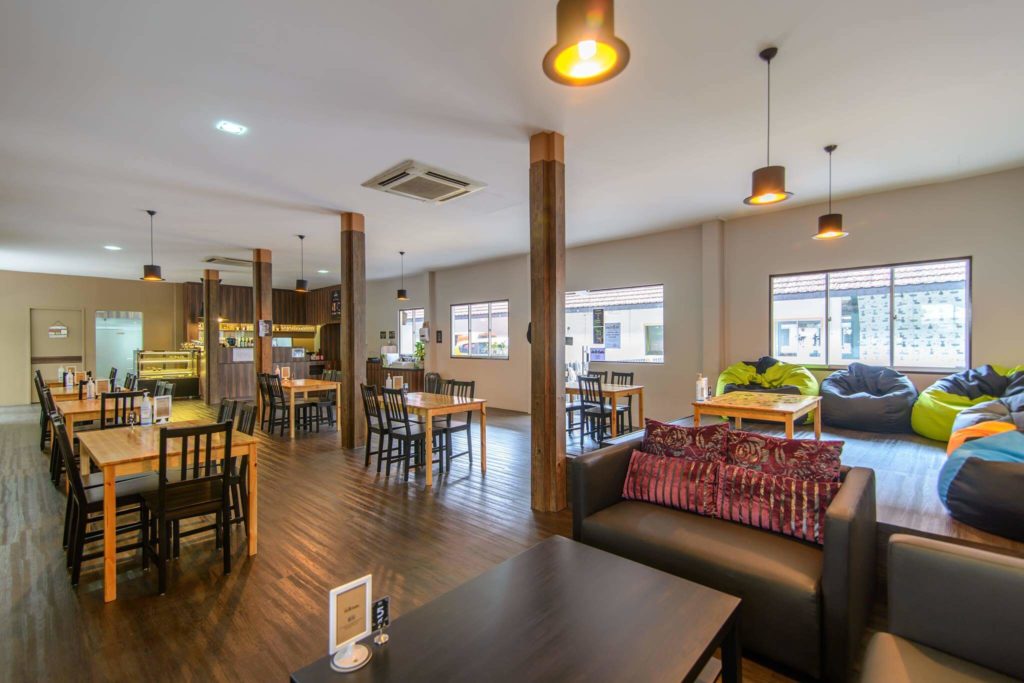 Located in Sunny Heights, Ah B Cafe is a spacious venue with both outdoors and indoors areas. You can even head over next door and bring your dogs for a swim!
Ah B Cafe is also where we held our Christmas party last year, read about it here.
Maximum capacity: 60 pax
Cost:
Private events – $2,000 for two hours. Food will be served in buffet-style. Cake and food for dogs will be provided.
Events for less than 35 pax require a minimum spend. You can choose between a six course ( $16.80) or an eight course ($19.80) buffet. Do note that the restaurant will still welcome walk-in customers.
Enquire here.
Happenstance Café
Well-known for their make-your-own-pasta, Happenstance Café is a hot spot amongst dog owners. You can choose to serve either à la carte meals or a buffet for your party.
Maximum capacity: 40 pax
Cost: $30 /pax on weekdays or $60 /pax on weekend for 3 hours. Food included.
Cakes: 3 flavours – pork, chicken, or beef.
500g – $45 (four to five furkids)
1.5kg two-tier cake – $118 (15 to 20 furkids)
Enquire here.
I.N.U Cafe
I.N.U Pet-friendly Cafe sells a mix of Western and Asian cuisine and is popular amongst pet owners who are looking for a spacious venue.
Maximum capacity: 36 pax
Cost:
Pending reply from the cafe.
Enquire here.
Sun Ray Cafe
Sun Ray Café offers aromatic coffee and mouth-watering food for both humans and dogs. It consists of two sections and one is dog-friendly.
A downside to this venue is that it's quite dimly lit. Don't expect great photos on the day.
Maximum capacity: 40 pax
Cost: Minimum spending of $800 for three hours on weekdays at the pet-friendly section. However, Sun Ray Cafe encourages standard reservations instead of private and exclusive parties. That is so that walk-in customers with their dogs will still get to visit.
Cakes: Comes in two sizes – 250g or 500g. Prices range from $15 to $30.
Enquire here.
Vastitude
A newly-opened venue, Vastitude retails vet-approved sous vide-cooked pet food and rents out a pet-friendly social event space. Vastitude does not serve walk-in customers.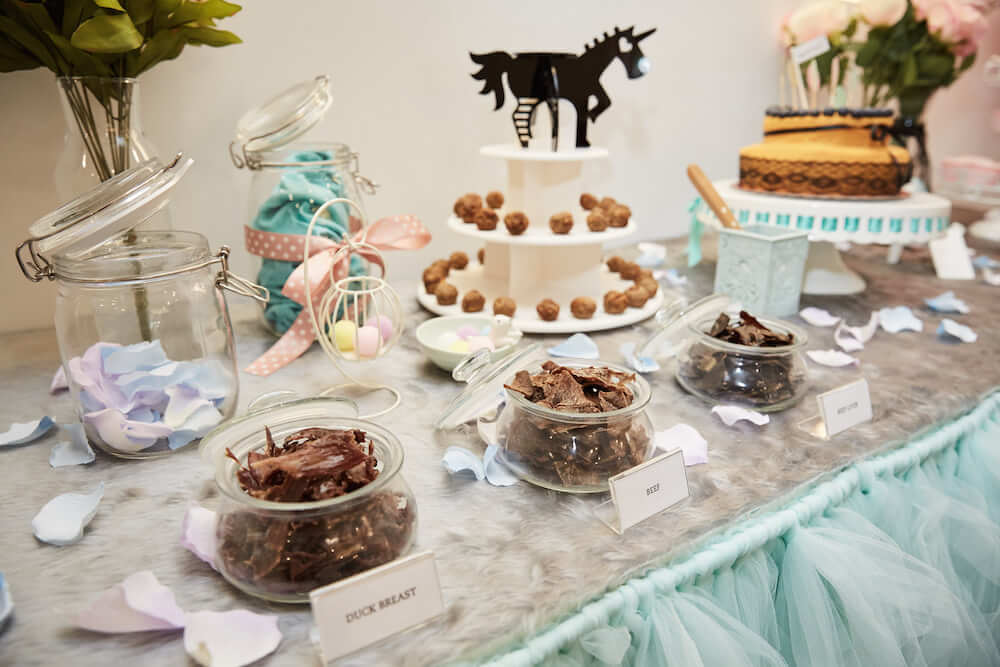 Maximum capacity: 50 pax and 30 pets
Cost: Event space booking starts from $75 /hour. Food for both humans and dogs can be arranged for a minimum of 30 pax, according to your budget.
Enquire here.
Tea Party Café @ Pasir Panjang
Tea Party @ Pasir Panjang is the brand's only pet-friendly venue. There is plenty of space for dogs to roam around freely.
However, they don't sell dog food and you might need to bring your own pee pads and food bowls.
Minimum capacity: 30 pax
Cost: $20 /pax, buffet-style dinner.
*Note: Tea Party Café @ Biopolis has relocated to Pasir Panjang.
Enquire here.
The Wagington
The Wagington is for the aristodogs. Their standard venue rental packages offer private pool celebrations for your dog and friends. Do note that external food and drinks are subjected to a disposal and cleaning fee.
Maximum capacity: N.A.
Cost: $188 for the most basic package. It includes an hour of private pool rental for up to 15 pax and 10 dogs and 15 soft drinks. Food is provided only in higher-tier packages. Full price list here.
Enquire here.
Furcraft Academy (Closed)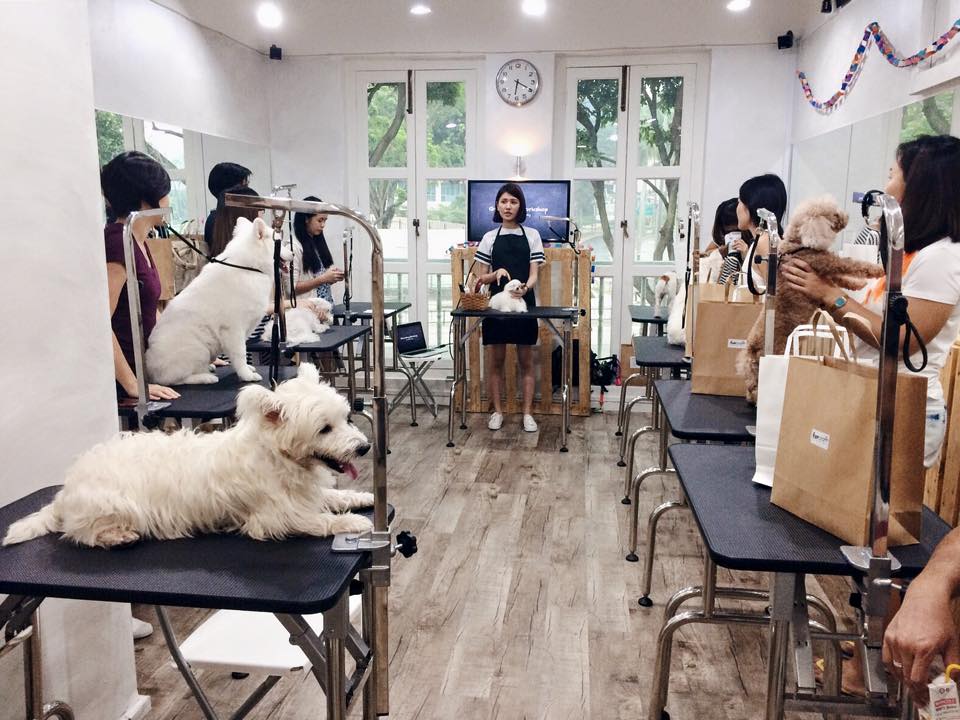 For Latte's third birthday, the humans held a grooming workshop party in collaboration with Furcraft Academy.
Instead of just eating and chatting, learn something new together as you celebrate your dog's special day.
Before the workshop starts, you can mingle with friends at the academy's rooftop. There is also a paddle pool party for dogs to enjoy! Click here for our review and what to expect.
Maximum capacity: 10 pax and 10 dogs
Cost: $150 per pax
Enquire here.
Tanjong Beach, Sentosa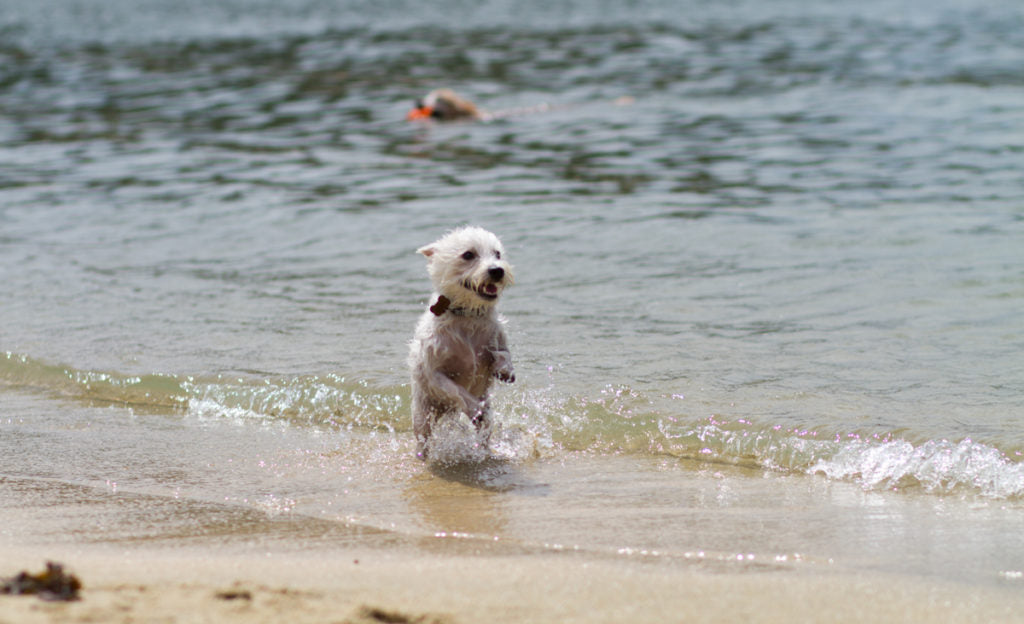 Prefer not to pay for a party venue? Tanjong Beach at Sentosa is the place for you! You won't be compromising on the fun with endless sun, sand, and sea.
Get there early to take over one of the beach's huge pavilions. Do avoid the ones near the canoe school. We had a bad experience with a rude and unreasonable lady who worked there. It's also a high traffic area with students taking their boats out from the area.
Do note that party packages may change. Please use the prices as a guide and check with the venue directly for more details.
---