Ho ho ho, Christmas is just around the corner! What do I love most about this wonderful season? A particularly merry mama, an air of good cheer, endless gifts for sniffing, and let's not forget the most important activity of all – feasting with our loved ones!
This festive season, don't forget to include your furry family members in your Christmas feast, which brings me to something exciting that I have to share with you! It's a special project that mama and papa have been working on the past week – a wonderful Christmas fete for dogs; showcasing awesome pawsome goodies from local kitchens.
Words can't describe my excitement when I saw these goodies, one by one, coming through our front door. I couldn't wipe that silly smile off my face! Not that I was trying. It was probably the best day of my life.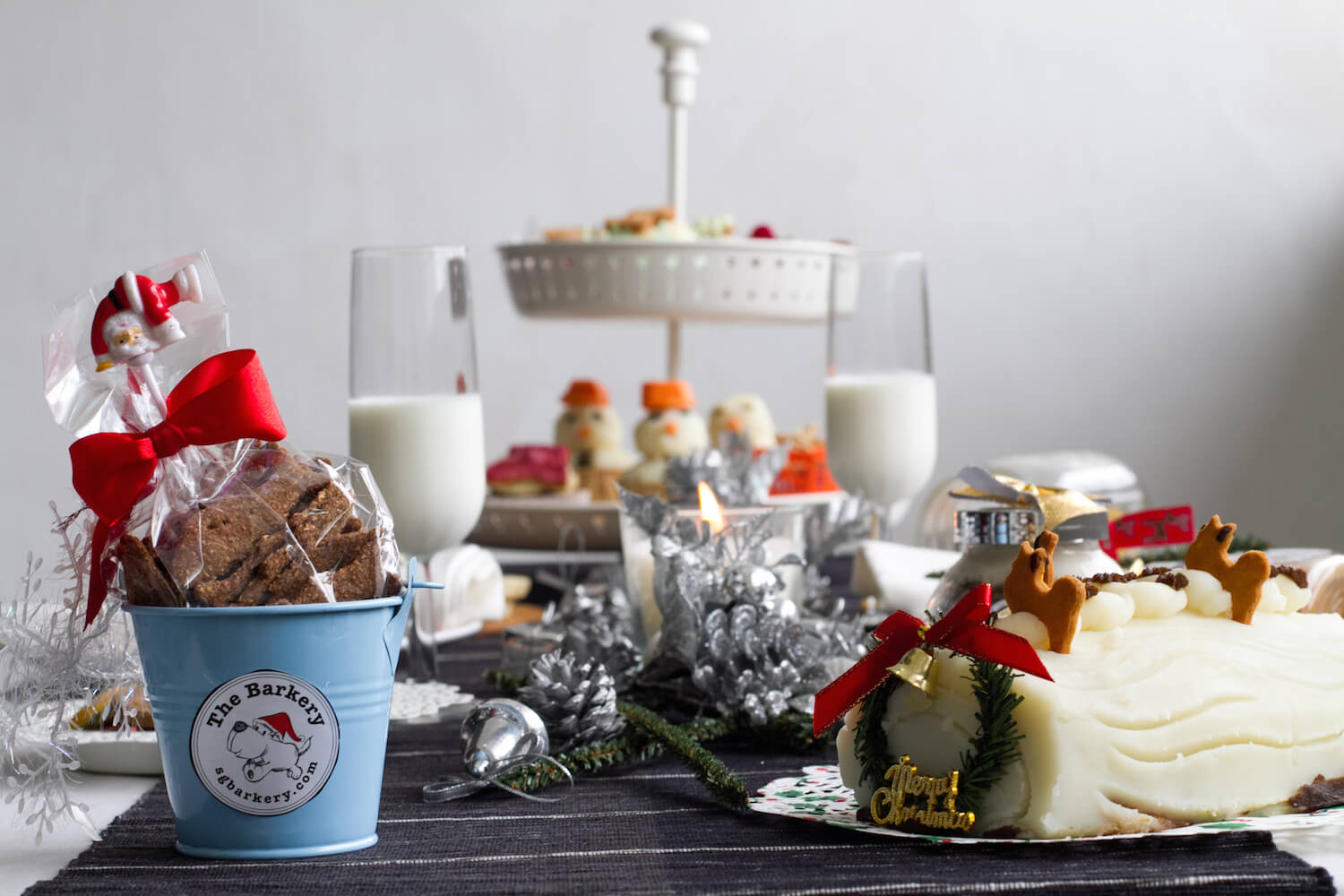 Go on, pamper your furkids with these delights from the following stores:
Pawlicious Bakery
Just look at these adorable pupcakes! It will make you happy just by staring at them. Leave one of these babies by the window with a mug of fresh milk and doggy Santa will be on his way. Pawlicious is also selling X'mas cookies and log cakes.
Price – $22.90 for a box of 4 and $32.90 for a box of 6. 10% early bird discount for pre-orders from now till 15 December 2014.
Ingredients – Organic whole wheat flour, salmon, tuna, and cranberry.
Order – Email your order with the subject header "Xmas 2014", and your name, contact no., and delivery/collection date (6 Dec – 25 Dec 2014) to pawlicious@gmail.com.
Pawlicious Boutique Pet Bakery and Bistro | Website | Facebook
My Greedy Pet

What's Christmas without some gingerbread? Kickstart an imminent overdose of festive treats (just for a day!) with these soft and fluffy heart-shaped gingerbread pancakes!
Price – $10.50, inclusive of free delivery.
Ingredients – Gluten-free rice flour, water, ground ginger, ground cinnamon powder, egg, beef, broccoli and carrot.
Order – Order by 23 December 2014, at least one day in advance on their website (no longer available).
My Greedy Pet | Facebook
FURRIFIC

These special X'mas cookies are great for sharing, but not before snapping a few photos for Instagram first! The slightly crumbly texture will go really well with a bowl of dog milk, while the whole family gathers in the room to catch a holiday movie.
Price – $7.50 for 50g, $13 for 100g, and $25 for 200g
Ingredients – Organic brown rice flour, pumpkin, organic pumpkin seed and egg.
Shelf Life – 1 week non-refrigerated or 3-4 weeks refrigerated.
Order – On their website (closed).

Still can't let Frozen go? Then allow Olaf and his warm hugs to come to your rescue. The pupcake version of him, I mean!
Price – 2 for $9, 4 for $17, and 8 for $33
Ingredients – Fresh minced pork, dried parsley flakes, egg, rosemary, carrot, potato and organic pumpkin seed.
Shelf Life – Best to be consumed on the day of collection or 2-3 days refrigerated.
Order – Order at least 2 days in advance on their website (self pickup only).
FURRIFIC | Facebook
Feed My Paws
Feed My Paw's Mighty Milk Superfood Cookies are loved by many. And they just got merrier in these adorable Christmas shapes! Packed in a cute Yuletide packaging, they make a perfect gift for your doggy pals. Not only that, Feed My Paws will be donating 10% of their sales proceeds in December to Causes for Animals – Singapore. Even the Grinch would have to agree that giving makes Christmas so much better 🙂
Price – $15 for 100g.
Ingredients – Organic brown rice, dairy, egg, spirulina, goji berries, turmeric, carob, and beetroot.
Shelf Life – 4 weeks refrigerated or 6 months frozen.
Order – Order by 20 December 2014 on feedmypaws.com. Last collection day on 23 December 2014.
If humans get jar cakes, we should get jar cakes too! What a great idea by Crystle of Feed My Paws. Why have one layer of goodness when you can have several different ones? You can't go wrong with peanut butter, yoghurt and cookie crumbs. Or choose between salmon, beef, and chicken for your meat-loving pooch.
Price – $9.80 to $11.80 (160g each).
Order – Order by 20 December 2014 on their website. Last collection day on 23 December 2014.
Feed My Paws | Website | Facebook
The Barkery
Mama is a crazy fan of traditional log cakes. Oh yes, they have to be traditional to pass her test. The moment she laid eyes on the ones from The Barkery, I saw her eyes lit up like a Christmas tree! One thing's for sure, the drool-worthy smell got my tail wagging. Besides log cakes, they have other Christmas cake options, pupcakes, and liver brownies to leave you spoilt for choice.
Price – $28 for carob frosting and $25 for potato frosting.
Order – Order by 17 December 2014 on their website.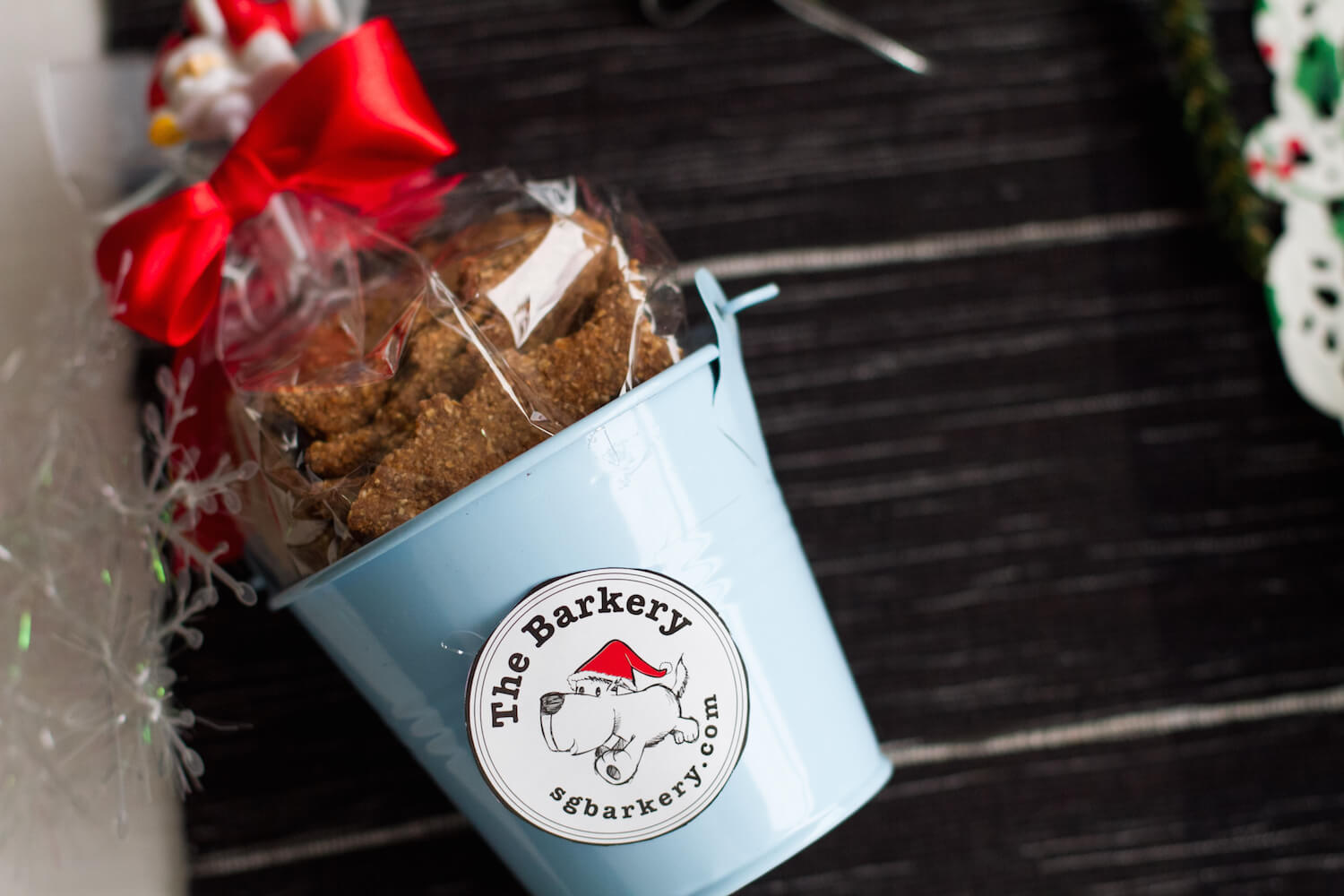 Who can resist The Barkery's top-selling biscuits in this super cute bucket? I sure can't! It will look great under our Christmas tree (and in my tummy too). Fastest paws first though because this Biscuit Bucket of Cookie Joy is limited edition!
Price – $8.80 for 80g.
Order – Order by 17 December 2014 on their website.
The Barkery | Website | Facebook
---
Styling by Sarah Chong
Photography by Lionel Ng
Follow @thevanillapup on Instagram.