Your dog's birthday or "gotcha day" is just around the corner and you want to do something special. What is better than a delicious cake to pamper fido?
With so many dog bakeries in Singapore, you are spoilt for choice. Whether you prefer a simple cake or a multi-tiered bespoke cake, you can find it at these dog bakeries.
Your dog will love a birthday cake from these dog bakeries
1. Barking Good
Just look at their sushi cake! You can turn your outrageous ideas into reality, or go with Barking Good's toned down menu of meat pies and simple personal cakes.
2. BossiPaws
BossiPaws is an extension of Ah B Cafe. We've personally tasted their cakes and treats for dogs at our The White Christmas Party. Even without sugar or salt, the humans found themselves pinching food from the dogs' table.
Order here.
3. CoBam Cakes
Established in 2012, CoBam provides bespoke cakes for dogs. We appreciate their refined execution!
Order here.
4. Feed My Paws
Feed My Paws' cakes are simple but made with lots of love. We have met the lady behind these delicious cakes, and we don't know whether we love her or her creations more!
Order here.
5. The Barkery
The Barkery is licensed by the Agri-Food & Veterinary Authority (AVA) of Singapore to produce food for dogs, and their kitchen is regularly inspected by them.
We are a fan of their treats! Mama ordered customised treat boxes from them for my last birthday party.
Order here.
6. The Snoring Dog Gourmet
Their bakers are certified in canine and feline nutrition from an accredited animal college in the UK. We love their sushi bentos!
Order here.
7. The Woof Bakery
This bakery is new to us and they opened early 2017 with cute dog figurine cakes and treats!
Order here.
8. Wholesome Paws
We appreciate Wholesome Paws' work ethic and it helps that they make beautiful cakes and delicious treats. They also do doggy meals and pizzas.
Order here.
9. Yum Yum Bean
Yum Yum Bean is a successful bakery from Hong Kong and they recently came to Singapore! Their dog figurines are the best we've seen.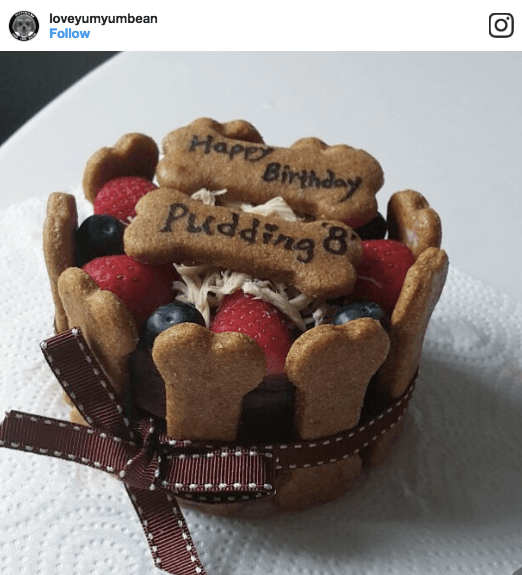 Order here.
Did we miss your favourite dog bakeries? Share with us in the comment box below!
---
Join Vanillapup on Facebook and Instagram.