Dog-friendly
Conrad Centennial Singapore Dog-friendly Hotel Staycation [No Longer Pet-friendly]
Our staycation experience at Conrad Centennial – one of the few dog-friendly hotels in Singapore.
[With immediate effect, Conrad Centennial Singapore is no longer pet-friendly. See other pet-friendly hotels here.]
After hearing some friends rave about their Conrad Centennial Singapore dog-friendly hotel staycation, I wanted to go too! So mama contacted them to ask if I could do a review for them, and they said yes the very next morning! The humans and I were so thrilled, we could hardly wait for the day to check in.
Even though mama was excited about the staycation, she never imagined that it was going to be this enjoyable. She was definitely in for a pleasant surprise, and now, we are wishing for more! You will see why very soon 🙂
On Valentine's Day, the humans and I flagged a cab and arrived at Conrad. The kind and friendly doorman welcomed us immediately, and even asked for my name! He said he had lovely dogs of his own, and I could sniff that he was a good man. He set the stage for more of my friendly meetings with the staff working at Conrad. I felt so welcomed, which made mama very happy.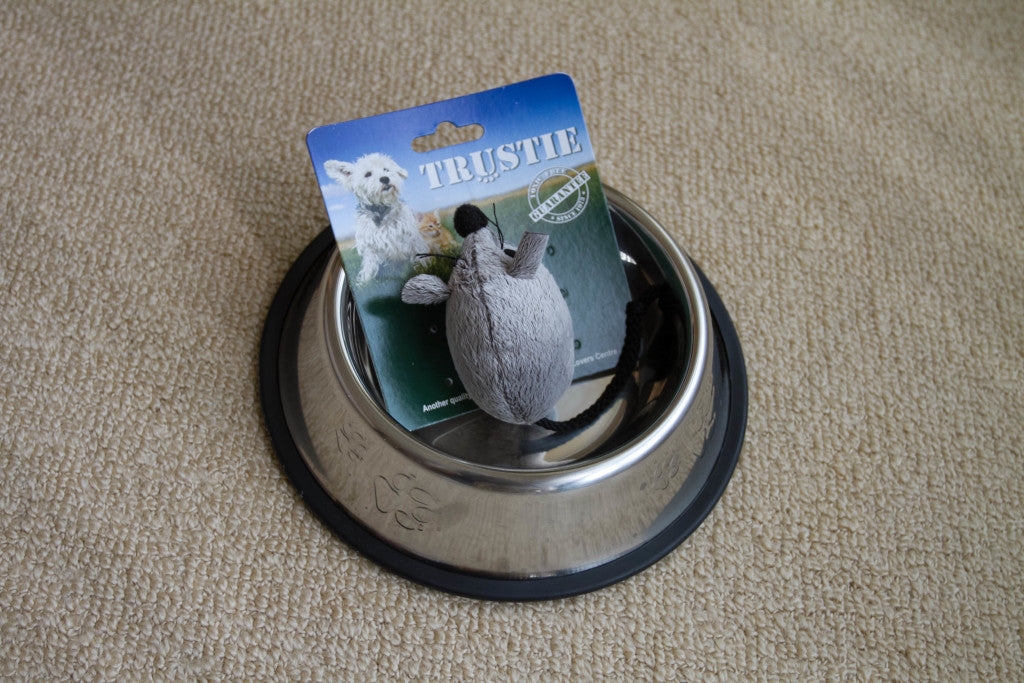 The hotel prepares a dog bowl and toy for every doggy guest. If that's not enough, we can have the Conrad bear and an apple too. The humans get a box of chocolates (I heard it's toxic), and that's about it 😛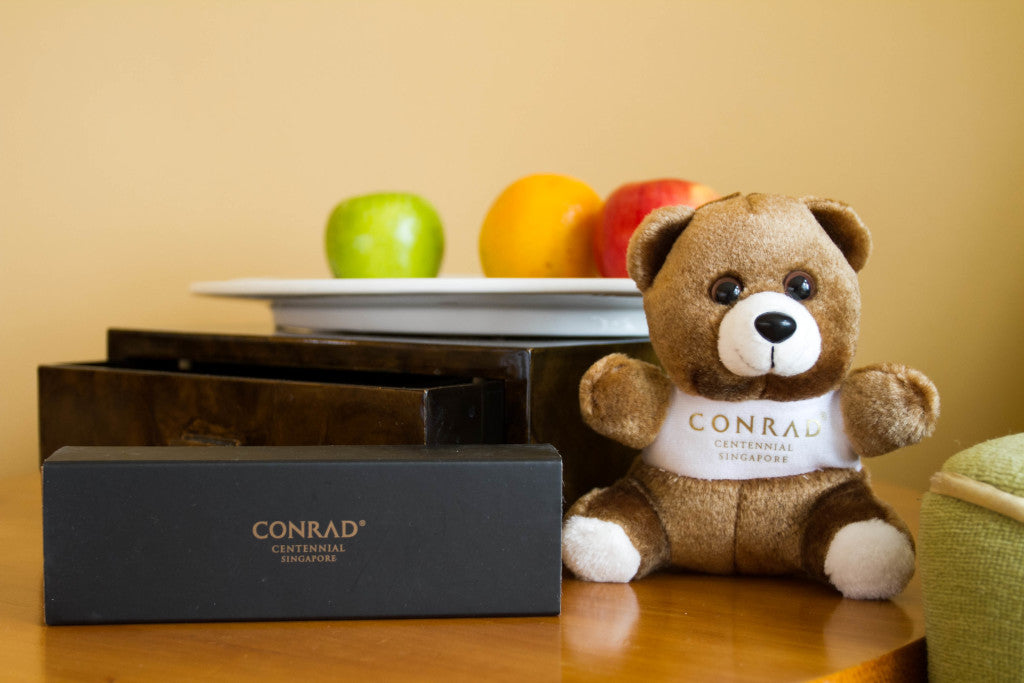 This is the view that welcomes you. I never knew cars could be this small. It's like magic!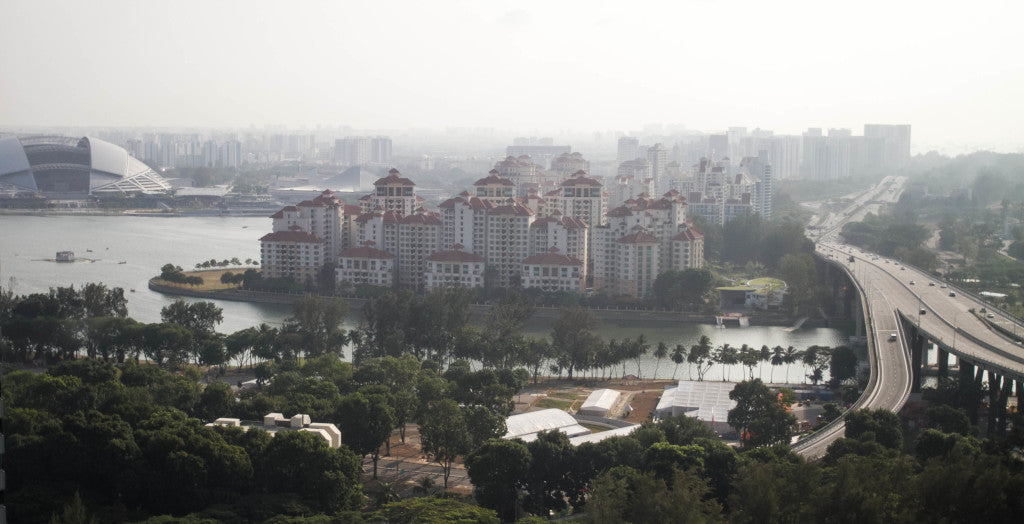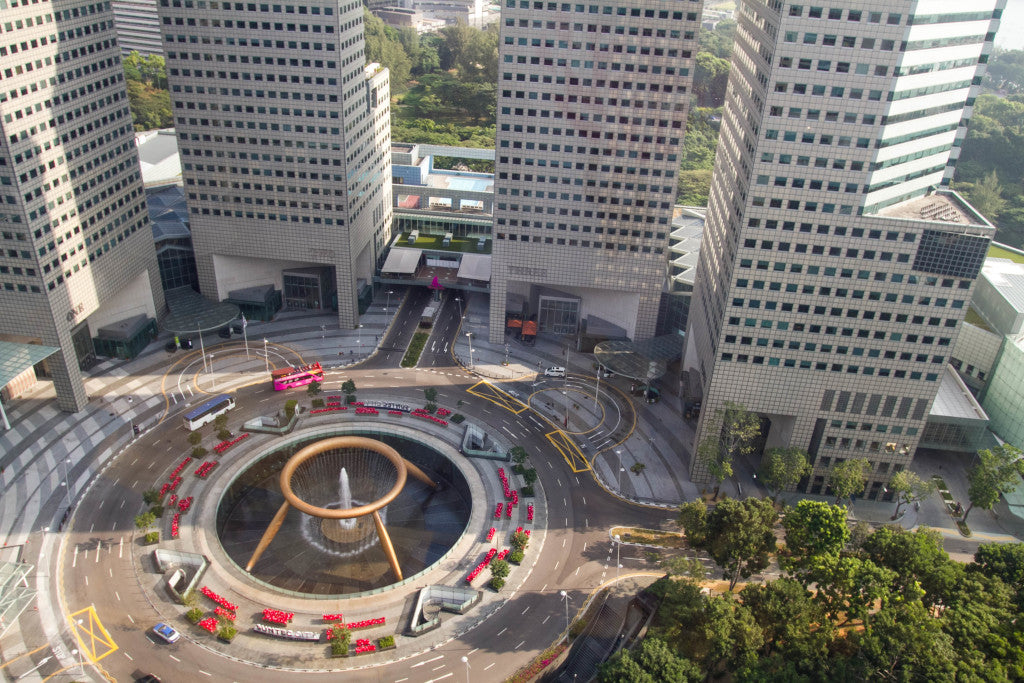 And of course, the humans made me pose for a few photos.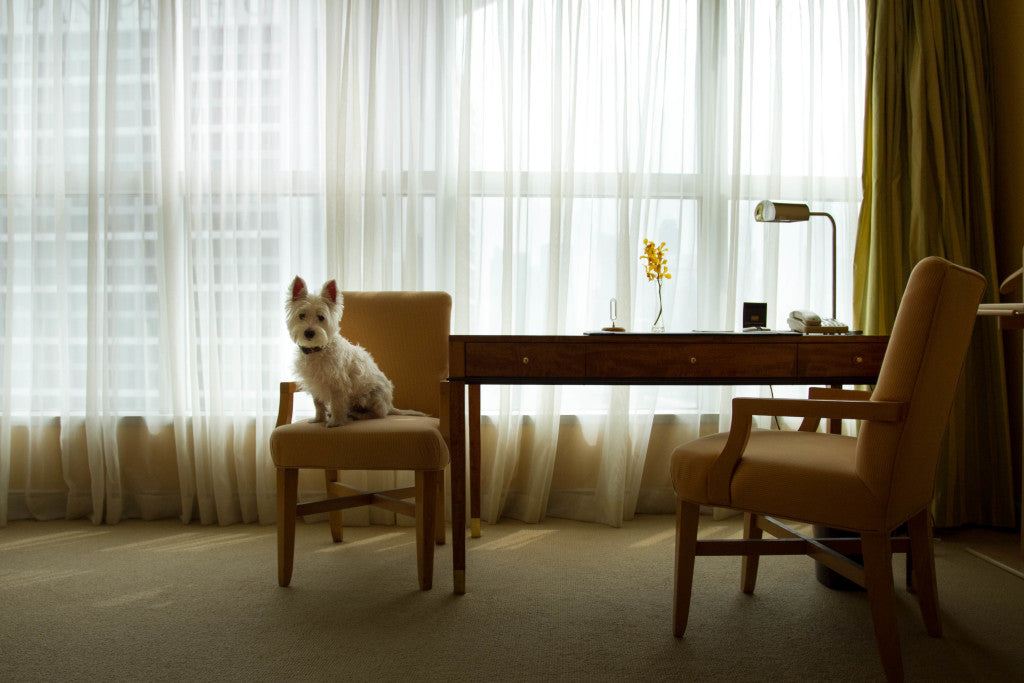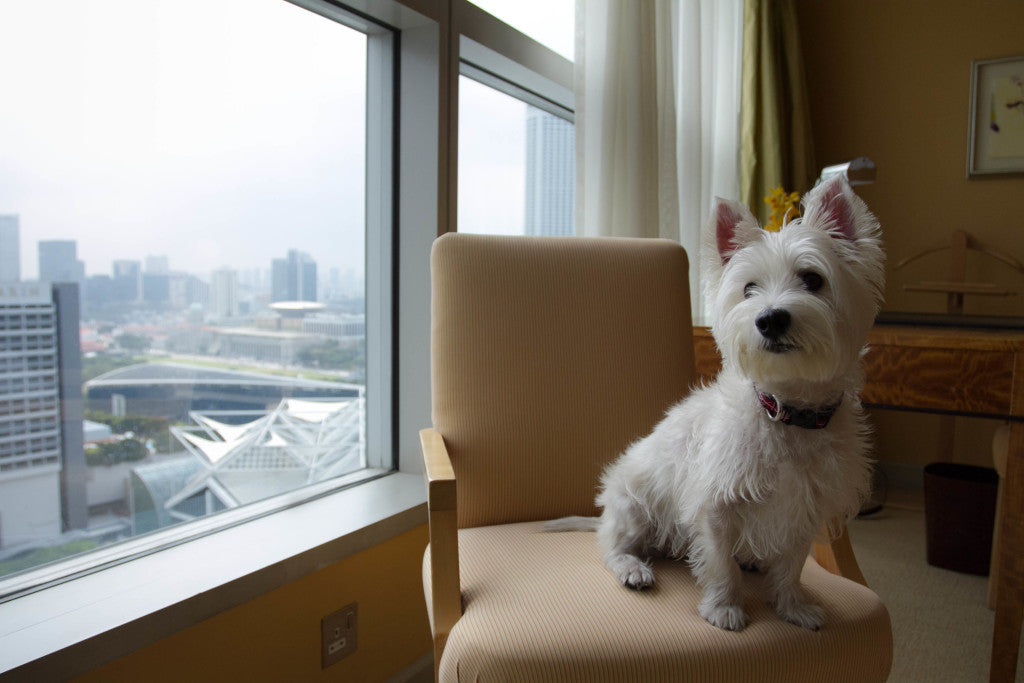 Their bathroom is so grand! It makes our bathroom at home look so lousy. Just look at their range of Aromatherapy toiletries!
I wasn't too sure about this tub though. With it, bathing me became so much easier for the humans.
Did you know? You can choose from a variety of 16 pillow types for a good night's sleep at Conrad. I picked the Cuddle 'U' pillow and took up half the bed. Even though I don't go to fancy places much, I know a quality bed when I sleep on one! I was so taken by the smooth sheets and the soft bed that I slept soundly through the night. Whoever says a change of environment would stress out your dog hasn't been to Conrad!
I didn't want to leave the bed but I guess I had to show you where you can go exploring during your stay at Conrad. First stop, I took a dip at the fountain behind the hotel before getting chased out by security.
And then we took a stroll down Marina Bay boardwalk! There was so much to see and sniff!
The humans laughed at me when I tried to step on one of the lotus leaves, and almost fell into the water. How was I to know?!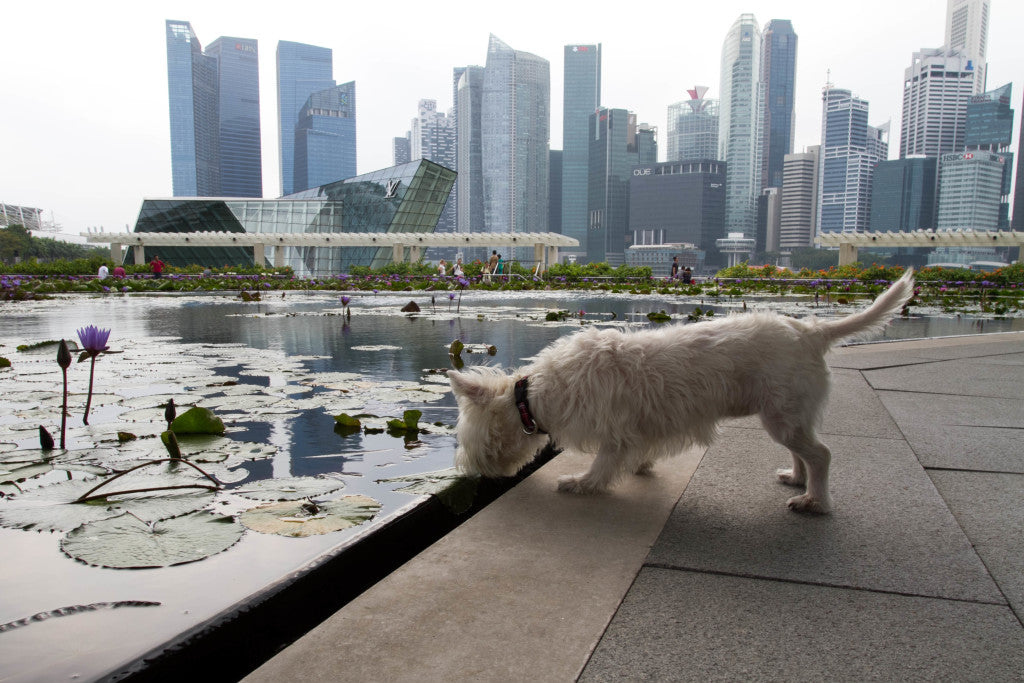 I never knew shopping could be so expensive. So window shopping it was.
If only my daily walks had this kind of view.
Where to Go:
What to Do:
Roll around on the bed, and watch TV
Soak in the bathtub with the complimentary bath salt (great chance to bathe your dog too)
Request for your preferred pillows, turn on classical music and catch up on sleep
Take lots of photos with your furkid!
Explore around the area, and take a nice evening stroll
Eat ice cream (find the ice cream man at the Youth Olympic Park) while watching the sunset at Marina Bay
Book the executive room with access to the executive lounge (dogs are not allowed) for complimentary

all day beverages, including house pours. Papa went up to grab delicious hot chocolate for him and mama to enjoy in the room!
afternoon tea, finger sandwiches, and cakes (2.30 – 5pm)
evening cocktails (5.30 – 8pm)
WIFI
CDs and DVD movies loan

The swimming pool and gym don't allow dogs, so papa went for a swim while mama and I bummed around in the room
What to Eat:
There aren't any dog-friendly cafes or restaurants that I know of. But it's worth a try asking places with alfresco seating whether you can sit outside with your dog. The humans took away Popeyes from the Singapore Flyer for dinner. You can also order from Conrad's in room dining menu for both you and your pooch (view pet menu here)! Buffet breakfast in the morning is complimentary, so the humans happily left me alone in the room to enjoy their sumptuous meal. You can also opt for continental breakfast to be brought into the room if you don't want to leave your pooch unattended.
My packing list:
Collar, leash, and poo bag
Travel water bowl to ensure your pup is well hydrated during walks
Large pee pads. I am house-trained so mama brought large pee pads for me to eliminate on. I only used it once and peed outside the other times
Food. Try to bring easy-to-prepare food. They have an electric kettle for you to make hot water.
Favourite toys to play with in the room
Comb and bathing essentials to get your furkid camera ready (with such nice views, you have to take some photos!)
All in all, I had a really good time at Conrad! The humans had so much fun, they are thinking of making this a regular affair. They like the fact that they are able to get a nice break without having to travel out of Singapore, so they can also spend quality time with me 🙂
Policy: The hotel permits up to two pets, weighing no more than 34kg in total per room. Pets are not allowed in the hotel's restaurants and executive lounge, gym and swimming pool area, and must be enclosed in pet carriers or leashed in public areas at all times.
Check in/out: Check-in time is at 3pm, and check out time is at 12pm. If you book the executive room (highly recommended!), you can request for late check out at 6pm (subject to availability).
Reservation: There's an advance purchase offer, which provides 10-15% off their best available rate on www.conradhotels.com. Alternatively, you can call 6432 7192 or email sinci.res@conradhotels.com to make a room reservation. An additional $120 cleaning fee applies for pets per room.
Special thanks to Conrad Centennial Singapore for the lovely stay, Howlistic Life for the Fuzzyard toys and collars, and ohpopdog for the clothes.
–
Follow my journey on Facebook and Instagram.