1. Happenstance Cafe
Known for their delicious yet affordable make-your-own pasta, Happenstance Cafe has been on the top of the list of dog-friendly cafes amongst some dog owners. Don't say we didn't warn you, there are days when it gets too crowded. You are recommended to call before you visit. Read our review of Happenstance Cafe.
Facebook: facebook.com/HappenstanceCafe
Address: 35 Opal Crescent
Phone: 6341 7871
Opening hours: Mon – Fri: 12 pm – 10 pm | Sat – Sun: 11 am – 10 pm
2. Ah B Cafe
Located strategically at Sunny Heights, Ah B Cafe checks all the boxes when it comes to a dog-friendly venue. It is clean and spacious, with a fenced outdoor space for dogs to run about freely.
Satisfy your tummy with their western fare, while your pup devours treats from Pawlicious Bakery next door. Read our review on Ah B Cafe.
Facebook: facebook.com/ahbcafe
Address: 110 Turf Club Rd
Opening hours: Tue – Fri: 1.30pm – 9pm | Sat: 12pm – 9pm | Sun: 12pm – 7 pm | Closed on Mon
 3. Sun Ray Cafe
Serving western food and affordable specialty coffee, Sun Ray Cafe has come a long way. You can expect a better menu here than most other dog cafes – with a reasonable range of starters, all-day brunch items, pasta and mains to choose from. Read our review on Sun Ray Cafe.
Website: sunray.sg
Address: 79 Brighton Crescent
Opening hours: Mon – Tue: 6pm – 11pm | Wed – Fri: 11am – 11pm | Sat – Sun: 10am – 11pm
4. Paw Pet-radise Cafe
Paw Pet-radise has reopened with a brand new look (photo above is old) and a menu that looks a lot more promising than their previous one. We haven't gone back but are glad that they are still serving Instagram-worthy food for dogs from Superdog Kitchen. Read our old review on Paw Pet-radise Cafe.
Facebook: facebook.com/pawpetradisecafe
Address: 530 Balestier Road Monville Mansion #01-07
Phone: 9747 3295
Opening hours: Mon, Wed – Thu: 5pm – 11pm | Fri: 5pm – 1am | Sat: 12pm – 1am | Sun: 12pm – 11pm | Closed on Tue
5. Paws N Pans
The unique thing about this cafe is that it spans three storeys, making it suitable for both large gatherings and intimate parties. The affordable menu serves up Singapore and Thai dishes – we particularly enjoyed the sesame chicken wings.
The cafe also lends its support to pet shelters by helping rescue pets find new homes. When we visited, there were two lovely mongrels calling the place home until they meet their forever family.
Facebook: facebook.com/pawsnpans
Address: 327 Joo Chiat Road, Singapore 427584
Phone: 6509 6506
Opening hours: Mon – Tue & Thu – Fri: 1pm – 10pm | Sat – Sun: 12pm – 10pm | Closed on Wed
6. Ulu Ulu Pet Cafe
This cafe is really ulu! It's 30 minutes from the city and by Singapore's standards, it is like going to Malaysia. But apart from its location, the cafe is pretty promising. We have not visited but the venue is big (with both indoor and outdoor areas) with greenery all around. The food looks decent too. Oh, they also have a temporary pool!
Facebook: facebook.com/uluulupetcafe
Address: 10 Neo Tiew Lane 2, D'Kranji Farm Resort, #01-10C & 10D, Singapore 718813
Phone: 8208 2651
Opening hours: Wed – Thu: 10am – 7pm | Fri – Sun: 10am – 9pm | Closed on Mon & Tue
7. Pasta J
Pasta J specialises in hearty pasta and Western fare. They take pride in serving unpretentious food that's generous and packed with flavour. According to reviews, you shouldn't miss their pesto sauce.
Not only does the restaurant allow dogs indoors, they also hold canine health and wellness seminars for dog owners.
Facebook: facebook.com/PastaJSG
Address: 205 Upper Thomson Road (about 200m diagonally opposite Thomson CC), Singapore 574345
Phone: 9004 1800
Opening hours: Mon – Sun: 12pm – 3pm and 6pm to 10pm
 8. We are The Furballs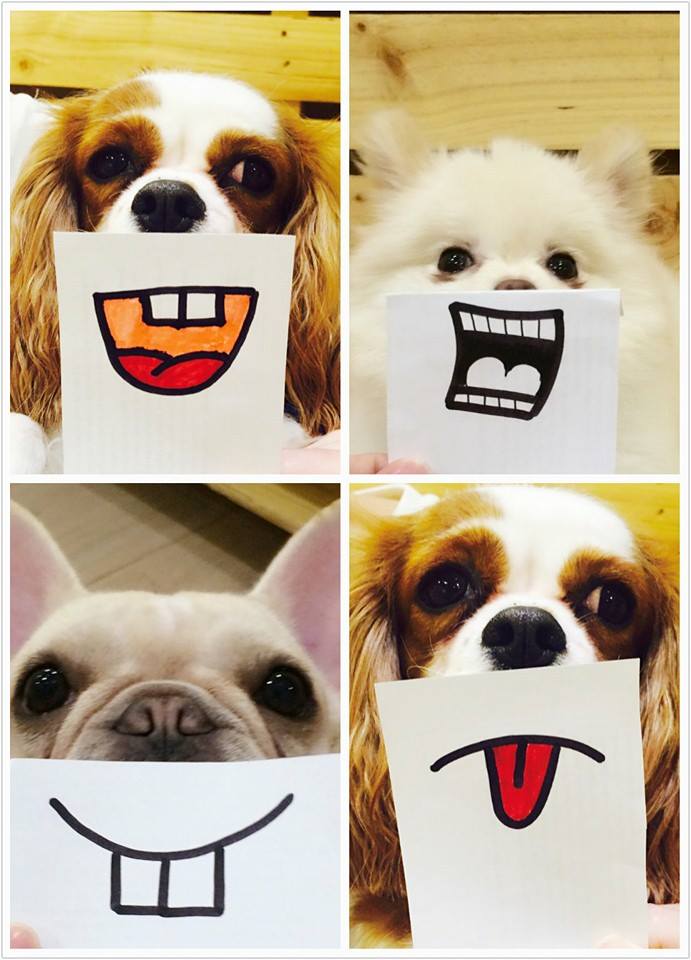 [Source]
WTF is Singapore's first dog petting cafe – dog lovers can play and interact with their resident dogs at a flat fee. But note that they do not serve food – just drinks, and you are not allowed to bring your own dogs.