Click on any of the dog cafes below to read about it right away
Sun Ray Cafe
Sun Ray Cafe photos contributed by @cadyminyen and her adorable Schnauzer called Junior 🙂
Serving western food and affordable specialty coffee, Sun Ray Cafe has come a long way. You can expect a better menu here than most other dog cafes – with a reasonable range of starters, all-day brunch items, pasta and mains to choose from. It's our favourite dog cafe to visit for good food and affordable prices. Read our review on Sun Ray Cafe.
Website: sunray.sg
Address: 79 Brighton Crescent, Singapore 559218
Phone: 6283 8700
不好吃 (Bu Hao Chi) Cafe
Located strategically at Sunny Heights, 不好吃 Cafe took over the spot where Ah B Cafe was and is now serving local cuisine. The decor has changed but the layout is still as spacious as before.
Address: 110 Turf Club Rd, Singapore 288000
Phone: 6314 9363
Facebook: facebook.com/不好吃-Cafe-102009921855280/
Menage Cafe
Menage Cafe is a big and spacious dog cafe serving Western fusion fares. With natural light coming in through their full-length glass windows, it's the perfect place to chill with your dog on any day. Don't forget to order some delicious food for your pup and take an insta-worthy photo of her in their popular hanging nest chair!
Facebook: facebook.com/MenageCafeSG
Address: 6 Sin Ming Rd, Sin Ming Plaza. #01-01/02, Singapore 575585
Phone: 9669 8372
Wooftopia Pet Cafe
The newest kid on the block, Wooftopia is a spacious pet cafe with striking pink velvet chairs. Serving Western and Italian dishes, reviews on food and service are mixed. A popular choice is their squid ink pasta. There's a menu for doggos.
Instagram: Instagram.com/wooftopia.cafe/
Address: 200 Turf Club Rd, #01-29, Singapore 287994
Phone: 6966 8818
I.N.U Cafe
I.N.U Cafe stands out from the other cafes with their menu of local zi char style dishes. Reviews of their food are pretty good but don't expect coffee shop prices. It can get busy during meal times and some pet owners mentioned that service can be improved.
Facebook: facebook.com/i.n.u.edp
Address: 530 Balestier Road Monville Mansion #01-07, Singapore 329857
Phone: 8189 8092
We are The Furballs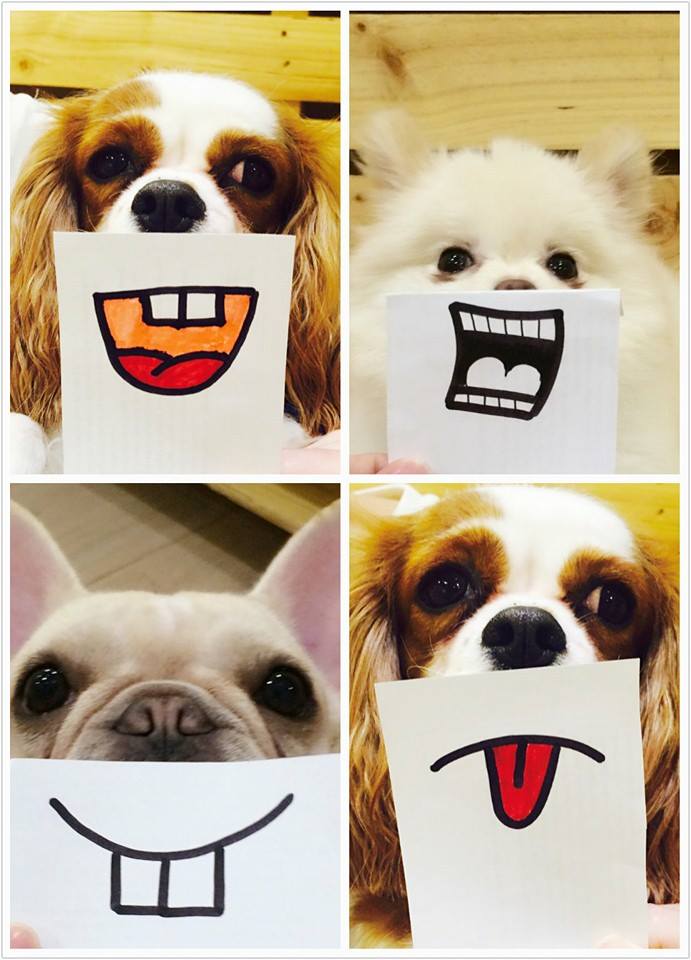 WTF is Singapore's first dog petting cafe – dog lovers can play and interact with their resident dogs at a flat fee. But note that they do not serve food – just drinks, and you are not allowed to bring your own dogs.
Facebook: facebook.com/wearethefurballs
Address: 201 Victoria Street, #07-07, Bugis+, Singapore 188067
Phone: 6509 1186
---
To ensure that the cafe is open, please contact them prior to visiting.
Photos and videos are from the respective restaurants unless stated otherwise.