[Update: We are sad to say that Rina, the lady behind The Compawny will be relocating overseas. Fortunately, there are alternatives!]

Ever heard of outdoor dog daycare? It's exactly what its name suggests – a daycare where your dog spends most of the time outside.

Usually, daycare is spent indoors whether it's at a home or a school. Dogs are given about two walks a day and spend the rest of the day inside with their fellow daycare mates.
The Compawny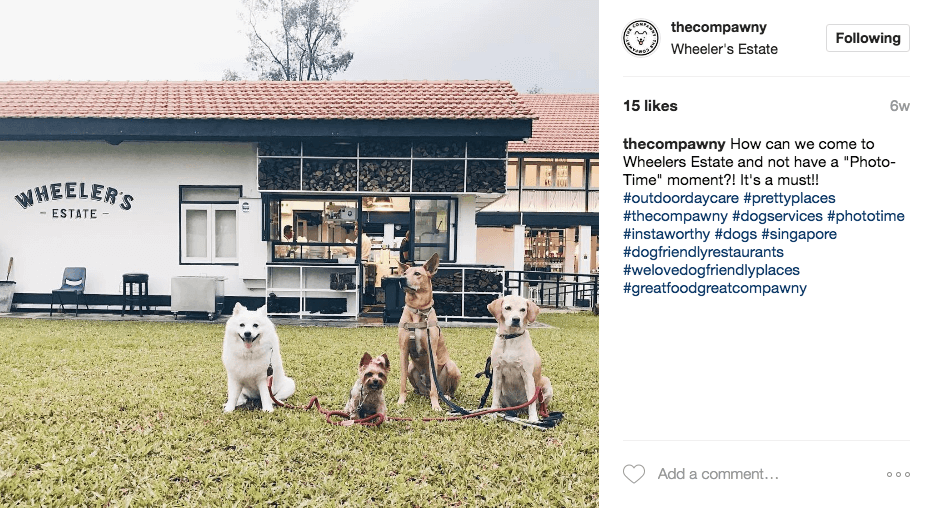 Mama first got to know of The Compawny, an outdoor daycare and boarding service from my pal Bailey's parents. She likes the idea as dogs under their care get to explore new places with new friends. But she never got to let me try it because my grandparents take care of me when she and papa are busy or away.
Plus, this is what papa feels about sending me away to someone else:
Photo credit: Meme Generator
That's the reason why the humans don't go on holiday that often anymore. Because papa trusts no one, except a select few.
Anyway, fast forward to two weeks ago when the humans headed to Italy. Mama asked my grandparents to take care of me but because they were going away for two weeks, she asked Rina of The Compawny to take me out so I got to have fun too!
Before the daycare, Rina sent mama a form to fill up. It includes providing details on your dog's behaviour, habits, medical history, and existing vet in case of any emergency.
Itinerary
Mama requested for Rina to pick me up in the morning and drop me off in the evening. The transport cost depends on location and whether she has other dogs to pick up in the vicinity. She doesn't profit from it!
Anyway, she came and picked me up at 9.30am and I followed her happily cause nice lady + car. Mama says it's really easy to abduct me.
But when we reached Ah B Cafe, I got a little confused. I have never been anywhere without my family. My thoughts went something like this: "Where are my grandparents?", "Did I just get abandoned?", "Can't be, because they love me… right?"
Fortunately, my pal Ele was there too! So the probability of me being abandoned was lower. As a newbie, I followed her the whole time.
During the time we were at Ah B Cafe, we could roam around freely, sniffing and exploring. It was actually pretty fun! Rina also took photos of me for the humans. I was in good hands.
After the outing, we headed to Rina's home for the rest of the day to rest. At 5pm, I was back home safe and sound, and still tired from all the fun! I headed straight to bed.
Excursion venues
Rina doesn't only bring her daycare and boarding dogs to Ah B Cafe, they also get to go to fun places like Sentosa, Chinese Garden, Marina Barrage, and Seletar Aerospace Park!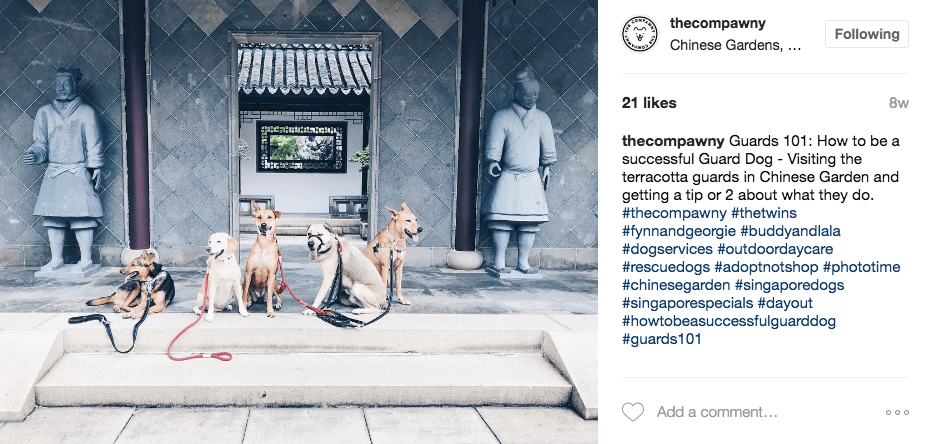 My pals Bailey and Ele go on daycare with Rina once every week. It's a fuss-free way to make sure your dog gets to exercise and socialise while you are busy at work.
Mama would definitely book The Compawny again!
Costs
Daycare: S$35 per day
Boarding: S$50 per night
Transport on request: We paid S$35 (depends on location)
Bath on request: S$10
Do book in advance as Rina is often fully booked!
The Compawny | Facebook | Instagram | 9189 4495
---
Daycare photos courtesy of The Compawny.
Subscribe to join our pack and find us on Facebook and Instagram.