Treats are very much a part of our diet, and what you feed your dog will directly affect its health. Hence, mama is very strict with the treats that she feeds me. But with so many commercial treats out there, how does she differentiate a good treat from a bad one? And are there alternatives to commercial treats?
Here are 6 tips on choosing healthy dog treats!
1. Read ingredient lists and avoid harmful ingredients
Mama loves short ingredient lists. Now, she immediately skips treats that are made from unnecessary, or worse, harmful ingredients, such as salt/sodium, sugar/molasses, artificial colouring/flavouring, and preservatives.
Here's an example. This treat contains many unnecessary and harmful ingredients. It may be alright as an occasional treat, just like how the humans snack on unhealthy chips. But we all know that it's bad for everyone, and shouldn't be eaten regularly!
2. Choose dehydrated or freeze-dried treats by a credible brand
Mama prefers to buy me a dehydrated or freeze-dried treat made with a single ingredient, whether it's meat, organ, or bone. I personally love the Primal Dry-roasted Venison Lung Puffs, Sunday Pets NZ King Salmon, and K9 Natural Freeze-dried Lamb Treats.
3. Make your own dehydrated treats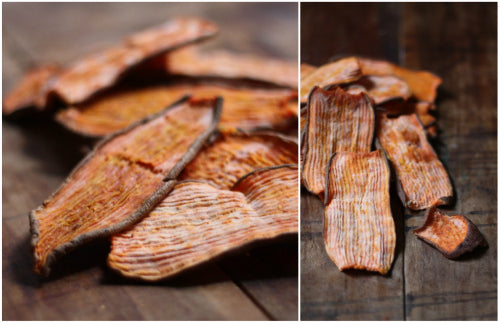 If commercial dehydrated treats are too expensive, you can also learn to dehydrate your own treats! You can dehydrate just about anything, from sweet potato slices to chicken feet! Either buy a dehydrator or simply dry-roast it in your oven (recipes here and here).
4. Feed dog-safe fresh fruits and seeds
I loovveee fruits! Mama feeds me a whole range of fruits, such as papaya, strawberry, and blueberry. At times, she gives me wolfberries, pumpkin seeds, and chia seeds (sprinkle some on a spoonful of yoghurt or unsweetened peanut butter) too. You can also puree fruits with some water to encourage fussy pups to drink more water, or…
5. Make some delicious pupsicles!
Making pupsicles can be so fun, yet easy to do. My favourites are coconut water slushie and blueberry yoghurt pupsicle (recipe idea here) 🙂 But don't give them to your pup just after exercise or on a panting hot day, as it may hinder its body from cooling down naturally.
6. But don't overfeed, no matter how healthy!
The humans can never resist my puppy eyes and sincere begging. But while an endless supply of treats will make me very happy, mama knows that it's not good for my health (mama knows too much!). Always keep in mind how much you are already feeding your furkid in its daily meals, and take extra care if it's suffering from any health condition.
---