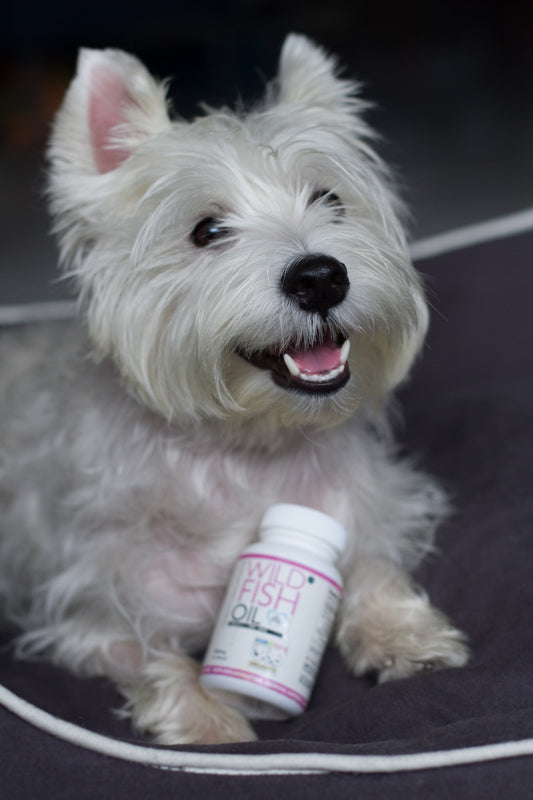 Mama confided in me that these days, it's hard to buy anything without a health scare.
She picks up a salmon fillet and wonders how much mercury there is in it. She pours a cup of water and worries that the chlorine in it may cause cancer. Most recently, she browsed a range of Omega 3 supplements and wondered which one would do me more good than harm.
While some concerns may be controversial and possibly uncalled for, it's always good to err on the side of caution.
But with all the advertising talk and the abundance of articles with differing views online, it is hard to make the right choice. Mama finds herself wanting to say, "Skip everything and just tell me what to buy."
Therefore, I hope that at least with some things, we can make it simpler for you to make an informed choice.
Without further yapping, if you have been looking for an Omega 3 supplement for dogs, this post is for you!
Why do dogs need Omega 3?
It is an essential part of your dog's diet, and Omega 3 and Omega 6 intake must be balanced (around the ratio of 1:5-10) to prevent nutritional deficiency. While Omega 6 is commonly available in our present-day diet, Omega 3 is often lacking due to modern farming practices
It has anti-inflammatory properties and regulates the immune system, improving conditions, such as arthritis, skin and coat, and heart failure
When choosing an Omega 3 supplement, use these three questions to guide you:
1. How much EPA and DHA does it contain?
Some products may be advertised as superior because it uses certain fish that contain higher levels of Omega 3. That doesn't automatically mean that there's more Omega 3 per dose. Compare product nutrition labels to see which has a higher concentration of Omega 3 (EPA and DHA) within a 1,000mg dose.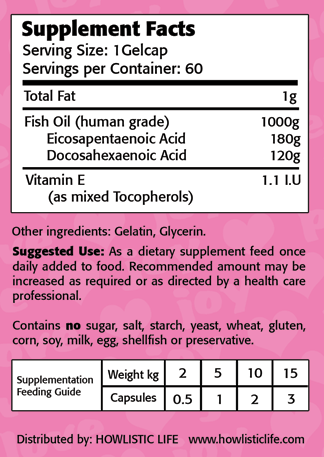 Always choose marine-based Omega 3 as it contains EPA and DHA while plant-based Omega 3, such as flaxseed oil, contains ALA. ALA will be converted by the body to EPA and DHA, but the amount of conversion is believed to be small.
2. Is it free of heavy metals and other ocean pollutants?
A quick way to check is by looking at what fish the oil is sourced from. Short-lived fish, such as anchovy and krill, are likely to contain lower levels of contaminants than longer living fish, such as salmon. They also tend to be more sustainable.
For greater assurance, choose a fish oil that is molecularly distilled and tested to be free of heavy metals and other ocean pollutants.
3. How does it prevent rancidity?
Fish oil is very sensitive to heat, pressure, and oxygen and can easily turn rancid. Mama fed me the Fish 4 Dogs Salmon Oil from an event last year, and I ended up vomiting. I wasn't the only one; mama said some other dogs who had the oil from the event vomited too.
The oil, which was packed in dark bottles, had turned rancid. If your fish oil comes in a bottle, every time you open it, you are exposing the oil to oxidative damage.
To prevent that, mama recommends buying fish oil packed in gel capsules or airless pump bottles. Feed the former whole or poke a hole into the capsule and squeeze out the oil over your dog's meal.
Why we recommend Dom & Cleo Wild Fish Oil
Dom & Cleo Wild Fish Oil:
has higher levels of EPA and DHA per dose compared to three other Omega 3 supplements that mama previously bought
is sourced from wild short-lived fish
is molecularly distilled and tested to be free of ocean pollutants
comes in gel capsule form
Remember, contaminated or rancid fish oil will do more harm than good for your dog. Price and how the product is advertised are not reliable ways to determine its quality. At the very least, read the labels for the information above before making a purchase.