My fur can make me look like a weasel or it can make me look like in mama's words, "the cutest Westie on earth".
There's also a great quote that says, "Great hair doesn't happen by chance, it happens by appointment." Mama definitely thinks that's true.
So imagine how important a groomer's job is. Besides, grooming is not just about appearance. It's also about physical cleanliness and health.
Your groomer needs to understand your dog's coat and most importantly be patient and gentle with your dog. A good groomer can also help to spot health issues, such as skin problems and ear infections.
On the other paw, a bad experience with a groomer can cause your dog to fear grooming sessions and develop behavioural issues. There were even cases where dogs ended injured at the grooming salon!
Hence, it's your responsibility to ensure that your dog is in safe hands.
Not only should your dog be well-groomed by the end of the grooming session, the whole experience should be stress-free and relaxing for her.
Find the best groomer for your dog in 5 steps:
1. Read reviews
Mama is obsessed with reviews. They have to validate almost everything she buys!
She feels that no matter how qualified and experienced a groomer is, it's still not as important as what other people think about her.
With that said, we cannot expect a groomer to have 100% perfect reviews. Nobody can please everyone so as long as a majority of her customers are happy, it's safe to give her a try.
2. Ask questions
You should feel free to ask your potential groomer questions, and she should be happy to answer them. If she appears impatient or rude, it's time to run for the door!
Some questions to ask are:
Years of training and experience. Only engage certified groomers
Experience with your dog's breed. Many groomers simply shave down every dog that comes their way. It's simple to do but may not be suitable for your dog, especially if she's double-coated. Always ask how the groomer would be handling your dog's coat
Price list and what's included. Find a groomer who meets your budget for the long-term. Some full grooming packages also offer complimentary services like toothbrushing, which is a good value-add
Tools and grooming products. Check whether the groomer's tools are frequently sterilised and whether she uses a quality shampoo and conditioner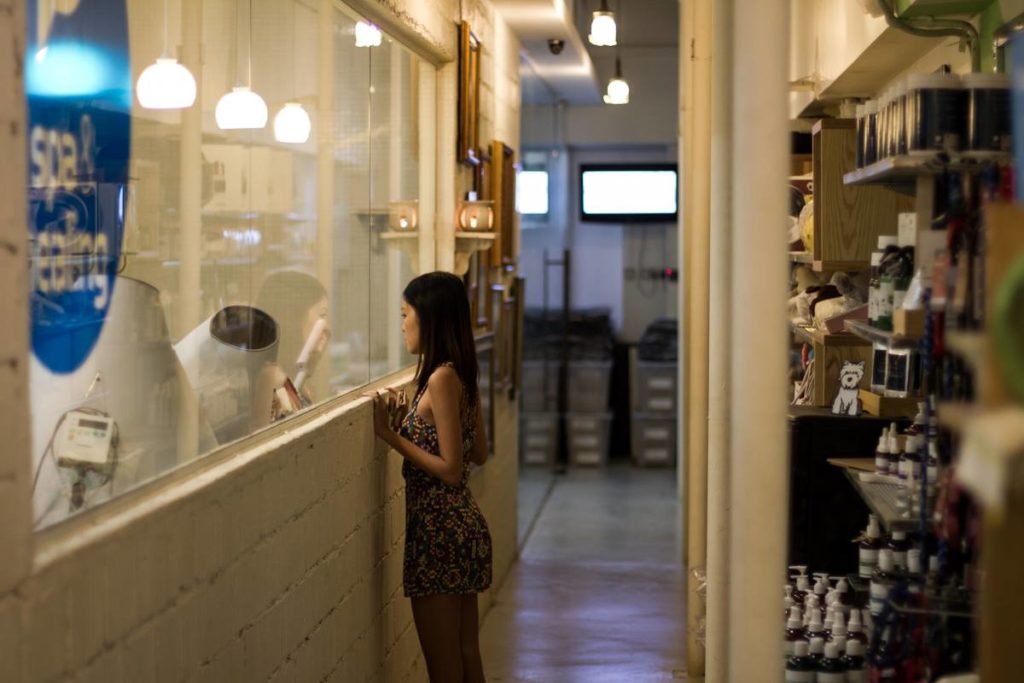 3. Take a tour
A grooming salon should have clear windows for you to see the whole grooming process. Have a look around to see whether the place, especially where the dogs will be hanging around, is clean and neat.
If there are other dogs being groomed, take some time to watch the groomers. Are they patient and gentle with the dogs? Do they leave the dogs alone unattended? Is a turned on hair dryer standing and pointing at the dog in a cage (this is potentially fatal if the dryer is in a hot setting)? Are the dogs kept warm and comfortable, especially after baths?
Pay attention to the dogs there as well. Do they look abnormally afraid or are they shivering from the cold?
4. Expect questions
A good groomer and salon will also ask you questions, such as your preferred grooming style and your dog's medical and behavioral history.
For example, mama will inform the groomer that I have luxating patella and to handle my legs extra gently.
5. Observe your dog
At least for the first two grooming sessions, mama and papa will be there to watch me. They will also take my cue. As I am usually alright going into shops, if I look terrified to step into a certain salon, they will not force me.
So there we have it! Those are the five steps mama uses to choose my perfect groomer. If you have just gotten a puppy, here's how to prepare her for the first grooming session.
---